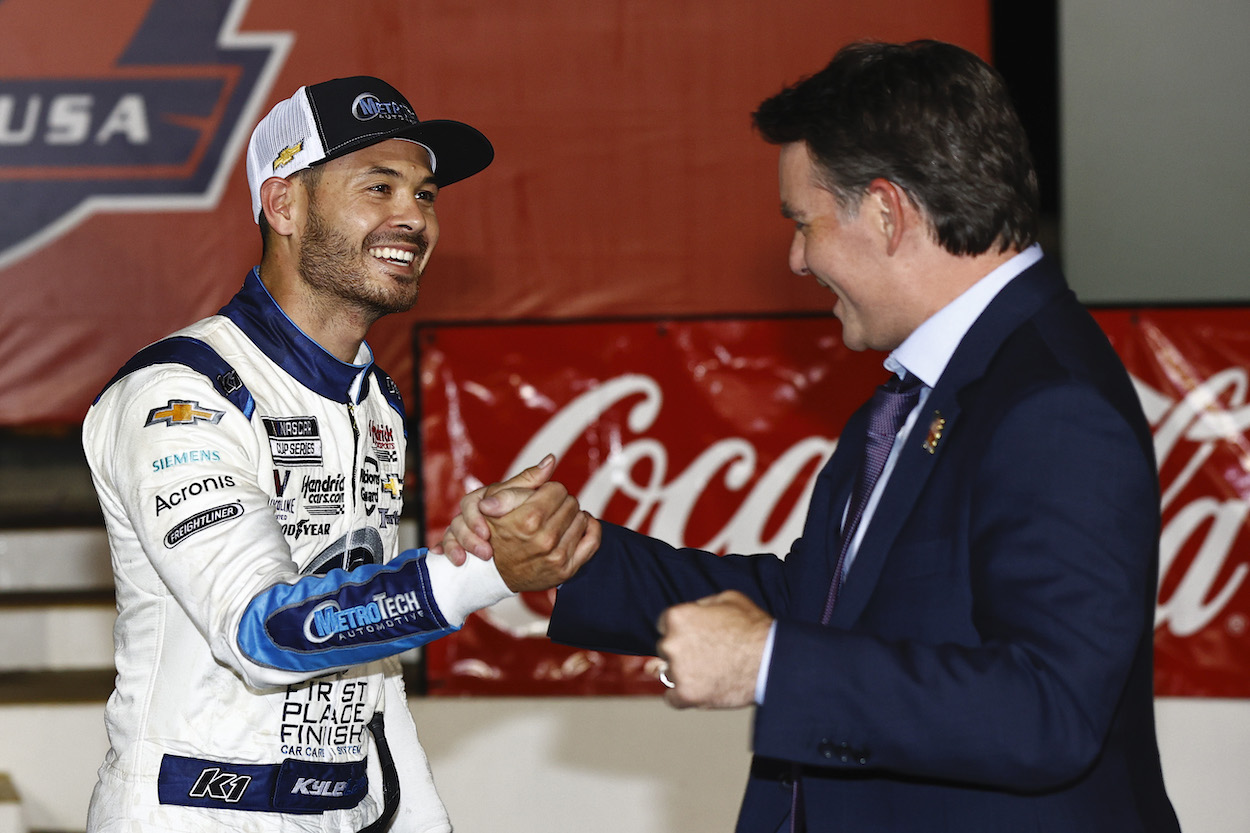 Jeff Gordon Takes Shot at Kyle Larson During Coca-Cola 600 Broadcast and Eats His Words After the Race
Jeff Gordon took a shot at Kyle Larson during the Coca-Cola 600 and later had to eat his words when the No. 5 car won the race.
To say Kyle Larson's first season with Hendrick Motorsports has gone well is a major understatement. Through 15 races, the 28-year-old has earned eight top-5 finishes, including four runner-ups and a couple of victories. During the Coca-Cola 600 at Charlotte Motor Speedway, Larson was, once again, the dominant car throughout the race, leading the most laps and winning all three stages and, ultimately, the race.
During the 400-lap, 600-mile event, Jeff Gordon, who is synonymous with the Hendrick organization and is one day expected to take over when Rick Hendrick retires, took a shot at Larson for his career and his performance in 2021. When the race was over and the No. 5 car was victorious, Gordon had to eat his words gladly.
Kyle Larson off to great start at Hendrick Motorsports in 2021
Kyle Larson entered the 2021 NASCAR Cup Series season just thankful to have a ride after last season, during which he was fired by Chip Ganassi Racing and suspended indefinitely by NASCAR for using a racial slur during an iRacing event. The driver, who many say is one of the most talented in the business, couldn't have asked for a better landing spot than one of the top organizations in Hendrick Motorsports.
That combination of Larson's talent with the HMS team has proved to be a powerful duo during the first half of the season. Through 14 races, Larson had earned nine top-10s, including seven top-5s. He found victory lane early in the season at Las Vegas, where he was the dominant car throughout the day.
Dominance and Larson have often been mentioned together this season. However, that hasn't necessarily translated to wins, as evidenced by four second-place finishes. In the last month, Larson has consistently been at the front of the pack and led numerous laps, only to be denied at the end, including three consecutive runner-up finishes at Darlington, Dover, and Circuit of the Americas. 
The media has regularly asked him questions about finishing second. He always politely smiles and suggests it means the team is doing well.
Jeff Gordon takes shot at Larson during Coca-Cola 600
During Sunday's Coca-Cola 600, one of NASCAR's crown jewels, Jeff Gordon, who is in line to be the successor at HMS when Rick Hendrick decides to retire, played his role as an analyst in the Fox broadcast booth. Early in stage 2, after Larson dominated and won stage 1, Chase Elliott passed his teammate to take the lead. Gordon spoke his mind and took a shot at Larson in the process.
"I hate to say this and go back to some stats, but that might have been the best thing that happened to Kyle Larson because anytime he's led more than 200 laps in a race, he's never gone to victory lane," Gordon admitted. "There's only one you need to lead. That's the last one."
"Here's the hammer. Just pound that nail, will you?" Fox commentator Mike Joy responded. "That's a tough one, but true." 
Larson wins and Gordon gladly eats his words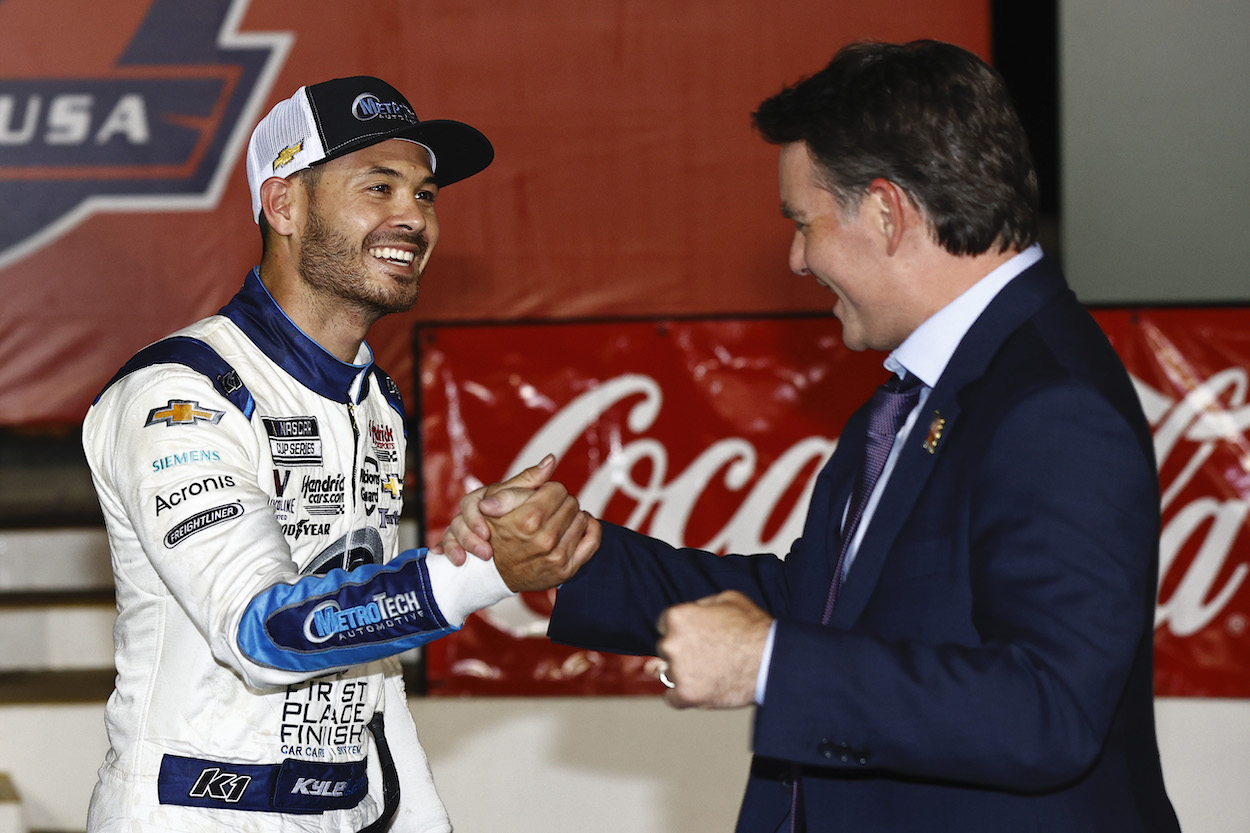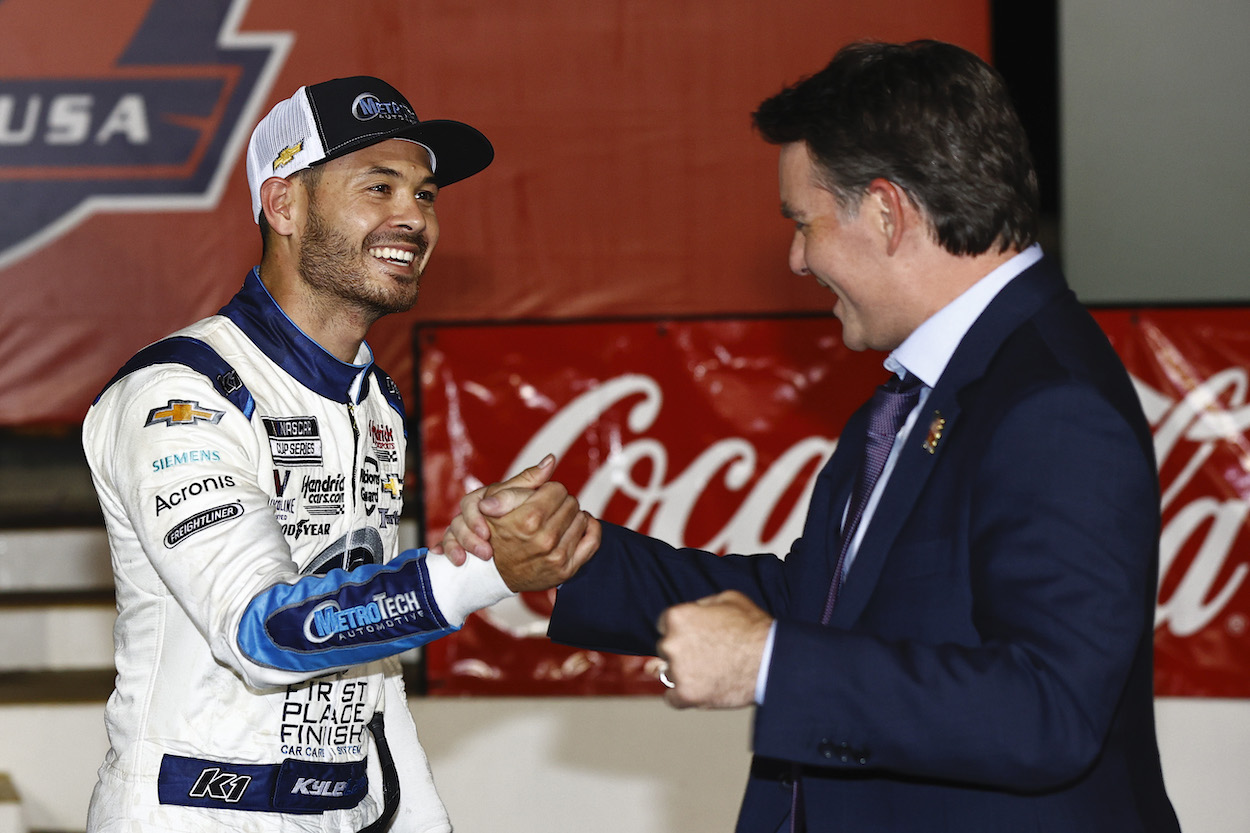 Jeff Gordon and the rest of the Fox team noted something interesting both before and during the race. Larson came into the Coca-Cola 600 having finished second three consecutive times and winning the pole before the race. He did the same thing in 2017 and won the fourth race. 
On Sunday, Larson replicated his 2017 feat and won the race after leading 327 of the 400 laps, considerably more than the 200-lap number Gordon had referenced earlier. After the race, Gordon ate his words and suggested the media's narrative of Larson regularly finishing as a bridesmaid was officially over. 
"Listen, he's going to be so happy that us in TV and the media world are no longer going to be talking about all those stats," Gordon said with a laugh. "He's like, get rid of those now."
Not only did Larson win the race, but his victory was also the 269th for Hendrick Motorsports, passing Petty Enterprises for the most by any team in NASCAR Cup Series history. It was Larson's second with HMS. Gordon sits at the top with 93.
Like Sportscasting on Facebook. Follow us on Twitter @sportscasting19.