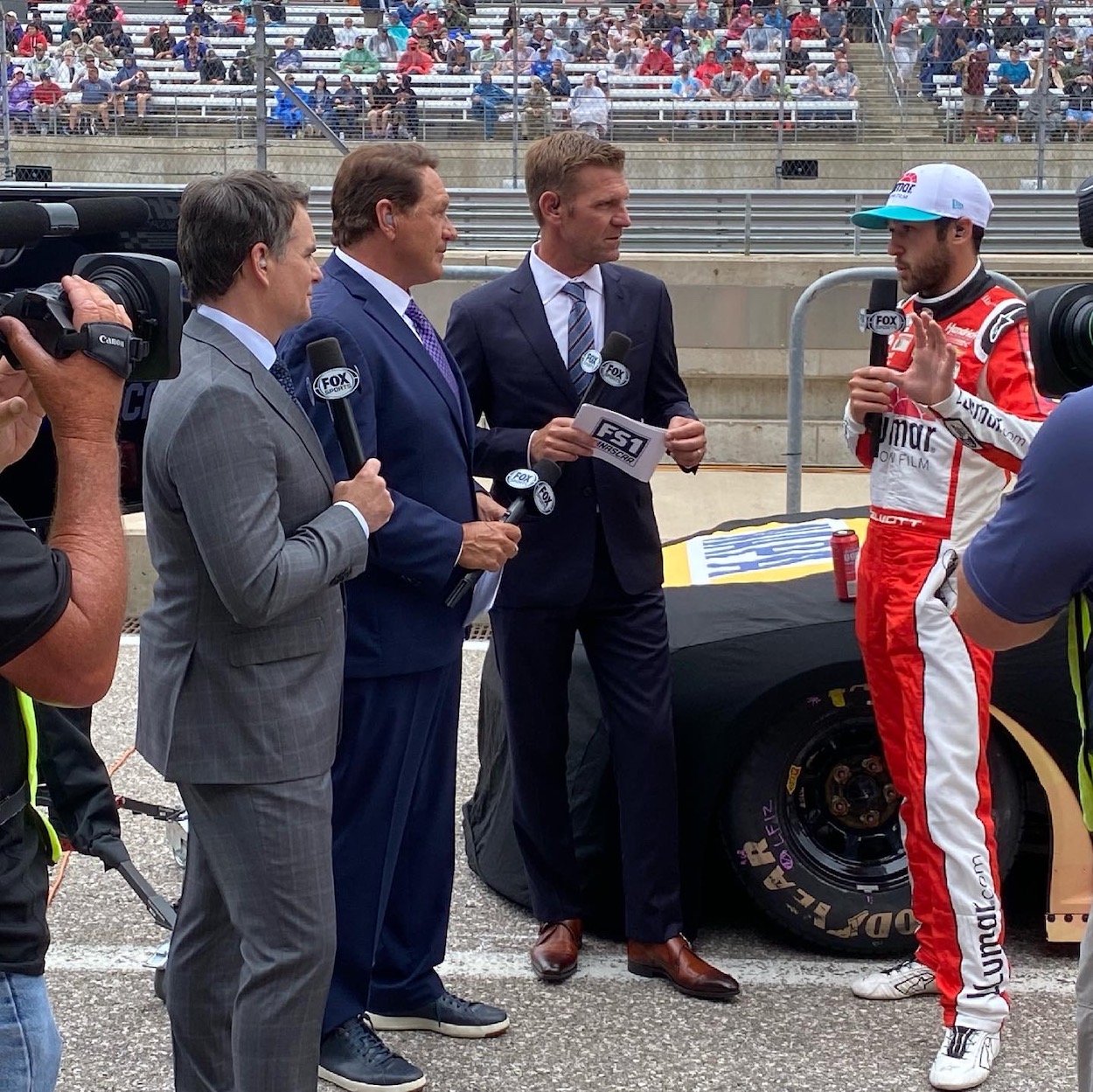 Clint Bowyer Candidly Admits He Was 'Super Bummed' Working With Jeff Gordon and Fox This Season
Clint Bowyer has paired well with Jeff Gordon in the broadcast booth this season. However, there was a time he was "super bummed" to be working with Gordon and Fox.
Clint Bowyer has blended in well with Jeff Gordon and Mike Joy in the Fox broadcast booth covering the 2021 NASCAR Cup Series season. While Bowyer has provided an injection of energy into the weekly telecast, it hasn't come without some personal heartache. The former driver-turned-broadcaster candidly admitted in a recent interview to a moment this year when he was "super bummed" to be working with Gordon and the Fox team.  
Clint Bowyer and Jeff Gordon have teamed up for prerace skits
Clint Bowyer and Jeff Gordon have a history together on the track, dating back to the 2012 season when Gordon wrecked Bowyer at Phoenix, and it resulted in both pit crews brawling in the garage area. Fox has played up that rivalry throughout this year, incorporating it into various prerace skits starting at the Daytona 500. 
At the season-opening race, the two former drivers participated in a Days of Thunder parody skit that started on the track at the conclusion of their prerace analysis with Chris Myers. The two then hopped into a pair of rental cars and raced around the track up to the broadcast booth, banging and beating on each other the entire way.   
There were other skits, including when Bowyer borrowed Gordon's pantyhose to cover his drink cup while watching a dirt race, as a promotion for the Bristol dirt race. Another time the two enjoyed adult beverages together in Las Vegas and after quite a few drinks, shared what they truly thought of one another.
Taken repeated shots at each other 
Up in the broadcast booth during the race, the rivalry between Gordon and Bowyer didn't go away. And it wasn't scripted. That resulted in a lot of spontaneous shots being fired at each other. 
Early in the season at Homestead, Bowyer made fun of Gordon's age by way of his vision, suggesting the large bold lettering on Martin Truex's car was perfect for Gordon's aging eyes.
Gordon took plenty of his own shots at Bowyer throughout the season, often talking about Bowyer's dramatically lower level of success compared to his own. In the end, it was always in good fun and never mean-spirited. 
'Super bummed' to be working with Gordon and Fox
With the Fox portion of the 2021 NASCAR Cup Series broadcast schedule coming to a close and switching over to NBC after the All-Star Race this weekend in Texas, Bowyer visited with The Athletic and reflected on his first year in the broadcast booth. 
He talked about how challenging it was learning the entire field for each race instead of focusing on just one car like when he was a driver, and how much fun he had during his first year working with his broadcast partners. He also admitted there was a moment right before he headed up to the broadcast booth before the start of the Daytona 500 when he wished he wasn't with Gordon or Fox, but back on the track. 
"But for me, it was right before we took off to go up top," Bowyer said in The Athletic. "I looked over my shoulder, and I saw the guys putting their helmets on in their car and it hit me. I was like, 'Damn.' Then I looked over at Jeff and said, 'You told me it would hit me at some point and it just hit me and I'm super bummed right now.' He said, 'I told you that would happen.'"
Bowyer overcame that moment of sadness. And the Fox broadcast team was better for it.
Like Sportscasting on Facebook. Follow us on Twitter @sportscasting19.