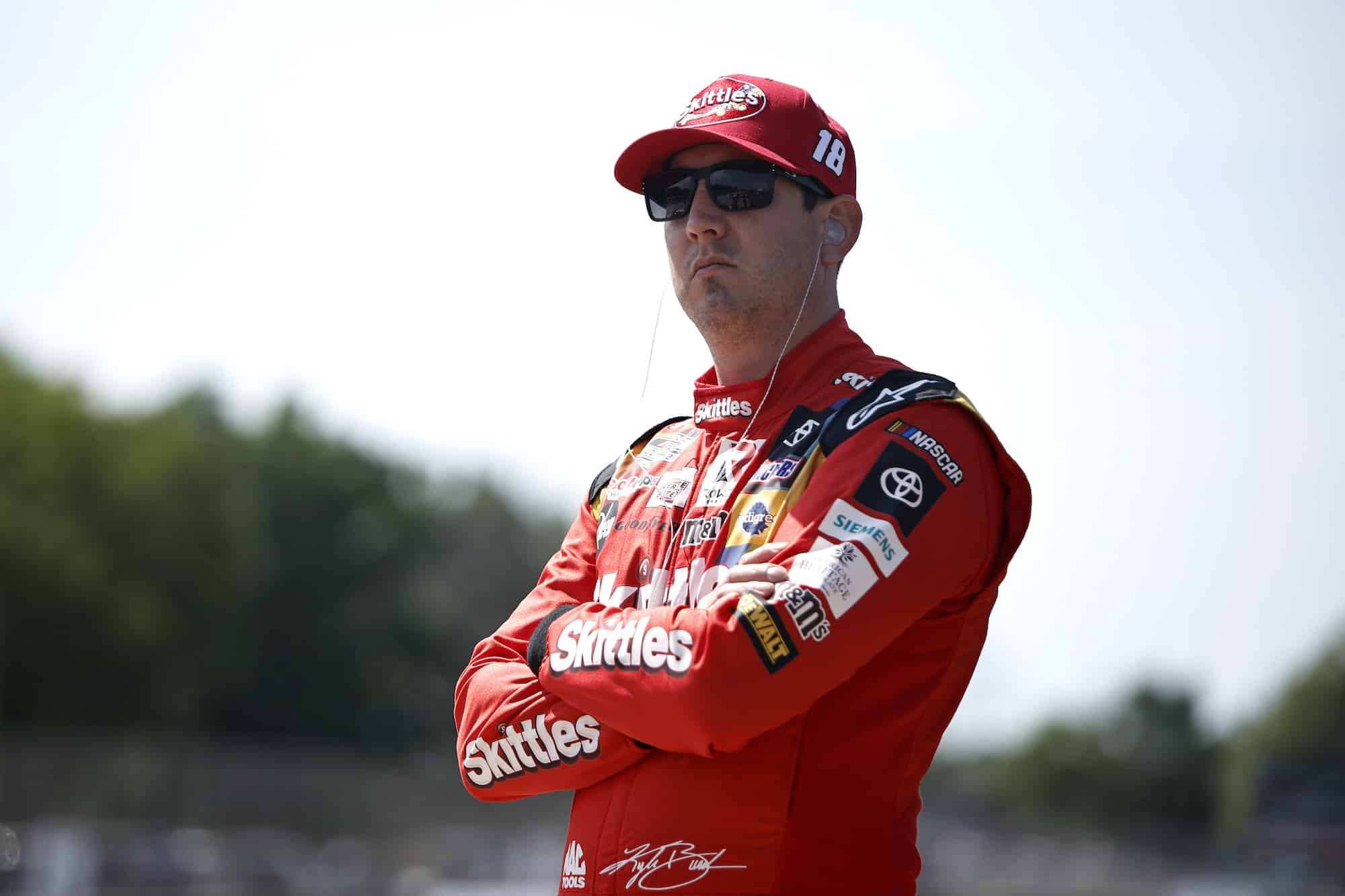 Kyle Busch Opens up and Candidly Admits Free Agency Has Taken a Toll on Him: 'It's Been Hard as Hell and a Lot of Sleepless Nights'
Kyle Busch opened up with reporters when asked about free agency, acknowledging that it's "been hard as hell" and has included plenty of sleepless nights.
Years from now, when fans look back on the 2022 Cup Series season, the Kyle Busch free agency drama will be one of the more memorable stories. After driving with the team for 15 years, the two-time champion's future at Joe Gibbs Racing has been in limbo for months.
This past weekend before the race at Watkins Glen, Busch visited with the media and was asked how the experience has affected him. The 37-year-old provided a candid and thoughtful response, acknowledging it has definitely taken a toll.   
Kyle Busch admitted he's talking with other teams
Since April, Kyle Busch's future at Joe Gibbs Racing has been in doubt. While Toyota and JGR officials put on a good face for months, that changed last month when a top Toyota executive admitted they were "in a bad place." 
Busch, who has consistently maintained the parties weren't close to an agreement, confirmed that the situation was in a bad place when a reporter asked him in July if he had spoken with other teams about potential employment.
"The short answer is yes," Busch admitted. "But, yeah, anything is possible, obviously. There's all different kinds of things that can play out. It's just a matter of what does."
Busch opens up about life as free agent
While Busch has been known to be confrontational with the media in the past, he struck a dramatically different tone this weekend during the prerace press conference at Watkins Glen when a reporter asked him to provide a sense of what it's been like dealing with so much uncertainty. The driver offered a surprisingly candid response. 
"It's been hard as hell. It's been a lot of sleepless nights figuring out what your future is and all that sort of stuff," Busch said. "Everybody's like, 'Oh well, you've made plenty of money. You're fine. You don't have anything to worry about.' Yeah, that's true, but you still want to do what you love to do." 
Busch reflected on the last time he was a free agent and admitted it was a challenge, but nothing compared to now, as the owner of a Truck Series race team and off-track responsibilities as a husband and father of two. 
"Going through many of the same things but it's way way harder because now you've got Kyle Busch Motorsports that you've got to think about," he said. "You've got a building that you've got to pay on. You've got a building note and all that sort of stuff so there's a lot of pieces and that's why it's not so simple. 
"If you look at each aspect of everything of my life, which some of you may not fully know, there's just a lot. Trying to take care of all those pieces and make sure everything goes as it was or as it has been the last few years would certainly be nice."
Busch admitted one reason for the sleepless nights has been the challenge of identifying a team that's a good fit and determining what exactly classifies as a good fit. 
"Trust me, I don't feel like it's fair to me or my family or anything else if we're going to have to spend less time together moving forward because we are going to have to change our lifestyle, no questions," he said. "There's a big change coming. Is it worth it to go run around and not have an opportunity to win right away versus building something versus jumping in something that can win. All of those questions are certainly being weighed out."
Won't be back at JGR next year, according to report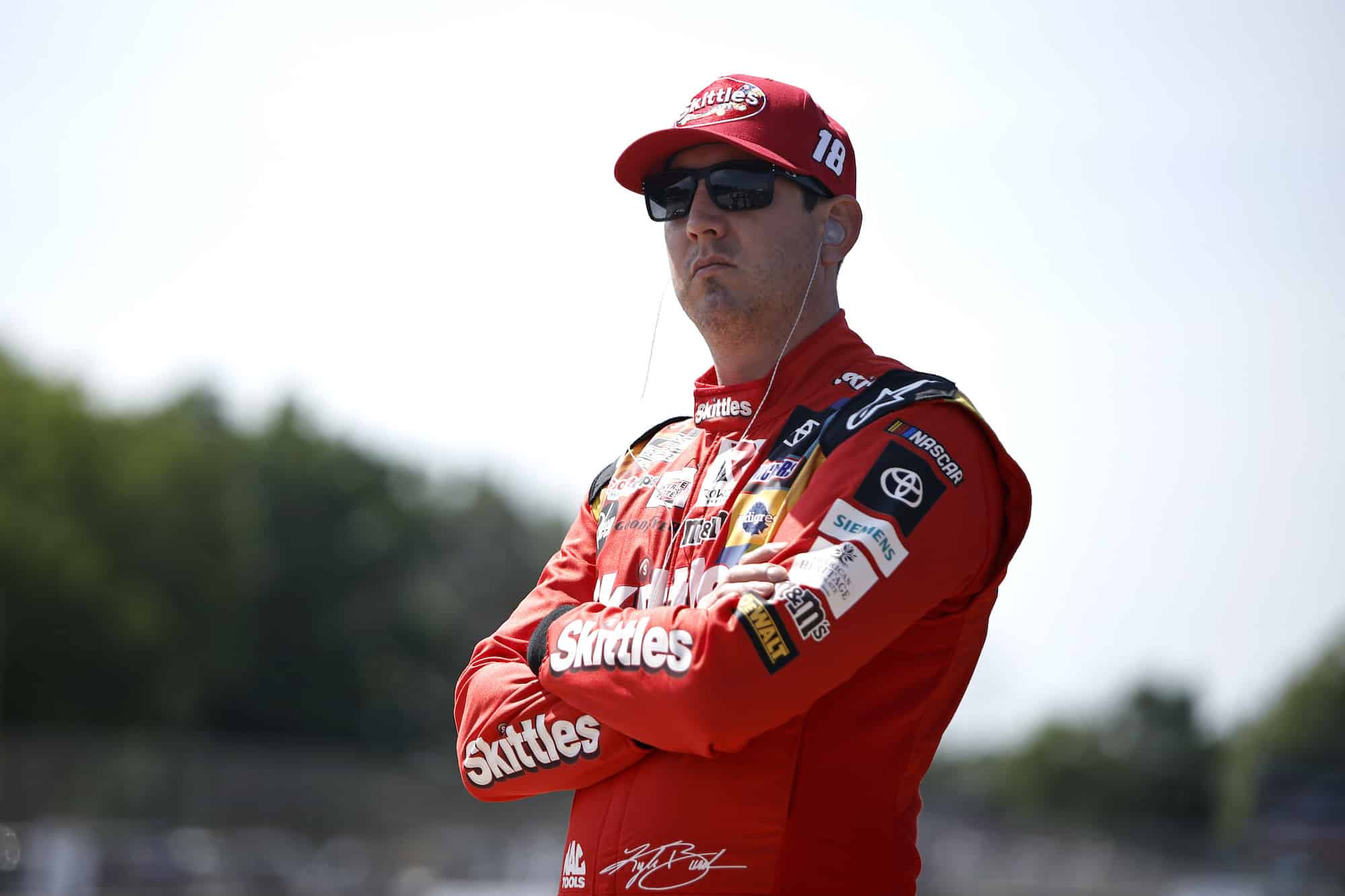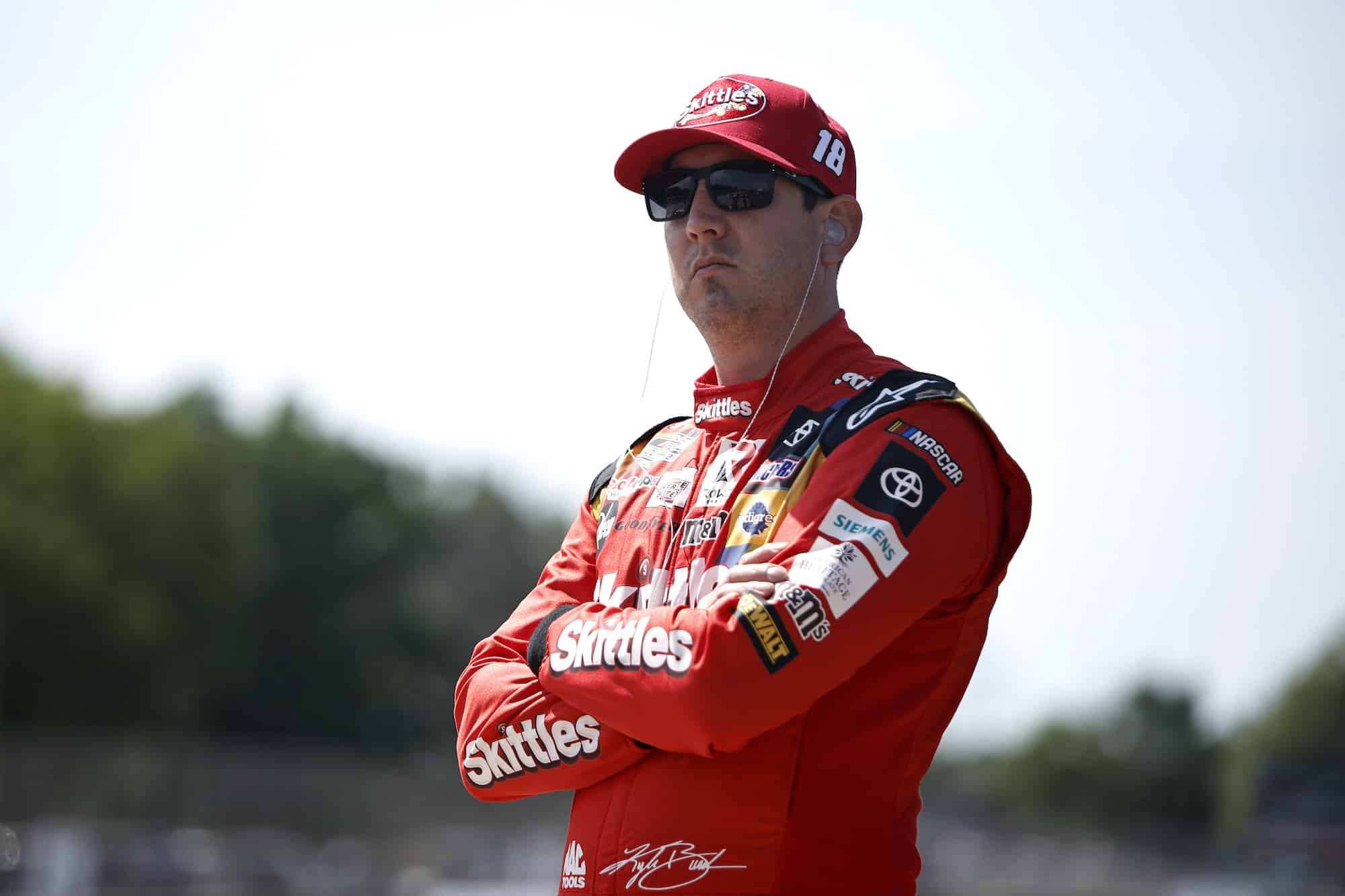 Based on what Busch has said of late, it sounds like he's preparing for life after JGR. Last week, fellow Cup driver Corey LaJoie said as much on the Stacking Pennies podcast.
"Well he's not driving that car next year so I guess he can," LaJoie said.
"Well, you don't know that yet," podcast co-host Skip Flores interrupted.
"Kyle Busch isn't driving the 18. It's not happening," LaJoie said confidently. "I hate it for the Kyle Busch fan. He will find a job somewhere. Hearing some rumors, there are certainly offers on the table. Two potential Chevy teams. A potential Ford team. And there's also an option potentially with Toyota. 
"But I think we're going to see our little buddy in the 18, guys. That's just the way it is," the driver said, suggesting Gibbs would be taking Busch's place.
If that is in fact how everything plays out, it would be a surreal ending to what has been a surreal situation that has lasted for months and caused a lot of heartburn for fans of the No. 18 car and a lot of sleepless nights for its driver.
Like Sportscasting on Facebook. Follow us on Twitter @sportscasting19 and subscribe to our YouTube channel.