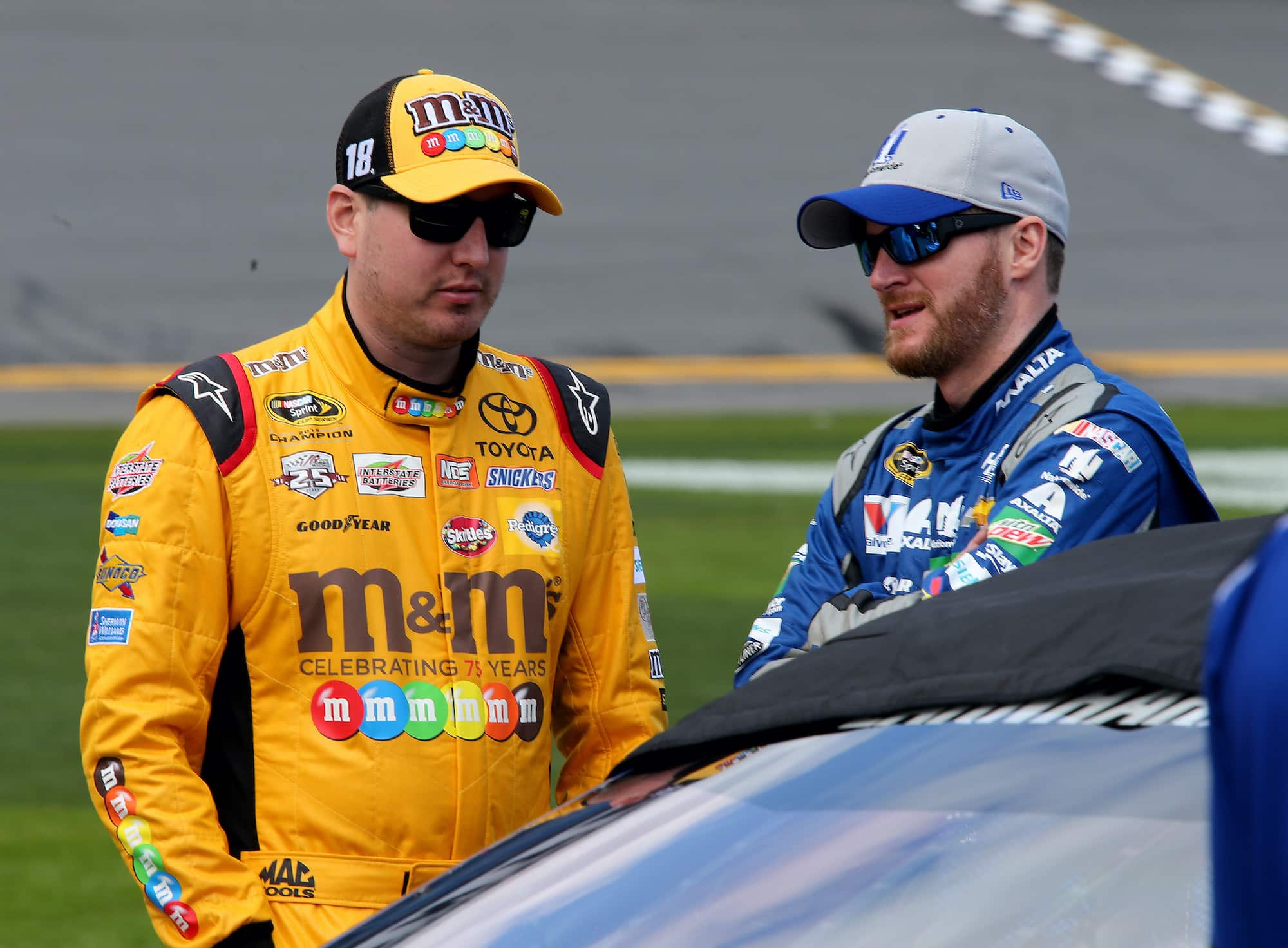 Dale Earnhardt Jr. Bluntly Calls Kyle Busch a 'Hypocrite' After Learning What He Told Ty Gibbs Not To Do
Dale Earnhardt Jr. didn't hesitate to call Kyle Busch a hypocrite this week on the Dale Jr. Download when Ty Gibbs shared what the veteran JGR driver told him not to do.
Dale Earnhardt Jr. and Kyle Busch have a history on the track. It all came to a head in 2014 when Junior confronted the JGR driver at Phoenix. Since then, the pair have talked and are now on good terms. However, that doesn't mean the NASCAR Hall of Famer doesn't criticize the two-time Cup Series champion in his role as an announcer on the NBC NASCAR broadcast or as the host on his popular podcast.
This week it was the latter, when Earnhardt welcomed Ty Gibbs as a guest on the Dale Jr. Download and Busch's name came up in an unexpected way. The conversation interestingly rewound back in time to that 2014 season when things got heated and Earnhardt threatened to kill his younger competitor.
Dale Earnhardt Jr. calls Kyle Busch a hypocrite
Dale Earnhardt Jr. recently interviewed Ty Gibbs on his podcast, where the pair had an interesting conversation, talking about a variety of topics, including Gibbs' feud with JR Motorsports driver Sam Mayer. At one point during the discussion, the 19-year-old driver surprised the host when he revealed why his fellow JGR teammate Kyle Busch had chastised him.   
"Have you ever flipped anybody off in a race car?" Earnhardt asked him.
"Yes," Gibbs promptly replied. "I learned that — Kyle told me not to do that anymore."
"Kyle who?" the host inquired.
"Busch," the driver said.
"Kyle Busch told you something," show co-host Mike Davis jumped in. 
"I was on live TV. It was at Martinsville. Lappers," the driver started. 
"Did he tell you that he's also flipped people off?" Earnhardt interrupted. 
"Uh, no," Gibbs said while shaking his head.
Earnhardt smiled and started laughing. "He's a bit of a hypocrite, I guess," he told the youngster. 
"Flipped him off at Phoenix," Davis recalled.
"Oh yeah," Earnhardt confirmed.
Earnhardt went ballistic when Busch flipped him off
Last year, Earnhardt appeared on the Bussin' With the Boys podcast, where he talked about his career, including the emotional ups and downs of being a NASCAR Cup Series driver. He recounted one of those down years in his career and how a single bird at Phoenix from Kyle Busch set him off. 
"I slowed down and got on the apron to come into the pits, and he's coming by me on the race track, and he didn't like something about what I did, and he flipped me the bird out the window," Earnhardt recalled. "He sticks it out in front of the window net. He's like, 'F-you, man!'
"And I pull into the garage, and it just sent me over the edge. So the practice ends and I debrief with my team and I'm frustrated with my car. It's just been a bad season, and then that happened and I'm going to go to my hauler and I see his hauler, and I'm like, I'm going in there, and if he's in there, I'm going to confront him about it. 
"I walked up into his hauler, which is an 18-wheeler trailer, and you walk to the very front of the trailer, and there is a lounge. In the lounge is Kyle and his crew chief. I know his crew chief very well and I said, 'Kyle, if you ever flip me off again, I am going to rip your head off. I am going to kill you and beat the hell out of you.'
"I just said everything I could say at that moment. I tell him everything I wanted to tell him. I never do that. It was out of character for me. But it was to a point where I needed to tell this guy to knock it off."
Rules on flipping the bird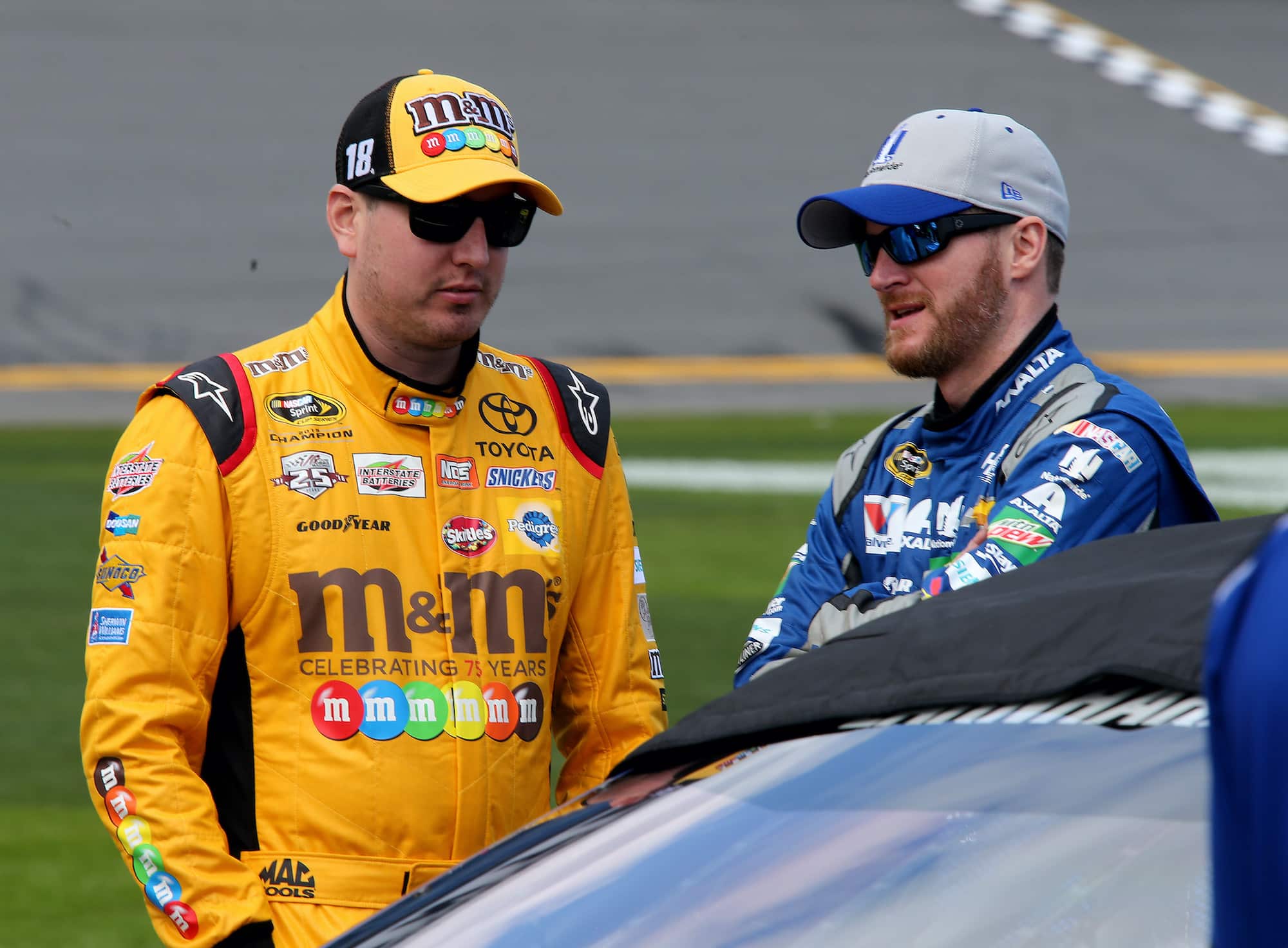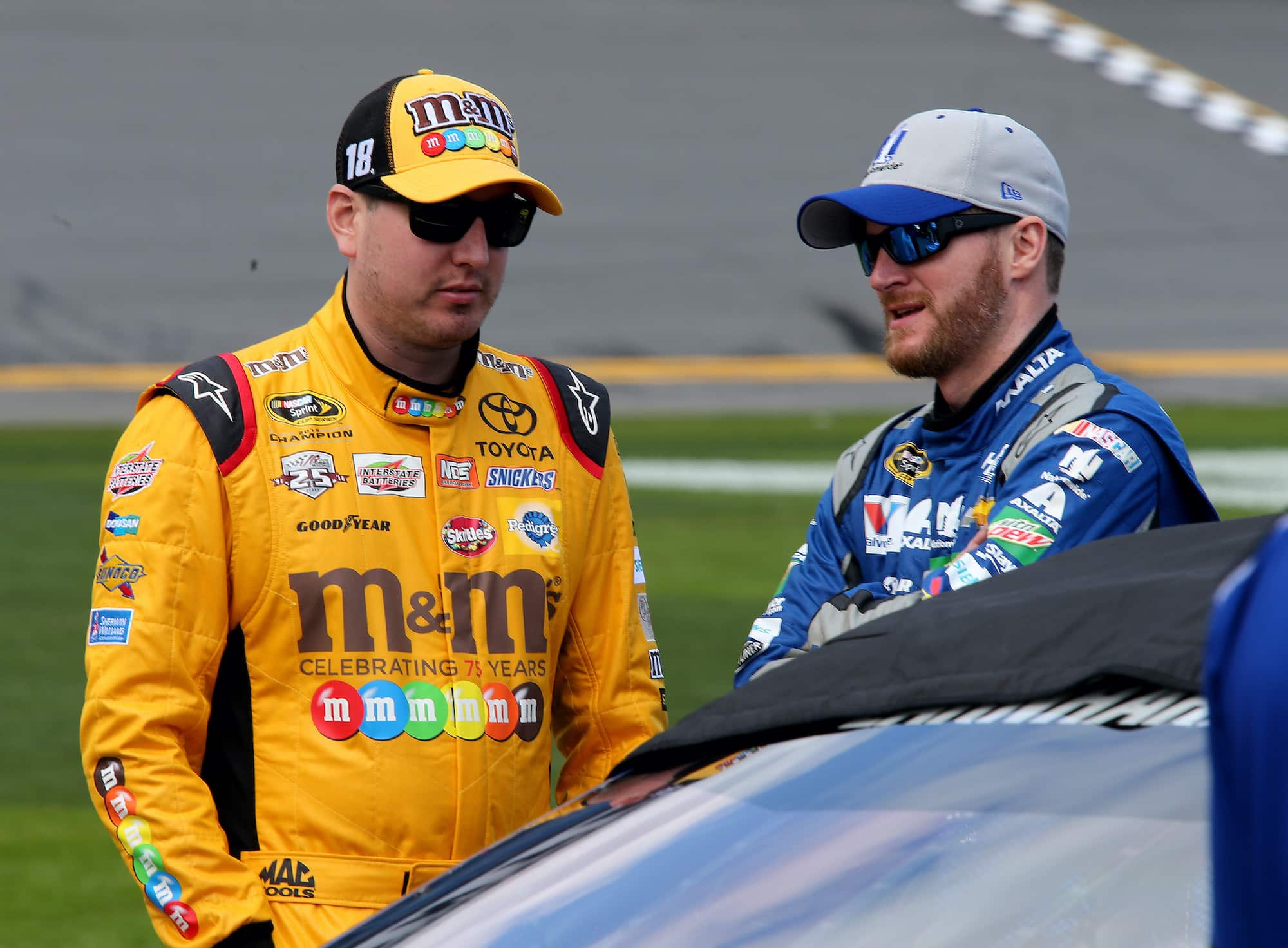 Earnhardt admitted during the Bussin' podcast that his response to Busch was a matter of respect. He is 10 years older than Busch. During the Download conversation with Gibbs, the two-time Daytona 500 winner admitted that he had rules for flipping off someone.
"I remember when I came into the Cup Series, flipping someone off, when you're in your late teens, twenties, flipping someone off is not a big deal," he said. "It's like, 'Yeah, I'm just letting you know I'm mad. Flip me off. I don't care. It's fine.'
"But to a guy that's like 35 and older, they get personal about that. I'm now at that place where, if I'm out on the race track and especially a younger driver flips you off, it flips a switch that I didn't know was there. Because I remember doing it when I was younger and I think it was Rusty Wallace or somebody, I was either getting this conversation from Rusty or I was listening to it, and it was basically like, 'Look man, if you're going to flip somebody off be ready to get your ass run over in the next corner because that's what's going to happen." 
Ty Gibbs is still very much in the learning stage of his career. And this week he learned what it means when someone says, "Do as I say, not as I do."
Like Sportscasting on Facebook. Follow us on Twitter @sportscasting19 and subscribe to our YouTube channel.