Dale Earnhardt Jr. Shocked to Learn How the Relationship Between His Father and His Brother Kerry Developed
Dale Earnhardt Jr. had a lot of questions for his brother regarding their father on this week's podcast.
Dale Earnhardt Jr. had a lot going on during his childhood. Forced to move from the family home with his sister Kelley because of a house fire, they went to live with their father, Dale Earnhardt Sr. The elder Earnhardt wasn't the greatest looking after his kids because he was so immersed in his NASCAR career. Junior's half-brother, Kerry, also the son of Earnhardt Sr., was recently on the Dale Jr. Download podcast and spoke about his relationship with his father, shocking Junior in the process.
Dale Earnhardt Jr. and his younger days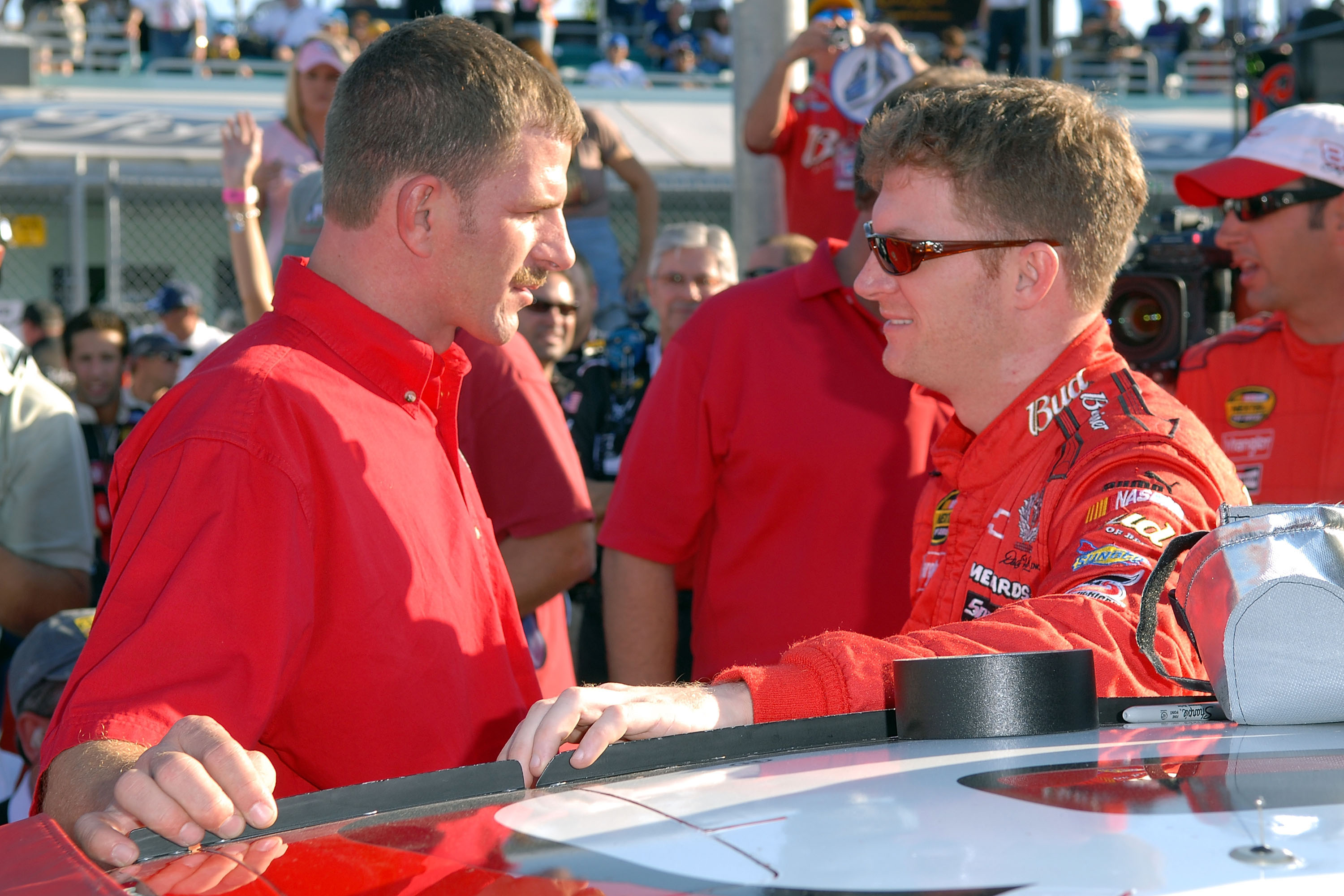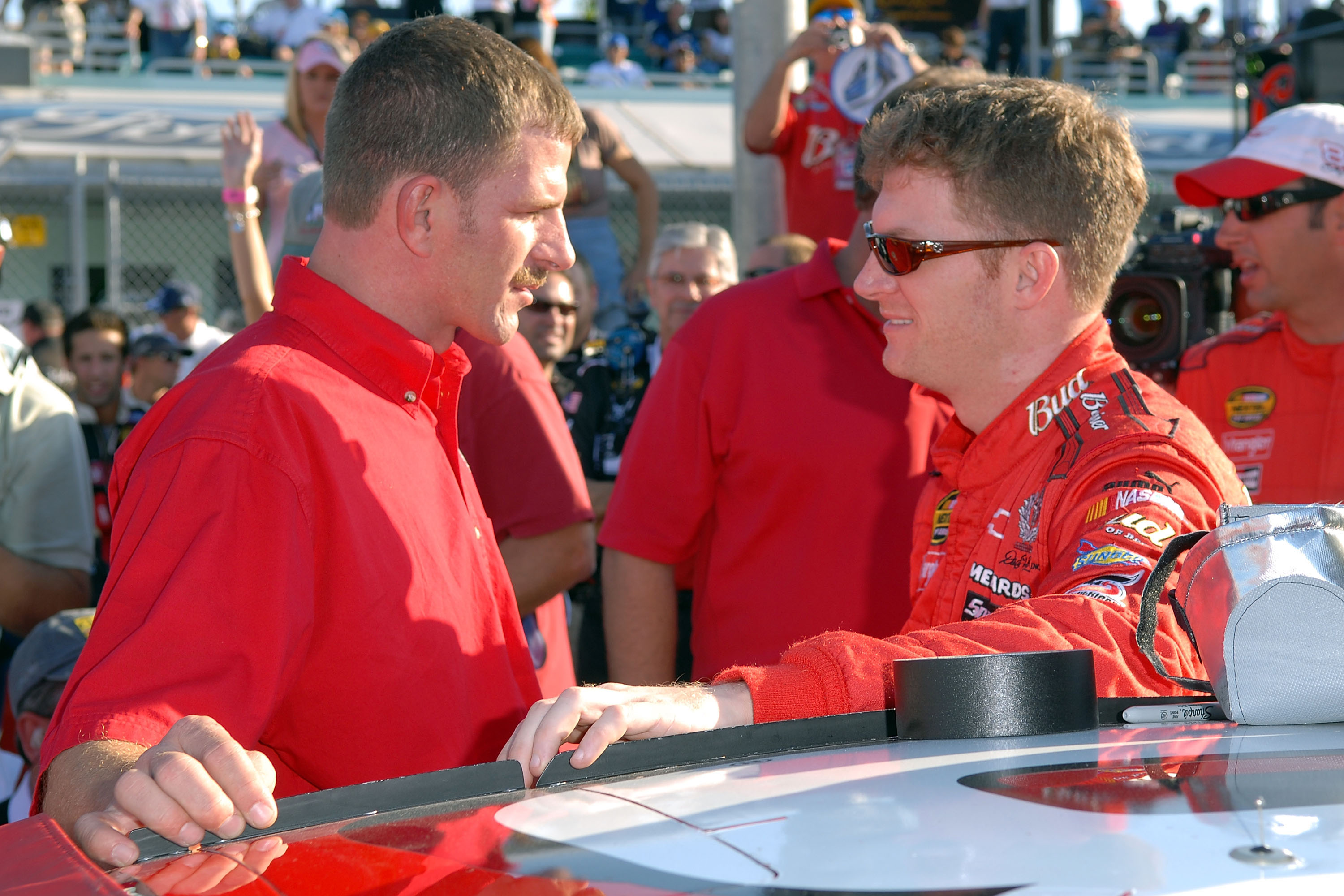 Earnhardt Jr. was only 6 when he woke up one morning and found his house on fire. His mother, Brenda, didn't have a job and was forced to move back to Virginia to be closer to family. Junior and Kelley went to live with their father, who wasn't always around. He was busy at the racetracks working on his Hall-of-Fame career.
Although Junior had a half-brother, Kerry, from Earnhardt Sr.'s first marriage, it was Kelley he was very close to while growing up. The two bounced around different schools and eventually developed a strong sibling bond. Although they lived with their dad and stepmother Teresa (Earnhardt's third wife), Kelley was the one who mentored her younger brother.
There has been family friction, mostly involving Teresa, who would not allow Kerry to use the family name in business deals. Kerry was a year old when his parents divorced. He assumed the last name of his stepfather, Jack Key, when Jack adopted him. In testimony to the Trademark and Trial Appeal Board, Kerry said his father helped him get the Earnhardt name back after they began a relationship when Kerry was age 16, according to ESPN.
Earnhardt stunned to hear about how Kerry's relationship with his father came about
Kerry Earnhardt was a recent guest on Earnhardt Jr.'s Dale Jr. Download podcast. The two discussed their time growing up, and Kerry got into some details about the relationship with his dad after not seeing him for 16 years. Junior was blown away by the process.
"After I found out who my dad was and me and mom got taking more serious about it, she was very good friends with Sherry Earnhardt, which was Danny Earnhardt's sister, dad's brother," Kerry said. "We had worked it out one day where I went to their house, me and my mom, and we called dad and I talked to him on the phone for the first time."
"My dad?" Junior said. "Your dad."
"Our dad," Kerry quipped.
Kerry said he was nervous about speaking to the man he never knew to be his father. Junior kept firing the questions at Kerry.
It took Kerry quite a long time to meet his father after that first phone call
"So, what did he say?" Junior asked Kerry about the initial conversation with his father.
"I said, 'Hello, this is Kerry,'" Kerry said. "He said, 'hello son.' I don't remember the whole conversation. We talked about how we missed growing up. How he missed me growing up, and I missed being with him. Maybe we could work it out someday."
"Gosh," Junior intervened.
"After that conversation, I was relieved," Kerry said. "I got to talk to my dad. I knew who he was now."
"Did he seem sincere? He can be kind of awkward. He doesn't know how to do that."
"Yes, he did. After that conversation, I thought about what would be my next step."
Junior jumped in and said he didn't know if he would've been able to be patient as Kerry was. "I would be thinking about this every second of the day," he said.
Kerry said his stepfather wasn't all for this meeting so he had to be patient. It took three years since that conversation for Kerry to meet his father. "I didn't want to stir things up to where it couldn't happen," he said. "After that one phone call, I never talked to him again (until they met three years later). I did get Christmas gifts from him."
When Kerry got his license, he took it upon himself to drive to see his father. "When I walked in, it got quiet," Kerry said. The two went for a drive and talked family, and he invited Kerry over to meet Junior and Kelley the following week.
"He explained why he left, you know, chasing his dream," Kerry said. "He regretted every minute of it."