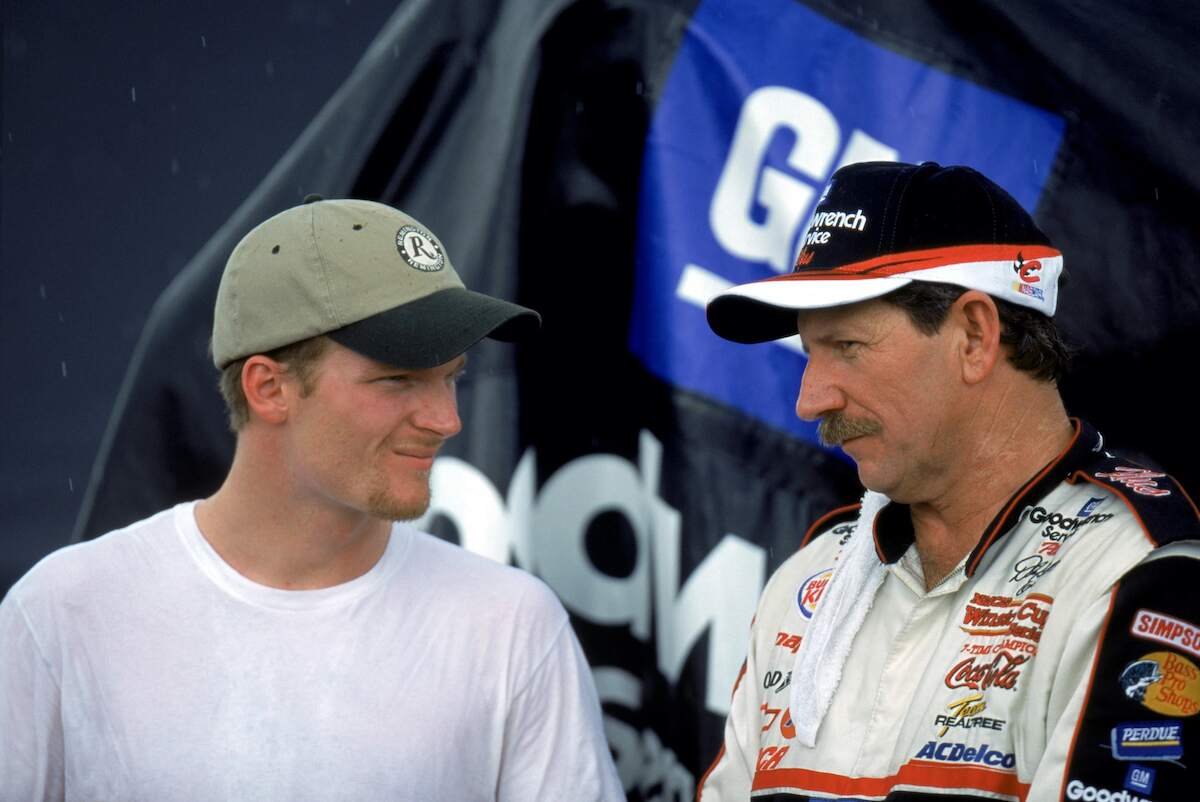 Dale Earnhardt Jr. Had 'the Most Important Moment' With His Dad Less Than a Year Before His Tragic Death
Dale Earnhardt Jr. shared the "most important moment" with his dad less than a year before his tragic death at the 2001 Daytona 500.
In modern motorsports, few names are bigger than Dale Earnhardt Jr. While he's no longer racing full-time, Junior still made quite an impact during his time on the NASCAR scene. He won 50 races, proved to be an incredibly popular driver, and built up a massive net worth along the way. No amount of fame and fortune, however, can change the painful reality of his father's death.
Although Dale Earnhardt Sr. tragically died during the 2001 Daytona 500, his son did have the chance to tell him how he felt earlier that year. In retrospect, Junior even admitted it was "the most important moment" that the two men ever shared.
Dale Earnhardt Jr. and his famous father never had the best relationship
From afar, being born into one of NASCAR's most famous families can seem like a gift. For Dale Earnhardt Jr., though, things were far from perfect. The Intimidator, it seems, could live up to his nickname even when he wasn't behind the wheel.
"We just didn't have a relationship," Earnhardt Jr. once explained during a conversation with Graham Bensinger. "We didn't do a lot of hanging out. We didn't communicate much unless he was telling me where to stand or where to be or what to fix or what to clean up. We didn't go hunting together; he didn't take me on trips. Like when he would go do things, I was never like an idea or a consideration."
Once Junior found his way behind the wheel, though, their relationship started to thaw. Racing proved to be something that could bridge the divide and connect the two Earnhardt men.
Junior shared his true feelings in a magazine story
While Dale Earnhardt Jr. didn't always see eye-to-eye with his father, he still held him in incredibly high regard. Eventually, he decided to share those feelings with the world in the form of a magazine essay.
There was one catch: You didn't do anything involving the Earnhardt name without first asking the main man.
"I was like, 'I'm gonna take this, and I'm gonna publish it in this thing. And everybody's gonna read it, and everybody's gonna know how I feel about my dad," Junior explained on Danica Patrick's Pretty Intense podcast. "But I was scared to do it without asking him. You don't do anything about dad, with dad, with the use of his name or anything without going to him and saying, 'Hey, is this OK?'
Despite his public persona as 'the Intimidator,' Earnhardt Sr. clearly appreciated his son's works.
"And he takes it, and he reads it, and he stands up, and he starts walking around reading it," Dale Jr. continued. "It's only, you know, about a page. And he stops at the end, and he takes a minute. And he says, 'You know, we never tell each other how we feel about each other, but in reading this, I know exactly how you feel."
Dale Jr. then explained that he was only speaking the truth; if anything, he assumed it was common knowledge how much he admired his father.
"I'm so glad you did this. I'm so glad you shared this with me," Earnhardt Sr. concluded.
Dale Earnhardt Sr.'s death made that conversation even more important
No matter the context, Dale Earnhardt Jr.'s conversation with his dad would have been meaningful. Given what ended up happening at the Daytona 500, though, their father-son moment became even more important.
"But anyhow, I think had that not happened… that moment is the most important moment in my life with my dad, without a doubt," Earnhart Jr. said. "We had won races together and stood in Victory Lane together, but to know that he knew how I felt about him is really important because knowing that he would pass away many months later."
Although the exact time when their conversation took place isn't clear, Earnhardt Jr. explained that his father died "within the year." While the experience was still incredibly painful, Junior found some solace in the fact that he had shared his feelings while he still could.
"Had I never got to share that with him, man, that would be tough going the rest of my life wondering if…I don't know if I'll ever see him again," Dale Jr. continued. "But if I was to never cross paths with him again and he'd leave this world without being able to share that with him would be so hard. I'd be in such a harder place in spending all these last 20 years without him. It would be so difficult, had I not had that chance. … I feel very lucky."