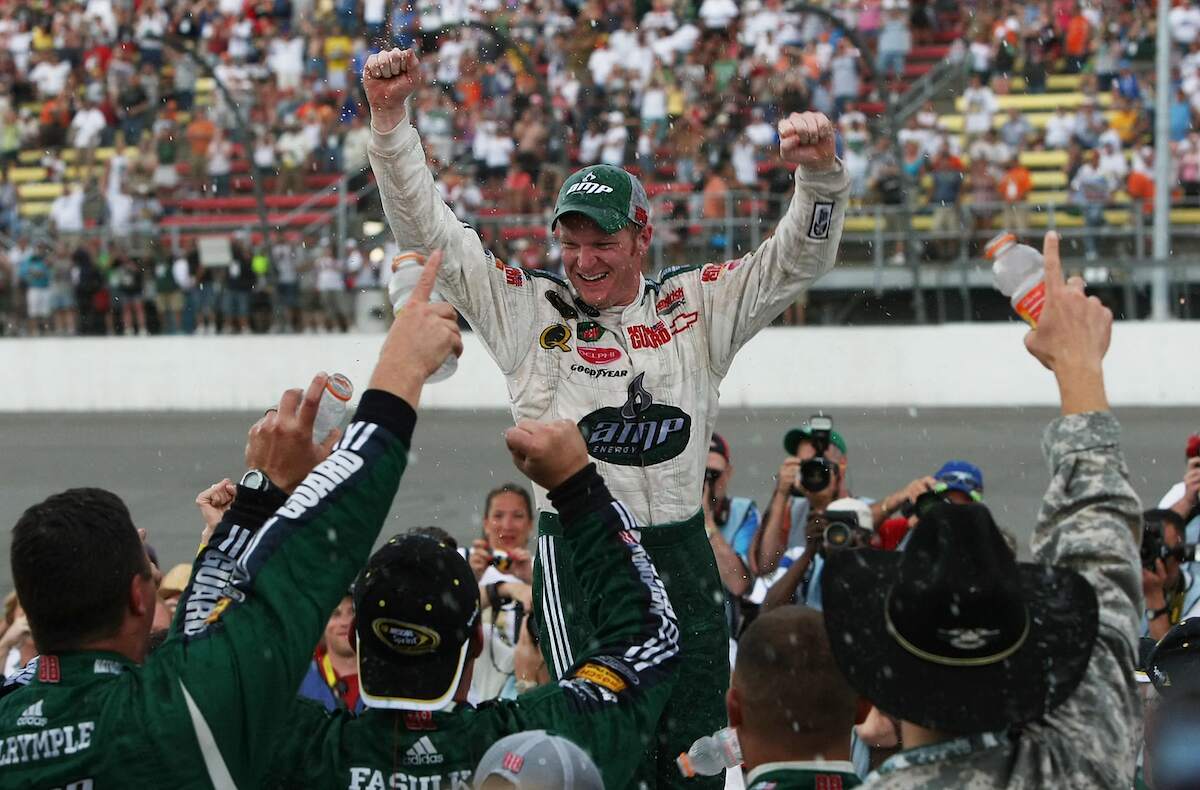 Dale Earnhardt Jr. Was Crushed by His Father's Reaction After Winning His First Trophy
Dale Earnhardt Jr. recalls a time when his father deflated him with a comment after Junior won his first racing trophy.
Dale Earnhardt Jr. took after his father in the world of motorsports. He didn't have nearly the success of Dale Earnhardt Sr., but he managed to carve out a NASCAR Hall-of-Fame career. It wasn't always easy for Junior, who recalled the day he earned his first trophy and was devastated by the reaction of his father.
Dale Earnhardt Jr. is a Class of 2021 NASCAR Hall of Famer
Dale Earnhardt Jr. raced for 19 years in the NASCAR Cup Series and followed his father into the NASCAR Hall of Fame. He was one of three drivers who entered the Class of 2021. Earnhardt Sr. was a member of the inaugural Hall class back in 2010.
The elder Earnhardt established himself as one of NASCAR's all-time best. He's tied with Richard Petty and Jimmie Johnson for the most Cup Series championships with seven, and he's racked up 76 career wins in his 27-year career. Earnhardt Sr. was tragically killed on the final lap of the 2001 Daytona 500.
Junior had his career cut short after battling through a series of concussions. He missed the second half of the 2016 season and then announced that 2017 would be his last. He finished his career with 26 Cup Series wins and added 260 top-10 finishes. Earnhardt Jr. twice won the Daytona 500 and he was named NASCAR's Most Popular Driver for 15 straight years.
Dale Earnhardt Jr. always felt like he disappointed his father
Dale Earnhardt Sr. was one heck of a driver but wasn't considered the greatest of fathers. He was clearly focused on his racing, and Dale Earnhardt Jr. felt like he would never live up to his father's expectations. "As a kid, I never measured up to his hopes for my initiative and my determination," Earnhardt Jr. told Graham Bensinger in 2018.
"We just didn't have a relationship," the younger Earnhardt said. "We didn't do a lot of hanging out. Just didn't communicate much unless he was telling me where to stand or where to be or what to fix, or what to clean up. We didn't go hunting together, he didn't take me on trips. Like when he would go do things, I was never like an idea or a consideration."
The relationship improved through racing. There was an instant bond, but Junior admitted to Bensinger the only reason he began racing was to get closer to his father. "The only reason I raced was to get closer to my dad," Earnhardt Jr. said. "That was the only way I would. Nothing I did would register with him."
Junior was floored by his dad's reaction after winning a trophy
Growing up, Dale Earnhardt Jr. never quite got a good read on his father. The elder Earnhardt never gave his son the support he needed. In fact, there was one instance that remains fresh in Junior's mind. It was an incident that completely deflated him when he was a child.
"I raced against this guy named Robert Powell, and he won every single week," Earnhardt Jr. told Danica Patrick on her Pretty Intense podcast. "I'd run second. I'd come home, working on my car; Dad walks in Monday morning, 'Where'd you run?' 'I ran second to Robert. Good night, but Robert won.' One night, I won, and Robert wasn't there. Right? But we won. I get the trophy, come home, and I put the trophy on top of the Lance cracker machine because I know that's the first place Dad's gonna go when he walks through that door.
"The trophy is on top of this cracker machine, and I can not wait for him to walk in there and see it. I haven't been able to tell him I've won a race, ever. He comes walking in, walks over to the cracker machine, and he don't say anything. I was like, 'Dad, look at that trophy. Look at that trophy, man.' He's like, 'Y'all won?' I was like, yeah. He goes, 'Robert wasn't there, was he?' I was like, 'My God, who cares?' I'm telling you, he just grinned that Earnhardt grin and walked out the door. I felt, like, so let down. He was a hard, tough dude."