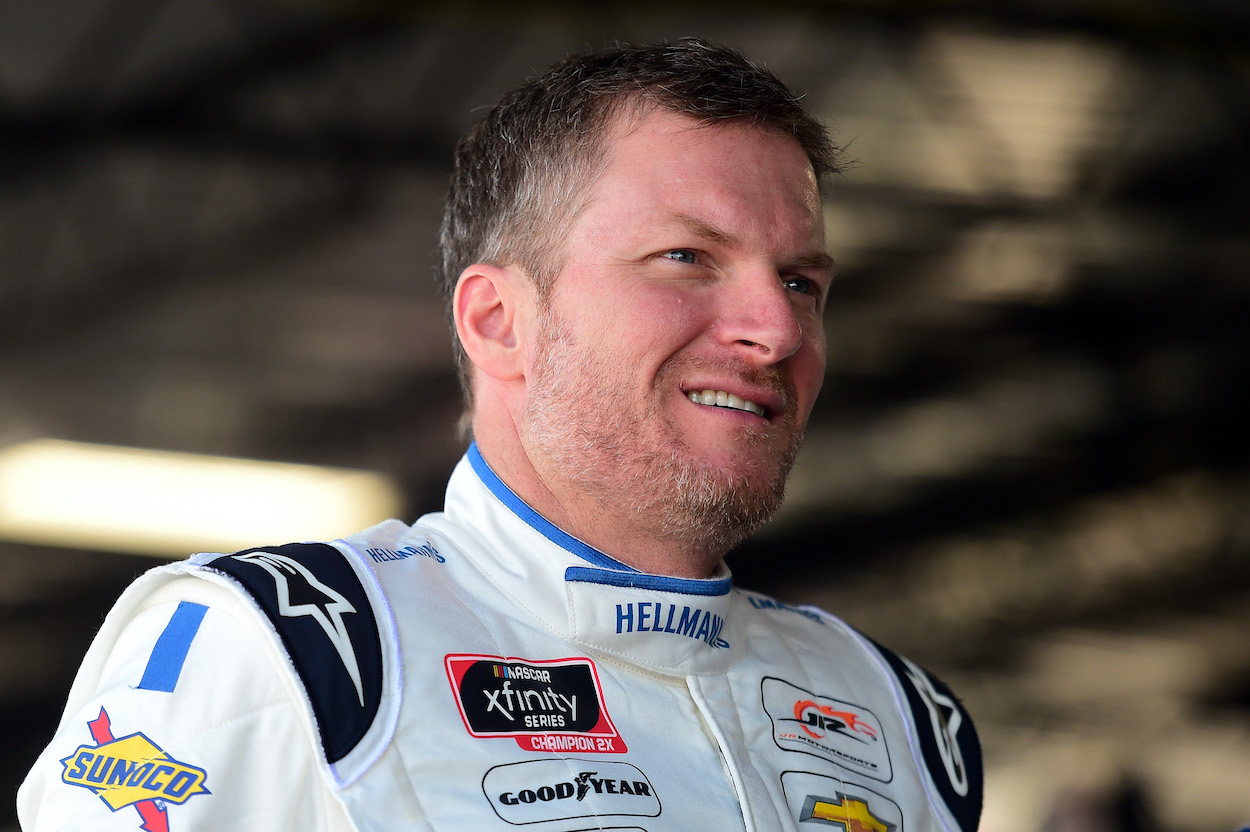 Dale Earnhardt Jr. Embarrassingly Calls Out Spotter TJ Majors Just Days Before Pair Reunite at This Weekend's Xfinity Series Race in Richmond
Dale Earnhardt Jr. called out his longtime spotter TJ Majors on his podcast this week on the eve of the pair reuniting for the Xfinity Series race at Richmond.
Dale Earnhardt Jr. and spotter TJ Majors have a lengthy history together. They met in the late 1990s through iRacing, and Junior hired Majors to drive for his fledgling race team a few years later. After eventually hanging up his helmet, Majors became a spotter for Earnhardt. This weekend, the pair will reunite at Richmond for Earnhardt's annual race in the Xfinity Series. 
During the latest episode of the Dale Jr. Download, the two-time Daytona 500 winner talked about working with Majors again, and he recounted a story from the first time Majors served as a fill-in spotter for Matt Kenseth. It was a hilarious moment and one that Majors learned from on his way to becoming one of the best spotters in NASCAR. 
Dale Earnhardt Jr. returns to race this weekend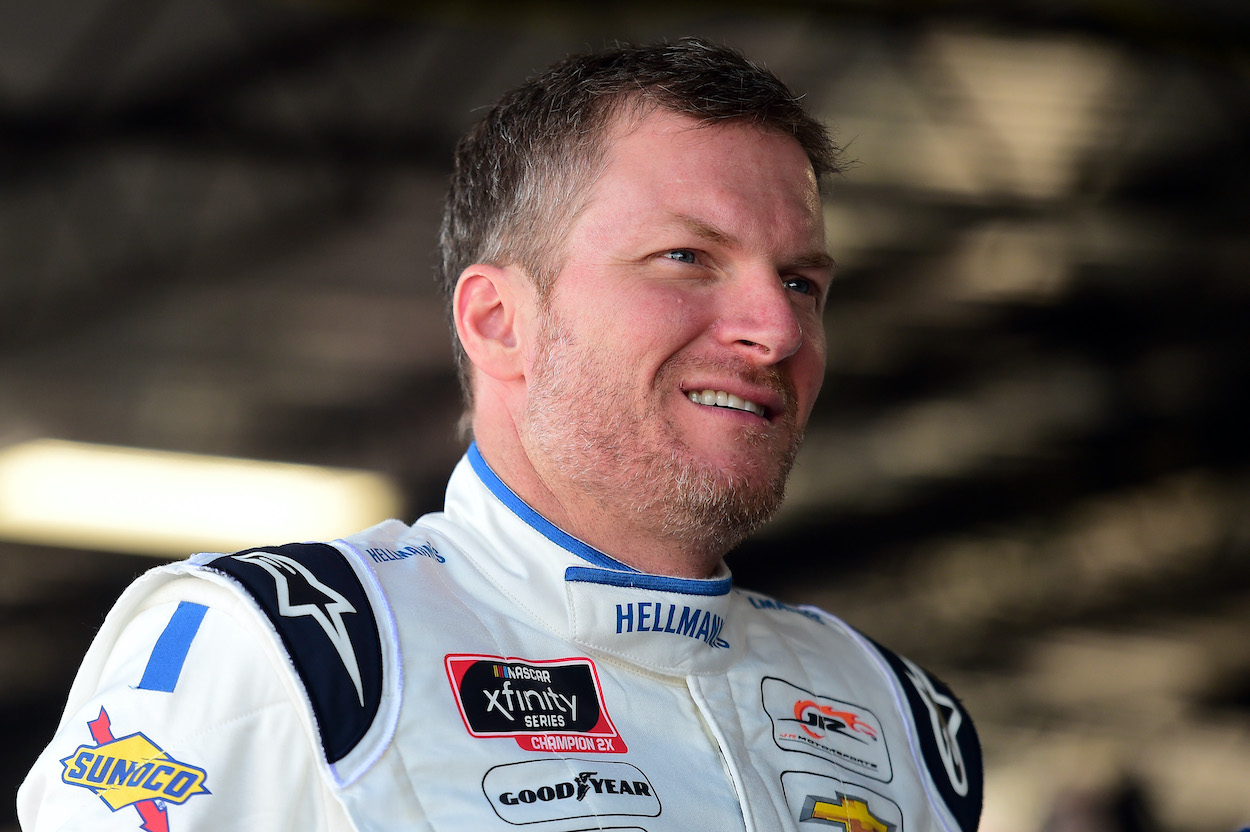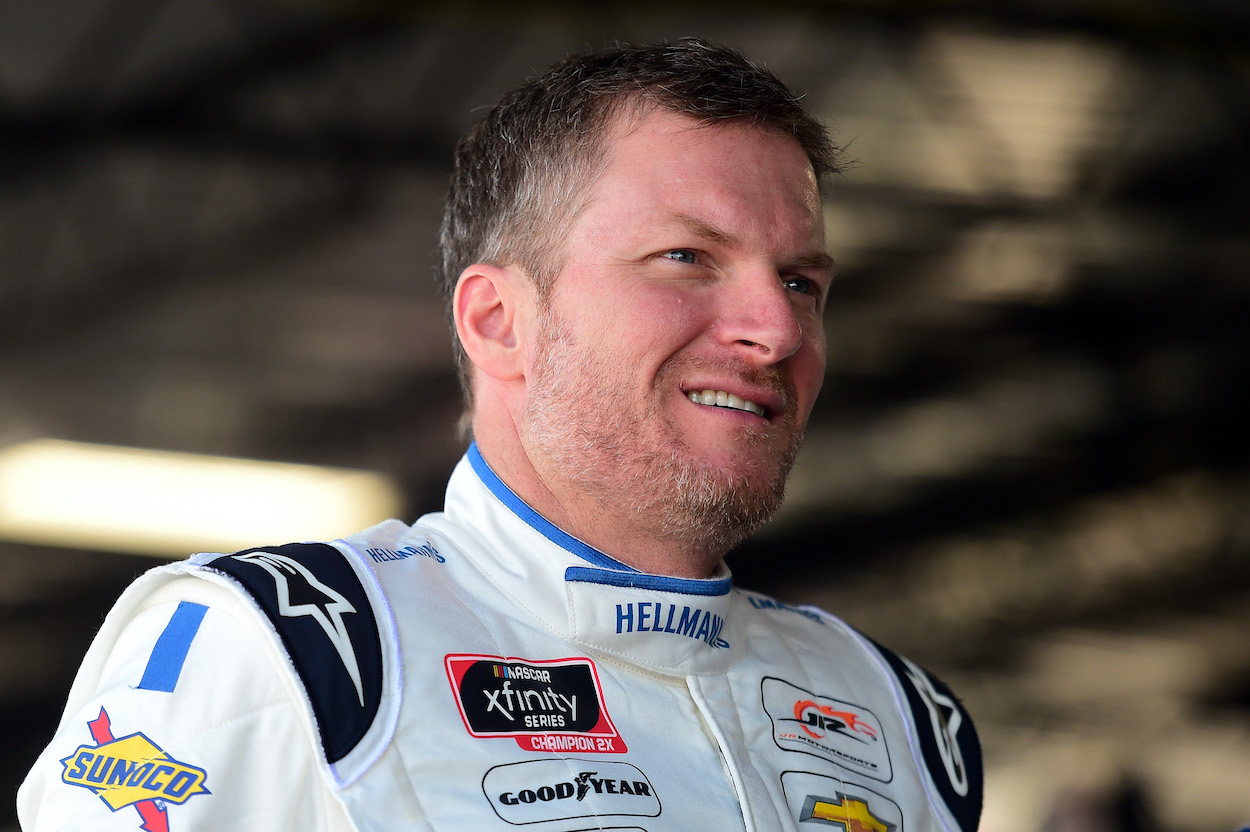 Every year since Dale Earnhardt Jr. retired from full-time Cup Series racing in 2017, he's managed to get behind the wheel of an Xfinity Series car for one race. This weekend at Richmond is Earnhardt's annual ritual. While it sounds as simple as just jumping back into the car, there are many moving parts, like finding a team that can work with him, including a pit crew and spotter.
Earnhardt will be joined this weekend by a familiar face in spotter TJ Majors, who served in that same role for him during his career from 2008-17. On the latest episode of the Dale Jr. Download, Earnhardt made a special point to thank the Penske organization for allowing Majors to work with him. 
"I need to make sure that we give a special thanks to Roger Penske," Earnhardt said. "Every year that I've ran a race, they've allowed TJ to come over and spot for me. I know how protective these teams are just of their people, their information. And we've reached out to Roger in the past just directly to ask him. It's been kind of cool because it's really the first line of communication I've ever had with the legend Roger Penske was to ask him to let TJ spot for me. So thank you to Penske and everybody there that's involved in all those decisions to allow TJ to do it because they could just say no."
Dale Earnhardt Jr. calls out TJ Majors
In addition to talking about this weekend's race, Dale Earnhardt Jr. went back in time and detailed the time Majors made his spotting debut as a fill-in with Matt Kenseth. 
"If everybody wants to give TJ a hard time, his first job as a spotter was at Dover for Matt Kenseth," Earnhardt recalled. "Matt's spotter had an illness or a family issue and had to go home, and in the last minute they're looking for somebody. I don't know how we did it, but I convinced them to let TJ do the spotting."
Earnhardt said Majors wasn't completely unfamiliar with the role and had some experience working for him as a second or third spotter for his team on some road courses. However, this was his first time as the main guy. 
"And so Matt Kenseth is going to get some spotting from TJ in the Xfinity race. So TJ is on the radio. They're coming around Turn 4, getting ready to start the race. And TJ is like, 'Get ready, get ready, get ready.' And when the flagman waves the green, TJ is like, 'Green, green, green, green.' And he kept saying the word green until Matt exited Turn 2," Earnhardt said as those in the studio broke out into laughter. "I've never let him forget it."
Majors has come a long way from those early days
While Dale Earnhardt Jr. likes to have fun at his former-current spotter's expense, he does so knowing that Majors took his role in that opening race and parlayed it into a successful career. In fact, Majors made headlines recently when Team Penske announced that he would be switching from the No. 22 team of Joey Logano to Brad Keselowski, who will be leaving the organization next season to join Roush Fenway as a driver and part-owner. Majors is reportedly going with him. 
The 2012 Cup Series champion didn't hide his excitement when it was announced in August that he was getting Majors. 
"We're just kind of in an interesting situation with the team change and shuffles, and all that is going on and the spotter's contracts were all in different positions and trying to get alignment on it," Keselowski said. "It ended up working out in a really good way for all parties. I've had a lot of success with Coleman Pressley, and proud of that history that we had. I look forward to doing the same with TJ. I feel like I'm looking at having the No. 1 spotter in the sport. That's a big kind of get for me, not just now, but for years to come. I'm pretty happy."
The No. 1 spotter in the sport is a long way from that first race in Dover. 
Like Sportscasting on Facebook. Follow us on Twitter @sportscasting19.