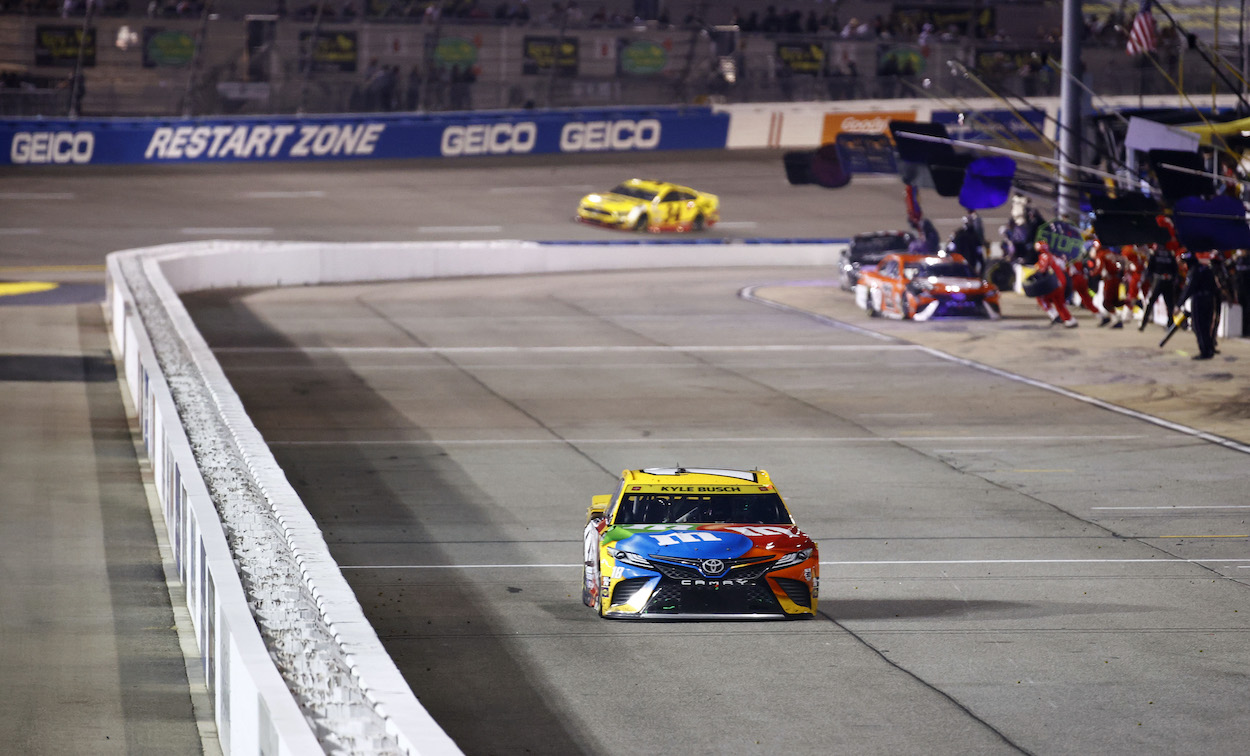 Kyle Busch Gets Big Dose of Karma a Week After Throwing His Team Under the Bus at Darlington
Kyle Busch got a big dose of karma at Richmond a week after ripping his team for its performance at Darlington.
After a pair of finishes 34th or worse in consecutive weeks, Kyle Busch lost his cool last week at Darlington. In addition to driving dangerously fast down pit road to the garage, the two-time Cup Series champion cussed on live TV and threw his team under the bus for the poor performance.
A week later, Busch found himself leading late at Richmond. His team had done everything it could to provide him with a quality race car and put him in a position to win. Then, karma came calling. 
Kyle Busch gets wrecked and drives aggressively through pits at Darlington
After finishing 34th at Daytona in the regular-season finale, Kyle Busch expected to start the 2021 playoffs with a clean slate and a strong race at Darlington. It didn't happen. 
Busch got in an accident with Austin Dillon late in Stage 2 that ended his day. Immediately following the accident, the Joe Gibbs Racing driver hurried down pit road, made a quick left turn toward the garage, and ran over a barricade made up of four pylons, with one of the orange cones lodging under the front of his car. 
His quick speed off pit road caught numerous race personnel by surprise, sending them scurrying to the side to avoid getting hit. A few minutes later, Busch addressed what happened on the track to NBC's Marty Snider. 
"It wasn't the 3's fault. Just take our lumps. We're running like s***. We got wrecked," Busch said on live television. "It's what you get when you run like s***. Shouldn't be there. I don't know what our problem is. Every time we go to sim and use the sim and think we have a good sim session, we go to the race track and we suck. I'm done with that. We'll have to use some other tools on figuring out how to be good. The M&M's Camry was not very good and we're running terrible. We got wrecked. It wasn't the 3's fault." 
When Snider asked for his thoughts on the upcoming playoff races at Richmond and Bristol, where Busch has 14 wins to his credit, he didn't care.  
"Who cares? We get what we get," he curtly answered.
Kyle Busch gets big dose of irony and karma at Richmond
This week Kyle Busch drove Richmond Raceway like a different driver. After throwing a temper tantrum the week before, he remained calm throughout the race. It matched his performance on the track. Busch and all the JGR cars were dominant for much of the night on the three-quarter-mile track. 
With 95 laps remaining, Busch took his first lead of the night. He led for the next 40 laps before pitting and told his team over the radio during the run, "Whatever this is, it is really, really good," according to NBC. 
After the green-flag pit stop, Busch returned to the track but fell back in position behind teammate Martin Truex Jr. It didn't matter. Ironically, a week after he drove fast down pit road to the garage, NASCAR flagged the No. 18 car for entering pit road too fast. He had to serve a pass-through penalty — his chances of winning the race erased because of a costly mistake of his own doing. 
Busch finished ninth while his JGR teammates finished first through third (Truex Jr., Denny Hamlin, and Christopher Bell). 
Said team must avoid mistakes before start of playoffs
Busch's costly speeding penalty late in the race was the team's second of two infractions for the day. NASCAR penalized the team earlier in the first stage for equipment interference and sent the No. 18 car to the tail end of the lead lap. 
Ironically, just a couple of days before the start of the playoffs, Busch met with reporters and said it would be imperative for his team to avoid making mistakes if there was any chance of capturing his third title in six seasons. 
"Don't beat yourself, speeding penalties, obviously, and leaving lug nuts off. Just dumb stuff," Busch said. "Those are definitely things to kind of live by."
Dumb stuff. Busch said it. Then he did it a week after ripping his team for its flaws. Irony and karma rolled into one.
Like Sportscasting on Facebook. Follow us on Twitter @sportscasting19.