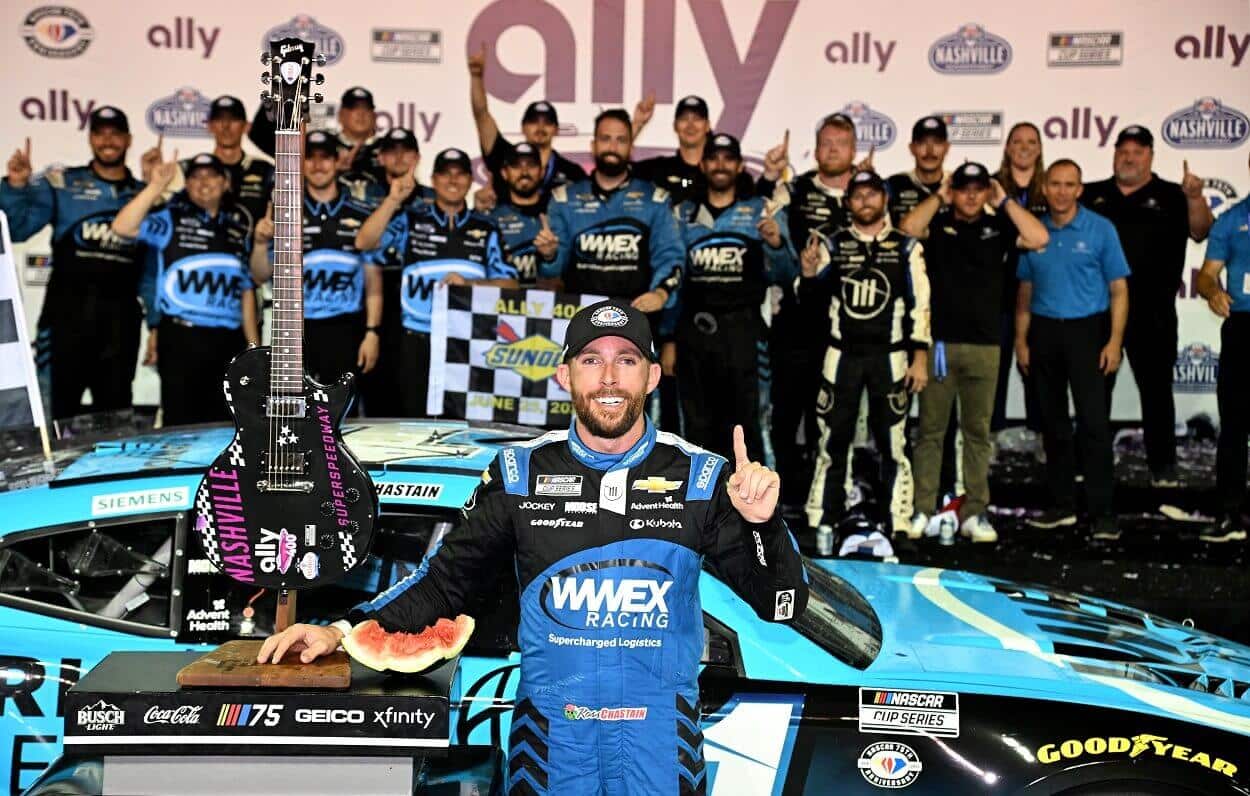 Ross Chastain and Trackhouse Racing Treated Nashville the Way Hendrick Motorsports Treats Martinsville
Ross Chastain ended a slump with an emphatic win at Nashville, which also happens to be the home track for Trackhouse Racing.
Ross Chastain and his Trackhouse Racing No. 1 team ended a slump in convincing fashion Sunday when he led 99 laps and won his first race of the season at the operation's home track of Nashville Superspeedway much the same way NASCAR's most successful organization has long made a point to thrive at a track that holds special meaning to the team owner.
Chastain had fallen from the top spot in the points standings to as low as fifth over the course of a four-race slide that included three finishes of 22nd or worse. A wreck with Kyle Larson on a late restart last month at Darlington Raceway brought another round of criticism Chastain's way, most notably from Larson's team owner Rick Hendrick, and Chastain had struggled ever since.
Nashville was in a perfect spot on the NASCAR schedule for Ross Chastain
A visit to Nashville could not have come at a better time for Chastain and the entire Trackhouse organization. Team co-owner Justin Marks founded Trackhouse in Nashville and had hopes to run the company's race teams out of Music City, but an opportunity to purchase Chip Ganassi Racing developed in 2021, and Trackhouse took over operations of the CGR facilities in Concord, North Carolina, after that season.
Trackhouse still has business operations of Trackhouse Entertainment Group in Nashville, so the 1.33-mile concrete oval is what Marks considers the organization's home track. 
"Winning here, this is the race that I want to win more than any of the races besides the one they hold in Florida and the one they hold in Arizona," Marks said in his postrace press conference. "So it's a big day for us."
His teams have excelled at the facility since NASCAR added it to the Cup Series schedule in 2021. Chastain and teammate Daniel Suarez have not finished outside the top 15 in any of the three races, and Trackhouse leads all Cup Series teams with an 8.0 average finishing position at the speedway.
Trackhouse's superb results at a track that holds an important spot in the heart of the team owner are reminiscent of how Hendrick Motorsports approaches races at Martinsville Speedway for team owner Rick Hendrick.
Hendrick Motorsports treats Martinsville the way Trackhouse approaches Nashville
The 0.5-mile short track in southern Virginia has been at the center of many monumental moments in Hendrick's life, both good and bad. Geoffrey Bodine won the organization's first NASCAR race in 1984 at Martinsville. Hendrick was potentially only weeks away from having to shut down what was then named All-Star Racing when Bodine took the No. 5 car to Victory Lane for the first time at Martinsville.
The win helped keep All-Star Racing alive, and the organization, which Hendrick renamed Hendrick Motorsports the following year, has gone on to win 28 times at the venue across the next three decades. HMS holds the records for most wins and laps led (10,531) at Martinsville, and the 28 victories are six more than at any other track, ahead of 22 wins at Dover Motor Speedway.
Martinsville is also meaningful to Hendrick because he lost his son, Ricky, and nine others on a team-owned airplane that crashed en route to the speedway in October 2004. Jimmie Johnson went on to win the race that day, and an HMS driver has won at least one of the two annual Martinsville races in 14 of the next 19 seasons, including Larson's win this past April.
Nashville is to Trackhouse what Martinsville is to HMS. Suarez finished seventh in the No. 99 car at Nashville in the organization's debut season of 2021 for one of his four top-10 runs that season. Chastain joined the company as a holdover from CGR in 2022 and finished fifth after he ran runner-up to Larson in the 2021 edition of the 400-mile race.
Suarez finished 12th Sunday, but he was relegated to a backup car and had to start from the tail end of the field because of a qualifying crash that ruined his primary ride. Chastain, however, started the weekend off well by winning the first pole award in the organization's short-but-eventful history.
Trackhouse, like any new team in NASCAR, has an incredibly long way to go to come anywhere close to the heights that Hendrick has achieved in the sport, but Trackhouse now has four wins in less than three full years and had Chastain finish second in the championship standings a year ago.
Maybe 30 years from now, Trackhouse will be looked at as a dominant organization in the industry, as well as one the entire rest of the series knows will be its chief competition anytime it races at Nashville.