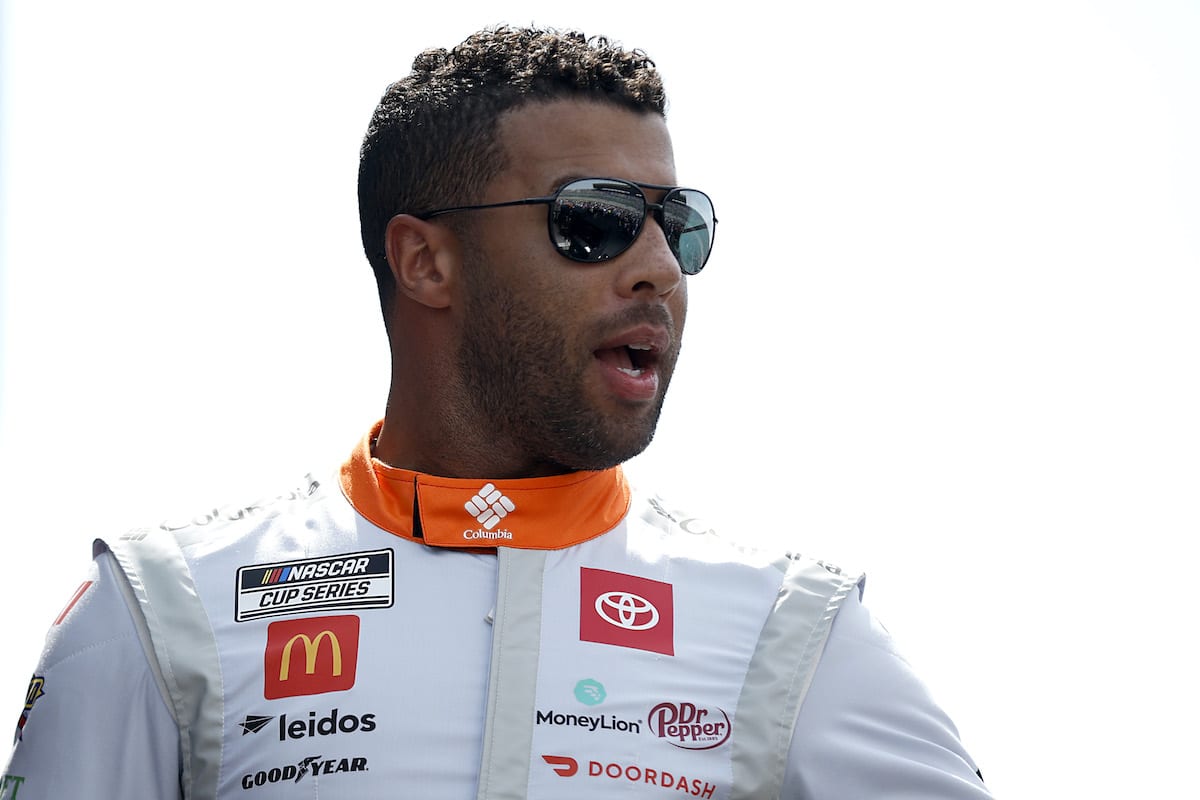 Bubba Wallace Living Rent-Free in Heads of His Haters and His Latest Comments at Kansas Prove It
Bubba Wallace made comments about Tyler Reddick after Kansas that riled up his haters and confirmed he's living rent-free in their heads.
Bubba Wallace knows he has his haters. They're an outspoken bunch. They jump at every opportunity to criticize the 23XI Racing driver for his actions and words. It's happened multiple times this season. It happened again at Kansas Speedway on Sunday. And the driver responded.
Bubba Wallace regularly criticized
The 2023 season has been a breakthrough year for Bubba Wallace and the No. 23 team. The 29-year-old made the playoffs for the first time in his Cup Series career. 
While it's hard for his critics to argue with his successful on-track performance — although they desperately try — it's much easier to focus on his actions or his words. Or, as Kyle Petty recently proved, his lack of words.
The NBC analyst questioned Wallace a couple of weeks ago on the NASCAR on NBC podcast after the season-finale race at Daytona when the driver declined a pre-race interview. Petty suggested the driver was "mentally fragile" and might not be cut out for NASCAR. 
Wallace responded to Petty's remarks a week later at Darlington during the Countdown to Green pre-race show.
"Well, I'm just here fulfilling my media obligations before the race," he said in similar comments to what Kyle Busch had to say at Phoenix in September 2019. "I got a word count, though. I start speaking too many words; I get really anxious and mentally fragile. Now, on to the s*** that matters."  
Wallace criticized for latest comments and responds
Wallace has been open throughout his career about mental issues and struggling with anxiety and depression. While Petty's remarks might have been considered out of line, especially knowing Wallace's background and the sensitive nature of the subject, the driver didn't flinch and joked about it at Darlington. 
Following Sunday's race at Kansas, where he finished second in the first stage but 32nd overall after a tire failure caused him to crash, Wallace, who has shown a sharp sense of humor in the past, did just that when talking about his winning 23XI teammate Tyler Reddick in the post-race interview.
"Congrats to Tyler," he said. "I'm pumped for him, for sure. I'm glad he listened to me because I was running him down and he got a little sketched out that I was close to him trying to help him. 
"He's a little mental case sometimes. But hey, it all worked out. He got his dub. Proud of him. Kept the 45 streak at Kansas in the fall going so it's good."  
It was obvious to anyone paying attention that he was teasing his teammate. There wasn't anything malicious or mean-spirited.
Unsurprisingly, following his comments, social media and the SiriusXM NASCAR Radio call-in show included a lot of fans calling out Wallace for his remarks about Reddick. 
Later in the evening, Wallace responded to that criticism on X.
"Dawh bubba can't pick on his friends in interviews," he posted, which included a graphic of a stand-up comedian with his eyes crossed and acting confused. 
It's safe to say, Wallace will continue to joke and his haters will misinterpret it and try and spin it into something it's not. All the while he's continuing to live rent-free in their heads.
To stay up to date on the latest happenings in NASCAR, including breaking stories you can't find anywhere else, follow Kyle on YouTube and Twitter.