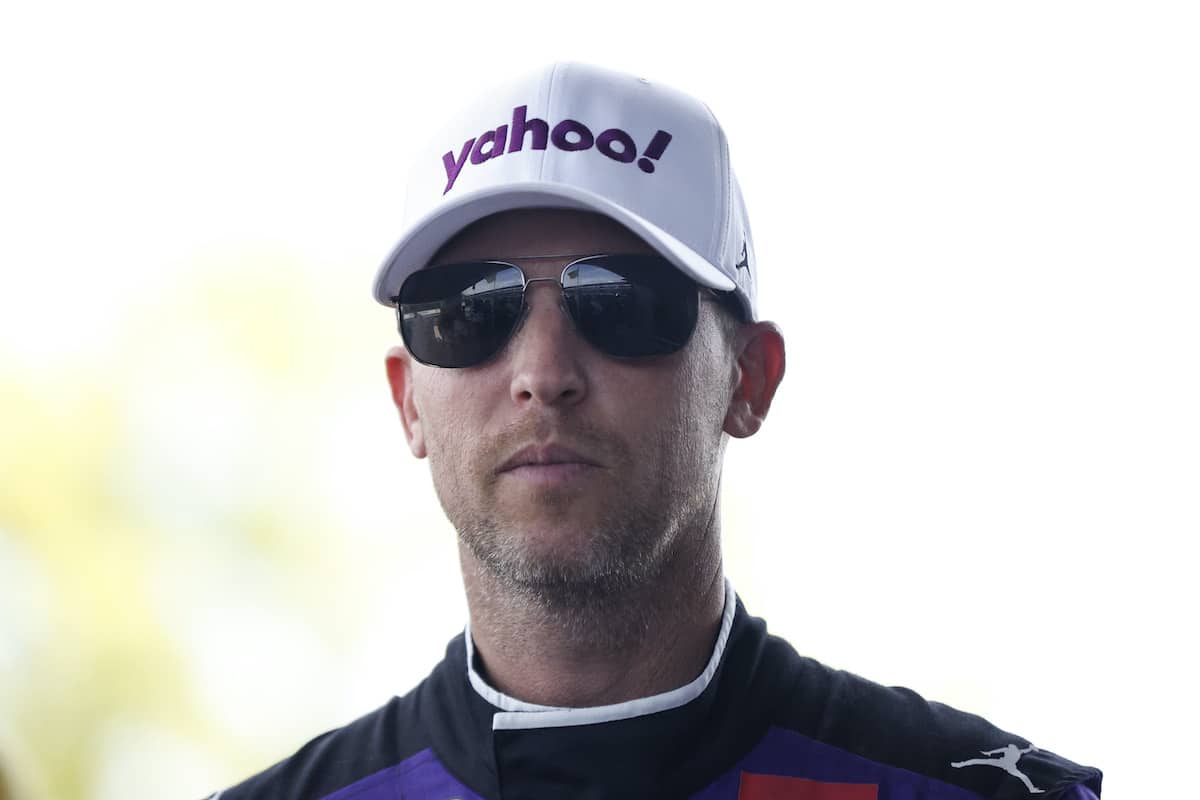 Denny Hamlin Fans Should Be Concerned With the Latest Remarks From Dale Earnhardt Jr. About the Driver's Future
Denny Hamlin is following an eerily similar path to Kyle Busch last year and Dale Earnhardt Jr.'s latest remarks on the matter only add fuel to the fire.
A year ago, Denny Hamlin watched as his then-Joe Gibbs Racing teammate Kyle Busch went through free agency. We all know how that turned out. The two-time Cup Series champion announced in mid-September that he was joining Richard Childress Racing in 2023.
Here we are just past the midway point of August, and the three-time Daytona 500 champion doesn't have a deal done. This week on his podcast, Dale Earnhardt Jr. talked about Hamlin's future and offered one reason the driver might not to return to JGR that makes complete sense. 
For those who want to dismiss Junior's remarks as pure speculation, they might want to reconsider. Last year he proved why with Busch.
Denny Hamlin discusses future at Joe Gibbs Racing and expresses a sense of urgency
For months, Denny Hamlin has been questioned about 2024 and getting a new contract signed with JGR, the only Cup team he's ever raced for since 2005. The driver, the organization, and Toyota have all repeatedly insisted they would get a deal done. 
This past weekend at Indianapolis, the 42-year-old met with the media and was asked about it again. His response raised more than a few eyebrows. 
"Nothing big has changed," Hamlin said. "It is a process, and obviously, with the relationship with Toyota being in the middle of the triangle here between 23XI, myself, and Joe Gibbs Racing, we have to get a deal done all around before I can do anything permanent, long-term." 
One reporter asked if there was a sense of urgency with the days ticking away.  
"It's certainly later in the calendar than what I hoped it to be but you can only talk to the parties when they're there to talk," the driver said. "Unfortunately, it's super late in the season so we've got to make some moves."
Dale Earnhardt Jr. discusses Hamlin's future
This week on his popular Dale Jr. Download podcast, the NASCAR Hall of Famer talked about the situation with Hamlin, who is coincidentally the host of his own podcast under Earnhardt's Dirty Mo Media brand. 
"Denny Hamlin is still not signed at Gibbs," Earnhardt said. "Now Gibbs and Hamlin and all of them are talking the talk. You know, we're going to get this done. Denny's said it is late. He would love to have it finished by now. 
"But this feels similar to Kyle Busch. I'm not trying to insinuate that Denny is going to end up somewhere else, but why is this not done, right? I mean, Denny's worth it. It seems like this should be pretty simple. So what is the holdup? I'm just curious as to what is the delay in getting this finalized. 
"And the risk, in my opinion, it kind of falls on Joe Gibbs and his team that this drags out any further because Denny has options. His own race team. Now I don't know whether he'd really drive for himself now, but I think at some point, gosh, I mean, if you own a Cup team and you're in the twilight of your career, you've got, let's say, five amazing years left. You got to run a couple of those in your own car, right? I would think so, right? To finish your career in something you built would be incredible." 
Why driver's fans should be concerned with Junior's remarks 
Earnhardt's comments sounded like it was all speculation on his part and based on no inside knowledge. But let's go back to last year and the aforementioned Kyle Busch.
During that whole saga, Junior regularly discussed Busch's situation on his podcast. He even sent out the one tweet suggesting the driver was going to the No. 8 car days before the announcement, which Earnhardt later admitted on his podcast that the driver had called him and asked him to send out another tweet to throw fans off.
However, following Busch's official announcement, he made the media rounds and during his appearance on SiriusXM NASCAR Radio revealed there were a couple of people he went to for advice and one of them was Earnhardt.
"Relying on past drivers that are now team owners as well as my brother was definitely one that I leaned on and talked to and took some advice from," Busch said. "He's made the transition between teams before and so I felt like just kind of getting a sense from him would be a good place to start. 
"As well as the sport's most popular driver was definitely one of the guys that I kind of leaned on for advice as well, too. I guess the past most popular driver. Yeah, that one. Not the current one."
So Busch was getting advice from Earnhardt on a major business decision while the former driver was publicly talking about the situation on his podcast and the NBC broadcast. Why would anyone believe that Hamlin, who, again, is working with Earnhardt and his media company wouldn't be doing the same and consulting with him? 
It just makes too much sense. And if that's the case, then it's hard not to envision that Earnhardt knows more than he's leading on and the words he says, while carefully chosen, might have more substance to them than everyone wants to believe.
To stay up to date on the latest happenings in NASCAR, including breaking stories you can't find anywhere else, follow Kyle on YouTube and Twitter.