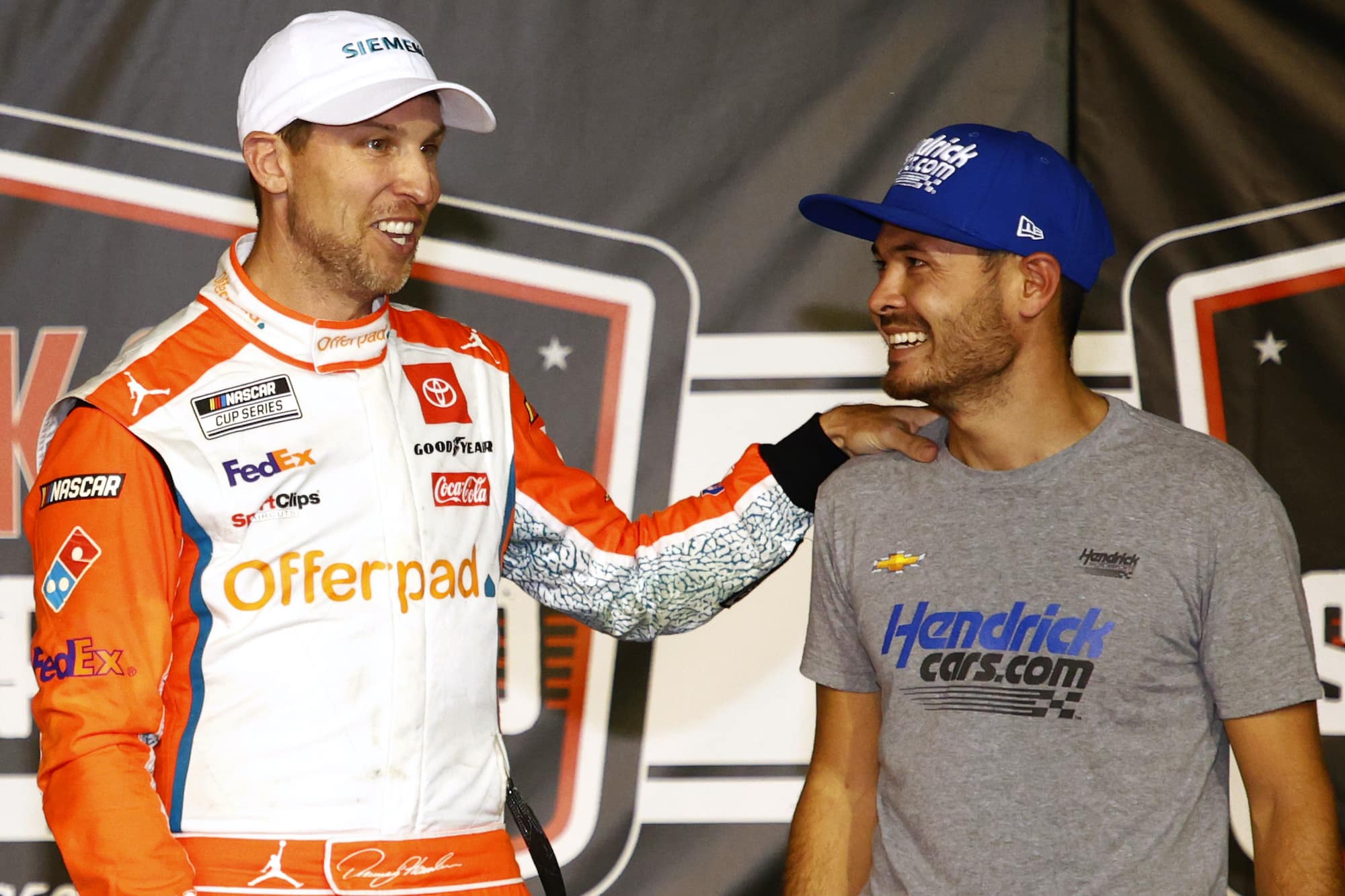 Kyle Larson Candidly Admits Frustration With Friend Denny Hamlin Not for Kansas Last-Lap Move but His Hypocrisy
Kyle Larson admitted this week that he is frustrated with his friend Denny Hamlin not for the last-lap move he made at Kansas, but for the things he's said about him in the past on his podcast.
Kyle Larson and Denny Hamlin are good friends. Their friendship has been well-publicized. That dynamic makes it even more interesting when the pair get into some sort of on-track incident, like happened on the final lap Sunday at Kansas Speedway. 
Larson wasn't upset moments after the race in his post-race interview, but that could have been because he didn't get to say a lot due to it being interrupted by the Noah Gragson-Ross Chastain brawl. A day later, the Hendrick Motorsports driver admitted that he was frustrated with his friend and not so much for what happened on the track but for some of the things he has said about him recently on his podcast. 
Kyle Larson gets moved by Denny Hamlin on last lap at Kansas
Kyle Larson was in the lead at Kansas, but Denny Hamlin was coming, and he knew it. He could see the No. 11 getting bigger in his rear-view mirror with each passing lap. 
Finally, after several failed attempts to pass the No. 5 car, the JGR car made one last try on the white-flag lap coming out of Turn 2 when the HMS car got loose and brushed up against the wall, Hamlin made contact with the left rear, which sent Larson into the outside wall. 
That racing incident allowed Hamlin to pass and claim his first win of the 2023 campaign. Larson finished second. 
Admits frustration with Hamlin
A few minutes after that runner-up finish at Kansas, Larson visited with Fox's Josh Sims and talked about that final lap.
"I was really loose," Larson said. "I was trying to do what I could to manage it. Just really loose at that end. Yeah, he was just a little bit better than me there at the end, but I haven't seen a replay either. Obviously, he was side-drafting me aggressively like he would but he was like touching me it felt like. It just kind of had me out of control."
Larson's interview then abruptly ended as the cameras focused on the brawl between Chastain and Gragson. 
The next day, after seeing a replay and having some time to think about what happened, the 30-year-old didn't hide his frustration, not necessarily for what happened on the track, but what his friend had said about him in the past.   
"That was a bummer. I'm not mad at him. I don't think there's a reason to be mad at him," Larson said on the High Limit Room podcast. "We were racing aggressively on the last lap and it's for a win. He was way faster than me. 
"I guess the only thing that I get frustrated with on his deal, his podcast, he says I race a certain way, but I've never had to reach out to him to apologize about anything. I've wrecked off his front bumper more than a few times now. That's just the frustrating part, I guess." 
Hamlin called out Larson after Bristol
Larson is referring to Hamlin's most recent remarks about him on his Actions Detrimental podcast, which occurred last month following the race on the Bristol dirt when the HMS driver squeezed Ryan Preece against the outside wall and then later spun himself out in a retaliatory move that went wrong. 
"I watched it. And it looks like Kyle Larson," Hamlin said. "This is what he does. Kyle's one of my best friends, but at this point, I have to call him out a little bit. Kyle is one of those drivers that puts you in a spot where you have to lift. Raise your hand if this sounds familiar. 
"He's done it to me a few times on a road course. He'll get tired of me contesting my positions, so he'll just run me off into the grass. He'll just say, 'Alright, either you can lift, or you're going through the grass over there.' And I think that he wanted to get clear of Preece so he just gassed it up and said, 'Alright, well, I'm coming up, and you can lift or go into the fence.' Preece didn't lift and got driven into the fence. 
"Larson's in the wrong here. Preece stood his ground. Wasn't going to take getting crowded. Wasn't going to take being put to a decision of lift or be put in the fence and so when he got back to Larson he gave him the business a little bit. And Larson's mad because he's like, 'Well hey, it was an hour and a half ago. Can't you just stop being a kid and get over it?' 
"Larson wouldn't get over it. I've raced with Larson. He holds grudges when he gets back to you. There's no question. I think Larson came into this weekend with not a very good attitude. We saw it in his pre-race comments. 
"Again, I'm really good friends with the guy, but each person has to be called out individually. This was not Ryan Preece's fault. You can argue all you want, but then Kyle drove right down the race track on the backstretch and tried to door the s*** out of the 41 and ended up wrecking himself in the process."
Where does friendship go from here?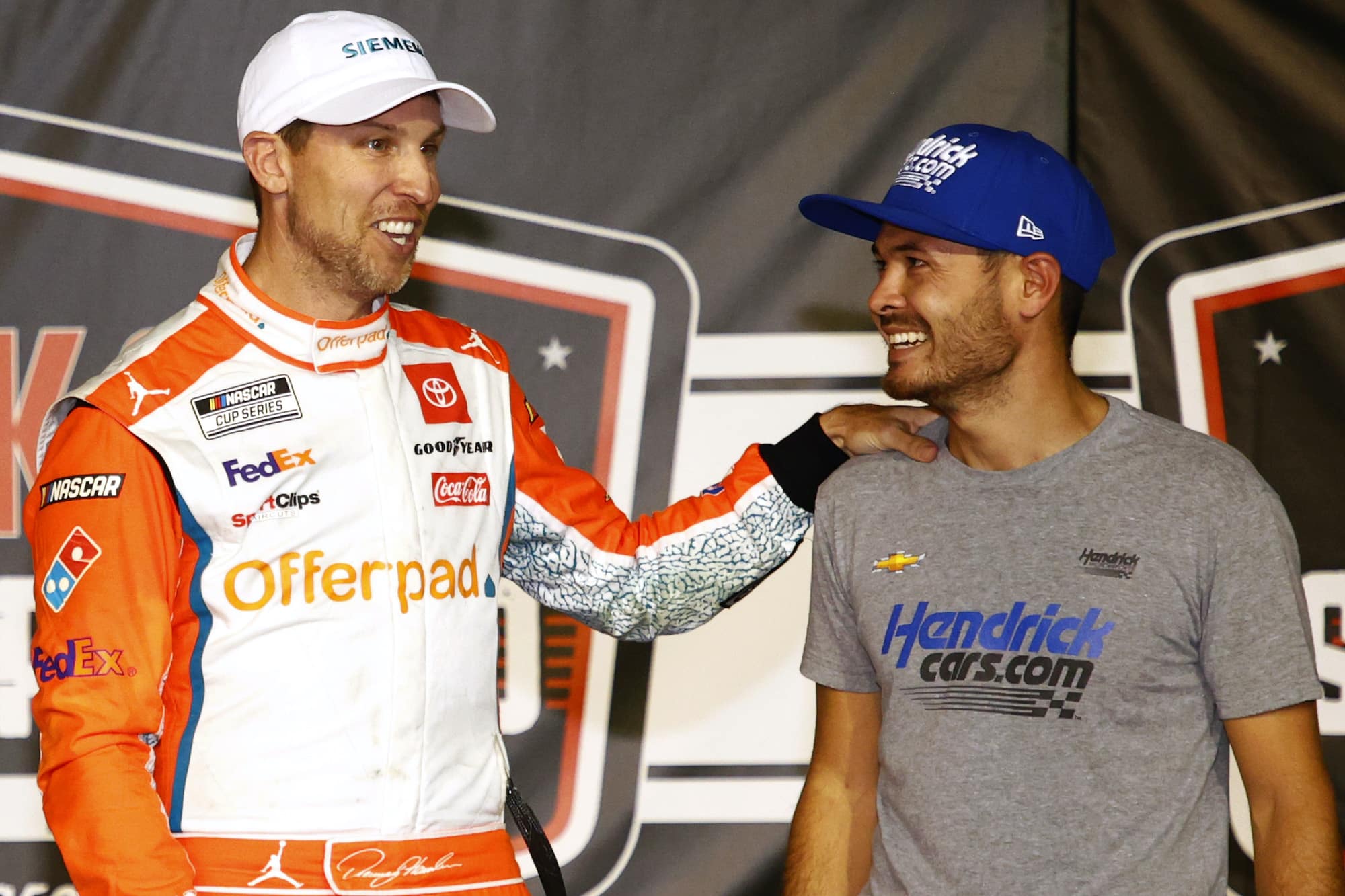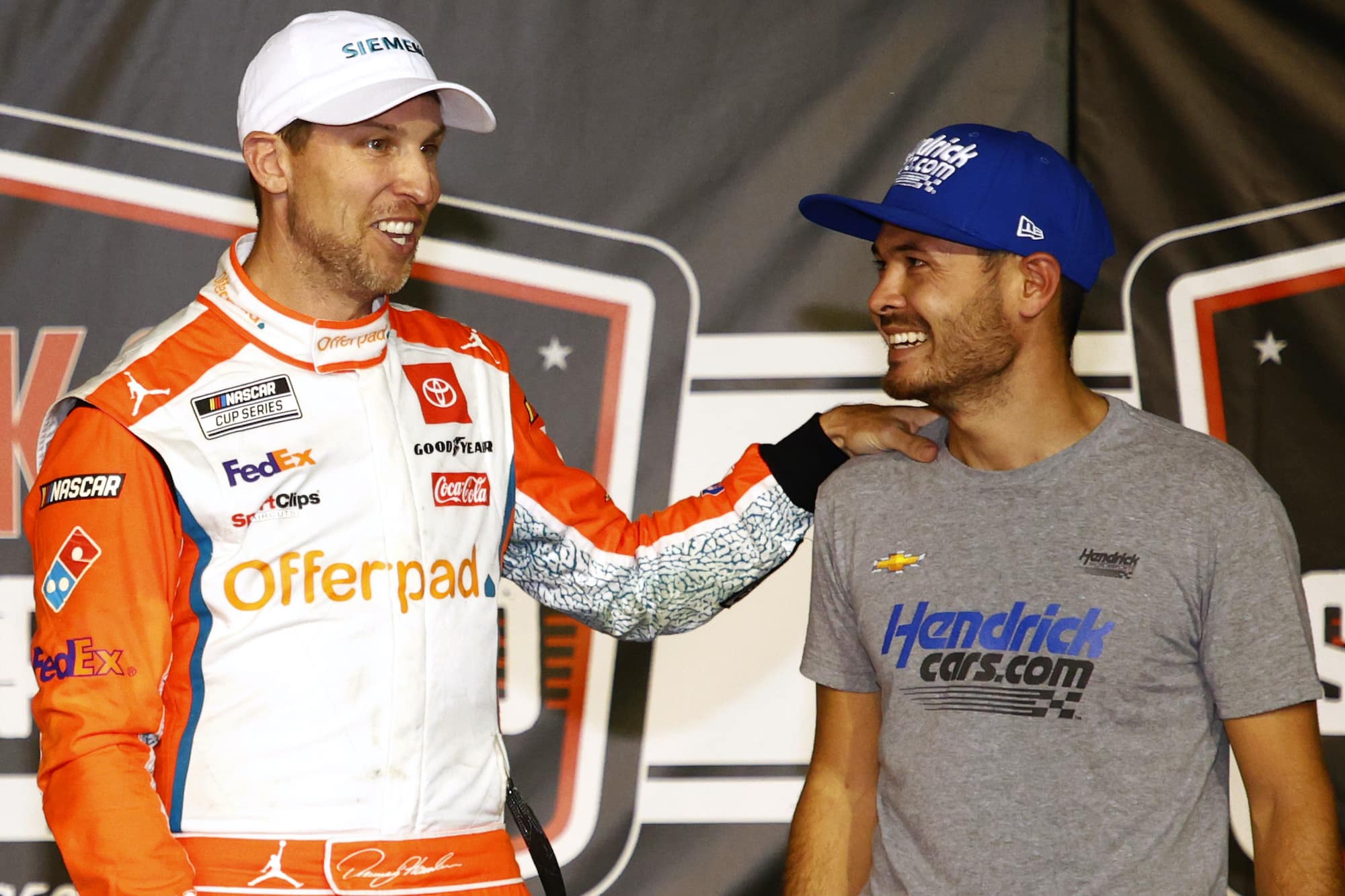 While Larson admitted to his frustration with the hypocrisy of his friend's comments and his racing, he said it wouldn't affect their friendship, despite what others might be telling him.
"Between me and Denny, no, I don't think so," Larson said. "I think what's awkward for me is that everybody expects me to be mad at him. And I should no longer be friends with the guy because he got into me. That's what's just awkward for me. I think I do a good job of separating racing from friendship stuff and I think that's how it should be."
Until the next time he moves him for the win.
To stay up to date on the latest happenings in NASCAR, including breaking stories you can't find anywhere else, follow Kyle on YouTube and Twitter.