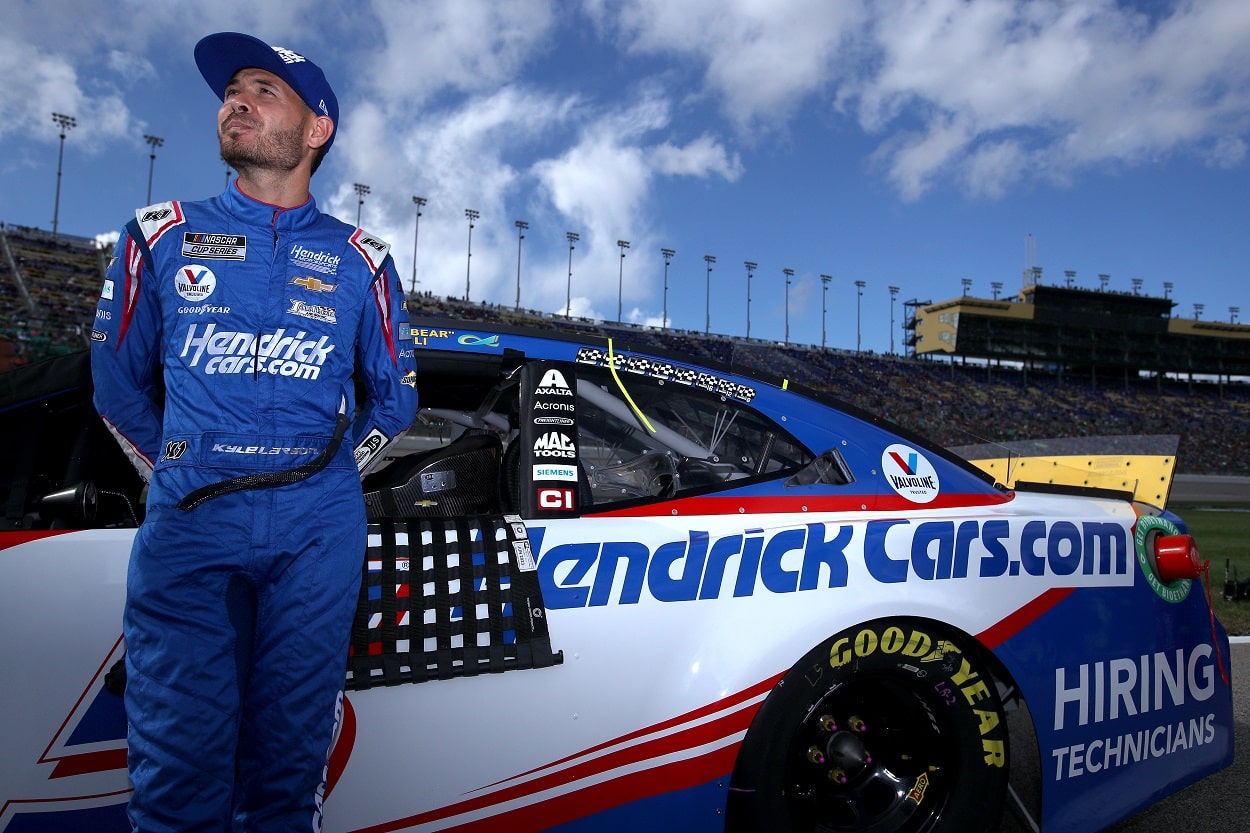 Why Hendrick Motorsports Should Be Foaming at the Mouth for This Week's NASCAR Cup Series Race at Kansas Speedway
All signs point to a Hendrick Motorsports victory at Kansas Speedway.
Few motorsports teams across the globe have had as much success as Hendrick Motorsports, and none have had as much success in the NASCAR Cup Series.
Now with 285 Cup Series victories, Rick Hendrick's group surpassed Richard Petty Enterprises' total of 268 last year and sets a new mark with every checkered flag taken. Chase Elliott was the most recent Hendrick driver to reach Victory Lane as he snapped a 26-race winless streak at Dover Motor Speedway to capture his 14th Cup Series win.
Dover was just the 11th race of the season, making this year the quickest any four-driver team has had every driver take at least one checkered flag. Elliott, of course, won at Dover. Kyle Larson won the second points race of the season at Auto Club Speedway, and Alex Bowman won the following week in Las Vegas.
And William Byron is tied for the Cup Series lead with two victories. It looked as if a third was in the works this past weekend at Darlington, but Joey Logano put an end to that. Byron finished 13th following the controversial bump. Elliott was the leading Hendrick driver at the end of the race, finishing fifth.
A crash ended Bowman's day after 255 laps of the 293-lap race, but Larson's day was even worse as he fizzled out after 112 laps and finished dead last in 36th.
But a new week brings a new track, and Hendrick Motorsports should be absolutely thrilled that the Cup Series' next stop is at Kansas Speedway.
Hendrick Motorsports has won the last four Cup Series races on 1.5-mile tracks, including the last race at Kansas Speedway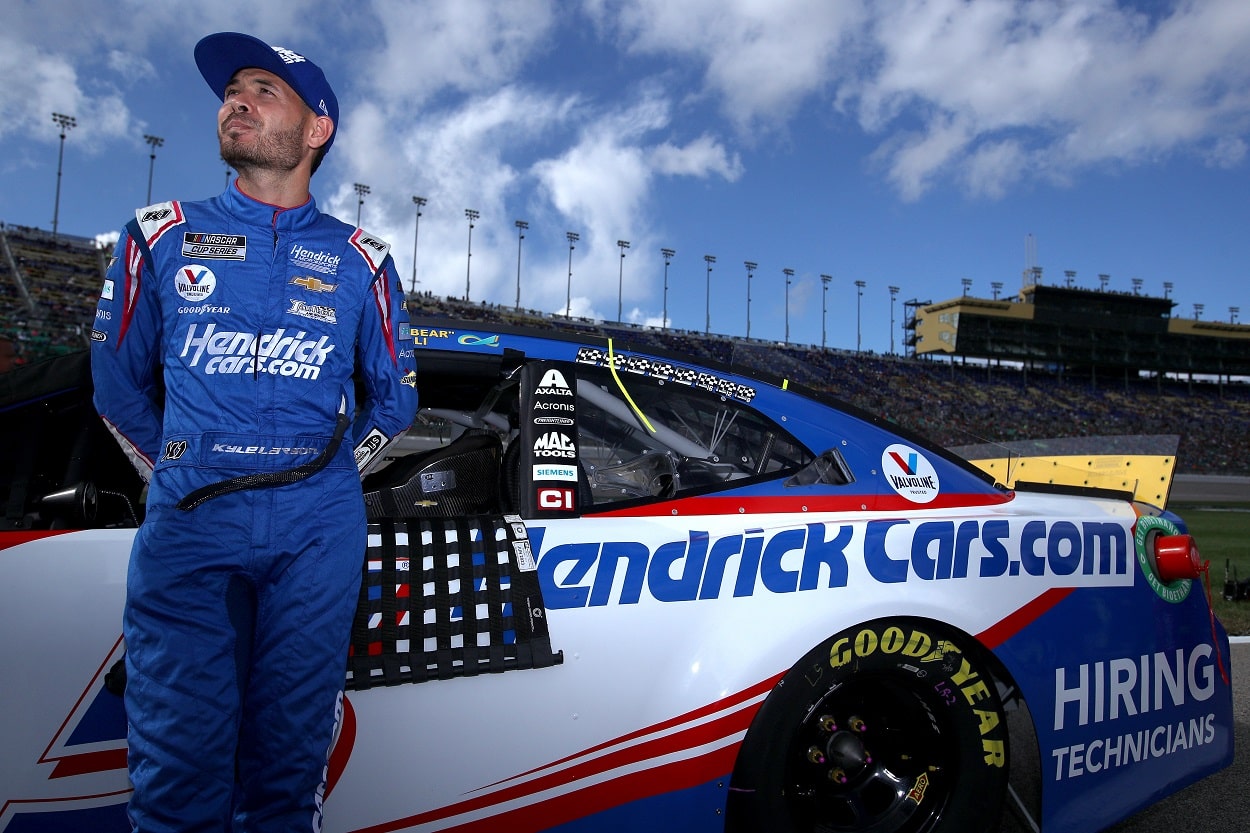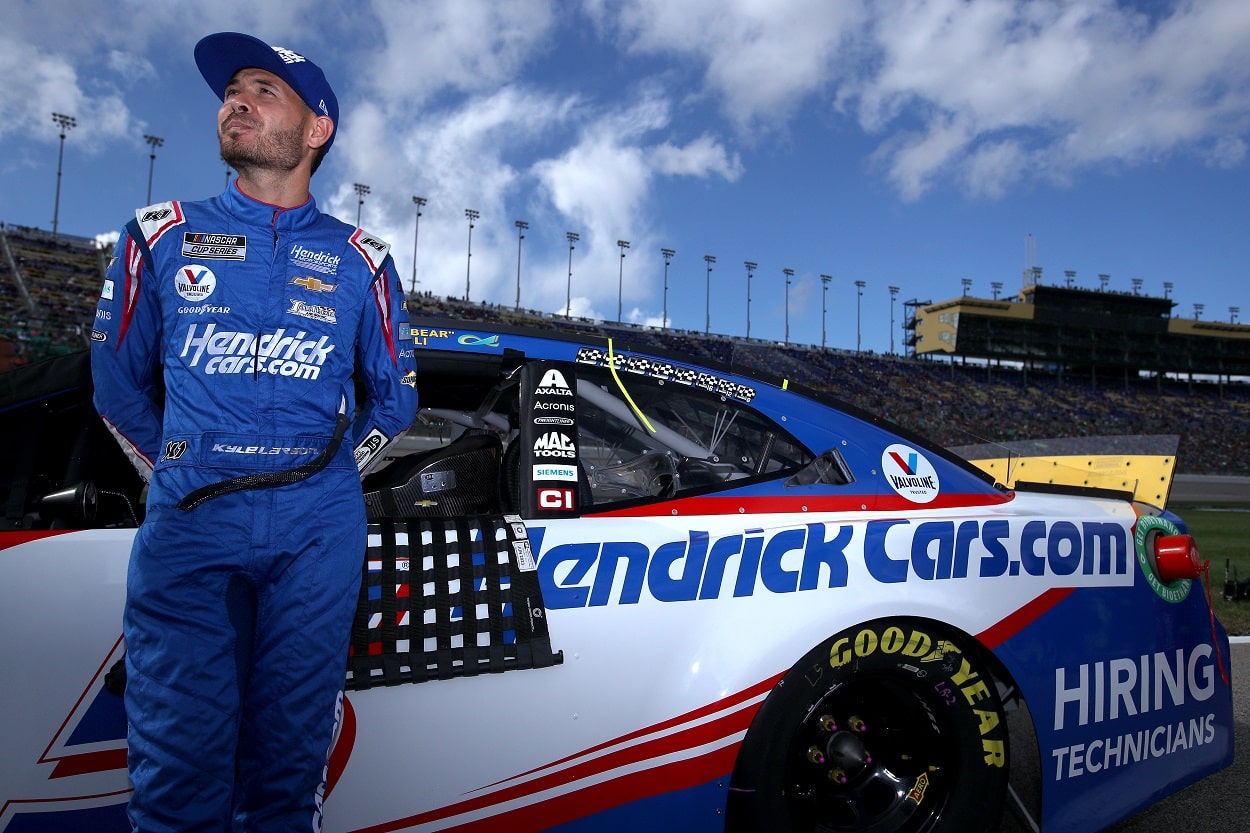 Heading into Sunday's AdventHealth 400 on Kansas Speedway's 1.5-mile tri-oval, Hendrick Motorsports has to be ecstatic that its drivers have won the last four races on tracks of this length.
The most recent to do so was Byron, who edged Ross Chastain by .145 seconds at Atlanta back in March at the Folds of Honor QuikTrip 500, which featured 46 lead changes. Before that was Bowman's win in Las Vegas. And the added beauty in Sin City for Hendrick was that Larson finished second, Byron finished fifth, and Elliott finished ninth.
Prior to Las Vegas, the last 1.5-mile race was last year's fall run at Kansas Speedway during the NASCAR Playoffs, a 400-miler won by Larson. Elliott finished second, Byron finished sixth, and Bowman finished 11th. One week earlier, Larson won on the 1.5-mile quad-oval at Texas Motor Speedway. Byron finished second, less than a half-second behind, while Elliott finished seventh. A crash ended Bowman's day after just 36 laps.
Denny Hamlin's win at Las Vegas last September was the last time a driver from Hendrick Motorsports didn't take the checkered flag on a 1.5-mile track.
Taking both of last year's races at Kansas Speedway into account, Larson led 262 of 534 possible laps, meaning every other driver combined led 272 laps. And of those 272, Elliott and Byron combined to lead another 99. So Hendrick drivers led 67.6% of the laps at Kansas and recorded five top-10s, including Larson's victory.
Hmmm…think Hendrick Motorsports will be a factor on Sunday?
Stats courtesy of Racing Reference
Like Sportscasting on Facebook. Follow us on Twitter @sportscasting19 and subscribe to our YouTube channel.