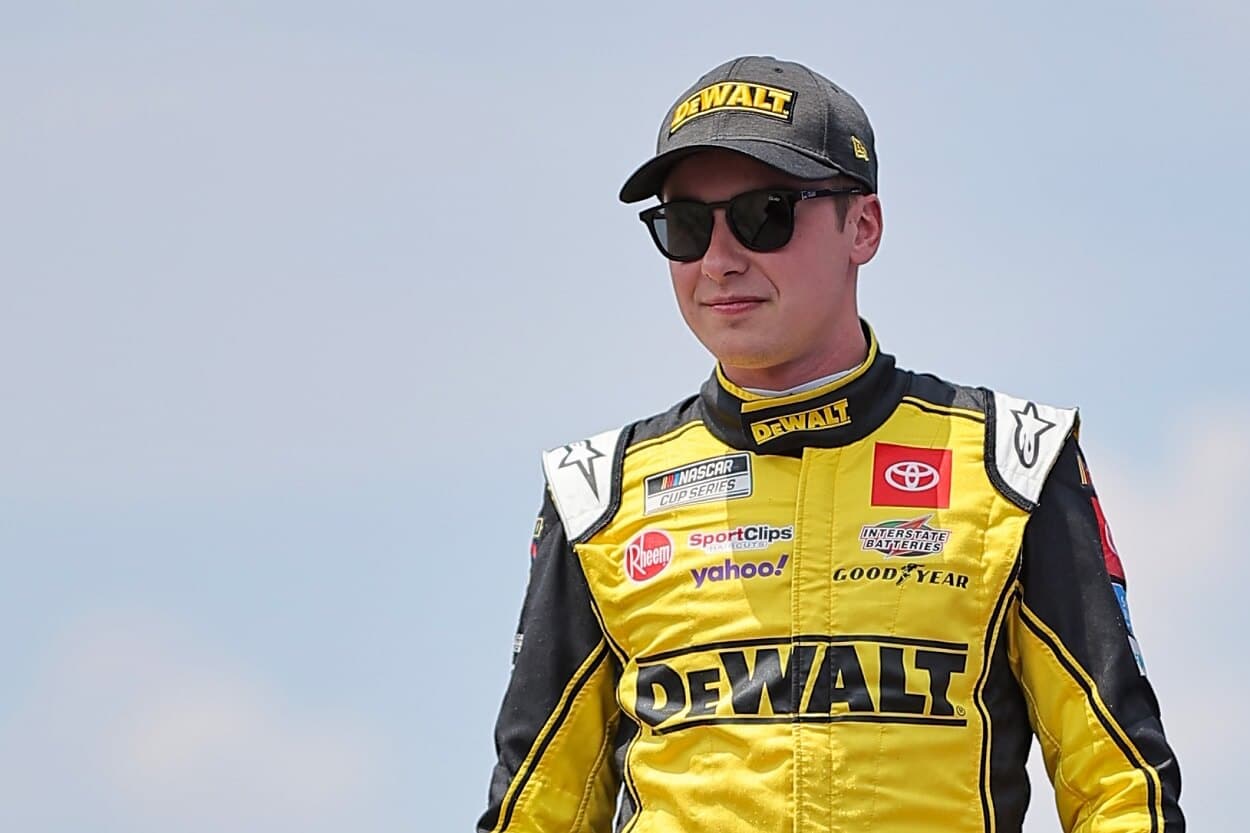 Christopher Bell Is Quietly Putting Together Another Great Season and Doesn't Have to Face the Problem He Did a Year Ago
Christopher Bell is putting together another solid NASCAR Cup Series season for Joe Gibbs Racing.
Christopher Bell has already taken care of the issue that placed him dangerously near the NASCAR Cup Series Playoffs bubble a year ago with a victory in this season's dirt race at Bristol Motor Speedway, and he has since continued to build a strong season without much notoriety.
Bell earned his first Championship 4 berth a year ago, thanks to dramatic wins in each of the last two elimination races of the 2022 playoffs. He captured an overtime victory in the Round of 12 cutoff race at the Charlotte Roval after a couple of late cautions gave him a chance to save his championship hopes.
Bell then had a similarly dramatic victory three weeks later when he won the Round of 8 elimination race at Martinsville Speedway after making the final pass for the lead with only five laps remaining.
Christopher Bell was on the playoff edge several times in 2022
He also spent much of the 2022 regular season on edge, as the first 19 races featured 13 different winners. That left just three open spots in the 16-driver playoff field for drivers without a victory. Bell was eighth in the overall points standings but was in the final postseason spot when the Cup Series got to New Hampshire Motor Speedway in mid-July because of the myriad of different winners.
Bell had told NBC Sports three weeks earlier at Nashville that he was in a "scary position" in terms of the playoff picture, and that was back when only 12 different drivers had won a race. Tyler Reddick's first career win a week later at Road America in Wisconsin dropped Bell to the bubble spot.
Bell alleviated all the playoff-scenario concerns when he won at New Hampshire and entered the 10-race postseason with the fourth-most playoff points. He cruised through the Round of 16 with three straight top-five finishes, but two finishes of 17th or worse in the Round of 12 left him in the must-win situation that he capitalized on at the Roval.
Bell ultimately finished third in the 2022 championship standings with a 10th-place showing in the title-deciding race at Phoenix Raceway. He also finished the year tied for the most pole awards with four and tied for the second-most top-10 finishes with a career-high 20.
He is already nearly halfway to that top-10 total this season with nine, tying him with William Byron, Ryan Blaney, and Kyle Busch for the most in the series. Bell has yet to win a pole award this season, but his five top-fives are tied for third in the series, and his 13.1 average finishing position is well ahead of his previous career-best mark of 13.8 from a year ago.
Bell opened the current season with a third-place finish in the Daytona 500 before a restart crash the following week at Auto Club Speedway left him 15th in the points standings. He rattled off four finishes of sixth or better in his next five races that led up to his Easter Sunday win at Bristol.
With victory in hand, Bell can avoid the playoff bubble anxiety
The victory vaulted him to the top of the points standings, and he maintained that spot for three weeks before Ross Chastain took over on May 1 at Dover Motor Speedway. Bell has since dropped back to seventh in the standings, but he has finished 11th and ninth in the last two races after a three-week lull that included two finishes outside of the top 20.
Still, Bell has high standards and thinks he and his No. 20 Joe Gibbs Racing team have room to improve as the second half of the season approaches.
"I feel like we have speed and have potential to do really good things, but we aren't able to capitalize on it," Bell said before the Coca-Cola 600 Memorial Day weekend at Charlotte Motor Speedway. "There are a couple details we need to get ironed out before we're really going to be competing for wins, stage wins, and leading laps. … Our potential is a lot higher than what we're showing right now."
Sunday's race at Nashville should be a good spot for Bell to begin a charge back up the standings and the playoffs approach. He finished ninth in the inaugural Cup Series race at the concrete, 1.33-mile oval in 2021 and ran eighth a year ago. He is one of only six drivers to score a top-10 finish in both Cup Series races at the speedway.
Bell needed a strong finish to the regular season to reach the playoffs a year ago. This time, he already has the security a win provides to simply try to accumulate as many playoff points as possible, which could help him avoid the need for last-gasp wins in elimination races in this season's trip through the playoffs.