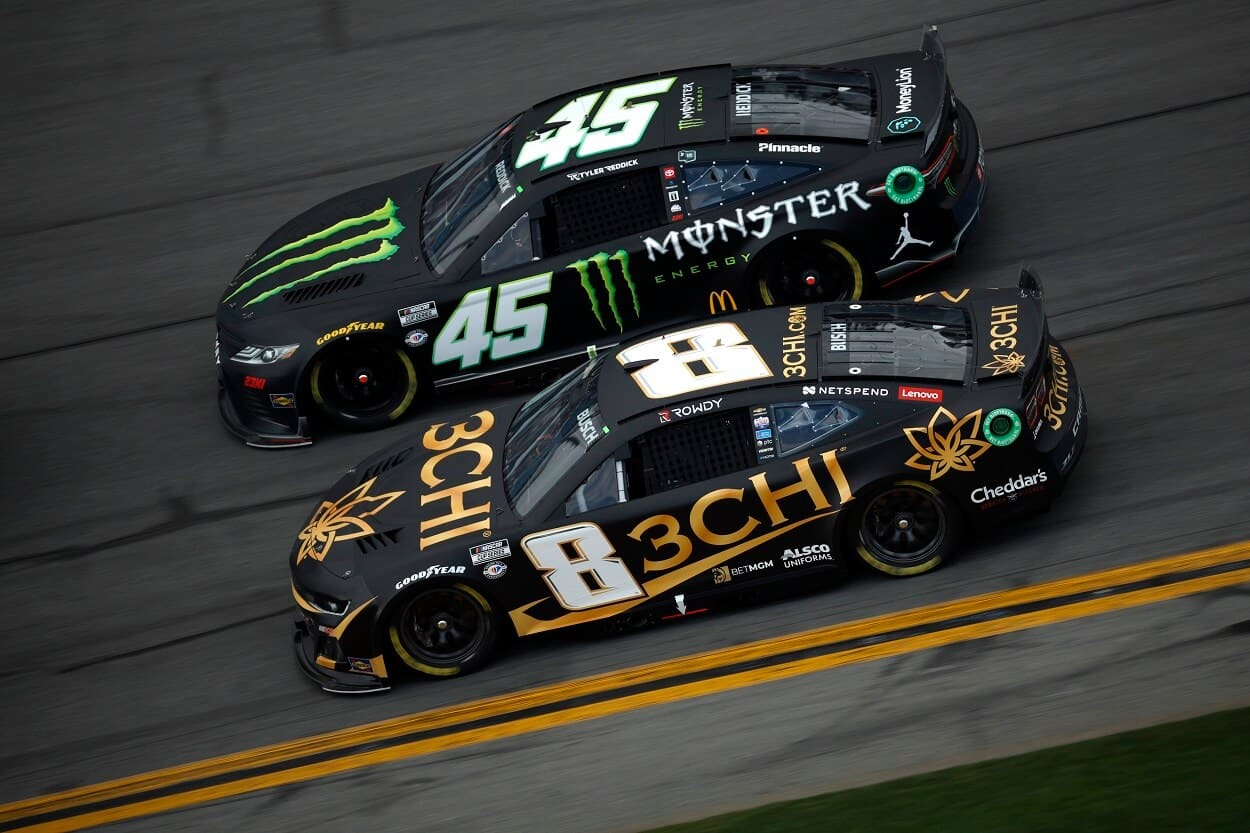 The Kyle Busch-Tyler Reddick Shuffle Has Surprisingly Been a Win-Win Situation
Kyle Busch and Tyler Reddick have thrived with their new teams during the 2023 NASCAR Cup Series season.
Kyle Busch and Tyler Reddick were by far the two most high-profile drivers to change teams last year in a Silly Season drama that dragged throughout much of the 2022 campaign, and it turns out both moves have worked out — at least so far.
Reddick and 23XI Racing set the whole situation in motion when the two-car, Toyota-backed organization co-owned by Denny Hamlin and Michael Jordan announced last July they had signed Reddick to a multi-year deal that would begin in 2024. The announcement came fewer than two weeks after Reddick scored his first Cup Series career victory in the No. 8 car for Richard Childress Racing at Road America in Wisconsin.
Team owner Richard Childress was quite upset by the move, and the organization issued a statement the same day as the Reddick news that, in part, said the "timing of this announcement could not be any worse."
Reddick still had the 2023 season left on his original contract with RCR, but the Chevrolet-backed company went to work to find a replacement regardless.
Richard Childress Racing signed Kyle Busch to replace Tyler Reddick, and both have thrived with their new teams
RCR eventually landed Busch in September and said Reddick would be pushed to a third car since Busch would slide into the No. 8 seat beginning in 2023. 23XI later bought out the remaining year on Reddick's RCR contract so he could drive the No. 45 car this season.
Busch had his own saga as he departed Joe Gibbs Racing after 15 highly successful seasons that included 56 wins and two championships. Primary sponsor M&M's/Mars announced in December 2021 that the 2022 season would be its last in NASCAR for the foreseeable future. That left a massive sponsorship hole on the No. 18 car for 2023, and beyond that, the organization could not fill and still accommodate Busch as a driver.
The myriad scenarios that had to play out for Busch and Reddick to wind up with their current teams also set up an interesting battle for the 2023 season. Which driver would outrun the other and prove that his move was the right decision?
Busch has the upper hand through the first 16 races, but not by much. He has won three times, sits sixth in the points standings, and his 17 playoff points are tied with William Byron for the most in the series with 10 regular-season races left on the schedule.
Reddick is not far off. He won in March at the Circuit of the Americas in Austin, ranks 13th in the points standings, and his five top-five finishes are tied with Busch for the third most in the series.
Both moves have paid off so far, but each also carried a fair amount of uncertainty.
Reddick and Busch had both been successful with their former teams
Reddick had finally established himself as a top-tier Cup Series driver with a career-high three wins a year ago after going winless across his first two seasons in the series from 2020-21.
23XI had only existed for two seasons after Hamlin and Jordan founded the organization in 2021 and had yet to place a driver in the playoffs. Kurt Busch, however, had qualified for the 2022 postseason before a head injury in a qualifying crash in July at Pocono Raceway ended his full-time driving career.
Kyle Busch, meanwhile, left one of the most successful organizations in the sport's history. The four-car organization had 200 wins in its history through 2022 and had placed at least one driver inside the top five in the championship standings for 10 consecutive years.
RCR had not had a driver finish inside the top 10 in the points standings since Ryan Newman finished second in 2014. Reddick's three wins in 2022 also marked the first time an RCR driver won multiple races in a season since Kevin Harvick won four in 2013 during his final season with the company.
Both Reddick and Busch figure to be legitimate contenders during the 10-race playoffs this season. Reddick won two pole awards and one race during the playoffs a year ago, and Busch has reached the Championship 4 five times since NASCAR implemented the current elimination playoff format in 2014.
As unlikely as it may have seemed at the end of last season, both Reddick and Busch are in just as good, if not better, situations than the ones they left. They have also avoided the potential growing pains that often exist when a driver moves to a new team, and chemistry is often somewhat slow to develop. 
Both had pressure to perform after their high-profile moves to new teams. So far, they have proven the benefits of their career-altering decisions have far outweighed the risks.