Christopher Bell Has Quietly Been Joe Gibbs Racing's Best Driver This Season
Christopher Bell is setting himself up to be Joe Gibbs Racing's next long-term superstar.
While other NASCAR Cup Series drivers have won the first five races and created the bulk of the early-season headlines, Christopher Bell has continued a stellar string of races that began stretches beyond just this season — and even his playoff run a year ago.
After a third-place run at Atlanta Motor Speedway following a spin in qualifying that forced him to start from the back of the field, Bell has finished sixth or better in four of the five points-paying races to begin the 2023 season.
He has positioned himself one point behind Joey Logano for the lead in the points standings, pending the outcome of the Hendrick Motorsports appeals for the 100-point penalties those drivers received earlier in the week.
Bell's only poor finish came at Auto Club Speedway in the second race of the year. He started the race in the pole position based on the qualifying metric NASCAR uses since rain and snow canceled the practice and qualifying sessions for that weekend.
Bell was running just outside of the top 10 on a restart just 88 laps into the 200-circuit event when an accordion-style incident as the cars came up to speed collected him in the biggest incident of the day.
Christopher Bell has by far been the best JGR driver so far this season
His terrific start to the season is perhaps even more notable given how much better he has run than his other three teammates at Joe Gibbs Racing. Bell has accounted for the only three top-five finishes in the organization thus far and has half of the company's eight top-10 results.
This continues a scorching hot streak for Bell that began in the second half of the 2022 season. He was admittedly in "a really scary position" in the points standings at the midway point of the season last year. Still, he reached the playoffs with his first victory of the season in July at New Hampshire Motor Speedway and has been one of the top-performing drivers in the sport ever since.
Bell finished 12th or higher in 12 of the final 17 races a year ago, including eight top-fives and a pair of wins in elimination races that allowed him to compete in his first Championship 4, where he finished 10th in the championship race at Phoenix Raceway and third in the final playoff standings.
This has been a somewhat drastic turnaround for a 28-year-old driver who won just one race through his first two Cup Series seasons and had whispers starting to float through the industry that he might be on his way out at JGR. Bell had a victory at the Daytona International Speedway road course in the second race of the 2021 season, which was also his second race in the No. 20 car after he spent his rookie campaign in the No. 95 machine for now-defunct Leavine Family Racing.
Similar fates befell Joey Logano, Erik Jones, and Daniel Suarez, who all began their careers with Toyota-backed JGR but did not last beyond four years even though Logano and Jones both won races in the No. 20 car.
Instead, much like the start to his 2023 season, Bell quietly signed a long-term extension with JGR in the spring of 2022 and then went on one of the best second halves of a season in recent memory.
Bell is now showing why he rocketed through the NASCAR ranks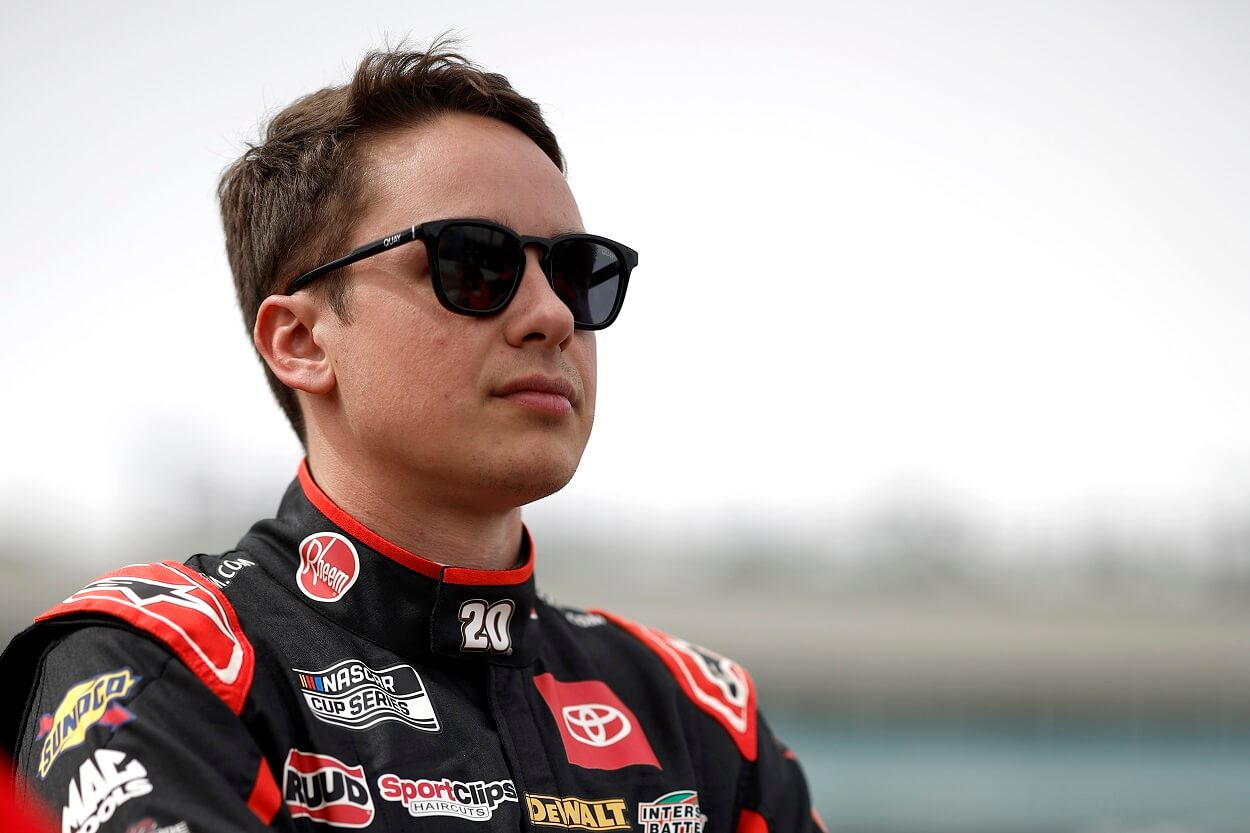 He has now proven to be a bona fide championship contender who could consistently compete for multiple wins and championships for a long time. He is also set up with one of the most successful crew chiefs in the sport in Adam Stevens, who won 28 races and two championships with Kyle Busch from 2015-20.
Bell's development shouldn't be terribly shocking. He had substantial dirt-track success growing up and won 23 races in his first six NASCAR seasons across the Truck and Xfinity Series, including the 2017 Truck Series championship. He is just now capitalizing on the potential many drivers bring to the Cup Series but never fulfill.
He also gives JGR a driver to build around with Martin Truex Jr. possibly in his final season and Denny Hamlin's status uncertain beyond this season. Even if both veteran drivers return in 2024, they are both 42 years old and much closer to the end of their careers than the beginning.
JGR has team owner Joe Gibbs' 20-year-old grandson, Ty Gibbs, set up in the No. 54 car as a rookie this season, but Gibbs is still at the point Bell was three years ago. He has won a bunch of races in the sport's developmental series but might need some time to get acclimated to the highest level of stock car racing before he starts to regularly bring home trophies and compete for championships.
Christopher Bell's marvelous finish to the 2022 season that has continued into the 2023 campaign has him in position to be the star driver of one of NASCAR's most successful organizations both now and for years to come.