Bubba Wallace Isn't Satisfied With His NASCAR Career Despite Becoming a Household Name
Bubba Wallace has become one of the most well-known drivers in the NASCAR circuit over the past few months because of his activism and dedication to social justice. As the only black driver in the NASCAR Cup Series, Wallace was an integral part of bringing the Black Lives Matter movement to the sport of racing.
But Wallace doesn't want to be remembered just for his activism when it's all said and done. He also wants to be known as a winning NASCAR driver, which is something he hasn't been able to say quite yet.
Bubba Wallace hasn't won a single NASCAR race
Wallace might be a household name in NASCAR today, but it isn't because of his on-track performances. In three full seasons and 112 career races in the NASCAR Cup Series, Wallace has yet to win a single race. He's only recorded three top-five finishes and nine top-tens in his career.
Wallace had his best chance to scribble his name into the NASCAR record books at the 2018 Daytona 500. His No. 43 car found itself a few lengths back of the leaders heading into the final lap, but Austin Dillon edged him out for the checkered flag in the end. Wallace finished just behind Dillon for second place.
Despite the lack of wins on his resume, Wallace has become one of the most popular drivers in the Cup Series as he continues to shine a light on racism in sports. He was instrumental in NASCAR banning the Confederate flag from all official events last summer.
Bubba Wallace wants to be known for his actions on the track, not off
Wallace is extremely proud of what he's been able to accomplish for the black community in the last year, but now he's shifting his focus back to the track. With the 2021 NASCAR season quickly approaching, Wallace is ready to make a name for himself in a different way.
"I know that I need to go out and perform and win races to become a household name on the racetrack," Wallace recently told NBC Sports. "I'm a household name off the racetrack because of everything that happened last year. As good and as great as that is, I need to balance that out with on-track performance and the results haven't been there. Obviously, circumstances and everything."
A new journey begins next month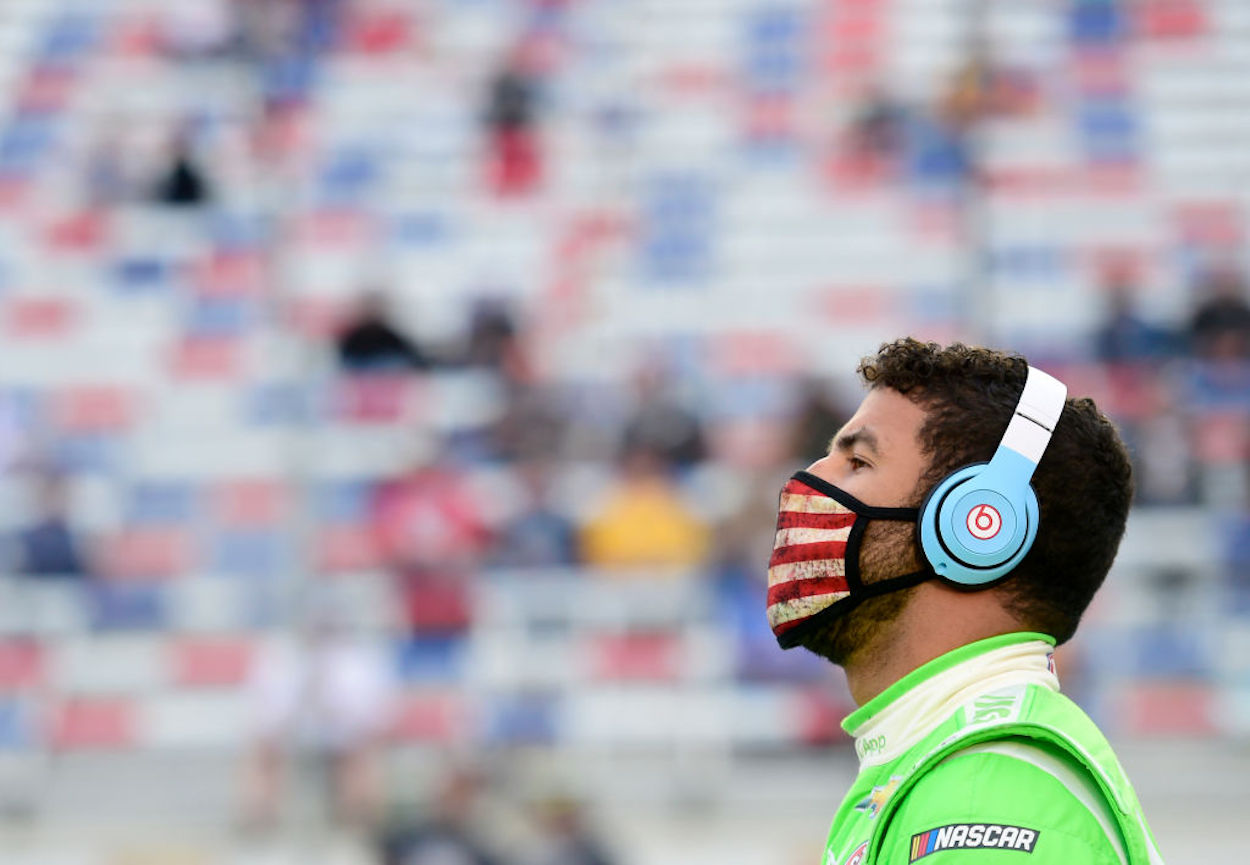 Wallace may not have won a single NASCAR race heading into the 2021 season, but he's also never had six-time NBA champion Michael Jordan on his team before. Jordan joined forces with Denny Hamlin to unveil a new racing team, 23XI Racing, for this season, and Wallace is the first driver they pegged for the team.
As if Wallace needed any more of a push to find the winner's circle this year, Jordan will be relentless in helping him find that long-awaited checkered flag.
"My biggest conversation to Denny was, 'Look, I don't want to get in there just to go around to the races and just go around and around and around and finish up 18th, 19th, 20th, 30th. I want to win,'" Jordan told NBC Sports in September. "I want to be put in a position for the best chance for us to win. That's my competitive nature. That's always been who I am."
Wallace and Jordan will start their 2021 campaign next month at the Daytona 500.
"I want to win tomorrow – as soon as we get on the track," Jordan said. "I know it is a process. It's a process and you're going to have to learn it. But if every step, each day, you move towards winning the day – tomorrow is better than yesterday – I have hope."