NASCAR Packed Half its 'Silly Season' Into a Single Day Thanks to Brad Keselowski
Kyle Larson's contract extension was the big NASCAR Cup Series news for a few hours, but that development a day earlier was a foregone conclusion. The real dose of "Silly Season" kicked in Thursday when Brad Keselowski finally put things in motion.
Within minutes, motorsports fans got answers to multiple questions about the 2022 season.
Brad Keselowski set wheels in motion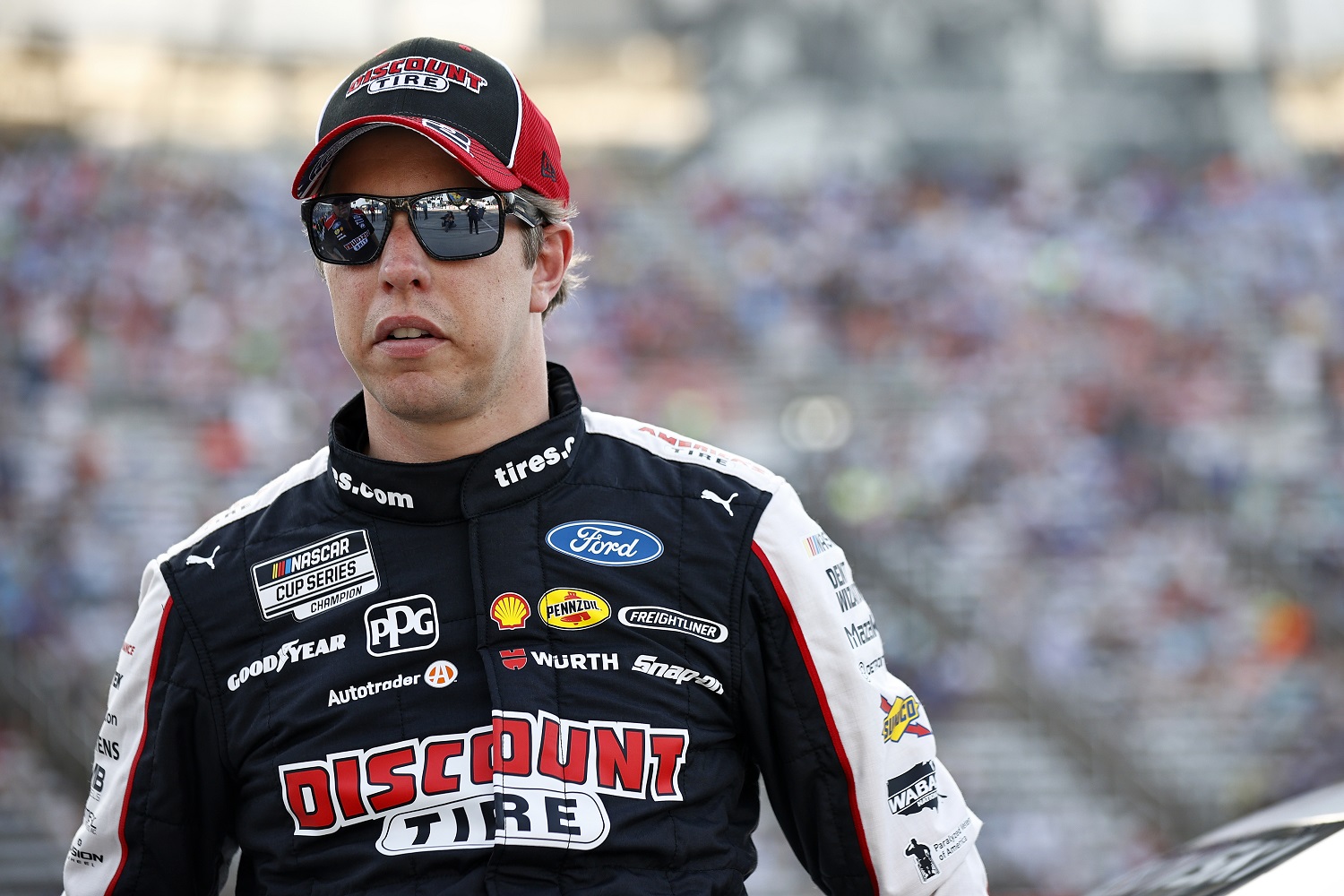 The announcement that Hendrick Motorsports has extended Larson's contract through 2023 was not surprising in light of how impressive he has been in his redemption tour.
If there is any surprise, it's the fact that his primary sponsorship in the NASCAR Cup Series will continue to come from HendrickCars.com. There was some thought that a big-name brand might assume the primary sponsorship role now that Larson has succeeded in rehabilitating his image.
In essence, then, Rick Hendrick will continue to take money out of his left pocket and move it to his right pocket, though the Larson team is sure to pick up more support from secondary partners.
The Larson development means Hendrick Motorsports locked all four of its drivers in through at least 2022. Thursday's chain-reaction developments brought certainty to some other teams, and it all began with Keselowski confirming his imminent departure from Team Penske. He will move on to Roush Fenway Racing as a driver and co-owner.
That development was an open secret, but RFR presumably was holding off on an announcement until Penske had a line on Keselowski's replacement.
Keselowski's move bodes well for Austin Cindric
Austin Cindric, 22, has been biding his time since winning six Xfinity Series races and the season title in 2020. He has won four more races this year while waiting to drive for Wood Brothers Racing in the 2022 NASCAR Cup Series.
However, Cindric is now trading the No. 21 Ford for Penske's No. 2 Ford. Given that Keselowski has scored 34 wins in that car since 2011, Cindric qualifies as almost as big a winner as Keselowski in this year's edition of Silly Season.
Naturally, Wood Brothers will also be making a move now that Cindric won't be joining the once-great organization. The beneficiary is Harrison Burton, another Xfinity Series prospect with promise. Though he is winless this season, Burton, 20, scored four victories a year ago. Jumping to Wood Brothers assures him of an opportunity that probably wouldn't have materialized at Joe Gibbs Racing for at least another year.
Although Wood Brothers is no longer in the upper echelon, Wood Brothers' first three drivers were A.J. Foyt, David Pearson, and Neil Bonnett. Taking over the No. 21 Ford qualifies as a win for Burton.
Matt DiBenedetto is the week's big loser
Matt DiBenedetto is winless in 233 NASCAR Cup Series starts, which some would wrongly assume explains why he does not have a job lined up for next season. In reality, DiBenedetto has shown consistent yearly improvement, and all eight of his top-fives have come in the past three seasons.
DiBenedetto, 29, knew before this season that Wood Brothers wasn't bringing him back, but the understanding was that Cindric would replace him. When DiBenedetto learned Wednesday that Cindric joined Penske in the fallout from Keselowski's move, it meant a glimmer of hope that he might get a third year with his team.
Unfortunately, that possibility evaporated in an instant with the news that Wood Brothers was going with Burton instead. It's the classic comic strip in which Lucy pulls the ball away from Charlie Brown.
In a lengthy video on Facebook, DiBenedetto was as gracious as he could reasonably be toward Wood Brothers, emphasizing how badly he wants to be the driver who scores the team's 100th Cup Series triumph. Nevertheless, his disappointment showed through.
"I'm not going to try and hide how I feel and what I feel," DiBenedetto said. "You guys know what you see is what you get. Sometimes good, sometimes bad. Found out yesterday. When I found out, I tried to be like, 'OK, been through this before.'"
The shame of it is that changing crew chiefs from Greg Erwin to Jonathan Hassler before the All-Star Race has yielded some encouraging results. The team starts over at Daytona in February, but there's a little bit of momentum to build on for now.
"I'm here to win in the Cup Series. I am going to," DiBenedetto said, according to NASCAR.com. "Through all the heartache, all the frustration, all the obstacles, all the craziness … I am going to overcome all that and we are going to win."
All stats courtesy of Racing Reference.