Kyle Larson Dominated the NASCAR Season, but Did it Leave Him Unprepared for Playoff Adversity?
Anyone wagering money that Kyle Larson will not still be in contention when the NASCAR Cup Series reaches Phoenix on Nov. 7 is what we like to refer to as "a donor." It's a bet you're almost certain to lose.
Larson has produced a dream season thus far in the Hendrick Motorsports No. 5 Chevy. The six victories and 10 other top-five finishes speak to his consistency throughout the season. He has led 2,000 laps so far, including at least a quarter of the laps in 13 of 30 starts.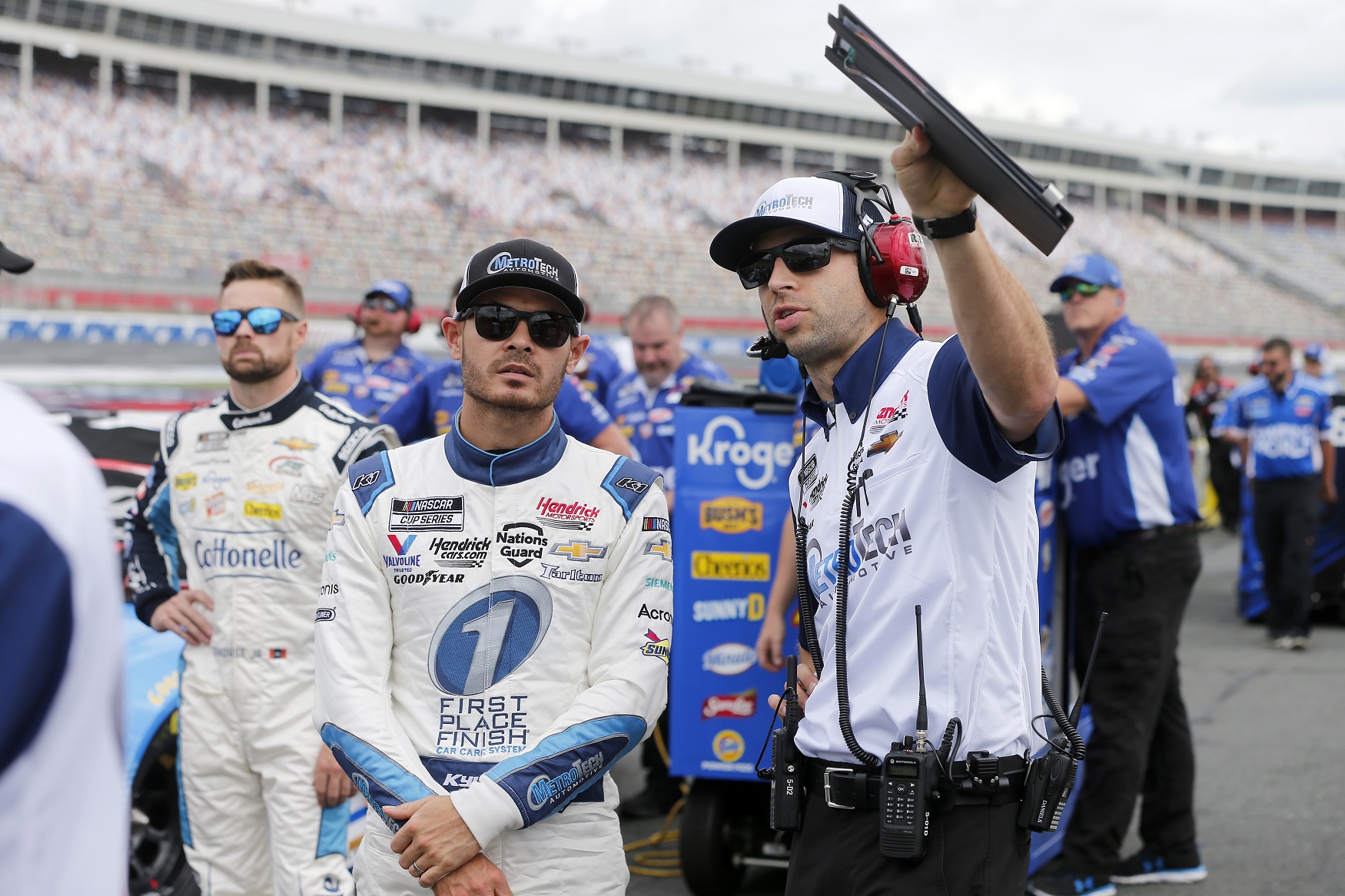 That does not mean, however, that Larson and his team are infallible. In fact, his crew chief's miscalculation on Sunday in Las Vegas put Larson in a hole, and the ninth-year Cup Series veteran could not climb out of it. So, just a week after extending his points lead by winning at Bristol, Larson came back to the pack a bit by virtue of being stuck in the pack Sunday.
Combined with Denny Hamlin coming on strong with two victories and a second-place finish in the playoffs, the final six races are setting up for an exciting finish. Throw in the fact that someone forgot to tell Kyle Busch that his season was over after he crashed out of three races in six weeks, and the battle becomes even more compelling.
But until someone wrestles the lead away from him, Larson remains at the front of the pack of championship contenders even if he may ultimately have to answer a fundamental question:
We know that Larson did not forget how to drive during his suspension for the majority of last season, but did his dominance this year cause him to forget what it takes to fight to the front while racing in the pack?
He certainly seemed to be driving a winning car on Sunday, leading 95 of the first 152 laps. But once his pit crew radioed bad advice, Larson spent most of the final 115 laps spinning his figurative wheels, and it didn't have to happen.
A caution on lap 92 when Joey Gase wrecked sent much of the field to the pits five laps into Stage 2. The cars that pitted topped off their fuel tanks.
Crew chief Cliff Daniels told Larson to stay out on the track even though trying to make it through a 79-lap stage without coming in for fuel looked like a losing proposition. Daniels was banking on another yellow flag along the way. There were six yellows in the March race at Las Vegas Motor Speedway, and there were only four this time.
The second Stage 2 yellow never materialized, and Larson pitted for fuel on lap 152. It not only cost him the lead, but it put Larson a lap down. He took the wave-around to start Stage 3, but that wasn't enough. Larson could only work his way up from 16th to ninth.
"(Ryan) Blaney got through there better," Larson told Bob Pockrass of Fox Sports. "I got stuck around the 42 (Ross Chastain), so he was able to get clear and get away and have a good finish. Just being on older tires and having to battle through all of them was difficult.
"You forgot how hard everybody races back there; it's pretty wild. There were moments where I thought I was going to end up crashed or get frustrated and run myself into the wall."
Whoa! Is that all it takes to rattle the guy with six points-race victories, in addition to the All-Star Race? It's understandable that Daniels' bad call frustrated Larson, but it should have simply been a reminder of how 80% of the NASCAR Cup Series lives while he's leading 2,000 races in a season.
If a bad night at the office riles Larson like that, just wait until Kevin Harvick bangs into him a few times and then compares Larson to a 9-year-old, the same treatment he gave to reigning champion Chase Elliott during and after Bristol.
Larson's too good to let the other guys out there see him sweat. It's up to him to get back in gear at Talladega and remind the NASCAR Cup Series who's in charge.
Like Sportscasting on Facebook. Follow us on Twitter @sportscasting19.