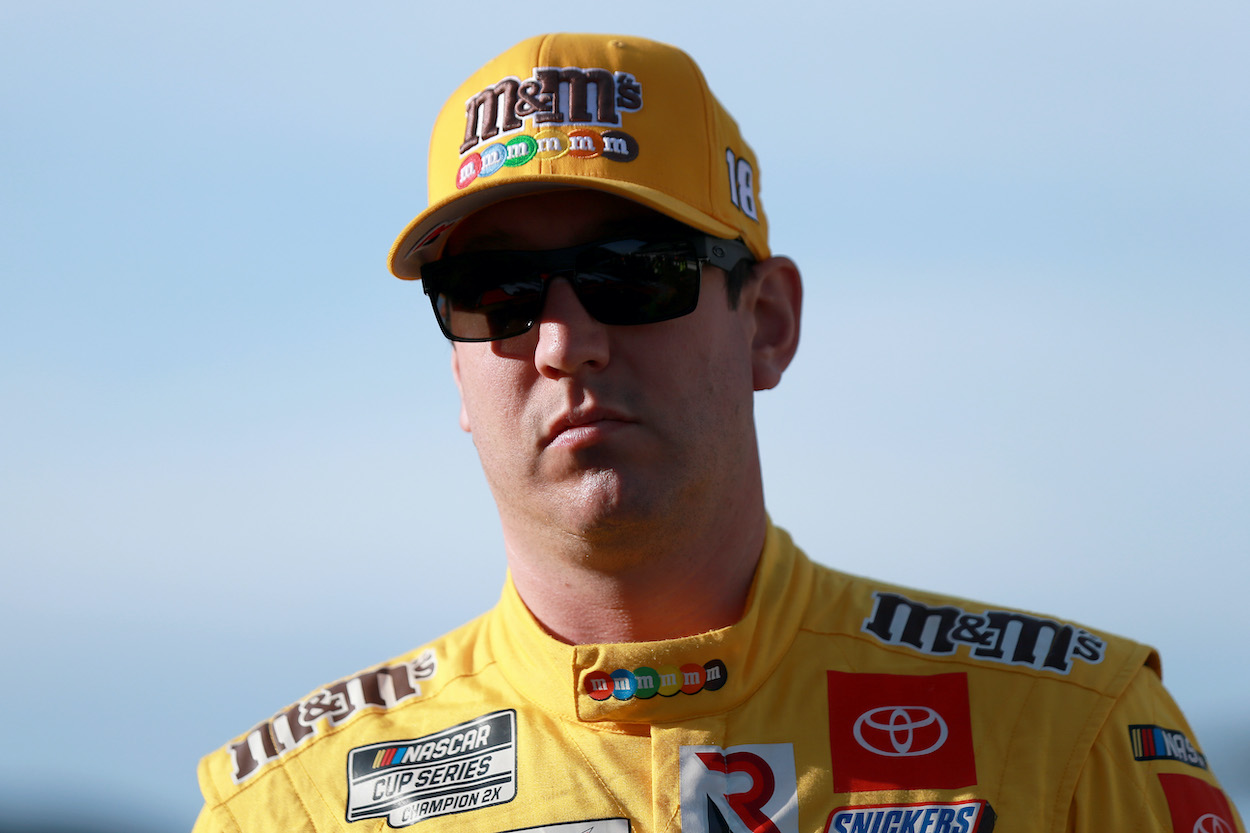 Kyle Busch Confirms Major Change to His Race Prep Routine Just Weeks After He Demanded It During Explosive Outburst at Darlington
Kyle Busch confirmed this week that he's already implemented a major change that he brought up during his explosive outburst at Darlington several weeks ago.
Kyle Busch went ballistic a couple of weeks ago at Darlington. After getting wrecked, he aggressively drove to the garage, cussed on national television, and blasted his team for its failings. In that fit of anger, the two-time Cup Series champion also declared some things would change moving forward. 
Heading to his home track this weekend at Las Vegas, Busch admitted that he's already implemented one major change to his routine that he mentioned during that emotional outburst. The question is — will it make a noticeable difference in the rest of the playoffs?
Kyle Busch gets wrecked at Darlington and goes ballistic
After closing out the regular season with a 34th-place finish at Daytona, Kyle Busch hoped to start the 2021 playoffs at Darlington on a better note. That did not happen. 
Austin Dillon made contact with Busch late in Stage 2, which sent him into the fence. The resulting damage ended his day. The upset Joe Gibbs Racing driver aggressively drove down pit road headed to the garage. Along the way, he ran over several pylons and narrowly missed hitting racetrack personnel. 
A few minutes later, NBC's Marty Snider caught up with an unhappy Busch. 
"It wasn't the 3's fault. Just take our lumps. We're running like s***. We got wrecked," Busch said. "It's what you get when you run like s***. Shouldn't be there. I don't know what our problem is. Every time we go to sim and use sim and think we have a good sim session, we go to the race track and we suck. I'm done with that. We'll have to use some other tools on figuring out how to be good. The M&M's Camry was not very good and we're running terrible. We got wrecked. It wasn't the 3's fault." 
Admits he stopped using simulator after Darlington
Since that disastrous day at Darlington, Busch finished 9th at Richmond and 21st at Bristol. He advanced to the next round of the playoffs. This week, before making his 600th career Cup start on his hometown track in Las Vegas, the 36-year-old driver admitted his team has stopped using the simulator to help prepare for races. 
"I threw that out the window after Darlington, and we're just going to go off of our notes from earlier this year how we ran out there," Busch said. "We actually did simulate for Vegas [in March] and when we showed up, we were way off, and we had to work on the car all race long. Finally, the third stage we were pretty decent, we were able to drive our way back up to the front and finish third."
With no simulator time, Busch said the No. 18 team will solely rely on notes and the extensive knowledge gained from the past.
"We're just going to go off of our notes and go off what we think we need to do and look at our mile-and-a-half program as a whole this year and what we've learned and what we've done," he said.
Kyle Busch knows why the simulator hasn't worked for him
As Busch mentioned, his adversarial relationship with the simulator isn't new. He brought up similar issues with the simulator back in March at Las Vegas.
"Last year, once we lost practice and everything like that and we knew we weren't going to get to go back to practice, we would go to the simulator every single week," Busch said. "And I spent five hours there working on things and trying to get us the right balance that I feel like on the sim — and a race-able one — where I feel like I can drive the car in a particular way that you need to be able to drive it in the race, on there and in real life, and it's just not quite correlating between the two."
At the time, Busch said he suspected the main reason his team had struggled after using the simulator was due to the tire model. This week, he echoed those same thoughts and said it's literally where the rubber meets the road.  
"It's all about the tire model and whatever tire model you put in the sim is kind of the characteristics of what your vehicle will drive like – and every driver has their own interpretation as to what they feel like they're feeling and the exact feel that they get from their butt to the chassis," Busch said. "So when I've gone in there I've done my own tire. Denny's done his own tire. Our truck guys are doing separate tires. That doesn't make any sense because we all race on the same tires. It's very, very convoluted and challenging to figure it all out right." 
It will be interesting to see how Busch performs in the upcoming races. If things go well, other drivers might follow suit and dump the technology. If things don't go well, there might just be another meltdown on the horizon.
Like Sportscasting on Facebook. Follow us on Twitter @sportscasting19.