Kyle Busch Speaks His Mind After Late-Race Incident and Says What Some Drivers and Fans Think About a Certain Smaller Team: 'Piece of S***, Rick Ware Motherf*****'
Kyle Busch finished third at his home track in Las Vegas on Sunday night. While happy with the team's overall performance, the two-time Cup Series champion couldn't hide his frustration during the postrace interview when talking about one on-track incident with a lapped car. However, his comments were a far cry from his incensed remarks just minutes earlier when he blasted the small team during the race when it happened. 
Kyle Busch has strong race at Las Vegas
Racing at Las Vegas is always special for Kyle Busch, but Sunday's race was a milestone moment for the 36-year-old because it was his 600th career Cup Series start. He noted before the green flag how he was hoping to earn win No. 60, which would translate into impressively winning 10 percent of his races.
Busch started 10th and quickly made his way forward. For the entire first stage, he remained near the front, battling with Joe Gibbs Racing teammate Denny Hamlin and Kyle Larson for the lead. He finished the stage second behind Larson.
He replicated his efforts in the second stage, finishing behind Hamlin this time. The final stage was much of the same for Busch, who got shuffled back in the pack during green-flag pit stops but made his way back through the field for his third-place finish. 
Kyle Busch not happy and calls out Rick Ware Racing
Following the race, NBC's Kelli Stavast interviewed Busch and asked him about his mood with the first race in the second round of the playoffs behind him. 
"We got all we could. I felt like during the daytime, we were a little bit better than the 11. We could race with him. I was looking forward to the lights coming on, and us picking up speed and being able to rip the wall a little bit faster. When we got hit into the fence there off of two the first time, it definitely knocked speed out of our car. We helped it a little bit coming to pit road and putting the last set of tires on it. And then I got into the fence again, trying to get by a lapped car," he said, shaking his head in disbelief. "Not enough room over there I guess." 
Busch was referring to the lapped car of Cody Ware, which got sandwiched between Busch and Martin Truex Jr. when the two JGR drivers were racing for third with 25 laps to go. As Busch passed on the outside of Ware, the No. 51 car slid up and pushed him into the outside wall.
"I got into the fence again. … Piece of s***, Rick Ware motherf*****," an upset Busch said over his radio.
Rick Ware Racing driver Joey Gase involved in scary accident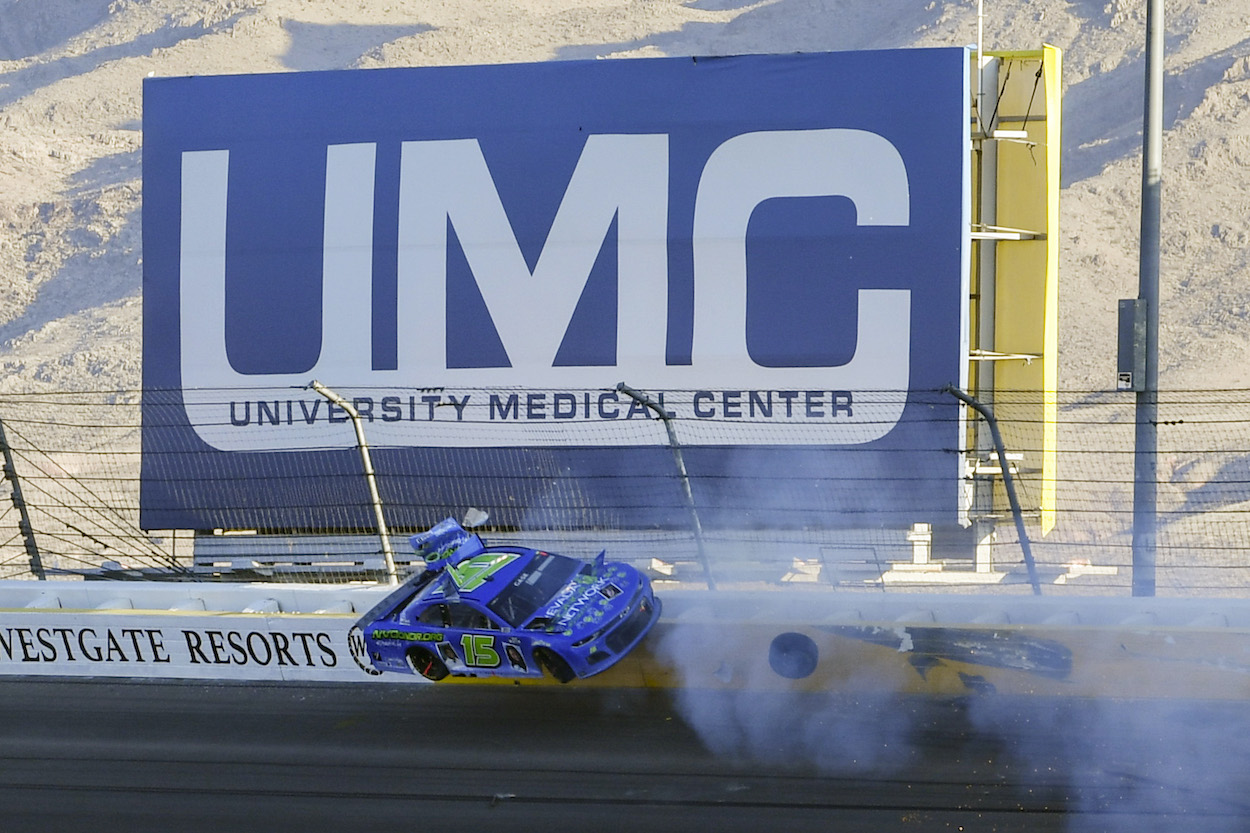 Rick Ware Racing is a smaller Cup Series team. Competing against the big guys like JGR, Hendrick Motorsports, and Penske is a monumental challenge each week. Unfortunately, that means Ware cars are typically in the back of the field, regularly getting lapped and getting into accidents. 
Several weeks ago at Daytona, the three Ware cars were involved in an accident together. On Sunday, besides the incident late in the race with Cody Ware, the No. 15 Ware car driven by Joey Gase was involved in a single-car accident earlier in the race where the car violently slammed into the outside wall before it got airborne. 
Gase was taken to the hospital and later released. According to his PR team, he will be further evaluated when he returns to Charlotte. 
Like Sportscasting on Facebook. Follow us on Twitter @sportscasting19.