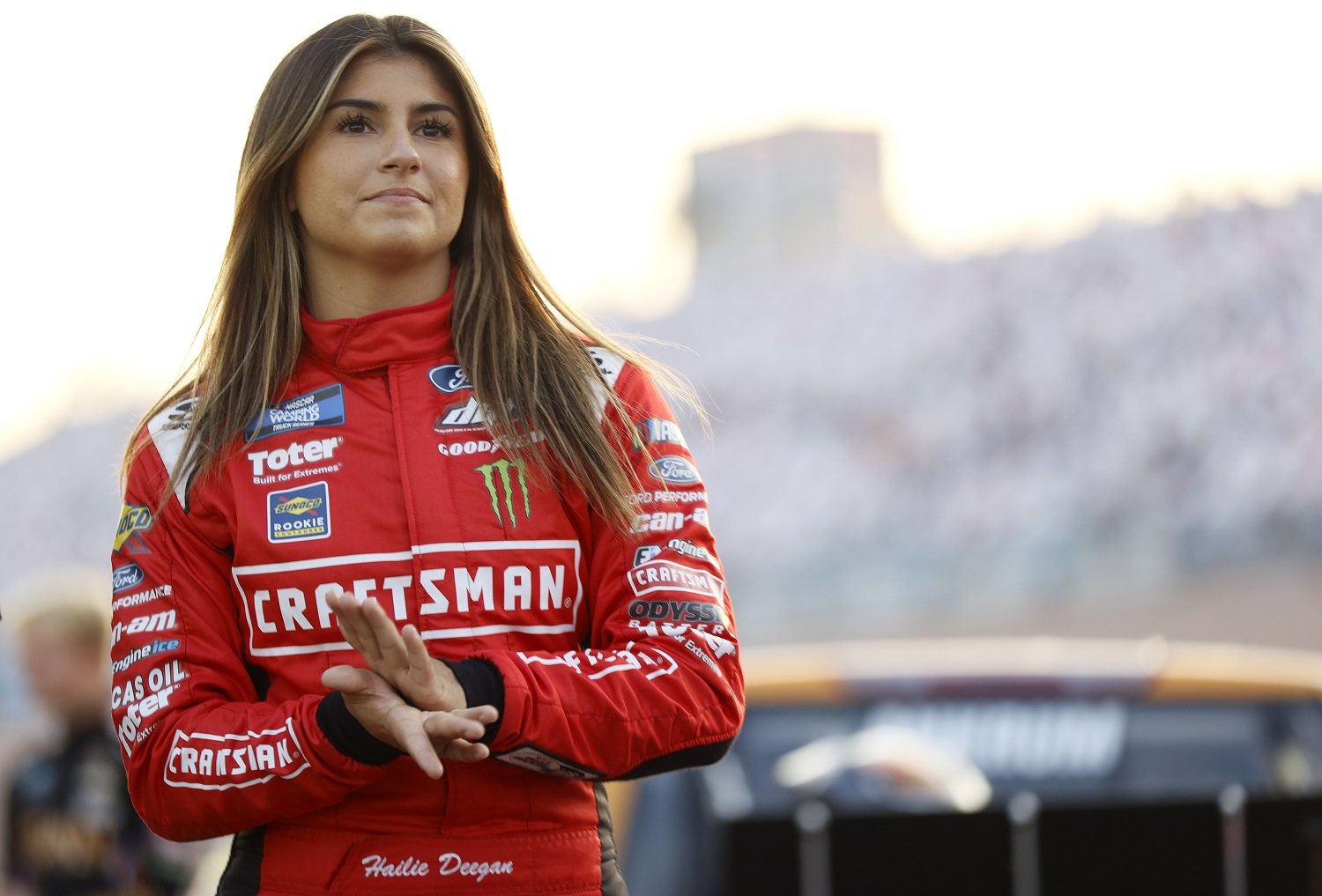 Racing 4-Wide With Kyle Busch Isn't Even Hailie Deegan's Top Concern of Her Rookie NASCAR Trucks Season
Rookie Hailie Deegan, 20, has only one top-10 showing in the NASCAR trucks series and looks forward to practice and qualifying being restored ahead of most 2022 races.
The top 10 in Camping World Truck Series races has pretty much been a rumor for Hailie Deegan. The rookie from California placed seventh at Gateway in Illinois in mid-August, but she has otherwise struggled to crack the top 15 and has crashed out of the last two races after a relatively trouble-free start.
Even if it looks like a lost season on paper, however, 2021 has been a valuable experience. And though she'll need to earn her keep through improved performances in future seasons, she's already attracting a following and opening doors to new opportunities.
Just imagine how much better her season would be if she could just see the air she's driving through.
The pandemic has been tough on Hailie Deegan and other rookies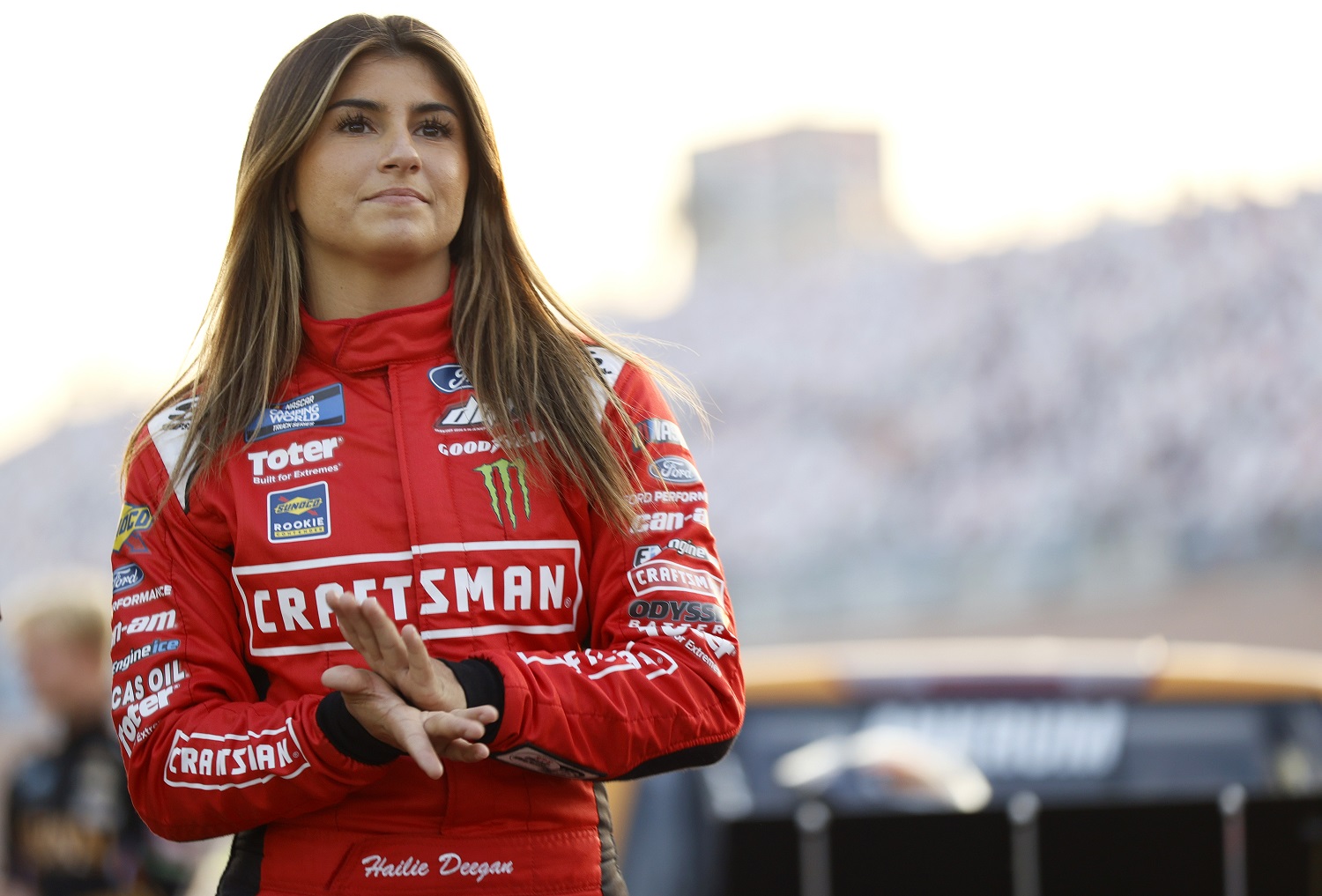 A year ago, Hailie Deegan was driving in the ARCA Menards Series and doing reasonably well. Though she didn't win, Deegan scored 17 top-10s in 20 races and finished third in the season standings.
That landed her an offer from David Gilliland to try the truck series. But the change in vehicles is the difference in a pet owner switching from kittens to young Labradors; both will run all day long, but taming the dog requires a bunch more work.
Unfortunately, practice has been close to non-existent since the start of the pandemic. That's tough on rookies and worse for drivers periodically breaking in new trucks. Deegan explained the predicament during a Frontstretch.com podcast.
"I forget what race it was, but I remember we were in a brand new truck. I have no clue how that truck's going to handle. You have your expectation of what you think is gonna happen, but you don't always know. And so going out there, turn 1's like, 'Oh, just go in here almost wide open.' And you're four-wide with Kyle Busch hanging on your right rear quarter panel. That stuff's tough."

Hailie Deegan
Alas, Busch hasn't gone 5-for-5 in the Xfinity Series and won twice apiece in the Cup Series and in trucks this year by settling for just hanging. When he shows up in your rear-view mirror, a few thousand laps of practice sure come in handy.
Hailie Deegan is trying to get the hang of air's effect on trucks
Picture yourself at a major intersection and waiting for oncoming traffic to clear in order to make a left turn. That passing traffic in the closest lane might only be going 40 mph, but it's enough to buffet your car. NASCAR drivers feel that same effect 10-fold while moving in and out of drafts while racing in the pack.
"Learning how to maneuver air is very difficult when you can't see it," Hailie Deegan said in the Frontstretch podcast, laughing as she realized how funny that sounded. "That's something that I feel kind of goes untalked about on the fan side and unacknowledged because it's not something that you can simply break down and it's something you truly have to feel and experience to learn."
Deegan knew when she accepted the gig in the trucks series that she would have to adjust to that. But she admits she wasn't ready for how much of a change it was from racing ARCA cars.
"I knew it was going to be a challenge, but I didn't think it'd be very challenging and about how much it affects your truck," she said. "So that's something that I've had to kind of try to wrap my head around and get better at it. And I'm still dealing with every single race trying to learn new things."
It's all part of the adjustment that comes with more hours behind the wheel. At some point, she'll be answering her own questions based upon experience.
"Is it just the dirty air you're in or is your truck actually handling this way?" she asked.
The NASCAR trucks rookie is branching out
Hailie Deegan has already said she wants to compete in Xfinity Series races, perhaps as early as next season. It's an understandable desire because it constitutes another step toward reaching the NASCAR Cup Series someday.
However, Deegan understands she has dues to pay. Team owners will want to see results in the trucks series before they take a chance. Being a mere 20 years old, she has time to build the necessary credentials.
On the plus side, Deegan branched out last season to compete in the Superstar Racing Experience (SRX), the IROC-like circuit cobbled together by Tony Stewart and Ray Evernham, who cold-called her before the six-race schedule began.
"I don't even know where he got my number from," Deegan said.
NASCAR is keeping a wary eye on SRX. While it's not a direct competitor, it is nevertheless one more racing series and can potentially siphon off fan interest and, more significantly, sponsor interest. If she got any pushback for competing in three SRX races, including second- and fourth-place showings, it was of no consequence.
"I would say it'd be a bigger deal if I was a Cup Series-level driver," she speculated. "Obviously, in the truck series they know the position I'm in with no practice and just trying to gain experience. And it's expensive to get seat time in other forms of racing. … They understand."
All stats courtesy of Racing Reference.