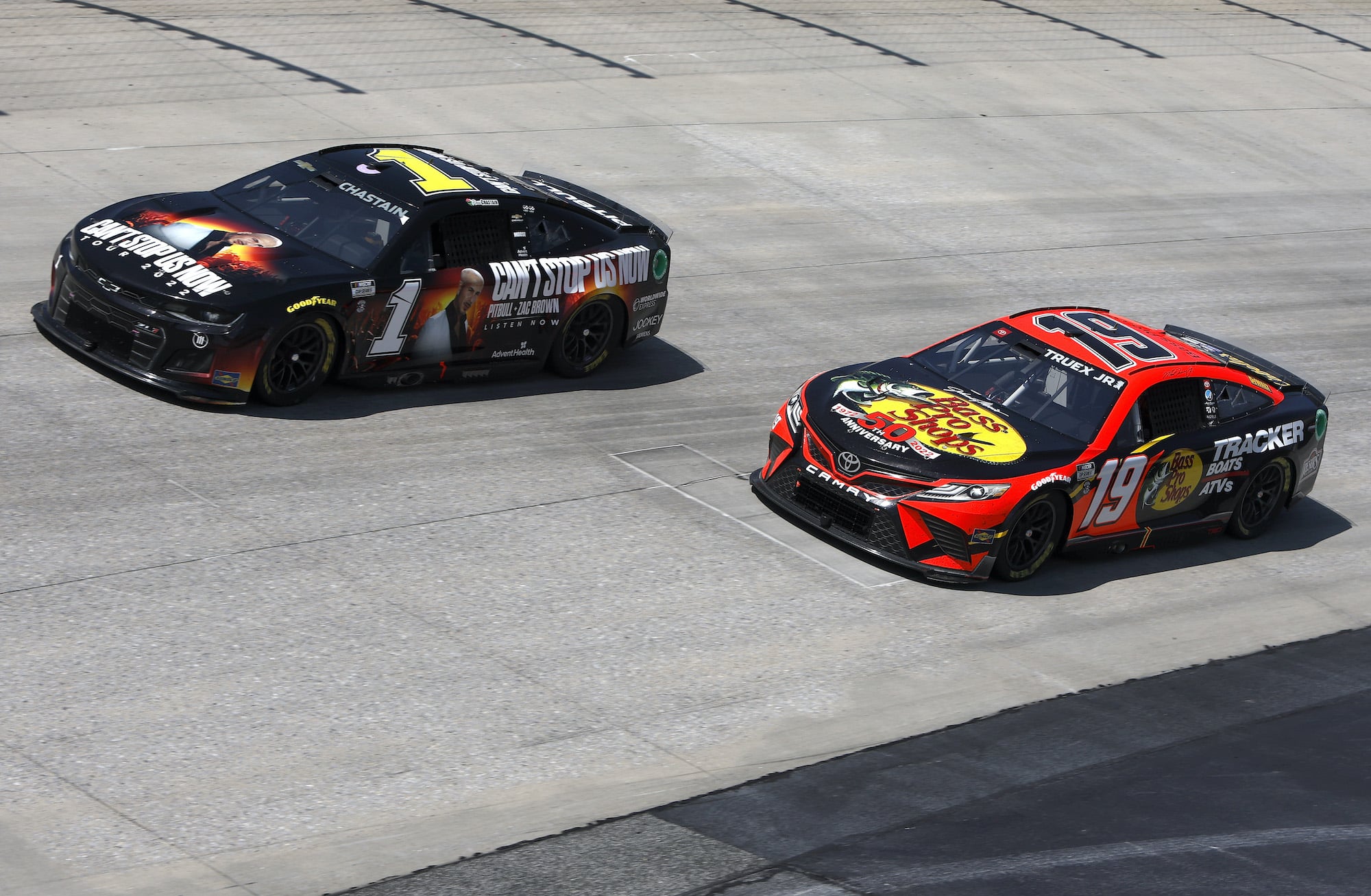 Martin Truex Jr. Doesn't Sugarcoat Thoughts on Ross Chastain's Moves at Dover: 'It Was Kind of Uncalled For' and 'It's Not Going to Happen Again'
Martin Truex Jr. visited with the media before the race at Darlington and didn't hide what he thought about Ross Chastain's moves last week at Dover.
Martin Truex Jr. was clearly frustrated with Ross Chastain following last weekend's Cup Series race at Dover, paying the Trackhouse Racing driver a personal visit on pit road moments after the checkered flag dropped and he had limped back to the garage following a last-lap crash.
Following that impromptu face-to-face meeting, where it appeared Truex did most of the talking, Chastain visited with reporters and gave his side of the story. The 2017 champion bolted and hasn't talked all week about it. Until now. And he didn't sugarcoat what was on his mind.
Martin Truex Jr. confronts Ross Chastain on pit road at Dover
Martin Truex Jr. and Ross Chastain were shown throughout much of the Dover Cup Series broadcast on Fox due to fast cars and racing near the front, but it was rarely individually. That's because the Nos. 19 and 1 cars ran near each other for a large portion of the day.  
Heading into the race's final trip around the mile-long track, Truex was glued to the rear bumper of the Trackhouse car in third place. The Joe Gibbs Racing driver wanted more and made one last attempt to get beyond the watermelon farmer but was denied, which continued a consistent theme that had occurred throughout the race. 
Except this time around, the 41-year-old spun out and slid down into the inside wall. He finished 12th. Chastain finished third.  
Truex doesn't hold back and says it won't happen again
Martin Truex Jr. was only in the mood to talk with Chastain after the race. Once their conversation ended, he headed for the exit. He's been quiet on the subject all week. That changed on Saturday at Darlington when he visited with reporters and provided his version of last Sunday's events.
"Well he came up. I had to run to the outside, and his spotter told him I was there, and he just came up like I wasn't there," Truex said. "So caused me to lift, get in the marbles, ultimately crash and lose whatever, six, seven, eight spots."
Truex continued and made it clear that wasn't the only time Chastain made what he considered to be an ill-advised move.
"He run me all over the racetrack all day," he said. "I get it. He's air blocking. These cars are terrible in dirty air. He's doing what he has to do. But I'm talking three lanes up the racetrack, all over. Like, literally, just completely blowing, forgetting about trying to make lap time. The guys in front of us are driving away, and he's screwing around with me for fourth place. It's the Cup Series. We don't typically race like that. I just thought it was kind of uncalled for."
When asked what his message was to Chastain when they met on pit road after the race, Truex offered an intriguing answer that suggests this might not be over.  
"I asked him why he did it and I'm not sure he really knows why he did it but it's not going to happen again," he said. 
Chastain accepted blame for aggressive late move
Unlike Truex's quick departure from Dover, Chastain visited with numerous reporters, talked about his third-place finish, and what happened at the end.
"We were talking about where we were going to go fishing next week," he joked with Fox's Jamie Little in the postrace interview before promptly moving on and talking about his race team. Interestingly, he modified his tone a few minutes later with reporters.
"Racing him hard. I crowded him up. I should have left him more of a lane," the driver admitted.
Chastain accepted responsibility for what happened. But as we've seen all season, his aggressive driving isn't going away. That's his style and this season it's paid off in a big way with his first couple of Cup wins. Truex or anyone else would be foolish to think it's going to change.
Like Sportscasting on Facebook. Follow us on Twitter @sportscasting19 and subscribe to our YouTube channel.