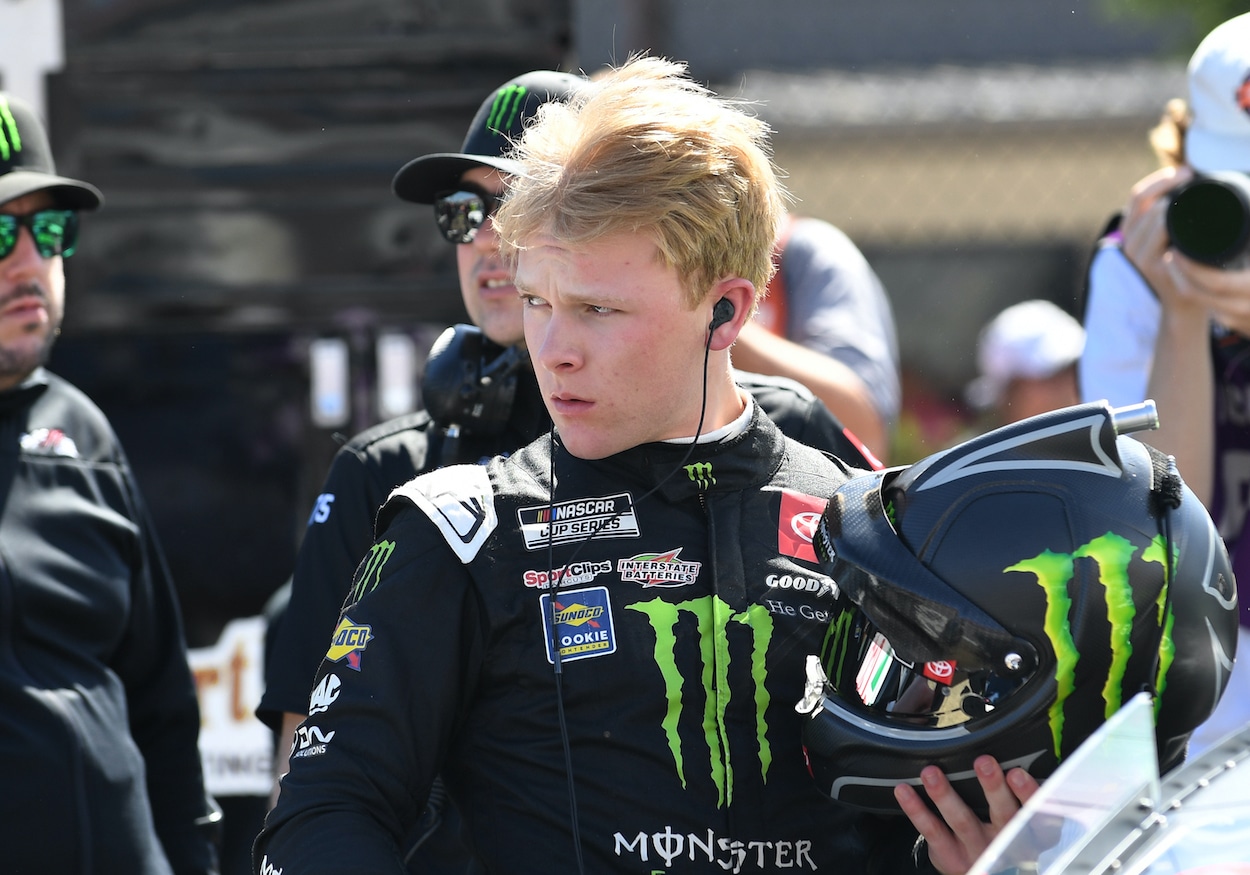 Ty Gibbs Fires Multiple Shots at Hendrick Motorsports Driver for Being a 'Dumbass' and Karma Responds in a Big Way
Ty Gibbs was not happy on Sunday at Kansas with one Hendrick Motorsports driver, calling him a "dumbass" multiple times. Karma responded a few dozen laps later in a big way.
Ty Gibbs has had a solid start to his rookie season through the first dozen races, including four top-10 finishes. He's also kept a lower profile, which resulted in him recently receiving a special nickname from Fox announcer Mike Joy.
On Sunday at Kansas Speedway, the Joe Gibbs Racing driver was running in the top 15 when he was involved in an accident with several other cars. The 20-year-old was not happy about it and voiced his displeasure over the team radio, calling out Hendrick Motorsports substitute driver Josh Berry for his dumb moves. 
Less than 30 laps later, Karma responded in a big way.
Ty Gibbs receives praise from Mike Joy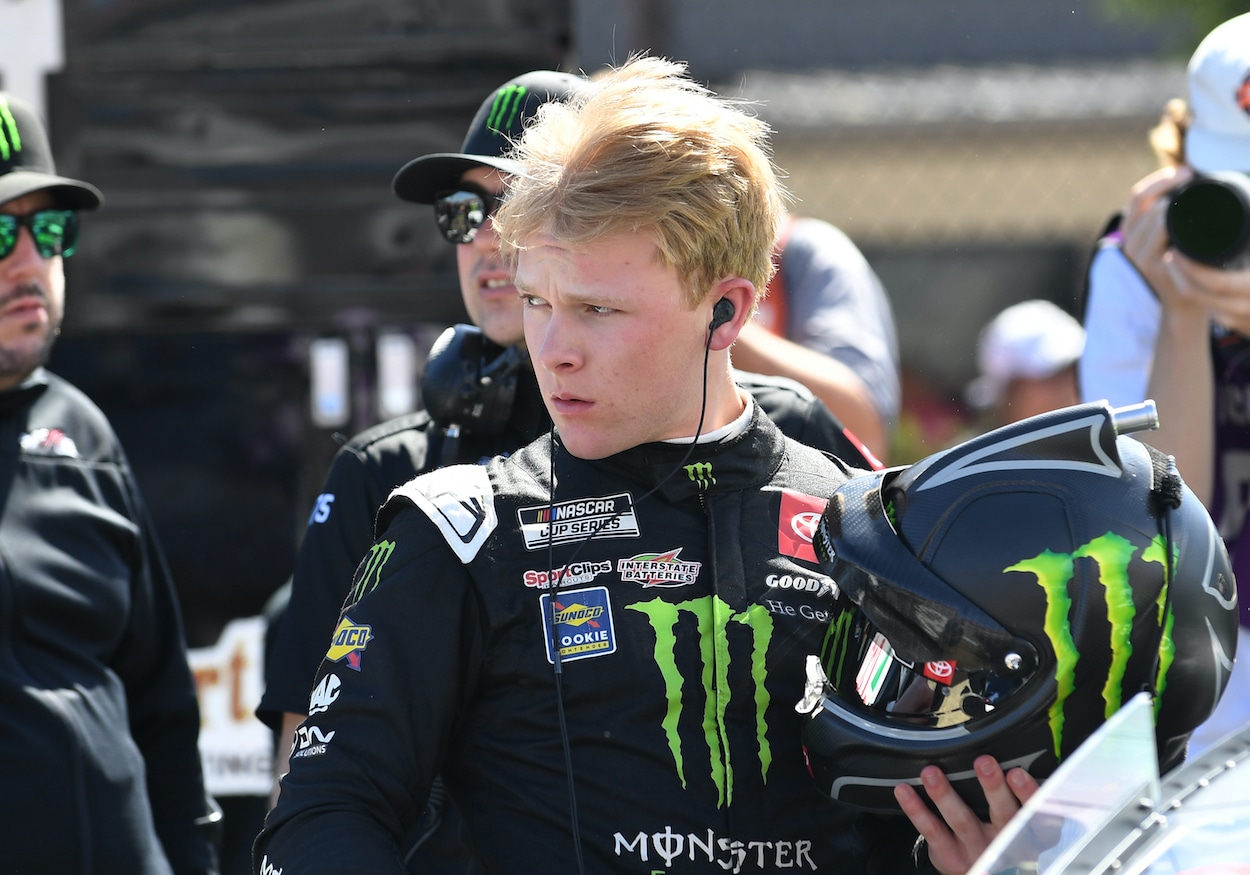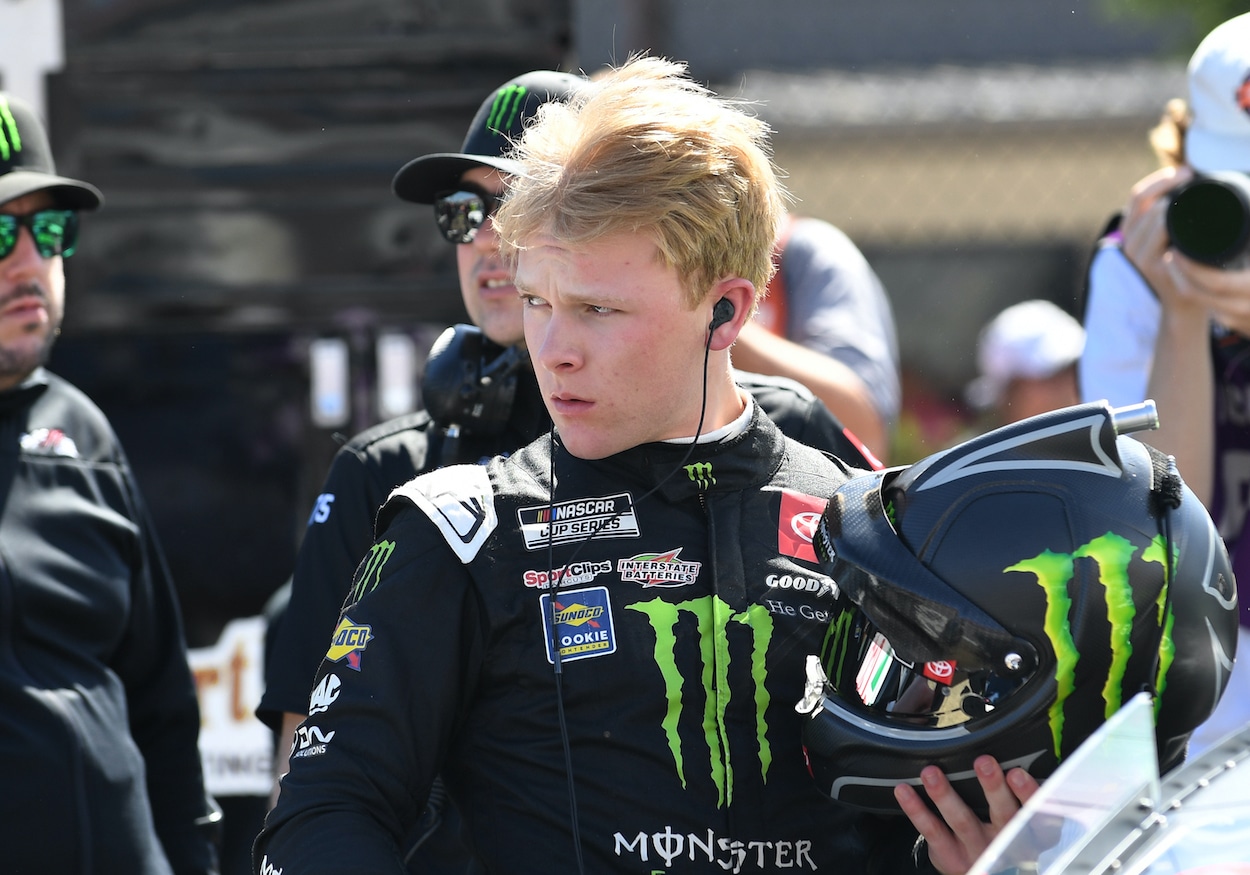 Through the first four races of the season, Ty Gibbs hadn't done anything worth talking about, a 16th-place finish at Auto Club his best result. Then, he scored his first top 10 of the season at Atlanta, finishing ninth. He finished in that same position the next two weeks at Circuit of the Americas and Richmond. 
On the Bristol dirt, the JGR driver finished 10th. A four-race stretch to be happy with by most standards, especially for a rookie. After finishing 18th at Martinsville, the No. 54 car was running up near the front at Talladega when Fox's Mike Joy talked about the young driver's season. 
"He is becoming the Ice Man," Joy said. "I know he's a rookie, but you listen to his interviews. You listen to him on the radio. Very calm. A very calm demeanor. Not a lot of emotion shown, plus or minus. It's: I'm here to do my job. I'm going to do it the best I can. Let me go do it."
Gibbs calls out Josh Berry for being a 'dumbass'
On Sunday, appropriately enough on a hot day in Kansas, the Ice Man melted. Gibbs was running in the top 15 for much of the day. Toward the end of Stage 2, the No. 54 was 12th with Josh Berry, who was subbing for an injured Alex Bowman, running one position behind. 
The pair battled for the position coming out of Turn 2, with Chris Buescher joining a three-wide party on the outside. Replays show the No. 48 car slide up the track into the JGR car's lane, which resulted in the No. 54 getting into the right rear of the Hendrick Motorsports car and sending it for a spin. 
Gibbs wasn't happy.
"What a dumbass! That dumbass ran three people into the fence the last five laps," the driver said over the team radio. 
Wrecks and ends day
Less than 30 laps later, Gibbs found himself in a role reversal in that same Turn 2, when he was on the bottom of a three-wide with JGR teammate Martin Truex Jr. to his right and Kevin Harvick running the outside lane. 
Similar to what happened with Berry, Gibbs got loose and tried to save it but couldn't, sliding down the backstretch before the car came to a stop just after barely tapping the inside wall. Instead of nursing the car, which had a flat, and driving it slowly back to pit road for repairs, the rookie hurried back, more than likely trying to avoid losing a lap. 
The tire separated and began violently whipping the hood of the car, severely damaging it. 
"That is self-inflicted," Clint Bowyer noted on the broadcast. "Just drove around there too fast under a flat and unfortunately destroyed the car." 
Seconds later, when the No. 54 approached pit road, Gibbs could no longer steer it and the car veered uncontrollably into the grass and got stuck. 
"This pile of crap won't turn," the driver said. 
A pile of crap that he created.
To stay up to date on the latest happenings in NASCAR, including breaking stories you can't find anywhere else, follow Kyle on YouTube and Twitter.