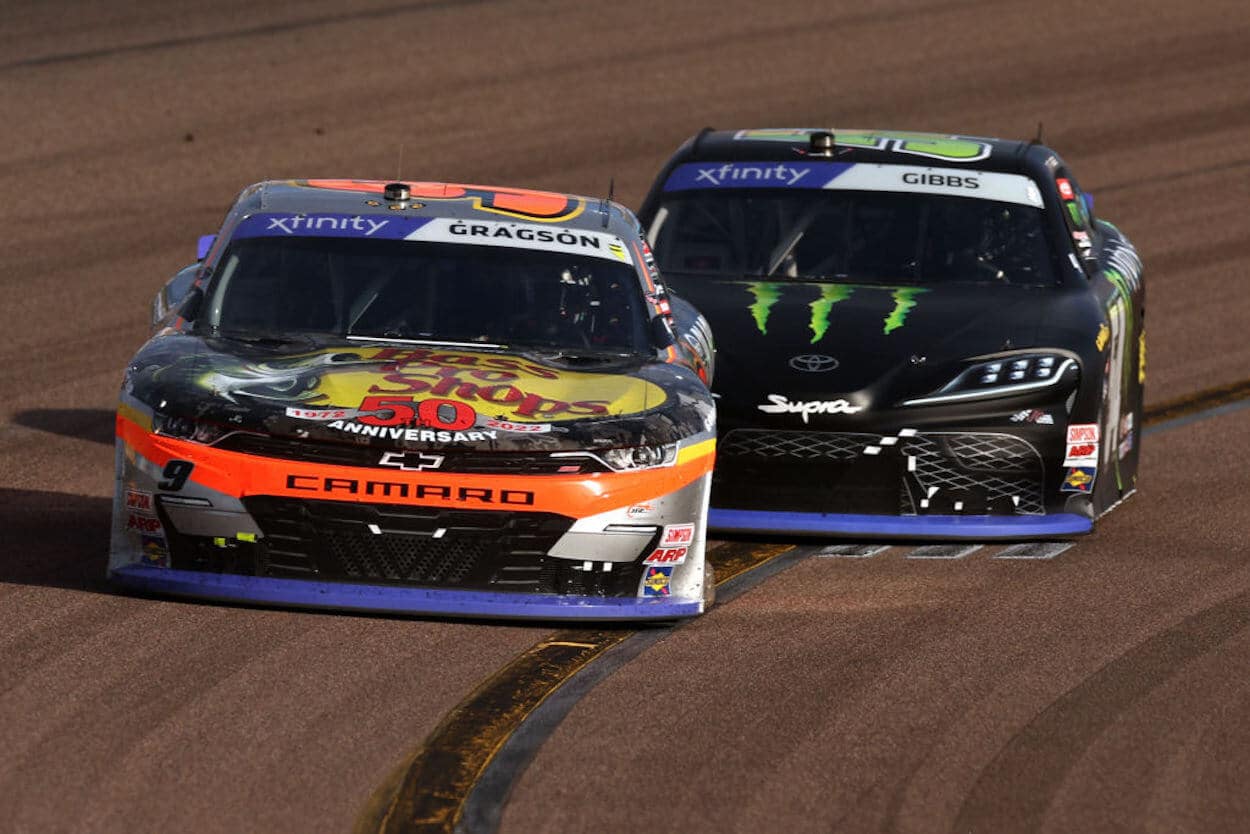 Just Like in the Final Xfinity Race of 2022, Ty Gibbs Has the Upper Hand on Rival Noah Gragson — And It Has to Sting Really Bad
Last year, Noah Gragson came up short against Ty Gibbs in the Xfinity Series. Both men have moved up a level, but it's been more of the same.
A season after their epic battle for the 2022 NASCAR Xfinity Series championship, bitter rivals Ty Gibbs and Noah Gragson are now rookies in the NASCAR Cup Series.
But unlike last year — when the two seemed virtually glued together on the race track and traded paint and barbs on multiple occasions — Gibbs has put some significant distance between himself and the driver he beat for the Xfinity title by finishing one spot ahead in the final race.
So, why are the two young drivers who went down to the wire for Xfinity Series glory just five months ago enjoying such different levels of success as full-timers at the Cup Series level?
Ty Gibbs is finding his way in the NASCAR Cup Series
If ever there was a driver set up to make a smooth transition to the NASCAR Cup Series, it was Ty Gibbs. The 20-year-old grandson of NASCAR Hall of Fame team owner Joe Gibbs, Ty made 51 Xfinity Series starts for Joe Gibbs Racing over the past two years — winning 11 races and the 2022 championship in the process. 
Rather than moving to NASCAR's premier division with a new organization as many drivers do, Gibbs had the advantage of not only staying with JGR — one of the Cup Series' elite organizations — but keeping his Xfinity Series crew chief (Chris Gayle) and primary sponsor (Monster Energy). Heck, Gibbs even has the same car number — 54 — and paint scheme that he carried to the Xfinity Series championship.
So, it's not the least bit surprising that after a somewhat slow start this year, Gibbs has reeled off three consecutive ninth-place finishes and is nine spots ahead of fellow rookie Noah Gragson in the overall standings. 
"I'm really learning so much each and every time I get behind the wheel," Gibbs said in his team's prerace news release ahead of Sunday night's race at the Bristol Motor Speedway Dirt track. "I get to race against the best stock-car racers in the world every week. Hopefully, all my hard work will pay off. I worked really hard in the offseason and have continued to during the start of the season, and my team has been working really hard as well. 
"It's a long year, and we'll keep working each week and try to get better and better as the season goes along. We have three top-10 finishes in a row, we are just working on minimizing our mistakes, and the last three weeks it's paid off."
Unlike Ty Gibbs, Noah Gragson has struggled big time out of the gate in Cup
Noah Gragson couldn't be in a much more different situation than Ty Gibbs — both in terms of the team he's with and the trajectory of his rookie season. Unlike Gibbs, whose jump to full-time Cup Series status was virtually seamless for obvious reasons, Gragson is driving for an organization in Legacy Motor Club that's competing under its third name and ownership structure in as many seasons. Not only that, but Legacy Motor Club — formerly known as Petty GMS and Richard Petty Motorsports — has a stable consisting of just two full-time Cup teams, as opposed to JGR's four full-time entries.

There's also been some internal strife at Legacy Motor Club this year, with the team's "chief ambassador," Richard Petty, complaining to reporters at Daytona in February that he feels like fellow seven-time Cup Series champion Jimmie Johnson — the organization's first-year co-owner — has effectively pushed him to the curb.
All these factors, in combination with Gragson — who spent the last four seasons as a full-time Xfinity Series driver with JR Motorsports — being a total newcomer to Legacy Motor Club, puts the driver in an extremely different predicament than Gibbs. And it's proving to be a difference maker on the race track, where Gragson has yet to crack the top 10 and has just two top-20 finishes in seven starts behind the wheel of his No. 42 Chevrolet. 
Sadly for Gragson, he doesn't sound overly optimistic about a turnaround this weekend on the Bristol dirt.
"I'm not much of a 'dirt' guy, so it's challenging for me to know where on the track I need to run and how sideways I can get my car," he said in his team's prerace news release. "We're up for a new opportunity and new challenge this weekend."
If Sunday's race is anywhere close to as challenging as Gragson's rookie season has been, he's in for a rough ride.
Given their checkered past, Noah Gragson can't be happy about Ty Gibbs' Cup success
Being outpaced by Ty Gibbs at virtually every stop on the Cup Series schedule this season has to feel like salt in the wound for Noah Gragson — especially after Gragson fell just short of beating Gibbs for the Xfinity Series championship in 2022.
After all, there's no love lost between the two youngsters after tangling multiple times and combining for a total of 15 wins last year as they waged quite the showdown for the Xfinity crown.
How bad was the blood between Gragson and Gibbs? Well, at Championship 4 Media Day, which rolled around just ahead of the season finale at Phoenix Raceway, Gragson fired a rather harsh jab at his title nemesis.
"I'm just voicing my opinion: I don't like him," Gragson told reporters in a recorded interview that you can watch here. "It's just speaking what everybody doesn't want to say, but they feel it."
Later, while standing on pit road just moments after finishing second to Gibbs in the season finale, Gragson was equally blunt about his distaste for the driver who'd just edged for him the championship by a single position on the race track.
"It definitely sucks to lose to someone like that," Gragson said in a live TV interview with NBC Sports that you can watch below.
Gragson, 24, then took one last verbal shot at 20-year-old Gibbs during his post-race press conference, a portion of which you can watch below.
"I used to be buddies with him when he was younger," the championship runner-up said. "I've told him, 'Hey, you used to be a super-cool kid, and you've kind of turned into a little bit of a douchebag.'"
Needless to say, Gragson can't be happy that Gibbs has the upper hand on him so far in their first year as full-time Cup Series competitors. But, based on the dynamics of their respective teams, Gragson is unlikely to gain much ground on his fiercest foe anytime soon.