Noah Gragson vs. Ty Gibbs: Which Driver Will Parlay His 2022 Experience Into the NASCAR Rookie of the Year Award?
The roll call for the 2023 Cup Series rookie class will be shorter than Tony Stewart's patience in dealing with NASCAR. Ty Gibbs and Noah Gragson apparently will be the only drivers eligible for the Rookie of the Year Award, barring a surprise from Rick Ware Racing, the only team that hasn't revealed its lineup.
Discussions about whether it will be Gibbs or Gragson winning the award will be a staple of NASCAR chatter throughout the season.
The NASCAR Rookie of the Year Award is overrated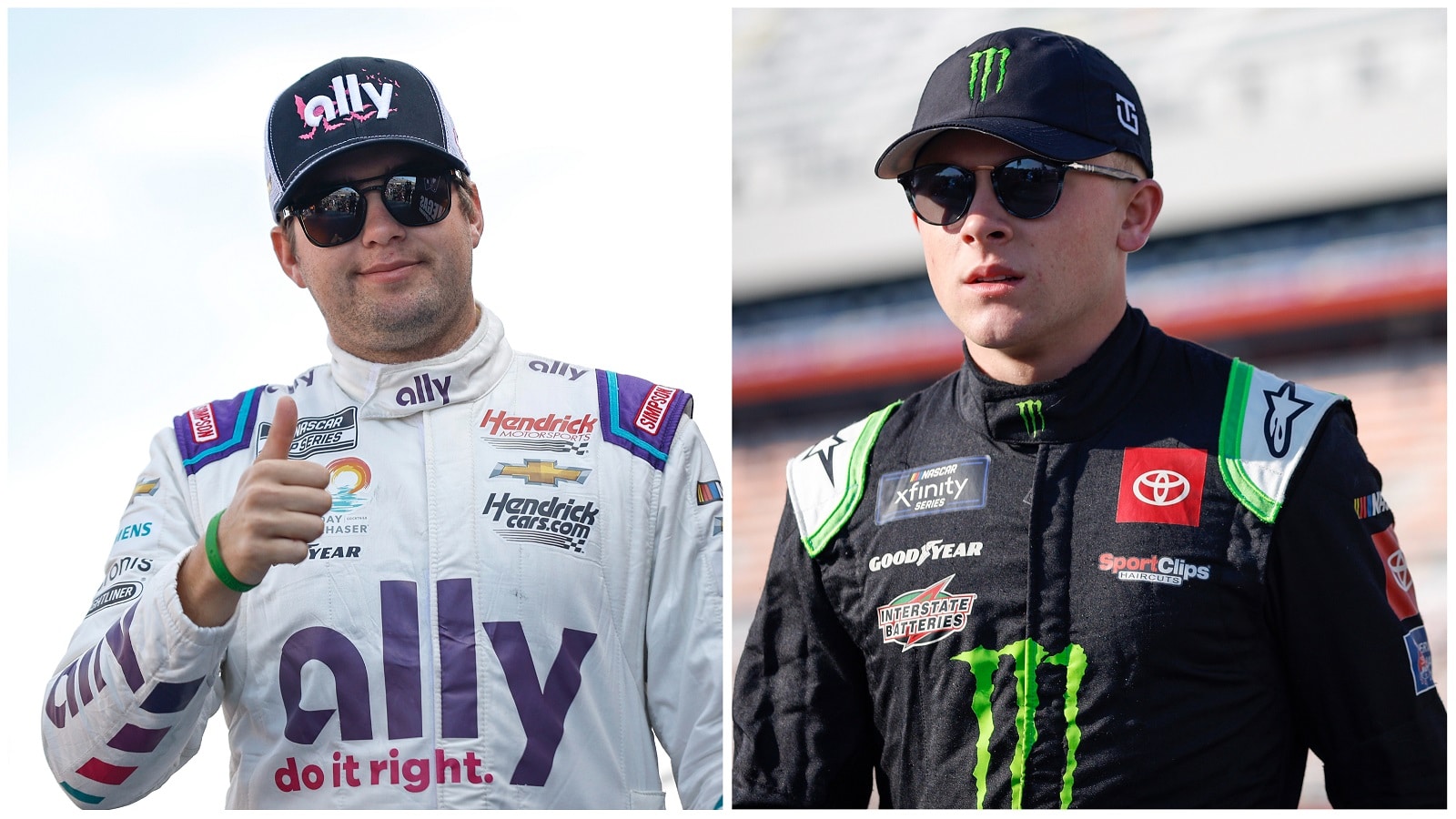 The usual reasons few people pay attention to Rookie of the Year Award battles in the NASCAR Cup Series is that it's not a great predictor for future success, and there tends to be so little turnover in drivers that the field of candidates is small.
The two are related. Being the best NBA or MLB rookie means beating out anywhere from 40 to 100 others for the honor. In the Cup Series, a group of five rookies is considered large. Being the best of such a small group is more of an accomplishment than a coronation.
In the last two decades, the only winners of the rookie honor who've gone on to win the series championship have been Kyle Busch (2005), Joey Logano (2009), Kyle Larson (2014), and Chase Elliott (2016). That's not a recent development either. No rookie award winner between David Pearson (1960) and Dale Earnhardt (1979) went on to capture a season title.
Noah Gragson and Ty Gibbs will be 'veteran' rookies
It's bad enough that we're looking at the possibility of just two Rookie of the Year Award candidates, but the facts make it harder to accept. That's because Noah Gragson and Ty Gibbs both have a bunch of Cup Series races under their belt aside from leading the way in the Xfinity Series championship battle. The circumstances were different, but the experience was valuable for each.
Gibbs, the Xfinity Series titlist, managed 15 rides in the Cup Series for 23XI Racing after Kurt Busch's season ended with a concussion suffered at Pocono. Gragson, the Xfinity runner-up, raced 18 times for three teams. He shared the No. 16 Kaulig Racing Chevy with AJ Allmendinger and Daniel Hemric, signed on for three starts at Beard Motorsports, and made five appearances on behalf of Hendrick Motorsports as the replacement while Alex Bowman recovered from a concussion.
Rather than using the number of races as a cutoff for determining rookie status, NASCAR makes the decision on a case-by-case basis. Since Gibbs and Gragson were competing for the Xfinity championship, NASCAR didn't put the rookie tag on either in 2022.
Ty Gibbs has a slight advantage, but Noah Gragson may fare better in 2023
Competing for top-notch teams, Ty Gibbs won 11 races in a season and a half of Xfinity Series action with Joe Gibbs Racing, and Noah Gragson collected 13 victories over his final three seasons at JR Motorsports. When the pair moves to the Cup Series full-time, Gibbs will be stepping into the better situation.
Gibbs, the grandson of JGR owner Joe Gibbs, inherits Kyle Busch's Toyota on a team whose four cars assure maximum resources when it comes to internal R&D and data sharing. From a productivity standpoint, Gibbs scored four finishes of 17th or better in Kurt Busch's No. 45 Toyota. Once he switched into Bubba Wallace's No. 23 Toyota, Gibbs fared better than 20th just twice in eight starts.
Gibbs will be able to draw upon the experience of Denny Hamlin, Martin Truex Jr., and Christopher Bell. Gragson will share the Petty GMS garage with Erik Jones and Jimmie Johnson as the seven-time champion runs a limited schedule.
Gragson posted just six finishes in the top 20, but he fared better when it came to navigating traffic. Despite one more DNF than Gibbs, Gragson's average finish barely trailed his nemesis, 22.9 to 23.1. However, Gibbs' average starting position was 17th, compared with Gragson's 25th.
Maury Gallagher gave Richard Petty's team a much-needed infusion of money after taking over as the managing partner last December, and Jones showed how significant the upgrade was by posting some of his best Cup Series numbers.
As a team, Perry GMS won't be able to offer the all-around support for Gragson that Gibbs can expect at JGR. On the other hand, Gragson will have Chevrolet backing him. The manufacturer has many more cars than Toyota, and the Gragson team will be able to draw upon the acquired knowledge.
Whether either rookie can exploit the Next Gen-induced parity to win a race is debatable. However, the respective bodies of work in the top-tier series this past season suggest Gragson should fare a bit better than Gibbs overall.
Got a question or observation about racing? Sportscasting's John Moriello does a mailbag column each Friday. Write to him at [email protected]