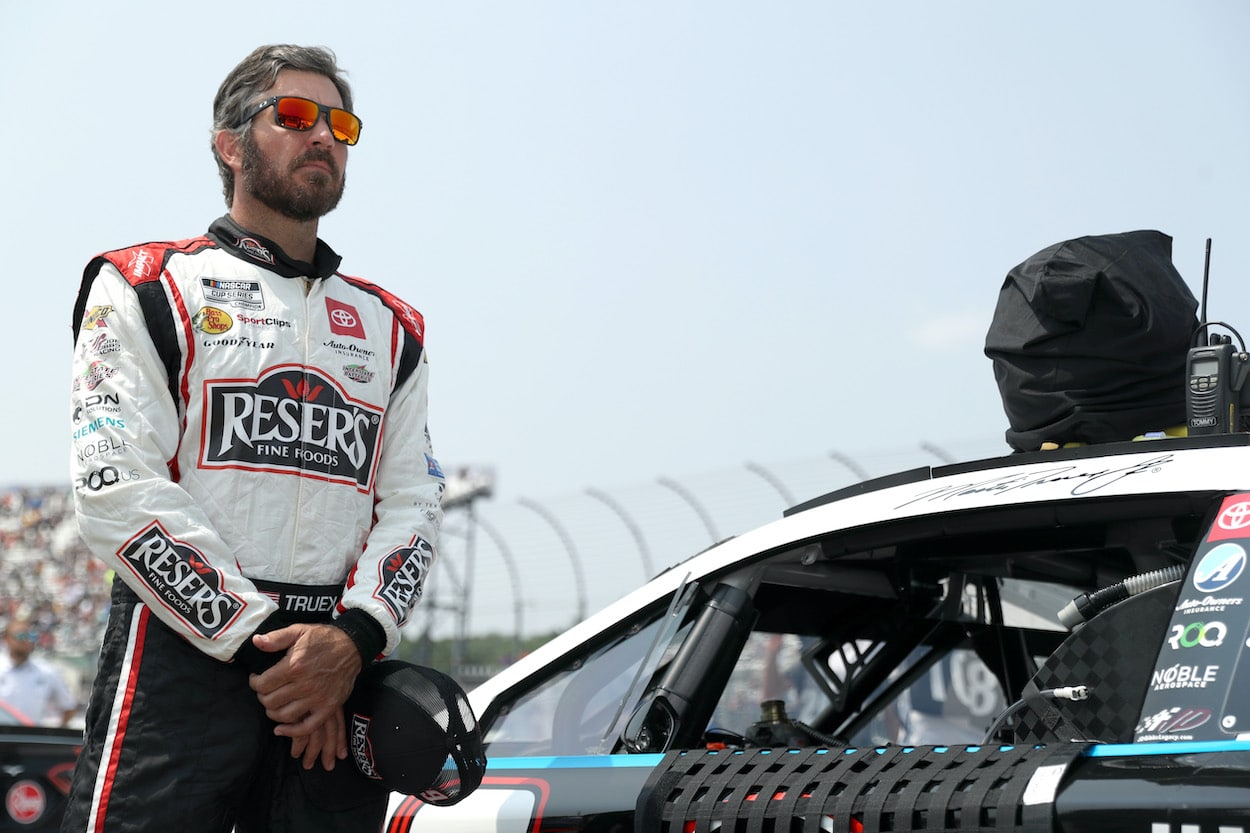 Martin Truex Jr. Offers Unexpected Two-Word Answer When Asked About Potential Retirement
Martin Truex Jr. was asked at New Hampshire about his plans for 2024. The Joe Gibbs Racing driver provided an unexpected two-word answer.
Martin Truex Jr. has won twice in 2023, or two more times than he did in all of 2022. However, by this time last season and despite no wins, the 2017 Cup Series champion had already announced he was returning for another year with Joe Gibbs Racing. 
With those two wins to his credit this year, sitting second in the points standings, and looking like a contender to win his second title, most think it's a no-brainer that the 43-year-old would return in 2024 for his 19th season. Interestingly, when given the opportunity to confirm his future plans this weekend at New Hampshire Motor Speedway, the driver offered a two-word response and failed to provide any clarity on the situation. 
Martin Truex Jr. non-committal about 2023
At the end of June last year and 16 races into the season, Martin Truex Jr. had recorded seven top-10 finishes, two of them inside the top five. He also had a pair of DNFs.
However, it wasn't necessarily his results that everyone was focusing on but his future. The driver maintained for months that he was undecided about returning to JGR in 2023 and understood a decision needed to be made soon.
He announced on June 24 that he would be returning to the No. 19 team and competing another season.
Truex 2024 plans remain unclear
This season for Martin Truex Jr. has been markedly better than last. Through the first 16 races, the driver had scored eight top 10s, five of them inside the top five, including a pair of wins at Dover and Sonoma. 
With more success, the driver's demeanor is understandably more upbeat. However, the one thing that has remained similar to last year is his lack of commitment to returning for another season. Except, at this point, he's already three weeks beyond when he made his announcement a year ago.
He acknowledged at Atlanta a week ago that he knew he needed to decide soon.
On Saturday in New Hampshire, the driver was unsurprisingly questioned about his return in 2024. 
"Next question," he said.   
What might happen?
Based solely on results, it stands to reason that Truex would be back in 2024. He's still winning races and doing so in dominating fashion. He's a legitimate contender to make the final four and have a shot at his second championship. 
Why would he step away from all of this success?
Maybe he's thinking similarly to what his JGR teammate Denny Hamlin said on the Dale Jr. Download last year about retiring while on top.
"I talked with my crew chief yesterday about this, and I said I'm going to win my last start," Hamlin said in May. "Hopefully, it's a meaningful start."
It's hard to imagine a better way to end a Hall of Fame career.
To stay up to date on the latest happenings in NASCAR, including breaking stories you can't find anywhere else, follow Kyle on YouTube and Twitter.