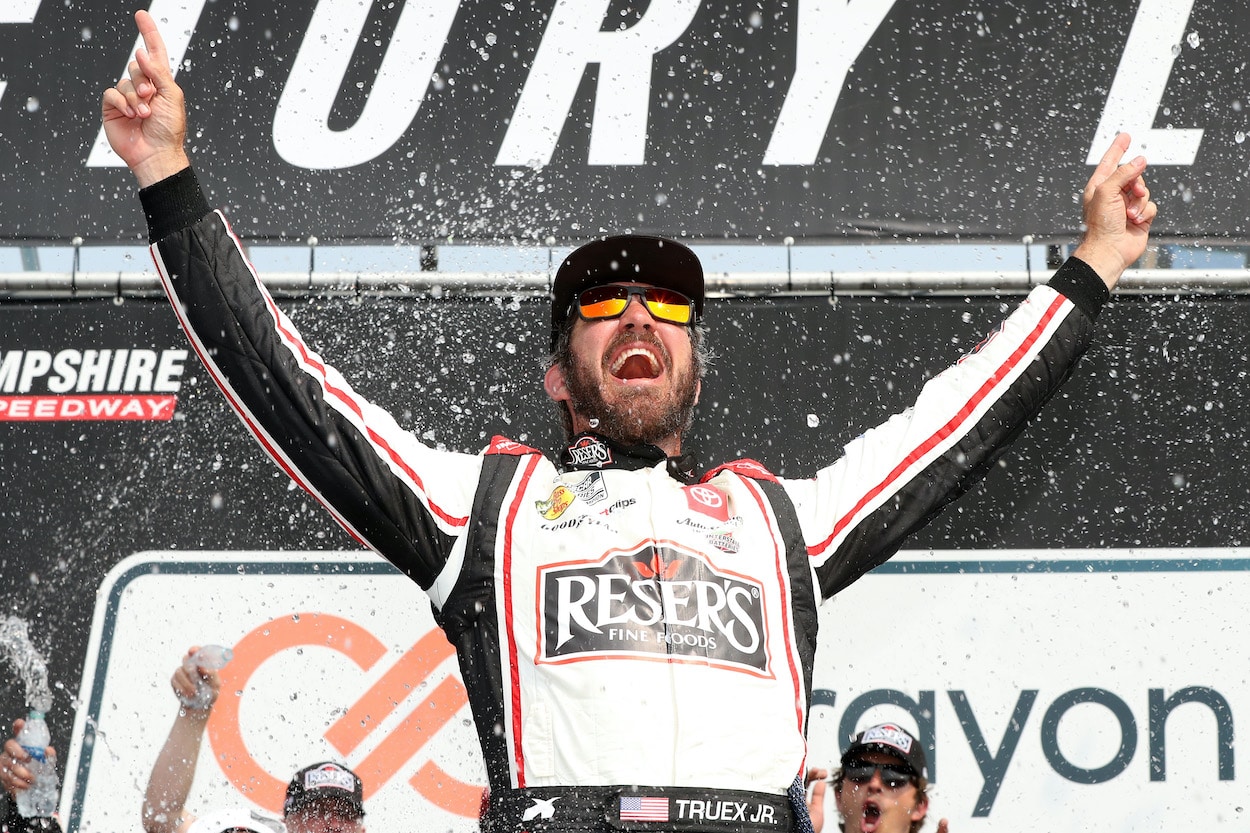 Martin Truex Jr. Said Five Specific Things After New Hampshire That Suggest the 2023 Season Is His Last
After earning his first win at New Hampshire, Martin Truex Jr. got candid about his future and said five specific things that sound like he's ready to retire.
After 29 failed attempts, Martin Truex Jr. desperately wanted to check off the box of winning on his home track at New Hampshire Motor Speedway. On Monday, he did so in dominating fashion.
After the race, SiriusXM NASCAR Radio reporter Claire B. Lang first caught up with crew chief James Small in Victory Lane and talked about the Joe Gibbs Racing driver finally ending the streak and winning the lobster. Surprisingly, the crew chief brought up his driver's potential retirement, leading to the reporter asking the driver about the same subject a few minutes later. During his response, Truex said five specific things that suggest this is his last season behind the wheel.
Martin Truex Jr. wins at New Hampshire
Martin Truex Jr. had been here before, leading many laps, only to have it slip away at the end and be denied from hoisting Loudon the Lobster at New Hampshire. 
In Monday's rain-delayed race, the 2017 Cup Series champion was once again dominant, leading a race-high 254 of the 301 laps. And like past races, a couple of late cautions, including one caused by his JGR teammate Christopher Bell's single-car accident, added drama to the end of the race. 
However, this time around, the 43-year-old driver was not to be denied. On each restart, he fired off strong and quickly reclaimed the lead. Joey Logano made a late charge on the final laps, but it wasn't enough and Truex held on to win for the third time this season. 
Crew chief unexpectedly brings up retirement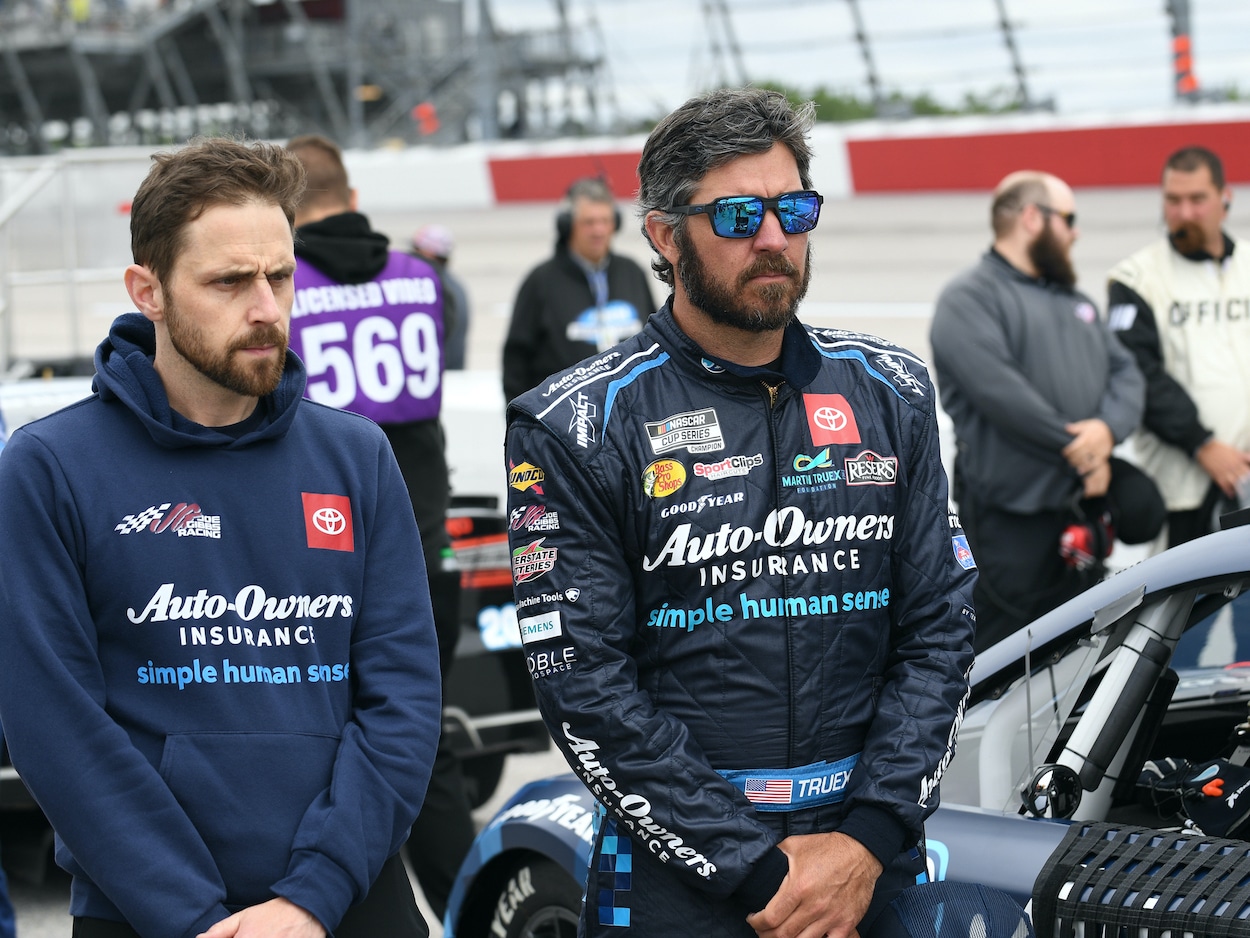 A few minutes later in Victory Lane, veteran reporter Claire B. Lang initially visited with Truex's crew chief James Small and talked to him about finally breaking through and winning at New Hampshire.
"This is the one we really really wanted to win," Small said. "Especially after last year and so many other years where kind of led a lot of laps at this race and it all kind of goes south in the final stage. So thankfully, I'm sure he's super relieved and just so excited though. Hopefully, he doesn't go and retire on us now."
When the reporter asked if he's talked about retirement with his driver, Small offered a brief behind-the-scenes look of Truex's mindset.
"I don't talk about it with him," he said. "I don't like it. I know it frustrates him when everybody asks him. I know he'll make the right decision when he's good and ready and we'll be good with that whatever way."
Truex says five specific things suggesting he's ready to retire
Shortly after that conversation, Lang visited with the driver, brought up his crew chief's unexpected remarks, and questioned if his dramatically improved performance this season might affect his decision. His response included five things that clearly indicate he's ready to hang up his helmet a final time after the 2023 season.
"I don't really know. I'm not good at this," Truex admitted. 1) "I think the ultimate thing ever would be to win the championship and walk off. I think we can do that this year. I think we can do that next year as well. 
2) "I don't know. I just got to figure out whether I'm going to be happy sitting through rain delays for another year and sitting in a motorhome all weekend alone. It takes a lot to do this. It takes a big commitment. We've talked about it, Claire.
3) "It's not just show up at the racetrack and drive a racecar. It's not all sunshine and rainbows like everybody thinks. It's a lot of work. It's a big a commitment. You got to give it everything you have, all the time and there's no room for relaxing. And I'm not sure if I want to do that again. I've got a little bit more time to figure that out."
4) "I'm such a big procrastinator about big decisions in my life. I've been putting off buying the boat that I want for five or six years now. I finally found one and I'm probably going to buy it this week. 5) I feel like my whole life I've just put racing first and done nothing but think about that. I don't know. At some point, it's time to start enjoying things." 
By the sounds of it, Truex is ready to pursue other things outside of racing. And if he followed through with his expected purchase, he's got something that allows him to do what he loves in its place.
To stay up to date on the latest happenings in NASCAR, including breaking stories you can't find anywhere else, follow Kyle on YouTube and Twitter.