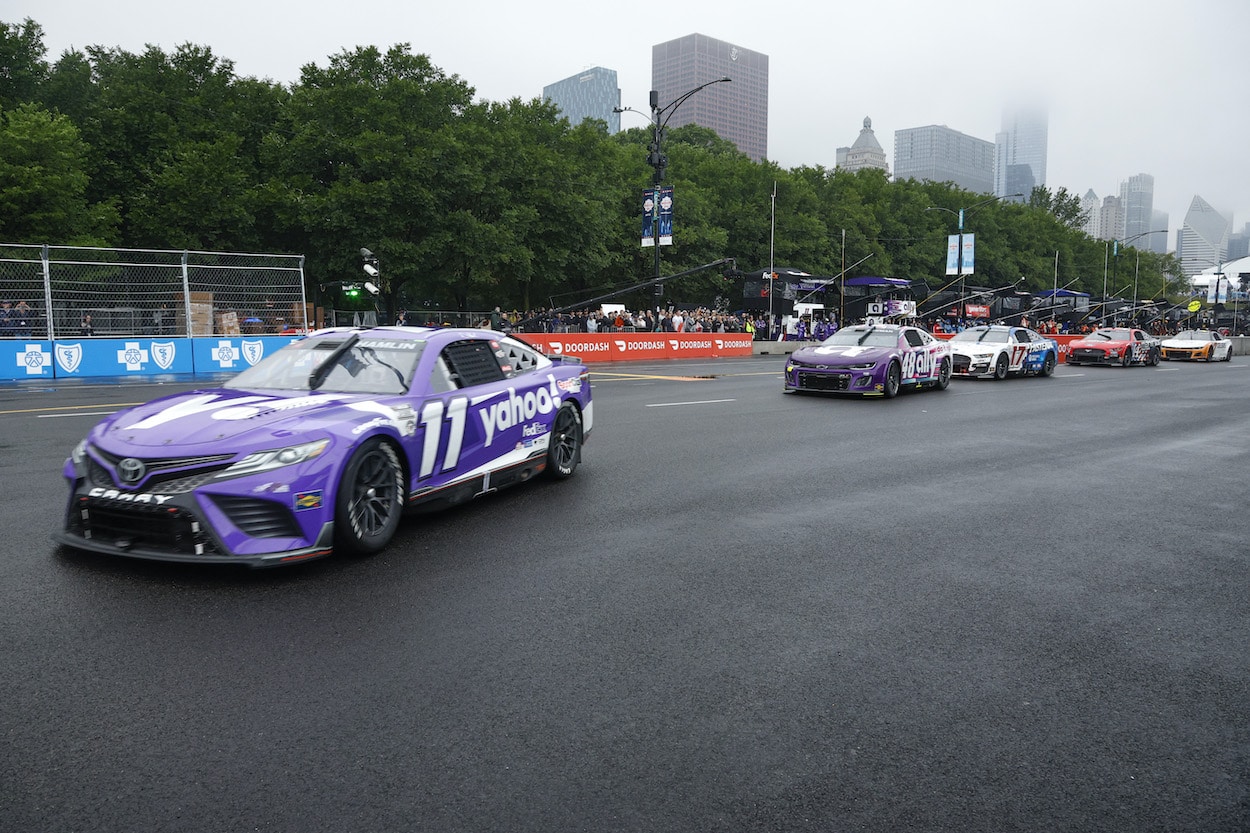 Alex Bowman Turns Table and Can't Resist Calling Denny Hamlin a 'Hack' After Getting Dumped a Week Earlier in Chicago
An angry Denny Hamlin called Alex Bowman a hack in 2021 after Martinsville. After a role reversal incident last week in Chicago, the HMS driver responded with a similar comment this weekend at Atlanta.
Alex Bowman admitted before last week's race in Chicago that he is still bothered about wrecking Denny Hamlin at Martinsville in 2021. The same race the angry Joe Gibbs Racing driver dropped an f-bomb on national television and called him a hack in his post-race interview. 
Just over 24 hours later, the Hendrick Motorsports driver found himself on the wrong end of a wreck initiated by the three-time Daytona 500 winner. On Saturday at Atlanta, Bowman addressed what happened a week earlier in the Windy City and couldn't resist jokingly calling Hamlin a hack for his mistake. 
Alex Bowman still bothered by Martinsville 2021 incident with Denny Hamlin
Alex Bowman visited with the media before the first-ever street race in Chicago and discussed numerous topics, including recent safety issues with the Next Gen car and his excitement to compete on the streets of America's third-largest city. However, his response to one reporter's question on if the sanctioning body should discipline drivers for being too aggressive unsurprisingly caught the attention of those gathered.  
"No. They can't. It's what the sport's built on," Bowman said. "You see so many, honestly, intentional crashes used as highlight reels. How do you start penalizing people for it, in my opinion? Should it happen? No. That guy's got to live with that forever. 
"I'm the first to sit here and say I unintentionally crashed Denny at Martinsville, and it still bothers me that I crashed a guy for a win. That's not how I race. So when somebody does it on purpose, they got to live with that."
Hamlin crashes Bowman in Windy City
On Sunday, a day after Bowman's remarks, irony happened. The No. 11 rode on the bumper of the No. 48 car on Lap 42 through the downtown streets of the Windy City. 
After coming out of the looped section in Turns 8-10, the JGR driver locked up the brakes on the wet streets going into the hard right in Turn 11, and slid into the rear of the HMS car, which sent it spinning across the track, where it backed in for a slight bump into the wall.
Bowman encountered unrelated mechanical problems a short time later and finished 37th. 
Jokingly calls JGR driver a 'hack'
On Saturday in Atlanta, Bowman met with the media and was asked about the incident the week before in Chicago with Hamlin. 
"He's just a hack. He's terrible," Bowman said with a smile. "No, he just messed up and missed the corner and crashed into me just like I did to him at Martinsville. 
"That corner was super wet. I talked to him yesterday and he just locked up and missed the corner. That's just part of it. I'm not angry about it. We had an engine failure that was completely unrelated so it was going to go poorly anyway. So we'll just chalk that one up to it is what it is and move on."
Maybe now he can also move on from still feeling bad about a race that happened almost two years ago.
To stay up to date on the latest happenings in NASCAR, including breaking stories you can't find anywhere else, follow Kyle on YouTube and Twitter.