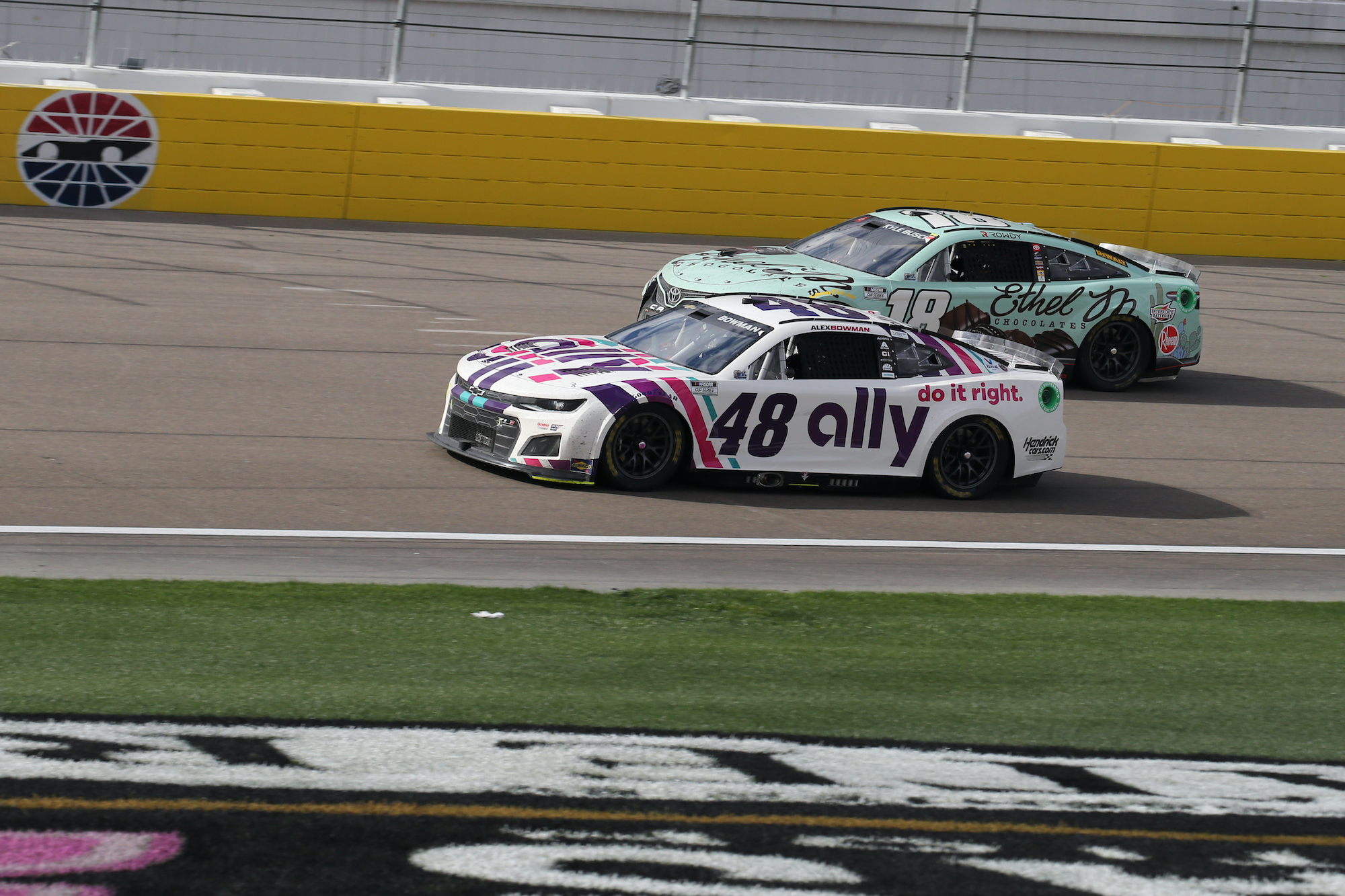 Alex Bowman Reveals on SiriusXM a Productive Conversation With Kyle Busch and Calls Out Denny Hamlin's Personal Attack
Alex Bowman reveals on SiriusXM NASCAR Radio the productive conversation he had with Kyle Busch about his explosive Las Vegas remarks and calls out Denny Hamlin for taking it too far and getting personal.
In the last five NASCAR Cup Series races dating back to last season, Alex Bowman has been on the receiving end of some sharp attacks from two Joe Gibbs Racing drivers — Denny Hamlin and Kyle Busch. 
This week on SiriusXM NASCAR Radio, the Hendrick Motorsports driver addressed both situations, revealing a productive conversation with Kyle Busch after this past weekend's explosive comments in Las Vegas and calling out Hamlin's personal attack on him following last year's penultimate race at Martinsville.
Kyle Busch explodes after watching Alex Bowman win race
Kyle Busch remained calm throughout Sunday's Cup Series race on his home track in Las Vegas, even after transmission issues and a slide to avoid an accident dropped him back in the field during the first stage. His demeanor was so notable even Danica Patrick mentioned it on the broadcast.
After a pair of top-10 finishes in the first two stages, Busch appeared headed to Victory Lane, leading 40 of the final 45 laps until a late caution came out when Erik Jones slammed into the wall. On the subsequent restart, Busch started fourth, surrounded by a pack of Hendrick Motorsports cars after they all opted to take two tires on the same pit stop he took four. 
It was a pit strategy call that won the race as Alex Bowman beat Kyle Larson to the checkered flag. Busch was relegated to fourth and immediately upon the race's conclusion went ballistic, his anger directed at the No. 48 car.
"The same f****** guy who backs into every f****** win that he ever f****** gets backs into another f****** win," Busch said. "Bulls***! F***!"
Bowman details conversation with Busch and calls out Denny Hamlin for getting personal
This week on SiriusXM NASCAR Radio, Danielle Trotta asked Alex Bowman how he deals with situations like what happened with Busch on Sunday and last year's incident with Denny Hamlin at Martinsville. Bowman suggested that he often doesn't get the credit he deserves for his racing achievements and then surprisingly brought up the conversation he had with Busch the day after the race and how he felt about Hamlin's remarks in November.
"I talked to Kyle Monday night. He was just mad to have lost the race," Bowman recalled of their talk. "Like he wasn't mad at me. I didn't do anything to him. Kyle and I have always raced each other with respect. He was just mad that he lost the race. I was the one on the other end of the rant. 
"Obviously, Kyle is really passionate. We've seen that from him for a long time. I was in the fire for that one. He basically said he was just mad about losing the race and didn't mean to be so disrespectful to me. That's one thing. 
"As far as Denny goes, I crashed him. I got loose and screwed up and crashed him. I understand him being mad about that. I think Denny got super personal and crossed all the lines, but at the same time, I understand why he was mad. It is what it is. It's part of it." 
Denny Hamlin's attack at Martinsville
The rude remarks by Hamlin that Bowman is referring to came at Martinsville in October after the JGR driver confronted him with his car on the start-finish line before he began his celebratory burnout. 
"He's just a hack. Just an absolute hack," Hamlin told NBC's Dillon Welch, standing on pit road as fans boisterously booed in the background. "He gets his ass kicked by his teammates every week, and just, you know, he's f****** terrible. He's just terrible, and he sees one opportunity and he takes it. He's got the fastest car every week, and he runs tenth."
In the end, despite a lack of respect, Bowman "The Showman" lets his on-track performance do the talking. Over the last two seasons, he's won five times. Hamlin and Busch have just four victories combined 
Like Sportscasting on Facebook. Follow us on Twitter @sportscasting19.