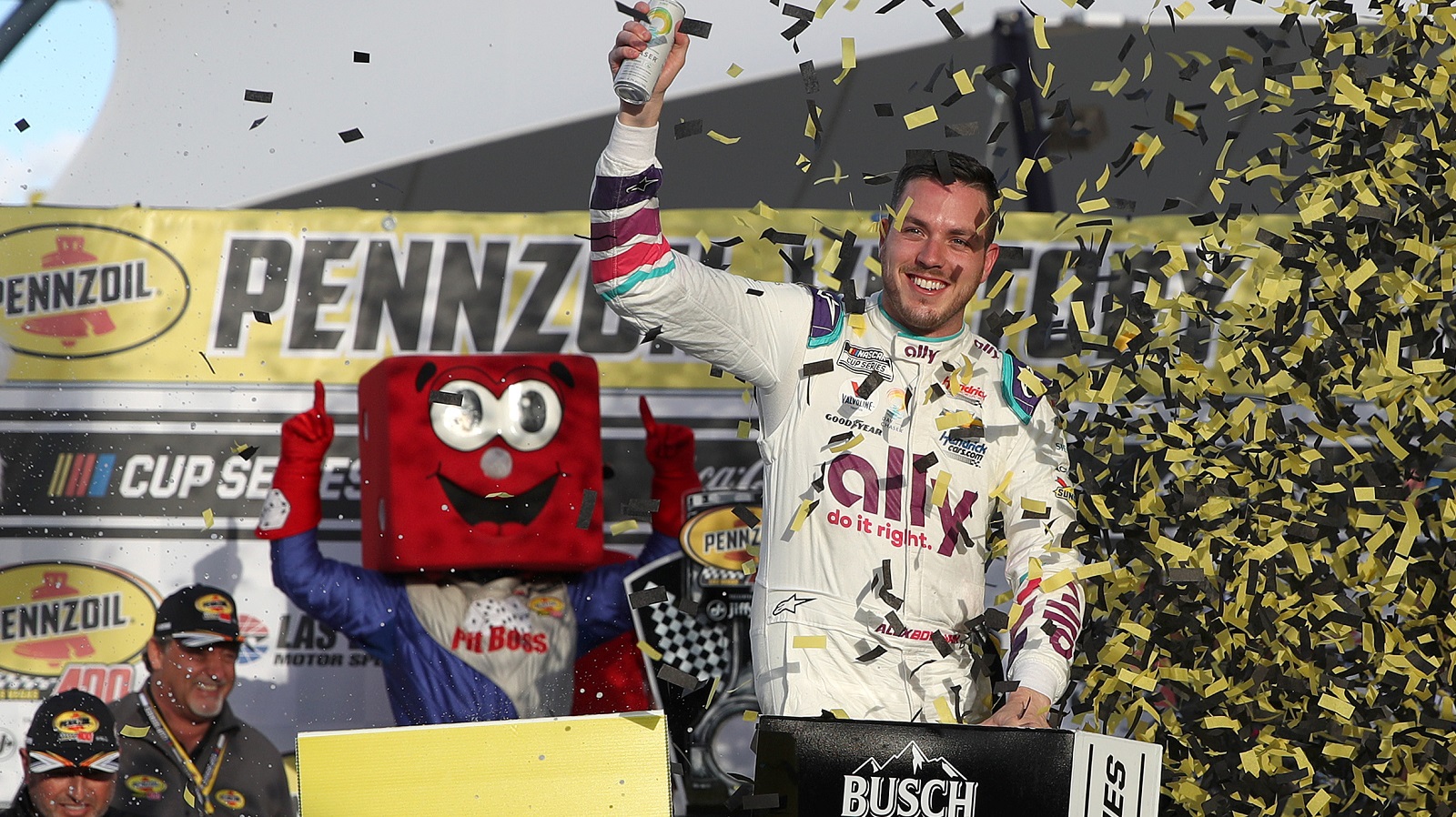 Alex Bowman Doesn't Miss a Chance to Needle Kyle Busch After Las Vegas Win
Alex Bowman is taking Kyle Busch's rant in stride by hawking T-shirts playing off his alleged penchant for backing into NASCAR Cup Series victories.
Alex Bowman won twice in Las Vegas over the weekend. No, he didn't prepare for his NASCAR Cup Series victory by dropping down to the Xfinity Series a day earlier to pick up another checkered flag.
Rather, Bowman's other victory in the third weekend of points races was a case of getting into Kyle Busch's head. In that sense, it was a victory for race fans, too. There's little in NASCAR more entertaining than a frustrated Kyle Busch spouting off following a race.
Making it even better, Bowman is cashing in on the tantrum while also helping a favorite charity.
Kyle Busch thinks Alex Bowman 'backs into every f****** win'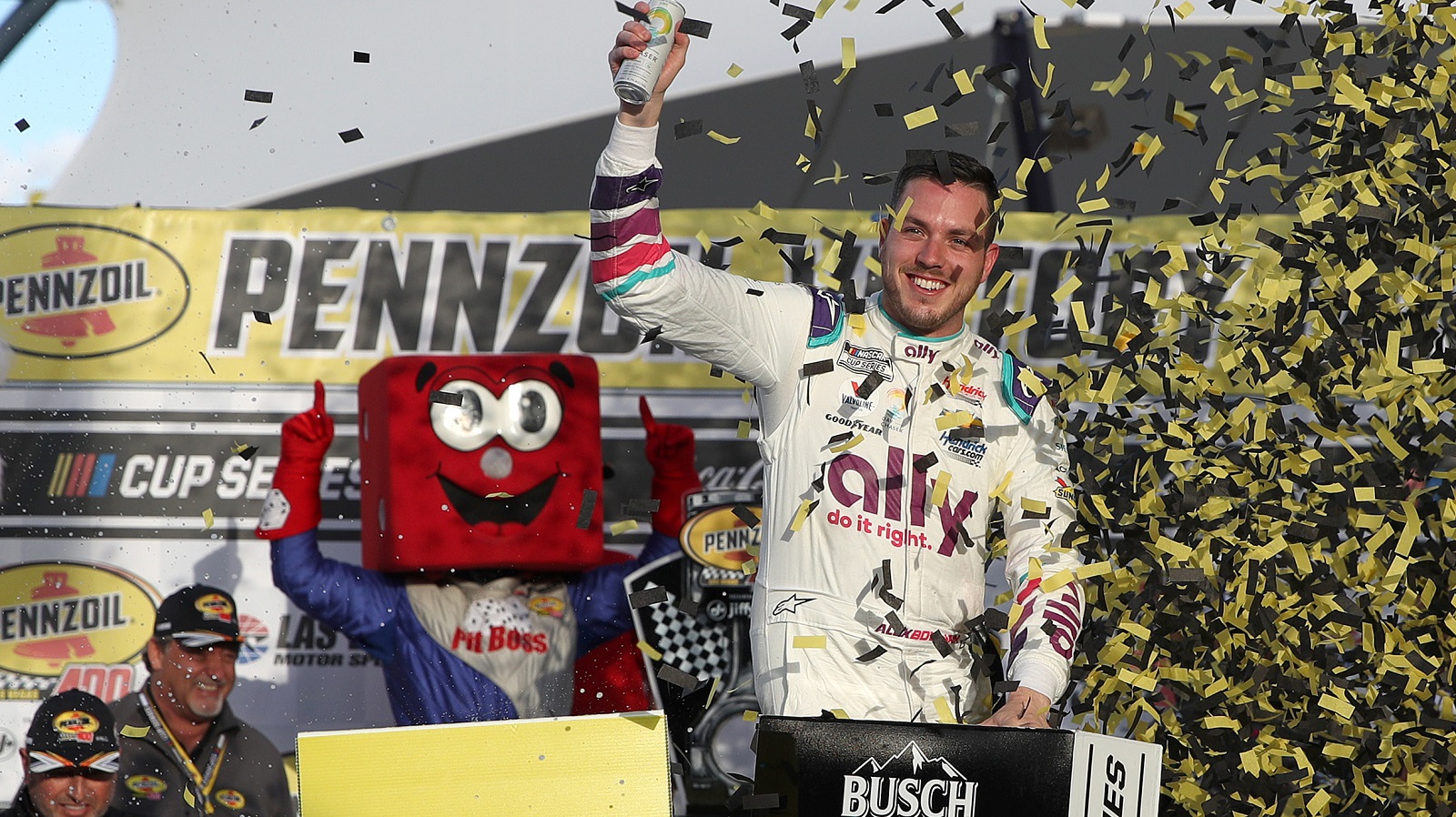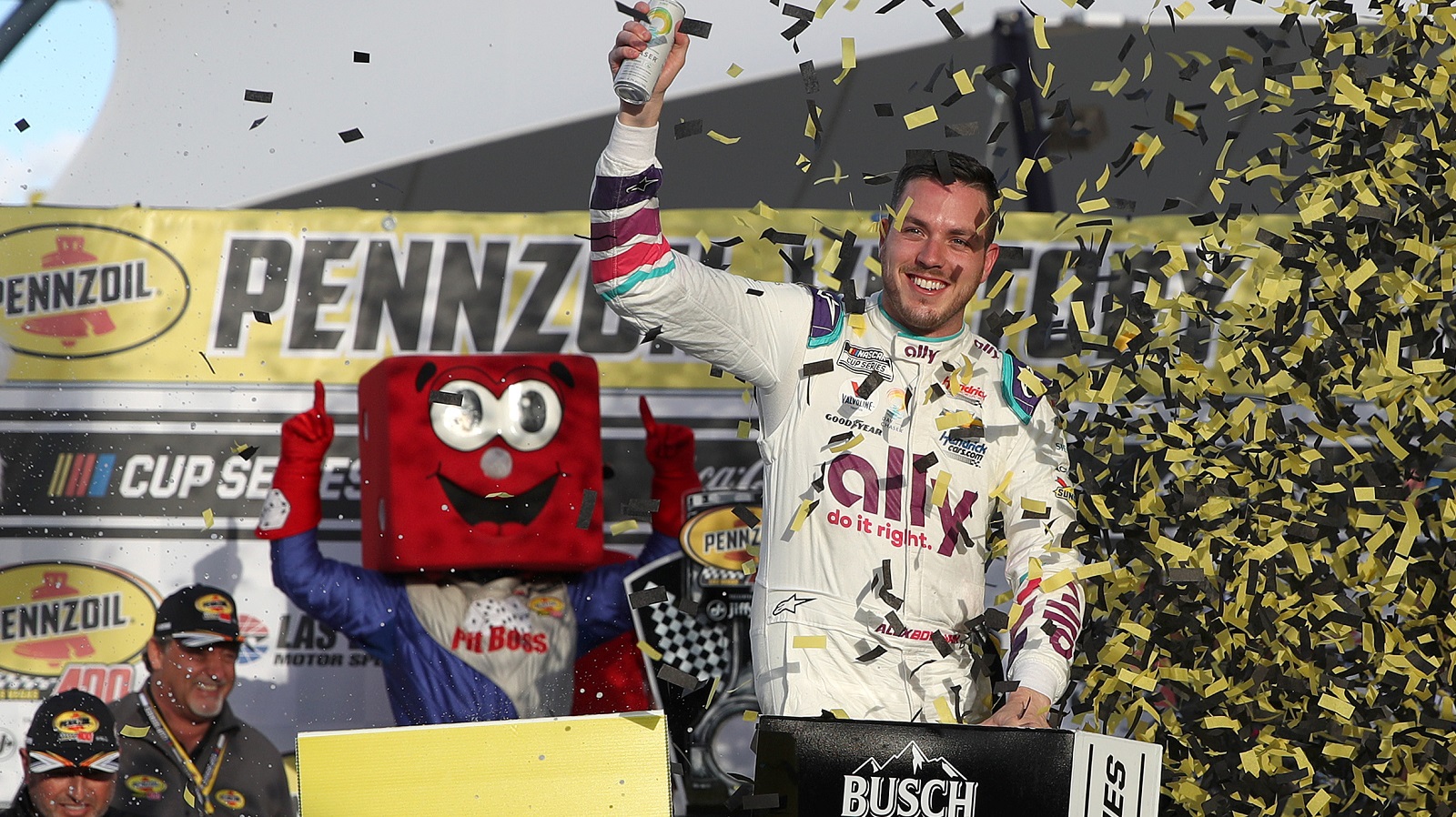 Kyle Busch endured a frustrating weekend, wrecking his NASCAR Cup Series car in practice and then missing out on a victory while driving what amounted to a Rent-a-Wreck that his team cobbled together by pulling something approximating an all-nighter.
Busch was on his way to victory Sunday in Las Vegas until Erik Jones brought out the yellow flag with three laps to go. With his team opting for a four-tire stop while the Hendrick Motorsports crew chiefs called for two tires, Busch entered the restart behind Kyle Larson, Alex Bowman, and William Byron.
Bowman outfought Larson for the win, with Busch in non-factor in the green-white-checkered finish. Afterward, the driver of the No. 18 Toyota erupted on the team radio.
"The same f****** guy who backs into every f****** win that he ever f****** gets backs into another f****** win," Busch ranted. "Bulls***! F***!"
That was a little harsh and a lot inaccurate in light of the fact the No. 48 Chevy spent the last 50 laps running in the top five.
Bowman would squeeze in the last word.
Alex Bowman is needling Kurt Busch this week
In fairness to Kyle Busch, his outburst aimed at Alex Bowman came in the heat of the moment right after the Las Vegas race. But that doesn't mean Bowman is letting it slide without having some fun and doing something thoughtful on behalf of a charity.
Upon seeing Busch's expletive-laden outburst on social media, Bowman suggested to his marketing team that T-shirts might be in order. By Monday afternoon, Bowman was on social media hawking Las Vegas-themed shirts.
"All Luck, No Skill," is printed on the front of the shirt. "Backing into Wins" is on the rear, naturally. It's not all about lining his own pockets with money. Bowman explained he is donating 18% of the proceeds to animal shelters.
If you missed the obvious, there is nothing random about Bowman designating 18% for charity. Eighteen happens to be Busch's car number in the NASCAR Cup Series.
This isn't the first dust-up to inspire a shirt
It was just four months ago that Alex Bowman found himself on the receiving end of another insult that inspired the creation of a shirt.
In the ninth playoff race last season, Bowman won after sliding up into Denny Hamlin's car with six laps to go. Bowman knocked the Toyota up the track and into the wall on Turn 3, triggering a spin. Fifteen laps earlier, Hamlin made a clean pass of Bowman to take the lead, with the No. 48 Chevy barely putting up a fight.
"For anybody that wants to think I was trying to crash him, obviously that wasn't the case, considering I literally gave up the lead at Martinsville to give it back to him," Bowman said.
That wasn't good enough for Hamlin. After blocking Bowman's celebratory burnout, Hamlin tore into the driver of the No. 48 Chevy in an interview.
"He's just a hack. Just an absolute hack," Hamlin said in an NBC broadcast piped over the PA system. "He gets his ass kicked by his teammates every week. He's f****** terrible. He's just terrible."
Within a matter of hours, the Bowman camp was selling hack-themed T-shirts. Now, Kyle Busch gets the same treatment.
Like Sportscasting on Facebook. Follow us on Twitter @sportscasting19.