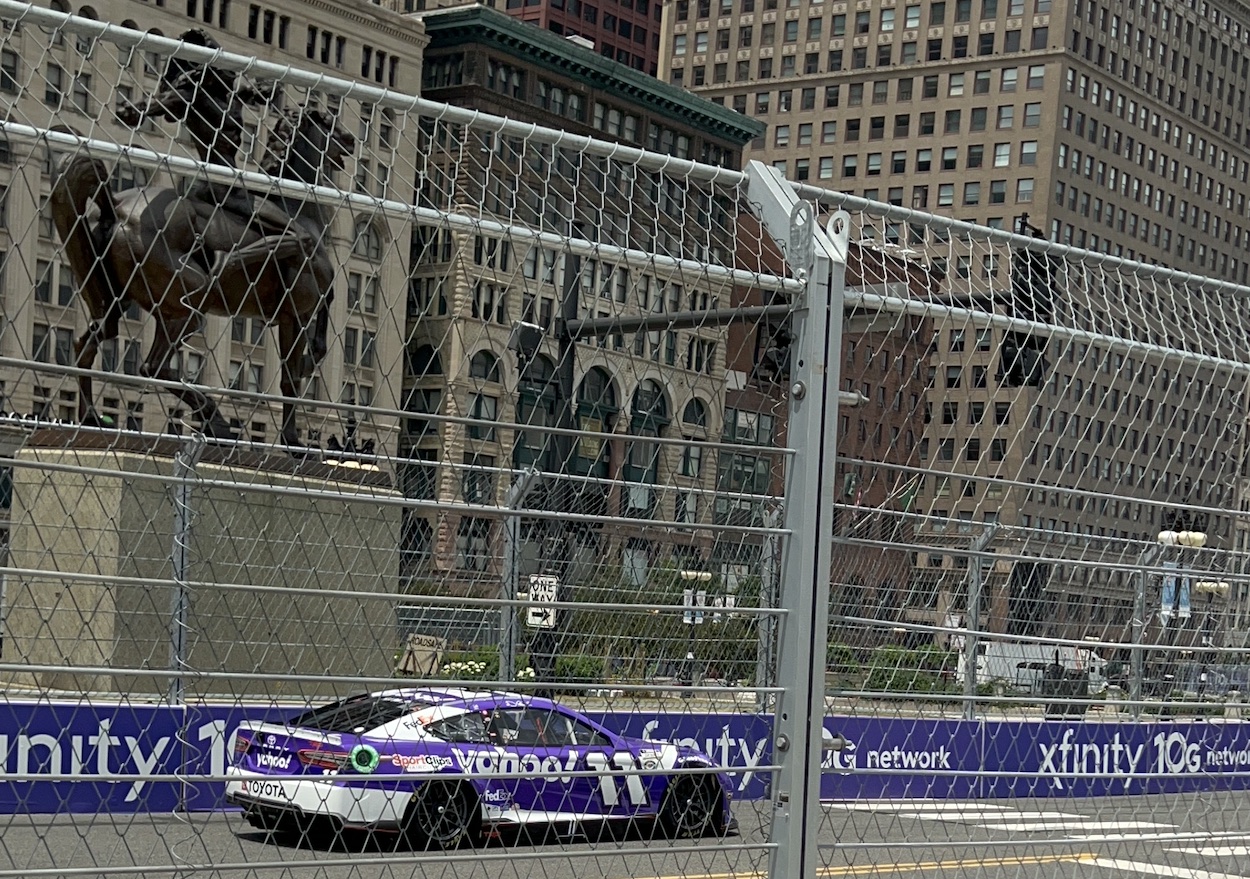 Denny Hamlin Makes Astonishing Claim After Winning Pole for Chicago Street Race  
Denny Hamlin won the pole in NASCAR's first-ever street course race in Chicago and then made an astonishing claim about his performance when talking to reporters a short time later.
Denny Hamlin has won three Daytona 500s. He won the Coca-Cola 600 last year. On Saturday in downtown Chicago, the Joe Gibbs Racing driver made history when he won the pole for the first-ever street race in NASCAR history.    
After his fastest lap, the 42-year-old visited with the media and made an astonishing claim that his day ranked as the best in his entire racing career. 
Denny Hamlin wins pole at Chicago Street Race
Denny Hamlin displayed his ability to skillfully navigate a road course a few weeks ago at Sonoma, winning the pole. It was his second top qualifying run of the season after Talladega. 
In qualifying on Saturday in Chicago, the No. 11 car recorded the fastest lap again in the final round at 88.435 seconds (89.557 mph). 
"It's just such a testament to these guys. They do such a great job preparing me for these things," Hamlin said on the television broadcast. "Also, got to give a lot of credit to 23XI as well for helping me get better. Just a lot of fun when you can have days like today. Obviously, our Yahoo! Camry is just super strong and I like where we're at." 
Hamlin makes astonishing claim
A short time later, the JGR driver visited with reporters and talked about his lap. However, before he did, he talked about the environment of racing through the streets of a major city like Chicago. 
"Props to NASCAR and the city for making it happen," Hamlin said. "I certainly was pessimistic when it was first announced and started warming up a little bit in the months leading up. When you see the fans that are walking around here on a Saturday. Their excitement of just seeing a NASCAR racecar up close, taking pictures. It kind of is this is what we were supposed to do here. 
"I mentioned on the podcast last week, the sooner we understand the gravity of the event and not get caught up too much in the on-track stuff, I think the better off we're going to be. Certainly we were very optimistic about today. I certainly didn't like waking up to rain. I thought that could have really changed things for me quite a bit and hopefully it does not rain tomorrow. It just was a great day. Probably my single best day at the racetrack in all of my career, for sure." 
Single best day of his career?
After answering several questions, another reporter asked Hamlin to clarify his earlier statement about it being the single best day of his career. He didn't hesitate in his response.
"Just going into a race that obviously has got a ton of hype," Hamlin said. "There's a ton of eyes looking at this race. Just the overall performance of our team today. From Lap 1 of practice to the last lap of qualifying we just have been strong on a track that is really tough and everyone had to learn it at the same rate of speed. No one has got a veteran advantage at this type of racetrack. 
"It's just a very proud moment for a team to be able to come here on equal footing with everyone and perform as good as they did today. I've never felt like I had more speed in reserve than what I did today. I just knew, well, I can go get that. You want me to run four-tenths faster? I feel like there's areas I can go get that. 
"Now there's risks with it. I think in the race you're just going to have to back it down slightly to take away 20-30 percent of risks. You're going to be a half-second slower lap, but you're going to take away the risk of making a huge mistake. I feel like when you have a car as fast as mine, I'm able to back that up and still run fast enough pace."
Hamlin wrecked and finished 36th after winning the pole at Sonoma. He's hoping for a different result through the streets of Chicago and based on what he said on Saturday, he should have the car to do it.
To stay up to date on the latest happenings in NASCAR, including breaking stories you can't find anywhere else, follow Kyle on YouTube and Twitter.