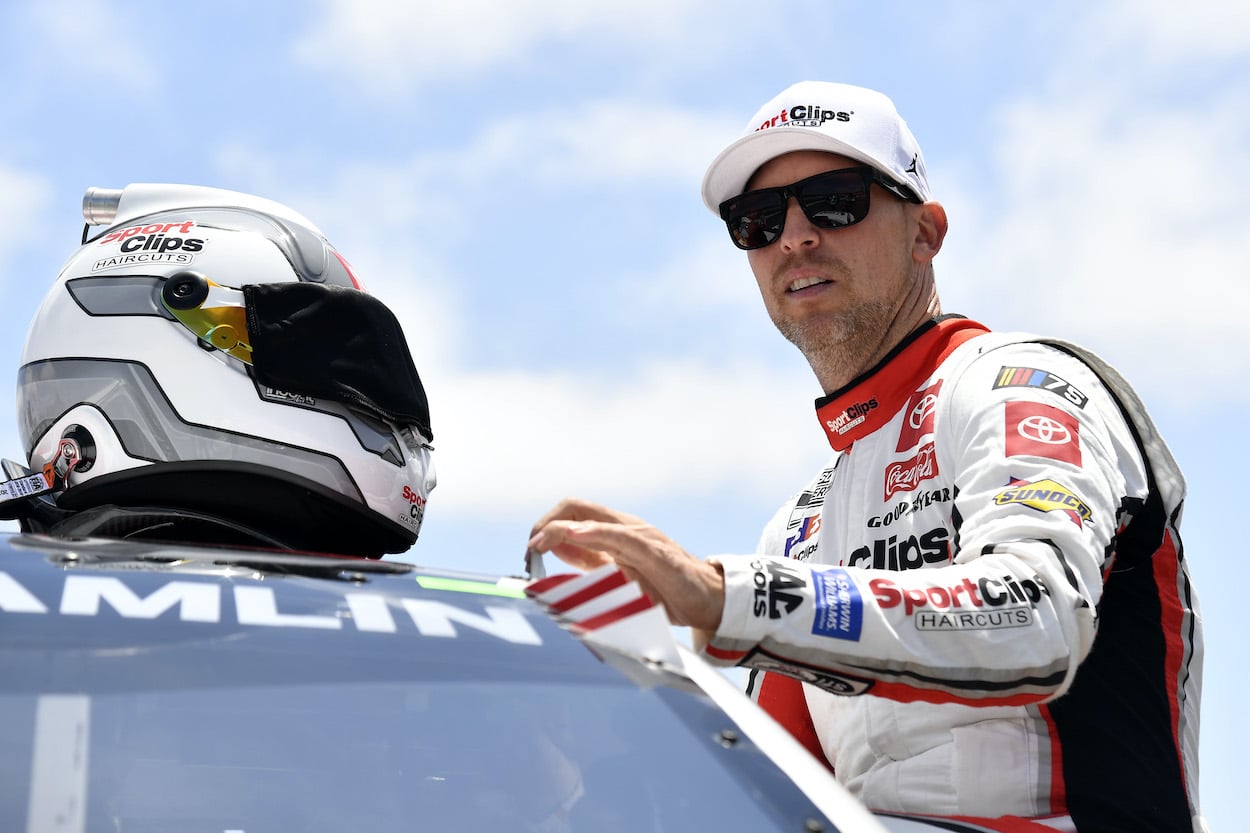 Denny Hamlin Candidly Admits Joe Gibbs Racing Equipment Carried Him in Past and Next Gen Car Has Exposed His Weakness on Road Courses
Denny Hamlin candidly admitted over the weekend at Sonoma that Joe Gibbs Racing equipment carried him in the past, but the Next Gen car has exposed his weaknesses when racing road courses.
Denny Hamlin knew what he was doing when he hired Tyler Reddick to join 23XI Racing before the 2023 season. Not only was the team co-owner bringing in a talented young driver who would tally wins for the third-year organization, but the 27-year-old, who proved to be one of the best road course racers in the Cup Series last year with a couple of wins at Road America and the Indy road course, would also be able to share that knowledge with the team, including the owner/driver.
On Saturday, during practice at Sonoma, the three-time Daytona 500 winner said as much while also candidly admitting that the Next Gen car has exposed his weaknesses on tracks with right and left turns. Interestingly, he went out and won the pole, and then finished dead last in the race. 
Denny Hamlin admits Next Gen car exposed his weakness on road courses
In his 17 full-time seasons before 2023, Denny Hamlin had one road course win to his credit, back in 2016 at Watkins Glen. Conversely, Tyler Reddick had two victories in three seasons, both coming last year. The driver of the No. 45 for 23XI added a third trophy to his case earlier this year, winning the first road course race of 2023 at Circuit of the Americas.
With that high level of success, Hamlin understands his driver has a special talent on those circuits, and his crew chief Chris Gabehart told Fox's Jamie Little before Saturday's practice session at Sonoma that his driver leaned on his younger counterpart for his knowledge, even using Reddick's setup for his car.  
"Well, unfortunately for me, it just kind of shows my deficit to Tyler Reddick," Hamlin told Little. "Really, I think the Next Gen, in general, has kind of exposed my road course skills quite a bit because the more things are similar, I think I probably got carried for many years by having such great Joe Gibbs Racing equipment.
"But with everyone having such similar stuff, it really kind of forces you to kind of look at what you're doing. And I think that as long as I've got the same stuff as the 45, then it's up to me to kind of, you know, make sure that I'm doing the right things in the car to make speed. It's gonna be a process. It's gonna take a lot of time, but we're working towards it."
Hamlin wins pole
Soon after making those comments, Hamlin went out and showed just where he was in the process, posting the fastest time in Group B qualifying and second-fastest time overall behind Michael McDowell. 
In the final round, the 42-year-old watched his 23XI driver go out and set the pace with a lap of 1:17.81. During his first trip around the 2.5-mile track, the JGR driver posted a solid time, finishing at 1:17.93, which was good enough for second at the time. But he wasn't done.
After waiting to let his tires cool, the No. 11 car went back out for a second lap and beat Reddick, posting a time of 1:17.72. It stood up against the remaining challengers, and Hamlin captured the pole, with the 23XI Racing driver finishing second. 
Finishes last in race
Before Sunday's race, Little caught up with Hamlin and talked to him about winning his second-ever road course pole and asked him how much effort and time he's put into improving his road course skills.
"Certainly, the 23XI team really helped this week quite a bit," he said. "Tyler Reddick and the whole group over there and my guys as well just did a great job with some adjustments there during the day yesterday. I got it down for one lap. Now I just got to figure out the other 110." 
In those other 110, Hamlin fared well early, leading the opening 25 laps and winning the first stage. He stayed in the top 10 throughout the race until there were 19 laps to go when he misjudged a corner while running behind William Byron and clipped the inside wall, which then sent his car into the outside wall and broke the right rear toe link. 
Hamlin's day was done. He finished 36th. Reddick finished 33rd.
Both left California knowing there's still more work to do.
To stay up to date on the latest happenings in NASCAR, including breaking stories you can't find anywhere else, follow Kyle on YouTube and Twitter.