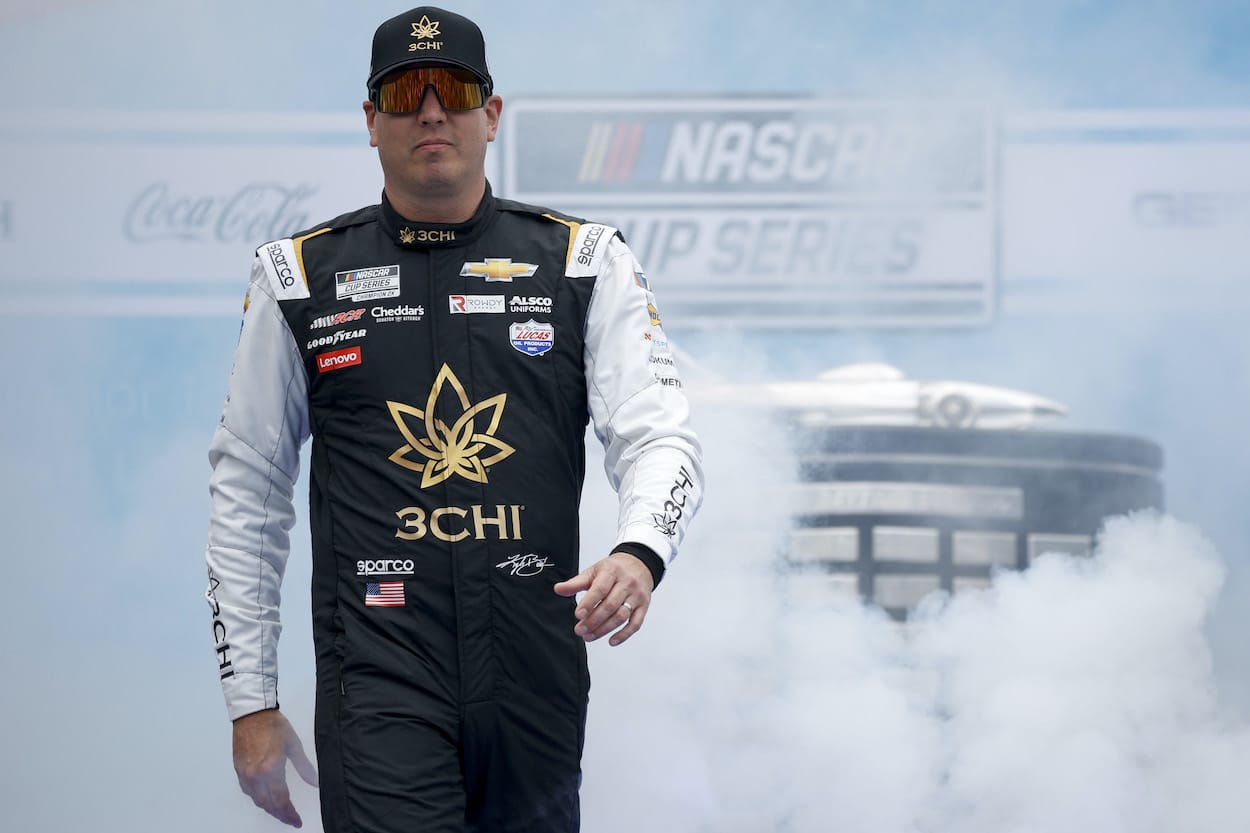 Kyle Busch Admits Cheating Is Still Prevalent and Questions NASCAR's Direction in Addressing Safety of Next Gen Car
Kyle Busch met with the media in Sonoma and candidly admitted cheating is still very much a part of NASCAR, and also questioned the sanctioning body's recent recommended safety changes on the Next Gen car.
Kyle Busch has never been one to shy away from sharing what's on his mind. That outspokenness has landed him in hot water a time or two with NASCAR. Before the weekend race at Sonoma Raceway, the two-time Cup Series champion offered some interesting comments that likely caught the attention of the sanctioning body because he questioned how it's addressing safety issues with the Next Gen car and candidly admitted that cheating is still quite prevalent.  
Kyle Busch linked to two main issues with Next Gen car in 2022
The 2022 race weekend at Pocono will be one Kyle Busch won't soon forget. On Saturday, he qualified second behind his Joe Gibbs Racing teammate Denny Hamlin. A day later, it wasn't the two JGR drivers that everyone was talking about, but Busch's older brother Kurt, who was sitting out the race due to concussion-like symptoms sustained in an innocuous-looking rear impact in qualifying. 
Incredibly, that would be the last time the elder Busch piloted a NASCAR Cup Series car. 
On race day, Busch kept pace with his JGR teammate from the drop of the green flag. They finished first and second — until they didn't. Just hours after the race, NASCAR announced the two cars had been disqualified because officials had discovered a piece of tape in post-race inspection in the same position on both cars.
In a matter of a weekend, Busch was touched by the two issues that would permeate the sport through the remainder of the 2022 season.
Penalties and safety concerns continue in 2023
Now 15 races into the second season of the Next Gen car, and not much has changed. Penalties and safety concerns are still front and center.
NASCAR continues to dispense punishment to teams regularly, including multiple times to Hendrick Motorsports. Last week the sanctioning body took its sanctioning game next level when it levied an L3 penalty on the No. 14 team of Chase Briscoe, which included a regular-season and playoff points deduction, fine, and suspension of crew chief John Klausmeier for producing and using a counterfeit part.
And unfortunately, the topic of safety is still an issue. Noah Gragson is out of this weekend's race at Sonoma after suffering a concussion from a big impact last weekend at World Wide Technology Raceway. And this past week NASCAR announced that is working with the teams to implement changes to the cars in response to the violent impact at Talladega between Ryan Preece and Kyle Larson, where the passenger side of the No. 5 was badly deformed in the crash. 
Busch questions safety changes
This weekend at Sonoma before the race, Kyle Busch met with reporters and was asked his thoughts on the updates NASCAR is making to the cars following the Larson-Preece crash.
"We needed to withstand big hits and hits like that and, and whatnot," he said. "But, you know, I feel like we keep adding material and keep adding weight and keep making these things heavier. You know? 
"We used to run 3400-pound cars now we're like 3600-pound cars. So what's the limit? What's the level of how heavy is too heavy? So, you know, just talking to some of the engineers that I've spoken to like there's a few areas of the car that are really, really, really stiff and don't have any sort of crush zone like the old car used to and that's why those bars (in No. 5 car) broke. 
"And so we didn't look at any of that we didn't cut any stuff out to soften up the frame rail for instance, to let the frame rail flex. All we did was add stiffeners to make it even heavier and stiffer so, again, I'm not a genius, but at some point we all have to reimagine some things."
Admits that cheating is prevalent
Interestingly, Busch's remarks on safety during the press conference weren't even the most eye-opening. He saved those for when sharing his thoughts on NASCAR's new policy of displaying the confiscated illegal parts for the other teams and media to see.
"I wish we had a what an idiot award. Jesus," Busch began, referring to the No. 14 penalty. "Even if you can't find that part you know you can call one of the other race teams and say, 'Hey you guys got this, we can buy it from you.' That blows my mind. I don't get it. For as little as that probably meant, that was a huge fine to the pocket book and points book. 
"So anyways yeah, I think it's kind of cool that they show all that stuff and show exactly what's going on and what guys are doing. And so I mean, what's crazy about it though is all the penalties that have come out of the tech center I guarantee you can take 15 of them after every single race and there would be something wrong with 14 of them. So, it's all the tricks and what you're trying to do and what you can get away with all the time."
No one would be surprised if the No. 8 car received an invitation for a post-race trip to the R&D center in the near future.
To stay up to date on the latest happenings in NASCAR, including breaking stories you can't find anywhere else, follow Kyle on YouTube and Twitter.