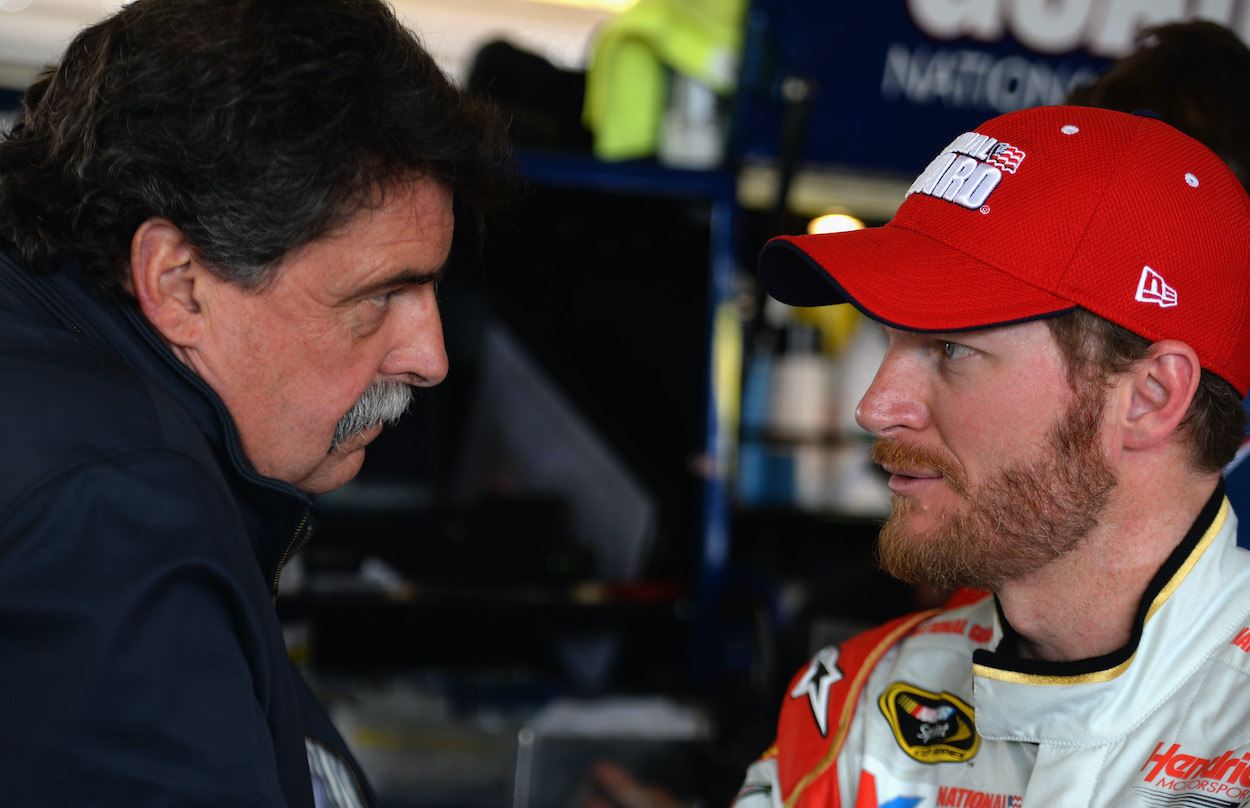 Dale Earnhardt Jr. Lifts Veil and Candidly Provides Rare Behind-the-Scenes Look at What It's Like When NASCAR Calls a Driver to the Hauler: 'It's Intimidating as Hell … and All You Want Is to Get Out of There'
Dale Earnhardt Jr. provided an intriguing behind-the-scenes look at what happens when a driver gets called to the NASCAR hauler after a race.
Dale Earnhardt Jr. and most Cup Series drivers have been called to the NASCAR hauler at some point in their careers to visit with officials due to something that caught NASCAR's attention, such as a conflict or something said over the radio. Most fans are left to guess what takes place once a driver disappears inside the trailer. 
On a recent episode of the Dale Jr. Download, the two-time Daytona 500 winner candidly provided a detailed behind-the-scenes account of his own experiences when he found himself in the crosshairs of NASCAR officials and why he couldn't wait for it to all be over. 
Dale Earnhardt Jr. breaks down hauler experience early in his career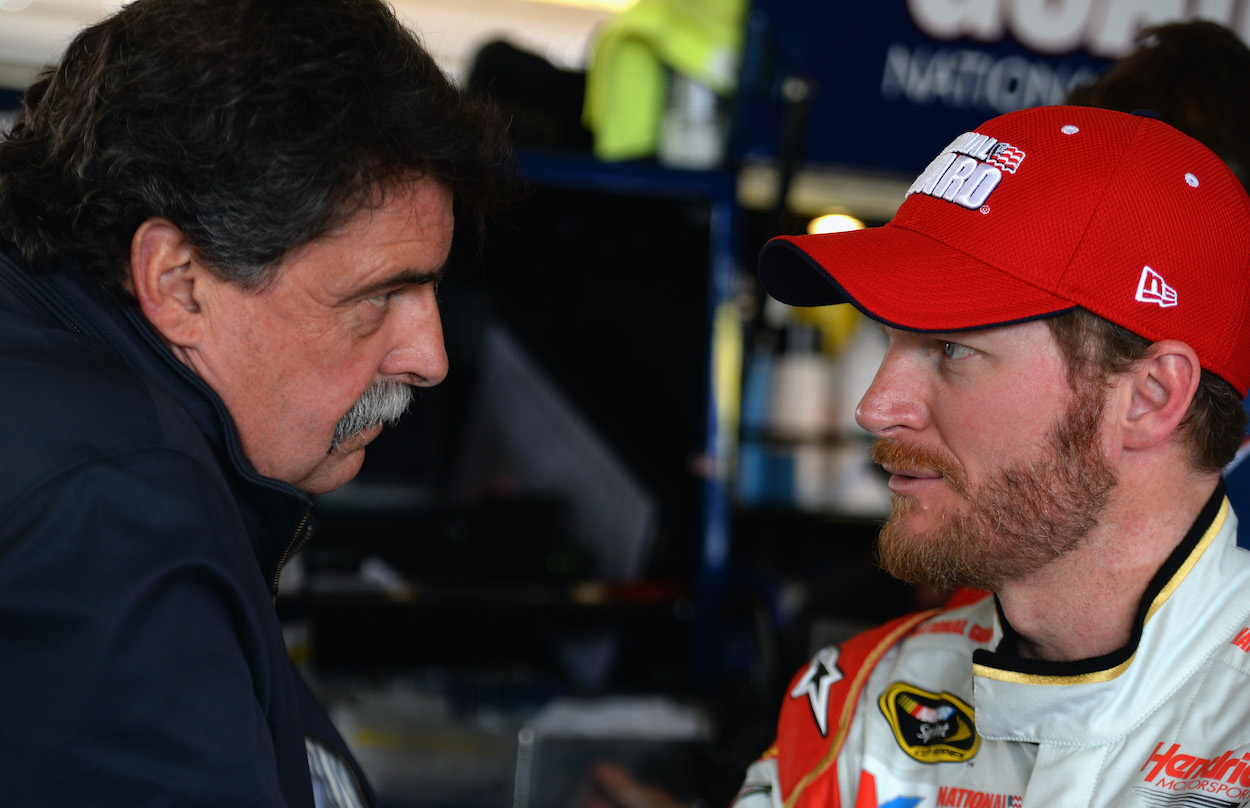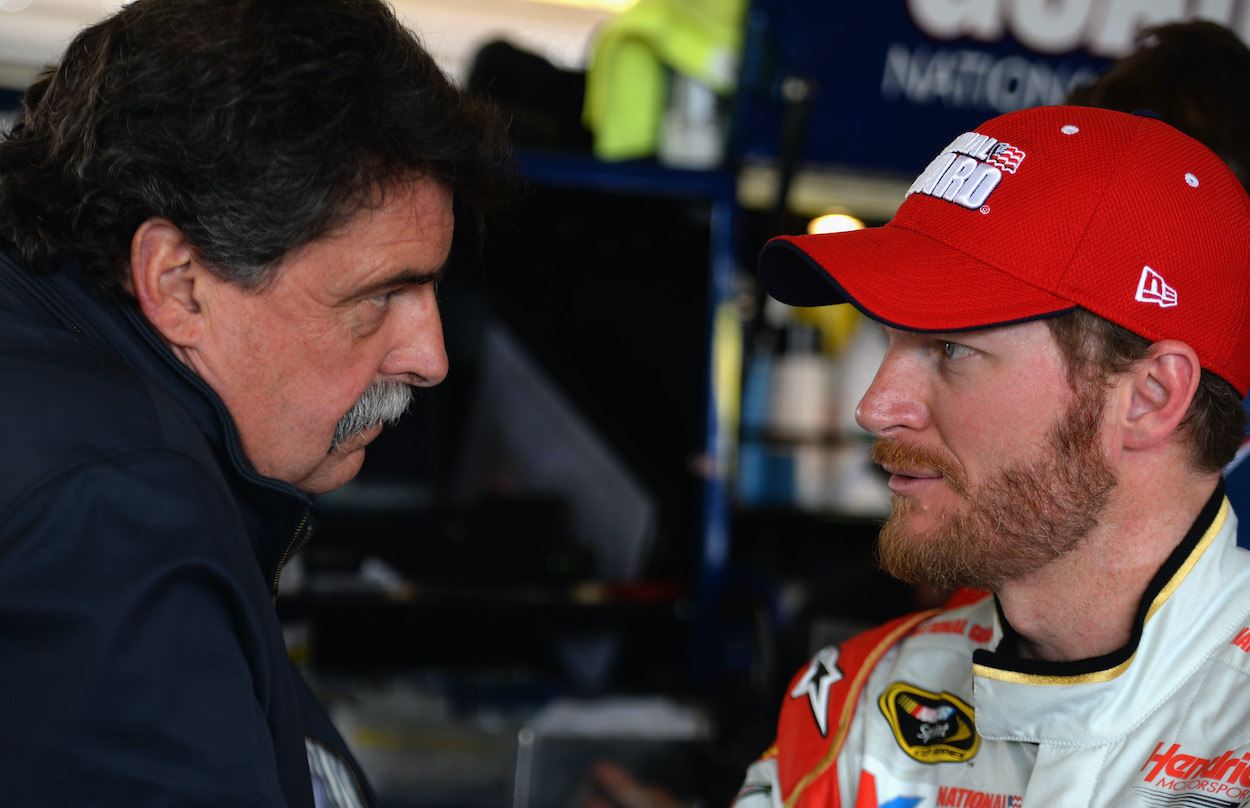 Dale Earnhardt Jr. said or did things during his career that NASCAR didn't like. For example, during one race at Bristol, the young driver at the time criticized NASCAR for taking too long on a cleanup. After the race, Earnhardt and his uncle and crew chief Tony Eury Sr. got invited to a meeting with NASCAR.
"As soon as we sit down, me and Tony start to argue our case," Earnhardt told Sporting News in 2013. "The first lesson I learned is when you go in the hauler, you don't talk unless somebody asks you a question. I knew Mike Helton, but I didn't know exactly what kind of person he was. I've never known anybody to shut up Tony Eury Sr., so when Mike was able to put a cap on him, I knew Mike was a pretty powerful dude." 
Earnhardt admitted that particular meeting had an impact on him the rest of that year.
"I didn't think we were in that big of trouble, but the redder Mike got and the more he was screaming and cussing at us, the more I started to realize how messed up we were," he said. "We were straight and narrow for the rest of the season."
Earnhardt describes how intimidating it was going to the hauler with Mike Helton in charge 
On the "Ask Jr." portion of the latest episode of the Dale Jr. Download, Earnhardt was asked about his experiences and provided more details than he did in 2013 about what it was like with Mike Helton as the enforcer.  
"You start to open your mouth and plead your case, and he says immediately, 'I'm going to do all the talking and you can keep your mouth shut,'" Earnhardt recalled. "And when he's doing the talking, it's intimidating as hell. He's like the Dale Earnhardt of NASCAR officials. It's kind of scary and all you want is to get out of there. So mid-ass-chewing, you're like, 'I just can't wait until this is over.'"
Earnhardt said he, Steve Letarte, and Dale Jarrett had actually discussed some of their hauler experiences the night before on the trip home from Kansas, and he recounted one of Jarrett's experiences. 
"There was one conversation Dale Jarrett was telling me about how Jarrett said something that he shouldn't have said and Helton slammed one of the cabinets shut and the door just flew off the hinges," he said.  
Different hauler experiences without Helton 
Today, Mike Helton is the vice chairman of NASCAR. He's no longer judge, jury, and executioner when a driver gets called to the hauler. There are other people tasked with handling issues that may come up during the race or in the garage.
Looking back, Earnhardt said in all of his trips to the hauler, including visits with officials following Xfinity races, nothing compared to a hauler visit with Helton. 
"You were terrified of it and you knew what was coming," Earnhardt said. "You knew you weren't going to go in there and convince them otherwise. Their attitude, which I always felt was a good one, is NASCAR was here long before you were and it will be here long after you're gone. You can fall in line and do what we expect of you or you won't be around long. And they made that clear, even to me. It was scary. And it was Helton that was the main ingredient that made it that way. Helton really ran the show."
And what a show it was.