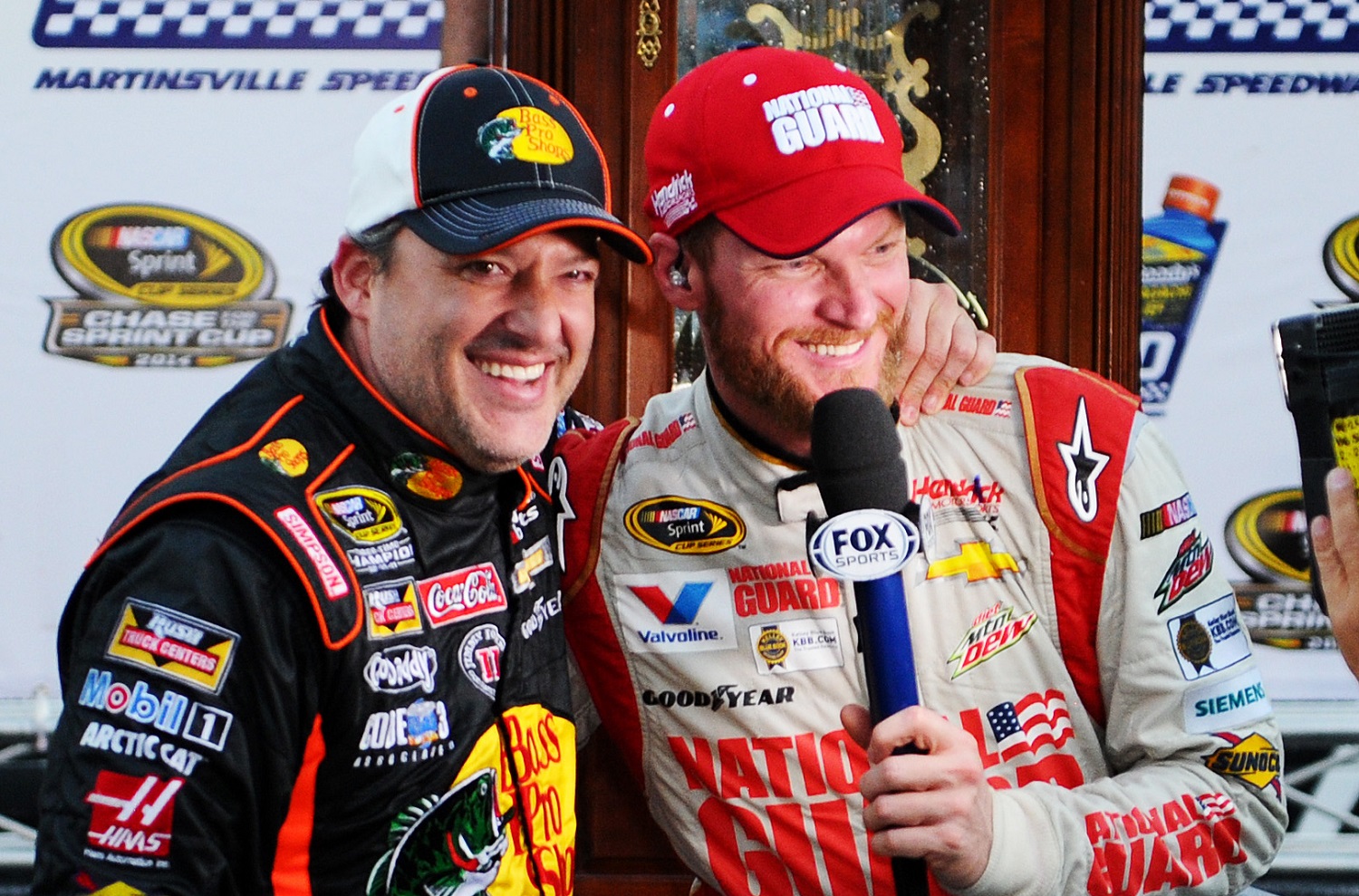 NASCAR Calls on Dale Earnhardt Jr., Tony Stewart, and Clint Bowyer to Shake Out the Next Gen Car
Tony Stewart, Dale Earnhardt Jr., and Clint Bowyer will help NASCAR test the Next Gen car this week in North Carolina.
The clock is ticking on a 2021 NASCAR Cup Series that Kyle Larson has dominated. Just two weeks remain before the championship race in Phoenix, after which teams will retire their current fleets and turn their attention to the Next Gen car.
To make that happen, however, NASCAR and the manufacturers at Chevrolet, Toyota, and Ford, must tweak the new models that will roll out in February.
They hope to speed up the process by rolling out Dale Earnhardt Jr., Tony Stewart, and Clint Bowyer, some heavyweights from the not-too-distant past, to work out the bugs.
NASCAR wants to debut the Next Gen car at The Clash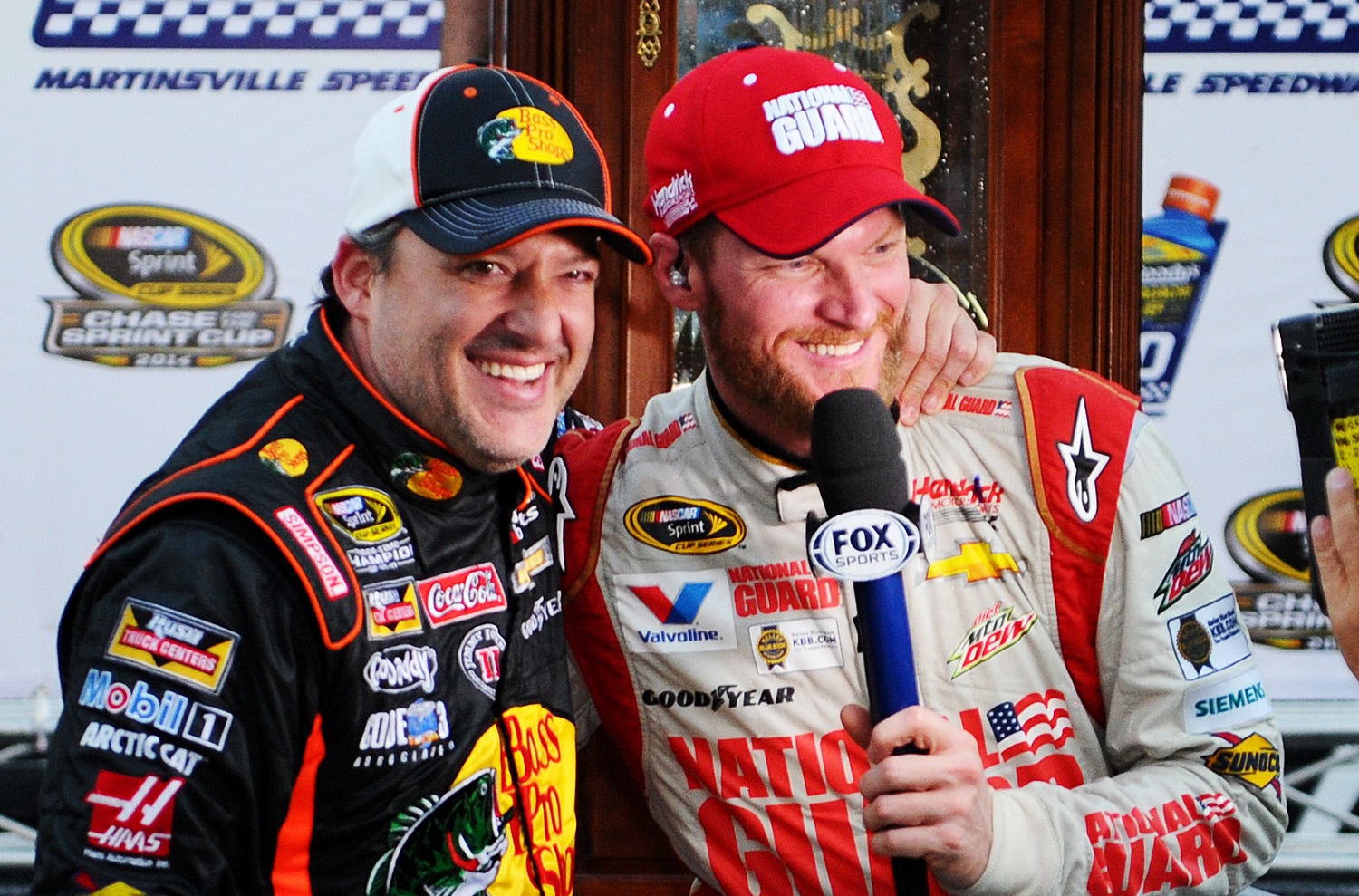 The Next Gen is the seventh generation of cars for NASCAR's top-tier series, replacing the models that made their debut in 2013. The three manufacturers currently active in the Cup series are working with new specifications to improve aerodynamics and downforce. Once the final specs are in place, racing teams expect lower costs, and NASCAR hopes to attract additional manufacturers.
If NASCAR and the current manufactures can stick to their current timeline, the Next Gen car will make its competition debut on Feb. 6, 2022. That's the day two-thirds or more of the current teams will participate in The Clash, the annual exhibition preceding the Daytona 500, the first points race of the season.
The Clash is moving to the Los Angeles Coliseum, which will install an asphalt track. The move out of Daytona was a late announcement, which adds a layer of complexity to the Next Gen program. NASCAR has been testing the new models on existing tracks, but it has nothing comparable to the quarter-mile oval planned for Los Angeles.
A report over the weekend says that's about to change.
NASCAR calls on Dale Earnhardt Jr., Tony Stewart, and Clint Bowyer for Next Gen help
Motorsport.com reported that NASCAR has recruited three former Cup Series stars, including a pair of Hall of Fame inductees, to test Next Gen cars this week on a track that should help teams learn how close the Next Gen car is to being ready for The Clash on Feb. 6 in Los Angeles.
The website said Hall of Famers Tony Stewart and Dale Earnhardt Jr. as well as Fox TV race analyst Clint Bowyer will participate in Next Gen testing at Bowman-Gray Stadium in Winston-Salem, North Carolina, on Tuesday.
Bowman-Gray is a quarter-mile oval that hosted Cup Series races from 1958-71 and is billed as NASCAR's longest-running weekly track. Winners there included legendary NASCAR figures Junior Johnson, Richard Petty, and David Pearson.
NASCAR most recently completed a two-day test of the Next Gen car at the Charlotte Motor Speedway and will return there in mid-November. Additional testing is on the schedule at Wythe Raceway's half-mile banked clay oval in Virginia, which will offer insight as to how the new car will handle the Bristol dirt track in the spring.
Dale Earnhardt Jr., Tony Stewart, and Clint Bowyer own impressive credentials
Although Tony Stewart co-owns Stewart-Haas Racing and Dale Earnhardt Jr. races an Xfinity car once a season, the philosophy behind putting retired drivers into Next Gen cars at Bowman-Gray Stadium is to avoid handing an advantage to current NASCAR Cup Series competitors when The Clash roles around in early February.
For sheer knowledge of high-end racing cars, NASCAR could do a lot worse than Earnhardt, Stewart, and Clint Bowyer.
Bowyer retired from the Stewart-Haas Cup Series team after the 2020 season to join the Fox Sports booth. He scored 10 victories and 82 top-five finishes in 541 career starts.
Earnhardt retired after the 2017 Cup Series season with 26 victories and 149 top-fives in 631 races. He works weekends on NBC race coverage.
Stewart retired from Cup Series competition after the 2016 season. He won 49 races in 618 starts and captured the season championships in 2002, '05, and '11. He's been known to hop into the occasional sprint car since, and Stewart started the six-race Superstar Racing Experience last summer.
All stats courtesy of Racing Reference.