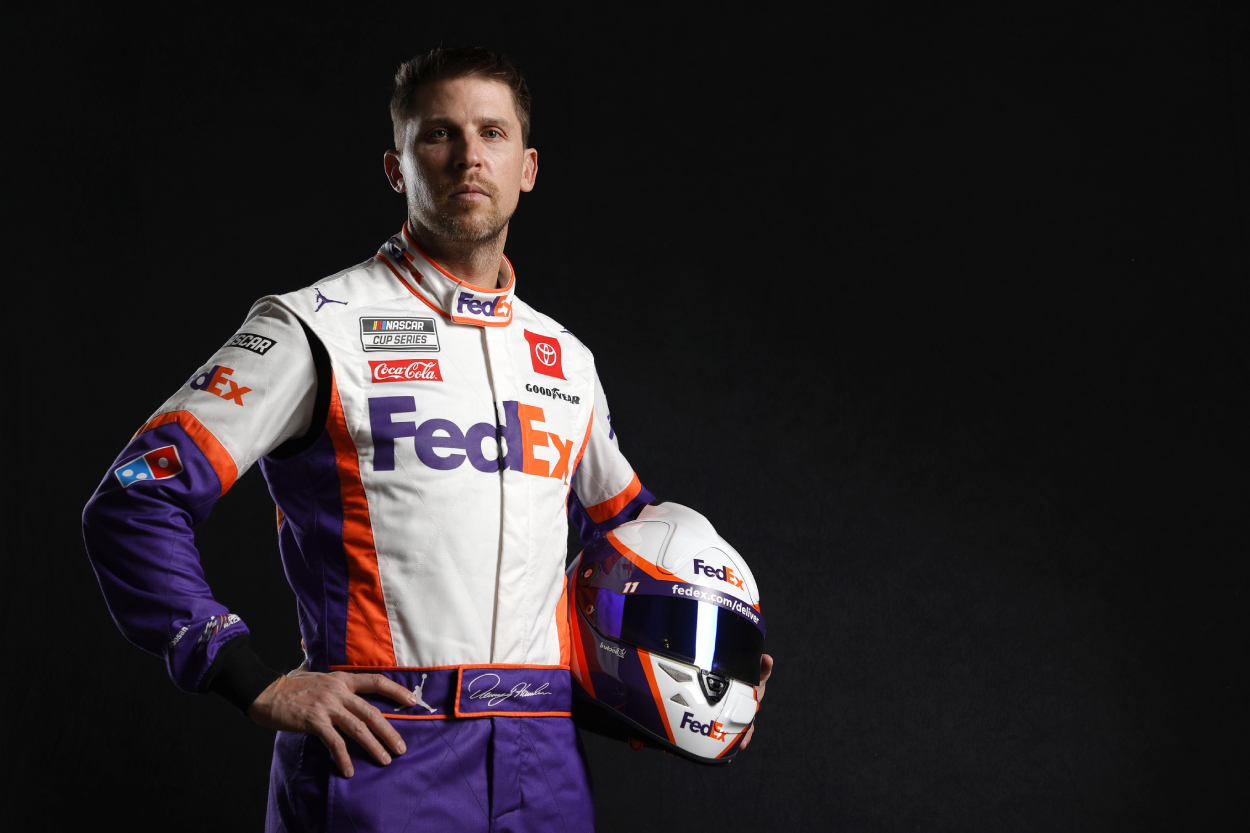 If Denny Hamlin Can Get Through the Crazy Antics of His Ex-Girlfriend, He Can Accomplish Anything
After dealing with the crazy antics of an ex-girlfriend, winning three straight Daytona 500s shouldn't seem too difficult for Denny Hamlin.
Denny Hamlin is seeking to become the first driver in NASCAR history to win three straight Daytona 500 races. While that feat might be difficult to accomplish in the world of motorsports, it might not be as challenging as what Hamlin went through with his ex-girlfriend.
Hamlin seeking to make NASCAR history
Not only is Denny Hamlin looking for his third straight Daytona 500 victory, but he's also looking for his fourth total. Hamlin also won the race back in 2016. While some might think Hamlin feels added pressure heading into the race because everyone will be gunning for him, Hamlin is embracing the chance to make history.
In a race that's known for its crashes and pile-ups, Hamlin wants to make sure he puts himself in a position to make a run when the time comes in Sunday's race. "I hope that I'm around, that I give myself a chance to make history because ultimately, that's what I'm here for," Hamlin told USA Today. "Making history, doing something that no one else has ever done, that's what motivates me to want to get this one."
Hamlin is the lone active driver with more than one Daytona 500 victory. Should he win Sunday, he would also move into a tie for second place with Cale Yarborough with four. Richard Petty is the all-time leader with seven Daytona wins.
The latest three-peat attempts haven't gone so well
Three-peats are tough to come by in any sport. When it comes to the Daytona 500, it's unheard of. The last two attempts to get it done didn't go well at all.
Sterling Marlin had a shot in 1996. After winning the race in 1994 and 1995, Marlin went to try and make history in 1996. During that '96 race, Marlin was limited to 81 laps as engine trouble ruined his day. "That's the same motor we won with here last year, but it didn't quite make it this time," Marlin said after the race, according to NASCAR.com.
Back in 1983 and 1984, Cale Yarborough went on to capture the Daytona 500. In his three-peat attempt in 1985, Yarborough, like Marlin, saw his engine fail early in the race. Yarborough lasted 60 laps after getting off to a very strong start. "Boy, what a disappointment … what a way to go," Yarborough said then. "Fall out when you are running for the lead. I thought I really had a shot at winning that third in a row."
If Denny Hamlin can overcome his ex, he can handle anything
In a video posted in 2019 by Motorsports on NBC, Denny Hamlin recalled a time when he had to deal with the crazy antics of an ex-girlfriend. Hamlin was able to laugh things off, but she meant business. Hamlin said they were only together for three or four weeks, but she did whatever she could to make life miserable for the NASCAR driver.
"I had an ex-girlfriend get really mad at me and put Nair Hair Remover in my shampoo bottle," Hamlin said in an interview with racing analyst Rutledge Wood. "She was crazy. (She put) dead fish underneath my mattress so when they thawed, it totally reeked out my apartment. Awful. She opened up milk cartons and put them behind my headboard so the smell of my apartment was blaaah – awful. Heavy, heavy stuff.
"I went racing, came back, got in bed, and I noticed that something just didn't smell right. It wasn't crazy, but when I woke up, it was gag city because all the fish had thawed. She went to the store and got frozen fish and put them under the mattress. I never lived in that apartment again. That was my last night there. Oh, and by the way, a friend called me and said don't use your shampoo because she put Nair Hair Removal in your shampoo bottle." After surviving her, going for a Daytona 500 three-peat seems easy.
[Correction: An earlier version of this article incorrectly listed the years of Cale Yarborough's victories at the Daytona 500.]