Bubba Wallace's Mother Wasn't So Sure About Supporting His NASCAR Aspirations At First
From a young age, Bubba Wallace always knew he wanted to become a professional NASCAR driver. He started his journey to motorsports stardom when he was just nine years old, and he hasn't looked back since. But when Wallace was growing up in Concord, N.C., his own mother wasn't even sure she could support his lofty aspirations. Wallace's mother, Desiree Gillespie-Wallace, didn't want him to pursue a career in NASCAR at first, but she eventually came around to support his goals and has since become his biggest fan.
Bubba Wallace always knew he wanted to be a NASCAR driver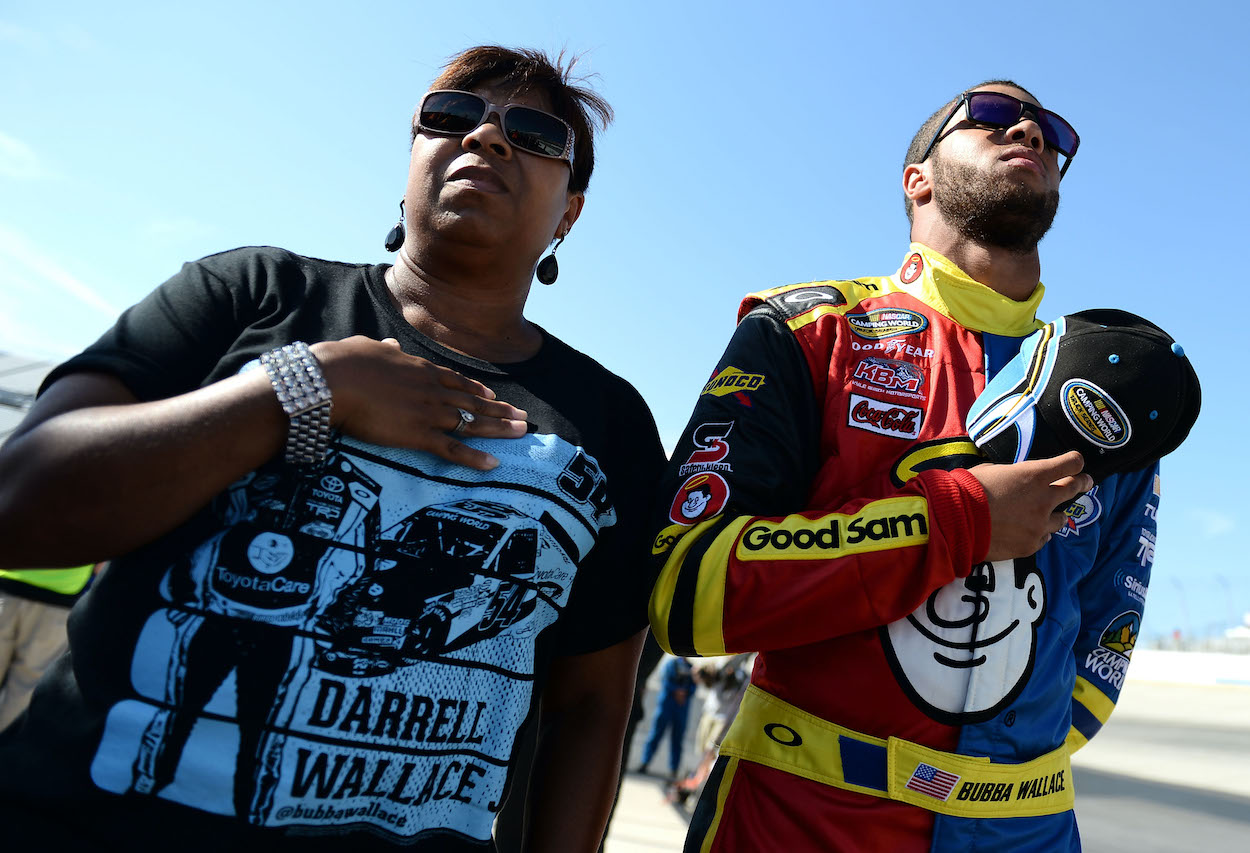 Wallace was born in Mobile, Ala. in 1993, and it didn't take him long to find his passion in life. The 23XI driver started racing cars before he even turned 10. Even though he knew African Americans didn't typically make it far in motorsports, he set a goal to blaze a new trail and become a professional race car driver when he grew up.
His father, Darrell Wallace Sr., supported his aspirations from the start, and his mother credits Darrell for pushing him to find early success in racing.
"By the time Bub got into racing when he was 9-years-old, my daughter was already established in basketball with AAU," she told Blavity in 2017. "While they were on the racetrack, she and I were traveling all over the United States with basketball." 
Wallace's mother didn't support his NASCAR dreams at first
Wallace's mother wasn't a huge part of his early racing career. She wasn't at the racetrack every day watching and supporting him, so when Wallace made it clear he wanted to become a NASCAR driver when he grew up, she was hesitant.
"It's not that I didn't like the sport. Being in an interracial marriage all those years, I grew up watching NASCAR," she said. "Dale Earnhardt Sr., was our favorite driver before he passed, and my brother-in-law was a driver in Nashville, Tennessee so I went to a couple of races and I knew a little bit about it. But, I wasn't sure if that was what I wanted for Bubba." 
Wallace's mother is now his biggest fan
Although Desiree had doubts about her son chasing his NASCAR dreams, she eventually came around to the idea once she saw how dedicated he was. Now, she's his biggest supporter.
"At the end of the day, Bub was committed to it," she said. "So here we are… Bub has a solid foundation. He is going to work hard, stay focused, and continue to prove himself. In doing that, hopefully, he can inspire other minorities who are interested in NASCAR."
Wallace is grateful for his mother's support today, and he knows he never would've made it this far without her in his corner.
"It's great to have her at the racetrack," Wallace told Blavity. "When she is there, she is my biggest fan and that's special to have."