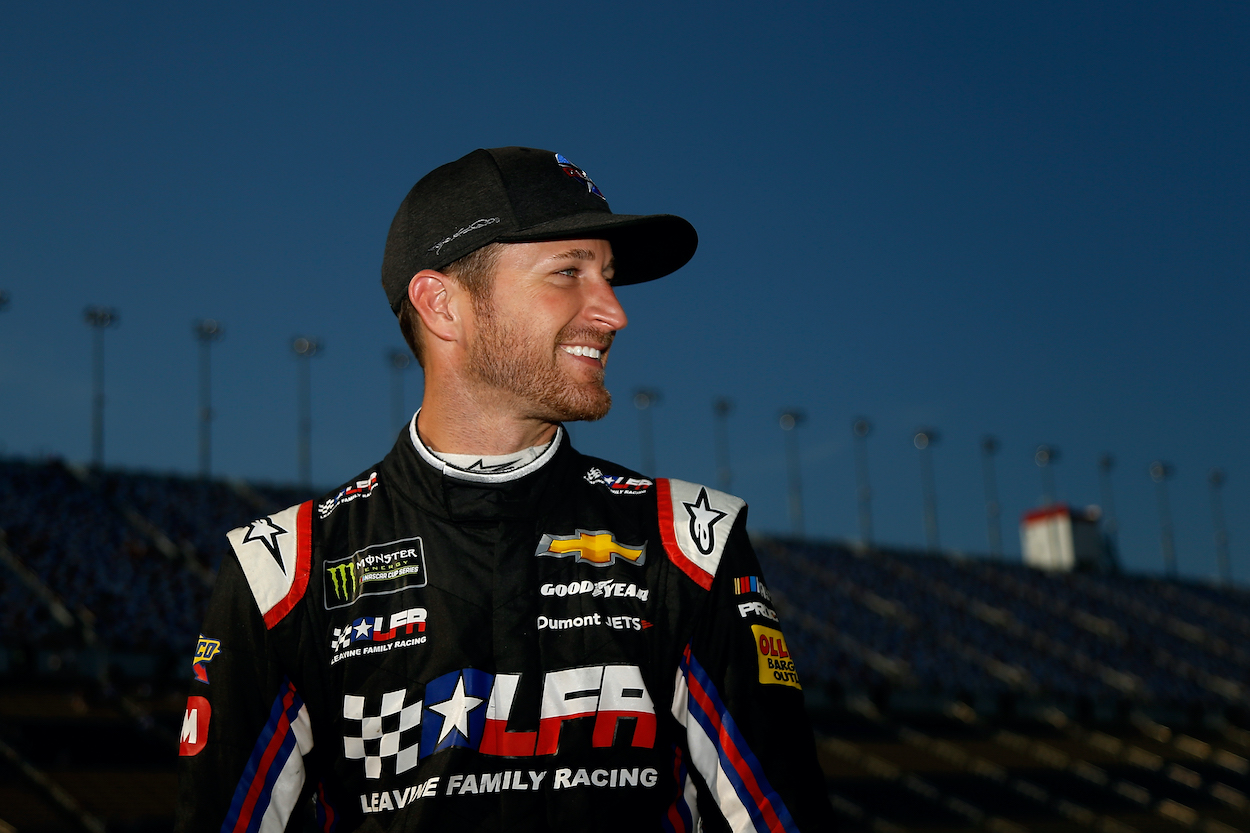 Kasey Kahne Raced World of Outlaws Sprint Cars Over the Weekend and Minutes After Event Raced to Help Save Lives in a Fiery Crash Near Track
Kasey Kahne raced sprint cars in Pennsylvania over the weekend and then minutes later raced to help save the lives of several victims involved in a fiery crash near the track.
Kasey Kahne unexpectedly retired from full-time Cup Series racing in the middle of the 2018 season due to health concerns. The 2004 Rookie of the Year has raced with sprint cars on a limited basis since, and in August, it was announced that he would run a full-time World of Outlaws schedule through the rest of the year. 
On Saturday night, Kahne raced in an event at Port Royal Speedway in Pennsylvania. But it's what he did after the race that most people are talking about as he was one of the first to arrive on the scene of a fiery crash near the track, where he frantically worked with others to help rescue those involved.
Kasey Kahne racing again in sprint cars
Kasey Kahne raced sprint cars for his team earlier this year part-time, while his full-time driver, James McFadden, remained in Australia due to COVID travel restrictions. When McFadden returned, Kahne stepped aside. 
However, in August, Kahne got a call from Roth Motorsports asking him to substitute for one of their drivers who had been suspended for cheating. Kahne ran in the Knoxville Nationals, made the A Main, and finished eighth. Shortly after, the team announced he would race the remainder of the 2021 World of Outlaws schedule.  
"I am really excited and thankful for the opportunity that (car owners) Dennis and Teresa Roth are providing me to race with a great team for the last quarter of the season," Kahne said in a team press release. "It'll be really fun, and challenging, going to some new places as we work hard to run up front every night with the World of Outlaws. We had a great trip to Knoxville, and I am looking forward to getting back to it and really getting started this weekend."
Kasey Kahne helps rescue victims in fiery accident
On Saturday night, Kahne raced in the World of Outlaws event at Port Royal Speedway in Pennslyvania. He finished 15th. 
After the race, Kahne left the track and was one of the first people to drive up on a fiery accident between a truck and camper with a couple who had attended the races, and another truck, traveling the wrong way down a divided highway. According to pennlive.com, with one of the trucks on fire and an unconscious driver inside, someone asked for fire extinguishers.
Kahne reportedly hurried to his bus, grabbed one, and returned to the scene, where he and another rescuer used the extinguishers to fight off the growing flames while others worked to extricate the victims from the burning vehicles. According to the latest report, the two drivers died but the passenger remains in the hospital with life-threatening injuries.  
Successful Cup Series career cut short due to health issues
Kasey Kahne made an impressive debut with the Cup Series in 2004, earning three top-5s in his first four races. He finished the season with 13 top-5s and won Rookie of the Year honors. 
A year later, he broke through with his first win at Richmond. It was a precursor of things to come. The following year Kahne proved to be one of the best Cup drivers, impressively winning six times and finishing eighth in the season point standings.
In 2018, he stepped away from racing in the middle of the season due to a health condition where he experienced extreme dehydration and an elevated heart rate. He never returned to the Cup Series and retired with 18 career wins, including three at the Coca-Cola 600 and one at the Brickyard 400.  
Like Sportscasting on Facebook. Follow us on Twitter @sportscasting19.