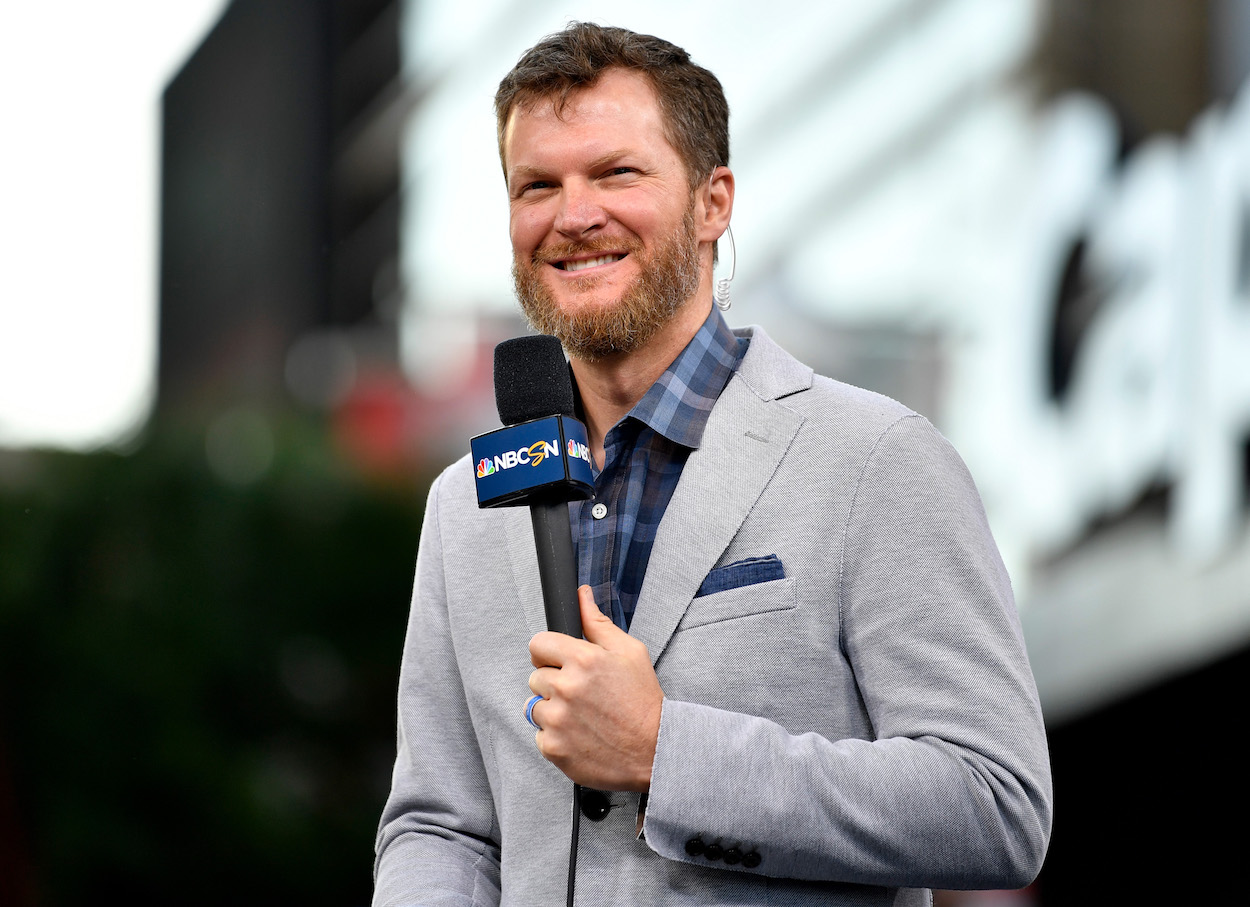 Dale Earnhardt Jr. Rips Himself Over Multiple Mistakes He Made During NBC Broadcast at Talladega: 'I Wanted to Crawl Under a Rock'
Dale Earnhardt Jr. is adored by fans. No one says a bad word about him. That changed on his podcast when he blasted himself for his announcing mistakes during the NBC broadcast at Talladega.
Dale Earnhardt Jr. is one of the most beloved figures in NASCAR history, as evidenced by his 15 consecutive most popular driver awards during his racing career. Most people don't have a bad word to say about the two-time Daytona 500 champion. 
However, that changed during the latest episode of the Dale Jr. Download. And interestingly, the harsh criticism came from Earnhardt himself while revisiting the past weekend's NBC race broadcasts from Talladega. The NASCAR Hall of Famer was absolutely relentless in his critique, and it started on the green flag of the Xfinity Series race. 
Dale Earnhardt Jr. criticizes his play-by-play skills
Dale Earnhardt Jr. transitioned to the NBC broadcast booth in 2018 after his Hall of Fame racing career ended. Before this year, he had only worked as an analyst. This year, he wanted to up his broadcasting game and asked the network for play-by-play opportunities. The network granted him his wish, and he's worked as the play-by-play announcer on several occasions. 
His last scheduled play-by-play role happened during Saturday's Xfinity Series broadcast at Talladega, and Earnhardt made it clear on his podcast that he's glad it's over.
"Every time I do play-by-play, I make so many big mistakes. They feel massive. They feel huge," Earnhardt admitted. "There were a couple of doozies in this, at least the first stage I remember. Every time I do play-by-play, I come out of there going, 'Damn it, I didn't get better, or I didn't improve enough. It didn't get easier.' I want to do it more, but I need to get better. I was a little frustrated."
While he admittedly gets aggravated by his mistakes, he also acknowledges it's not something the viewer at home typically notices. 
"The viewer at home doesn't know that that's a mistake," he said. "You know it is because you know what you did and said but the viewer at home doesn't realize." 
Earnhardt rips himself for first mistake at the race start
After his admission of regularly committing on-air blunders, Earnhardt called on podcast producer Matthew Dilner to share audio clips of the mistakes that he had identified in the first stage of the race. There were two main blunders, starting with the opening of the race. 
"The pace car's dived onto pit road. About to go green here, the field comes, 40 cars roll through the tri-oval under control of flagman Matt, Matt Lydic. He waves the green flag as," Earnhardt paused. "We're underway and running for today's Sparks 300."
"Oh man, was that terrible," Earnhardt said on the podcast, which drew a laugh from show co-host Mike Davis and Dilner. "That was so bad. That was one of the big mess-ups that I had in my mind. It's a key moment of the race." 
Earnhardt explained that he was trying to imitate older broadcasts that identified the flagman and said he had called the director of the Xfinity Series to get the flagman's name. He incorporated it into a pre-written script similar to what longtime broadcaster Ken Squier would say at the beginning of a race. 
"One of the things that Ken always said that would fire me up as a listener was the 'the pace car dives onto pit road.' I said dived. That's where the cookie started crumbling," a deflated Earnhardt suggested. 
The inexperienced play-by-play announcer confessed to being so focused on getting the flagman's name right that when he "stumbled all over it," he replayed the blunder over and over in his mind, and it resulted in a choppy intro.  
"In an attempt to try to do something cool and old school I butchered the entire coming to the green moment," Earnhardt said. 
"Just a bad lap. You had a bunch of other laps to make it up," Dilner said, trying to make him feel better. 
"No, no, no," Earnhardt interjected. "It's the start of the race. It's a key moment. Unacceptable. There's nothing you guys can can say in this room that's going to make me feel any better." 
Gets confused with laps and miles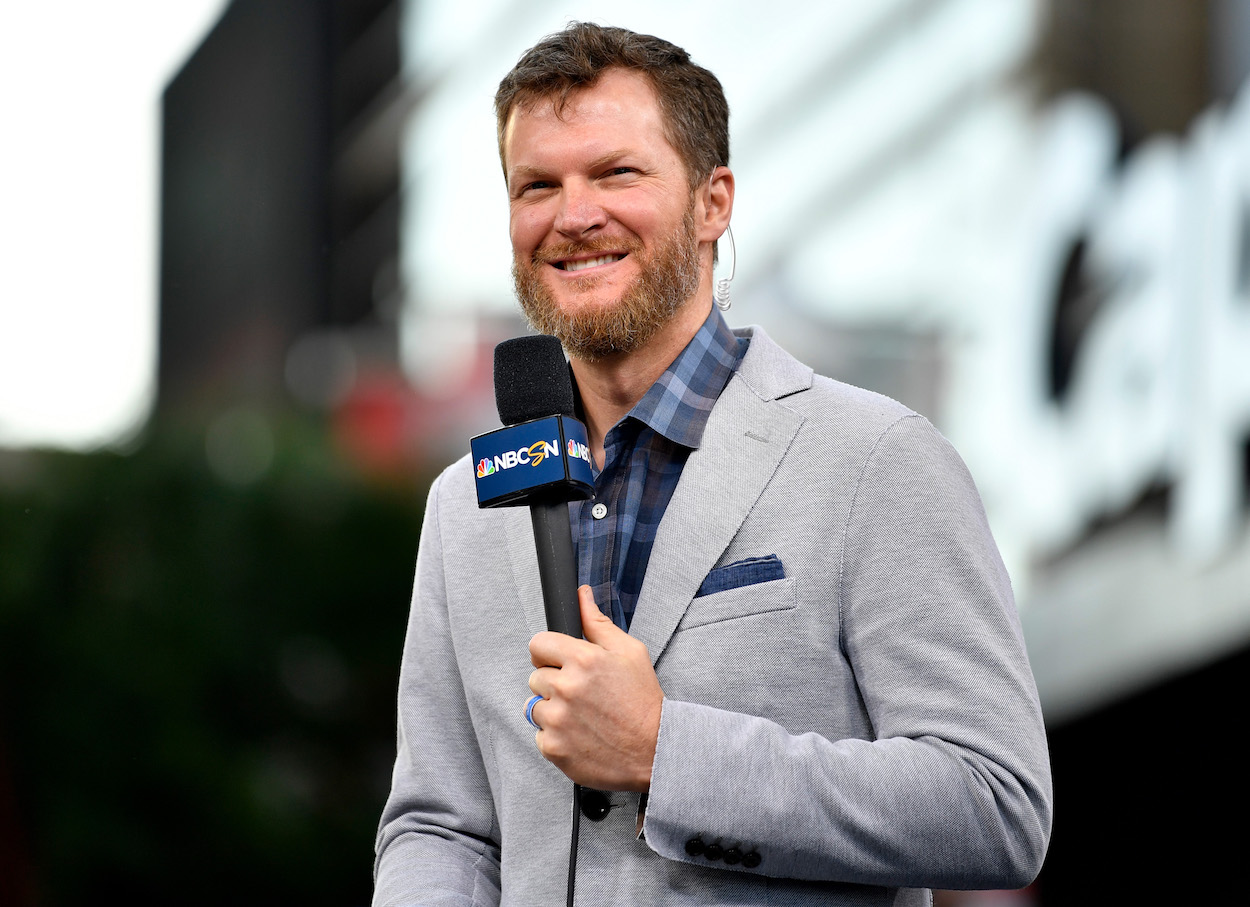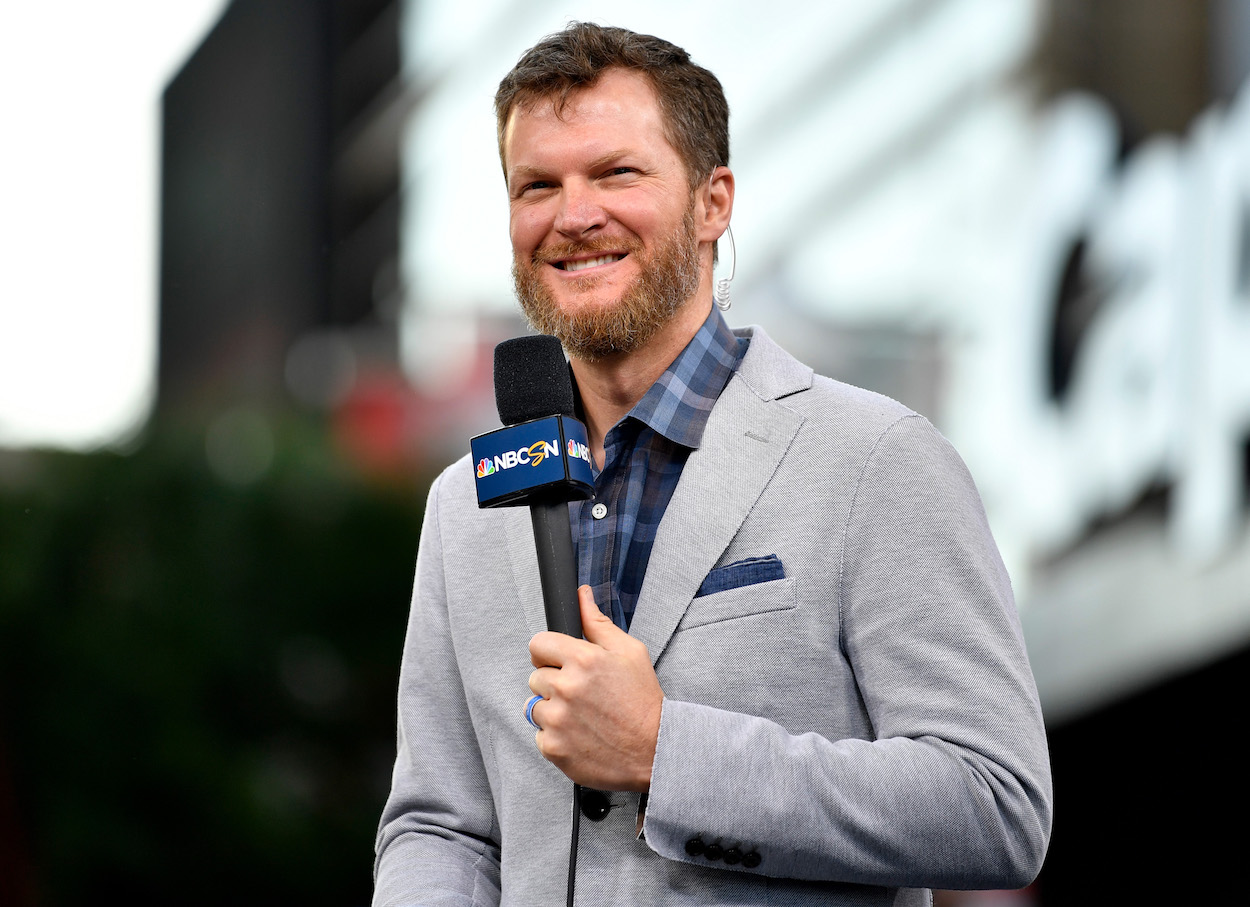 After Earnhardt finished ripping himself over his first mistake, he moved on to the next. Dilner played the accompanying audio clip from the broadcast.  
"Completing lap eight. 53 miles into this race. We'll be back with more," Earnhardt said as the telecast went to a commercial break. 
"Yep, there you go. I was off by about 40 miles, 30 miles there," Earnhardt said on the podcast, again drawing a big laugh in the studio. "Alright, that was the second one where I know that I made a major mistake. I wanted to crawl under a rock. That was another Ken Squier thing. I'm watching the 1980 Daytona 500, middle of the week, preparing for this weekend, and Ken Squier would always say the lap and the mileage. 50 laps to go, 120 miles left. And we never do that anymore. We never use mileage. I thought that's a cool way to drive home the distance. We say laps all the time but a lap at Martinsville and a lap at Talladega are different."
Earnhardt said things went sideways in that moment when he got confused looking at a page that had laps and miles in multiple columns, but the numbers were all close together. 
"We're standing there, and the producer goes, 'We're going to commercial in five, four, three.' And I'm like, 'Oh s***!' Lap 8, and I'm looking on this page for the number. Where's the mileage?" Earnhardt recalled, mimicking his panicked state. "I just spit out a number because he's going two, one."
"Those were the two major freaking mistakes that I was so pissed off at myself for at the end of that race. Absolutely livid with myself when it happened," he said.   
When finished with the harsh critique of himself, Earnhardt said he's not ready for play-by-play. He said he's not going to ask for more play-by-play roles but is open to trying more so he can improve. It's safe to say with his loyal fan base, it doesn't matter what he says, even if it's wrong, his fans will always be there to support him.
Like Sportscasting on Facebook. Follow us on Twitter @sportscasting19.