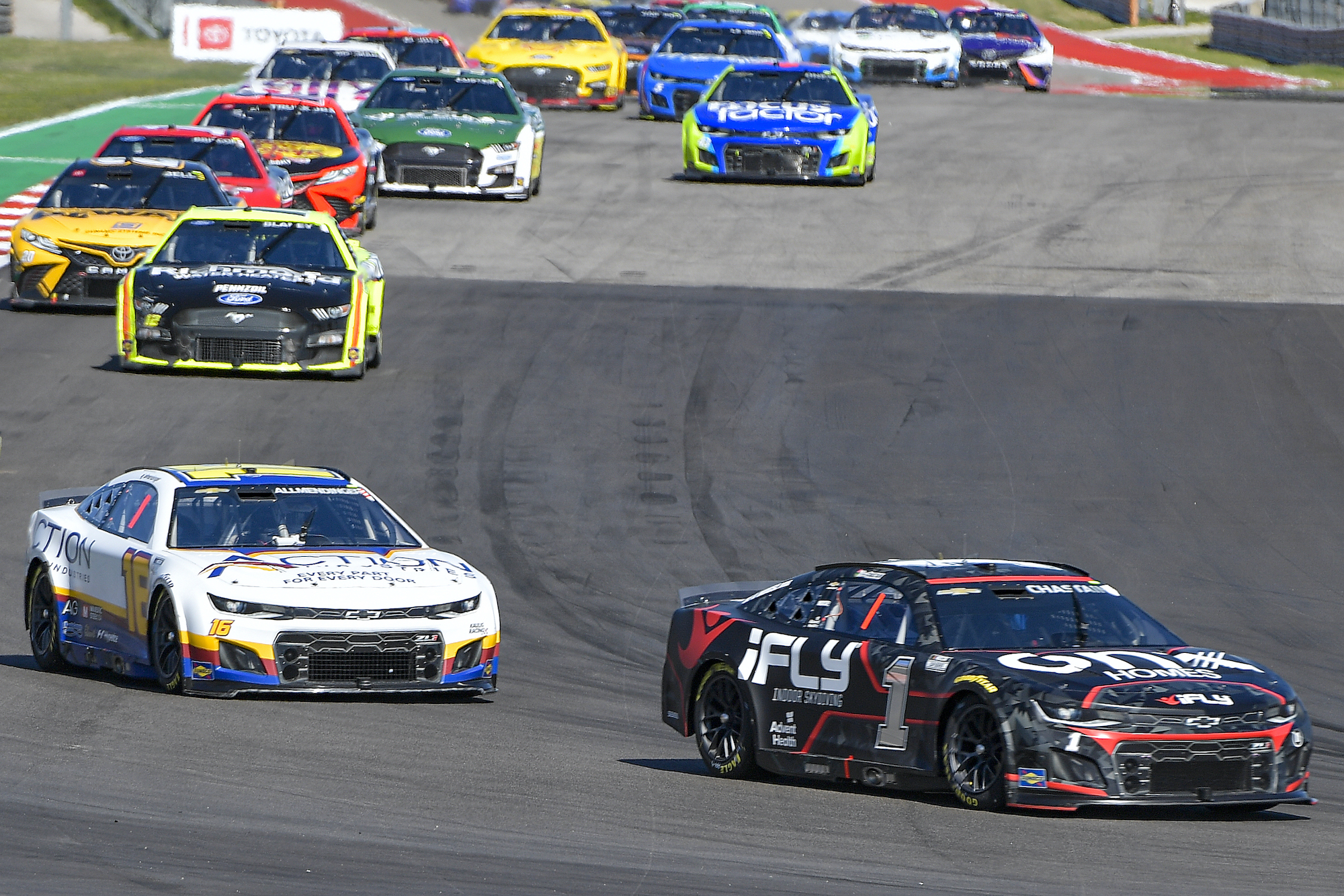 Ross Chastain's 'I Don't Give a S*** Attitude' Will Make Him Popular With Fans, According Kevin Harvick
Ross Chastain has a reputation for being an aggressive driver and Kevin Harvick said the driver's recent success only confirms that it's working and the fans will gravitate toward it.
Ross Chastain's last-lap move at Circuit of the Americas to win his first-ever Cup Series race has been a hot topic of conversation this last week in NASCAR circles. Opinions vary. 
Some said the move was fine and just a part of hard racing for the win, while others said the watermelon farmer had taken it too far. Kevin Harvick offered his thoughts on the move, and admitted that he likes what he's seen from the 29-year-old on and off the track and fans should expect more of it in the future.
Ross Chastain wins first Cup Series race at COTA 
Ross Chastain has been close in recent weeks. At COTA, the driver found himself in a position to win yet again during the season's first road course race.
After leading a race-high 30 laps, the Trackhouse Racing driver began the final lap looking at the rest of the field in his rearview mirror. However, that changed more than halfway around the 3.41-mile circuit when AJ Allmendinger took the lead in what would be the first of multiple lead changes in the final few turns. 
Chastain stayed close to the No. 16 and, heading into Turns 18 and 19, found himself battling with Allmendinger and Alex Bowman for the lead. Running out of turns, the No. 1 car drove into the back of the Kaulig Racing car and shoved him into Bowman on the outside. Both cars sailed off track into the runoff area, Chastain made the pass, cleared the final turn, and dashed to the checkered flag. 
Kevin Harvick says Chastain's aggressive style will serve him well in future
Kevin Harvick knows about aggressive driving. See Chase Elliott and the Charlotte Roval last year. He also knows about the aggressive driving of Ross Chastain. The two got into a late-race incident during the Xfinity Series race at Darlington in 2018. Both drivers blamed the other.
This week the 2014 Cup Series champion was asked what he thought of Chastain's last-lap move at COTA and how he's changed in recent years.
"Ross is just a super aggressive driver, and I think balancing that with not wrecking and putting yourself in bad spots, there's a fine line between that," Harvick told reporters before Sunday's Cup race at Richmond. "I think that's the biggest difference. He's still super aggressive and does all the things that he needs to do, but he has learned how to not put himself in a position where he totals his car or tears his car up."
When it was suggested that the Trackhouse driver had a similar temperament to a younger Harvick, the future Hall of Famer agreed.
"That's important to have that flair and that fire because that's what's going to set you aside from everybody else," he said. "Having some of that personality and that I don't give a sh*t attitude about what happens and if you don't like it, sorry — having that edge is something that will make him popular because of the way that he races. He doesn't have to do anything else. Just race like that and the people will gravitate toward you because it's exciting to watch and you're winning."
Dale Earnhardt Jr. says aggressive driving is nothing new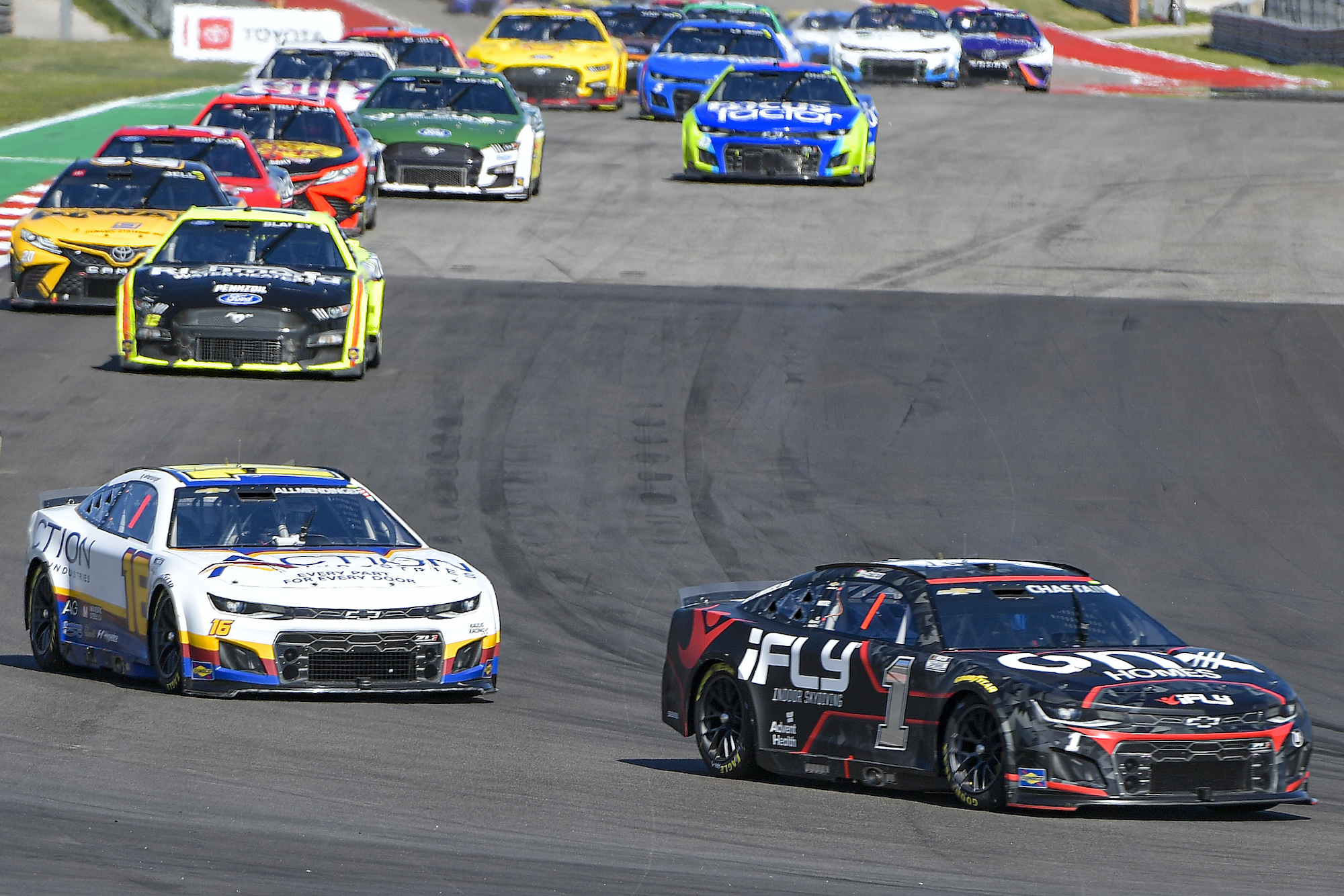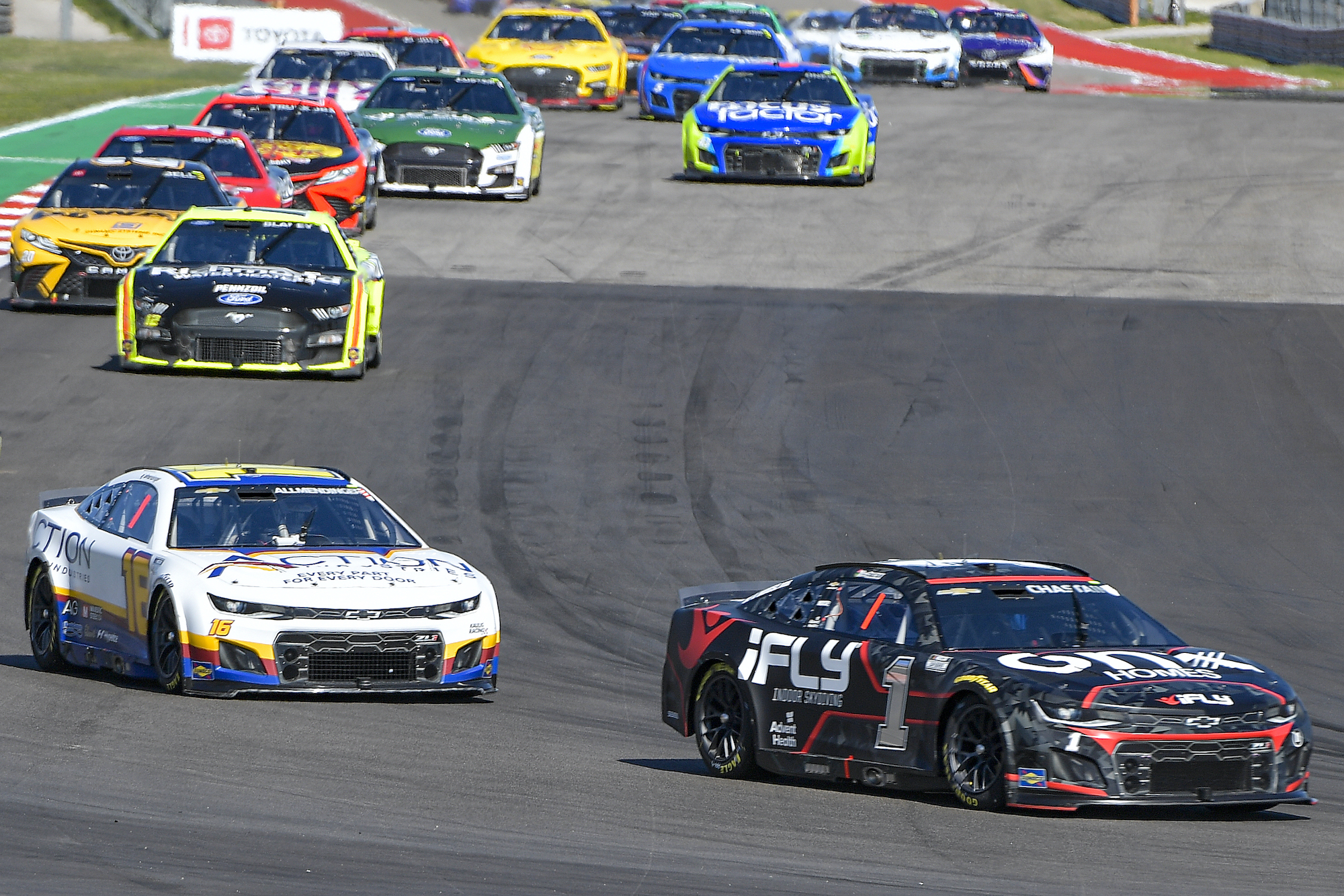 Dale Earnhardt Jr. talked about the aggressive driving of Chastain at COTA on his podcast this week and said while he was disappointed the last-lap move resulted in the equivalent of Allmendinger being "put in the fence" because he lost a couple of dozen positions, he said the move should have come as a surprise to no one because that's how he's raced in the past.
"When we raced against him in the Xfinity Series he did some s*** to our cars that I wasn't happy about. Him and Allgaier beat on each other for a couple of weeks and wrecking each other at Watkins Glen. This is another layer to the whole thing. You got to understand who Ross is.
"This is Ross going forward. I don't think for everybody in the sport it's an introduction. If you've watched him in the Xfinity Series, this is who he is. This is how he races. He's aggressive. Overly aggressive. You push him; he's going to push you twice. It's not an eye for an eye; it's two eyes. He doesn't apologize for it. He's like, 'Hey, I worked hard for this opportunity. I've worked hard to be in this position in this corner, and I'm taking it.' You're not going to teach him a lesson."
In other words, AJ Allmendinger suggesting in his postrace interview that every driver has to live with their on-track decisions didn't faze Chastain. And why should it? He's unquestionably one of the top drivers in 2022 so far and there's nothing to suggest that will change anytime soon.  
Like Sportscasting on Facebook. Follow us on Twitter @sportscasting19.