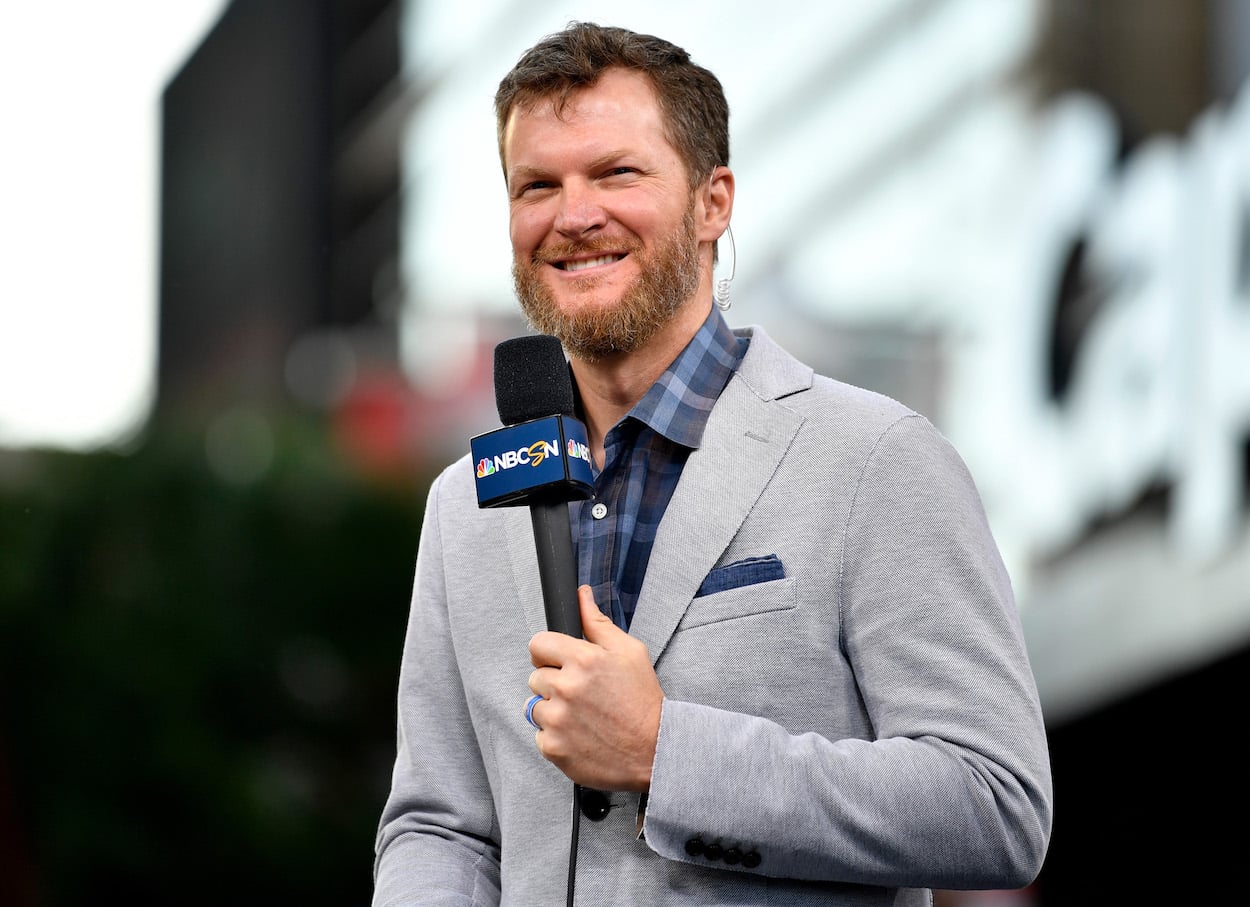 Dale Earnhardt Jr. Throws Subtle Shade at Fox While Talking About NBC Taking Over NASCAR's Coverage in 2023
Dale Earnhardt Jr. threw some shade at Fox this week during an interview when talking about NBC's NASCAR coverage for the rest of 2023.
Dale Earnhardt Jr. and the NBC broadcast team take over NASCAR coverage, starting this weekend in Nashville and running through the championship race at Phoenix. The Hall of Famer is understandably excited about calling the action from the booth for his sixth season.
This week Junior got candid in an interview when talking about the upcoming season, including detailing what he does when a race isn't exciting while subtly throwing shade at Fox's coverage at the same time. 
Dale Earnhardt Jr. heading into his sixth season at NBC
Going into this weekend's race at Nashville and NBC's first Cup Series broadcast of the 2023 season, Dale Earnhardt Jr. answered a question on his podcast about how he's changed as a broadcaster in his six years working with the network.
"I think you get a little more polished whether you want to or not over the years," Earnhardt said. "And so your cadence might change just slightly.
"One of the things that I think I was trying to do for a long time was play-by-play, which is Rick's job. I love play-by-play. I love what Rick does. I love calling the battles. I love talking about two guys driving and trying to pass each other. We get to do that a little bit. 
"But you know, I think I'm going to lean a little bit more into being an analyst, right? And this is why a driver chose to do that. And this is what a driver was thinking in this moment. And try to work hard and prepare, spend a lot of time during the week just really trying to be on top of what I think is gonna be going on. It's a fun job, man. But there's no playbook. There's no guidelines or hey, here's what you need to do. You just gotta either prepare, do the work, or you're not gonna be ready and you're not gonna have all the information you need in those moments when the race is happening."
Earnhardt throws shade at Fox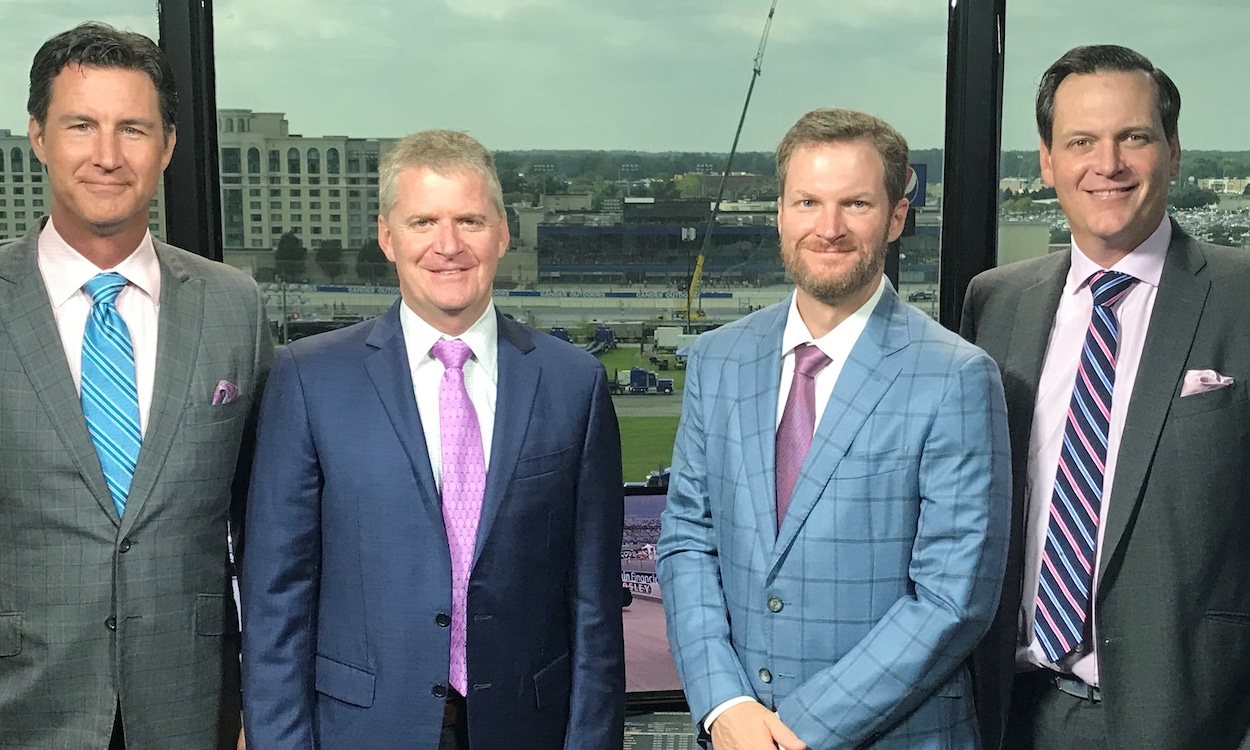 Ahead of NBC's first race, Earnhardt sat down with The Athletic's Jeff Gluck for his 12 questions interview. During that conversation, the two-time Daytona 500 champion was asked what keeps him coming back each year. He echoed what he said on his podcast about enjoying the play-by-play, and acknowledged his role in the booth is to keep the fans interested in the racing action, even when it might not be exciting. 
"I feel like as a broadcaster, that's your main responsibility. You go into that booth to make the fan at home realize how great a race it is in person," Earnhardt said. "Even when you've got to carry a race that's not quite as exciting, you don't say, 'It is what it is.' Your job is to make it something, make it exciting, find something to talk about, find the battles, point the cameras there. There's never a race that doesn't have something compelling going on. So you've got to keep searching and looking and find it."
Gluck acknowledged he understood Earnhardt's perspective, but admitted he would be inclined to give up on a race and say how it sucked. The former driver responded.  
"Well, you're human and you have that moment of, 'Damn. The top five are spread out by 20 car lengths again,'" Earnhardt said. "But you've got to snap out of that really quickly and go, 'I'm going to look for the battle. Where is it? Where is the race?
"I love working for NBC because all of the booth talent can say, 'Hey, the battle for seventh is about to happen. The eighth-place car is catching him, he's running him down' and the cameras will go there. They will trust us and take us to where we want to go. 
"I really love that about my job. If I had to sit there and basically just talk about what was on the screen, that'd be frustrating, because I want to take you where I think the battles are. But if somebody was choosing what I was seeing and I had to narrate that, that would not be any fun."
Denny Hamlin called out Fox's coverage earlier this year
For the last several years, NASCAR fans have been vocal about Fox's coverage and doing the exact opposite of what Earnhardt described. Instead of following the action and what announcers Mike Joy and Clint Bowyer are describing on the track, the camera is oftentimes showing something completely different. 
Denny Hamlin addressed the topic on his podcast in April.
"One thing I saw at (Bristol) dirt last week or when I watched it back, the announcers would be talking about some side-by-side battle, and the camera wasn't on it," Hamlin said. "So you didn't know — what are they are talking about? Let me see this battle. 
"I did notice too, as soon as some action would start to heat up on a side-by-side battle, they'd cut to like 12th place. You see the second-place guy working over the first-place guy like right on his ass and about to make a move and they cut to like side-by-side for 12th. It's like, s***, let's keep it in the battle that's about to dictate who's going to be leading this race. Certainly I think from a production standpoint, we could make some improvements."
They could start by watching what NBC does the rest of 2023. 
To stay up to date on the latest happenings in NASCAR, including breaking stories you can't find anywhere else, follow Kyle on YouTube and Twitter.