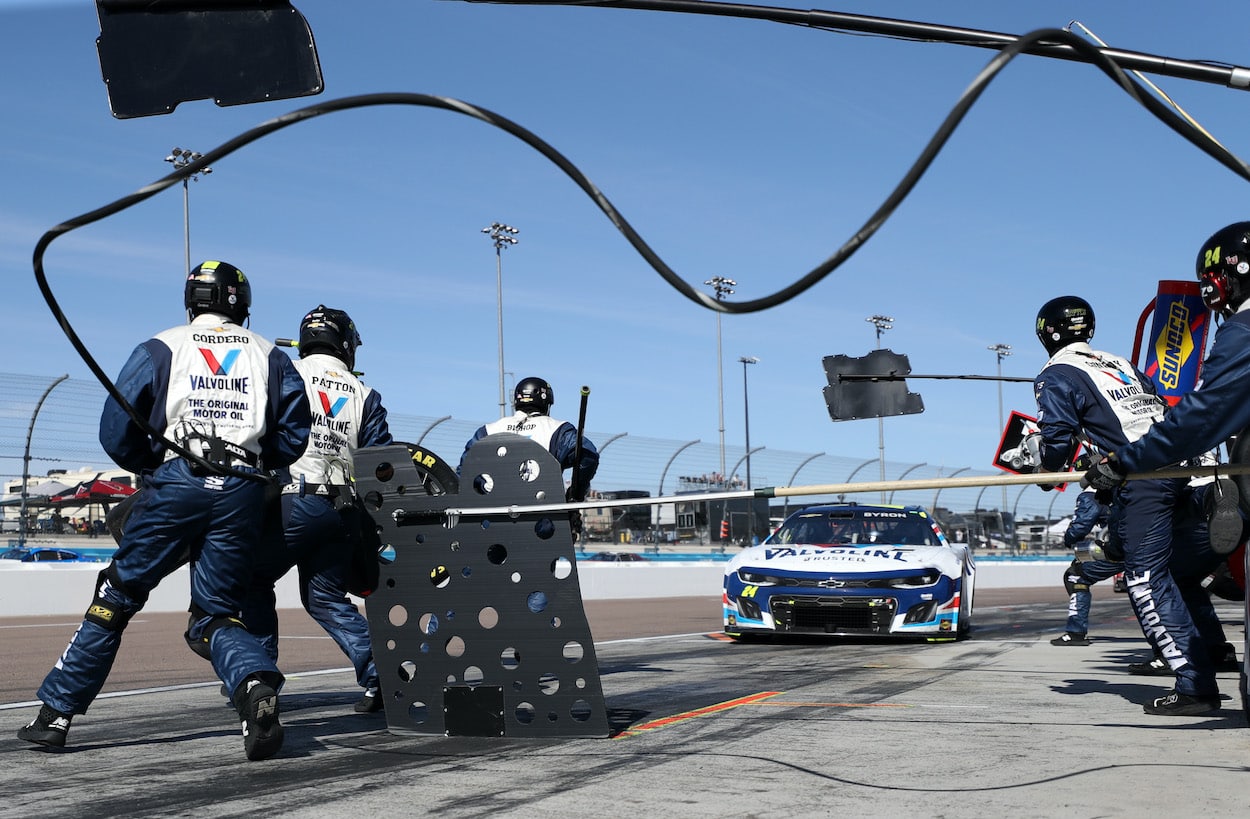 William Byron Tire Changer Details Many Dangers on Pit Road, Including a Car Hitting Him, Getting Blasted Over Team Radio by Kyle Busch, and Talking Trash During Pit Crew Challenge
Jeff Cordero is the front tire changer for William Byron and he details the dangers on pit road, talking trash, and what it was like getting blasted by his former driver Kyle Busch.
Jeff Cordero is one of the best tire changers in the NASCAR Cup Series. He proved that in 2019 working with Kyle Busch and the No. 18 crew and winning the championship. Today, he's the front tire changer for William Byron and the No. 24 team. 
Cordero and veteran pit crew member Cory Demarco sat down for an extensive interview where we talked about a variety of subjects, including the dangers of pit road like getting hit by a car and hot flying lug-nuts; what it was like working with Busch, including stories on the times the driver ripped the crew (they deserved it); and how teams talk trash during the Pit Crew Challenge at North Wilkesboro Speedway. 
Kyle Busch blasts pit crew and they deserved it
Jeff Cordero worked with Kyle Busch from 2018-2021. During that time, he was part of 16 victories, and more importantly, celebrated at Homestead in 2019 when the No. 18 team won the Cup Series championship. While there were plenty of good times working with one of the greatest drivers of all time, Cordero admitted there were also some challenging moments with the driver known for not sugarcoating what's on his mind. 
"The one thing people always want to trash Kyle on is he's very aggressive on the radio," Cordero said. "He doesn't have a filter, especially when you get out of the racecar and he has a bad race and they stick a microphone in his face or things don't go his way, you're going to get what you get. 
"But the one thing you know you're going to get being on Kyle's team is that when he puts the helmet on, you know he's out there to win, and anything he says you just kind of take it with a grain of salt. He's mad. He's upset. He wants to go win, so it's just kind of one of those situations where we all want to be in that position, and when things don't go right, he's got the little push-to-talk button, and he can choose to press it or not and sometimes he chooses to press it when he probably shouldn't. But most of the time, especially since 2018 to probably now, it's not the same Kyle Busch it was in the early days when he first got to Gibbs or when he was driving for Hendrick. 
"I think in the four years we pitted him we only got yelled at twice on the radio and it was 100% saw it coming, knew it was going to come, was waiting for it, then we got it and it was like, yeah, we totally deserved that. It wasn't a surprise to any of us. It was just kind of like, 'Surprised it took you seven stops to yell at us. You could have yelled at us after the third one but he held it in long enough.'"
Details pit road dangers, including getting hit by car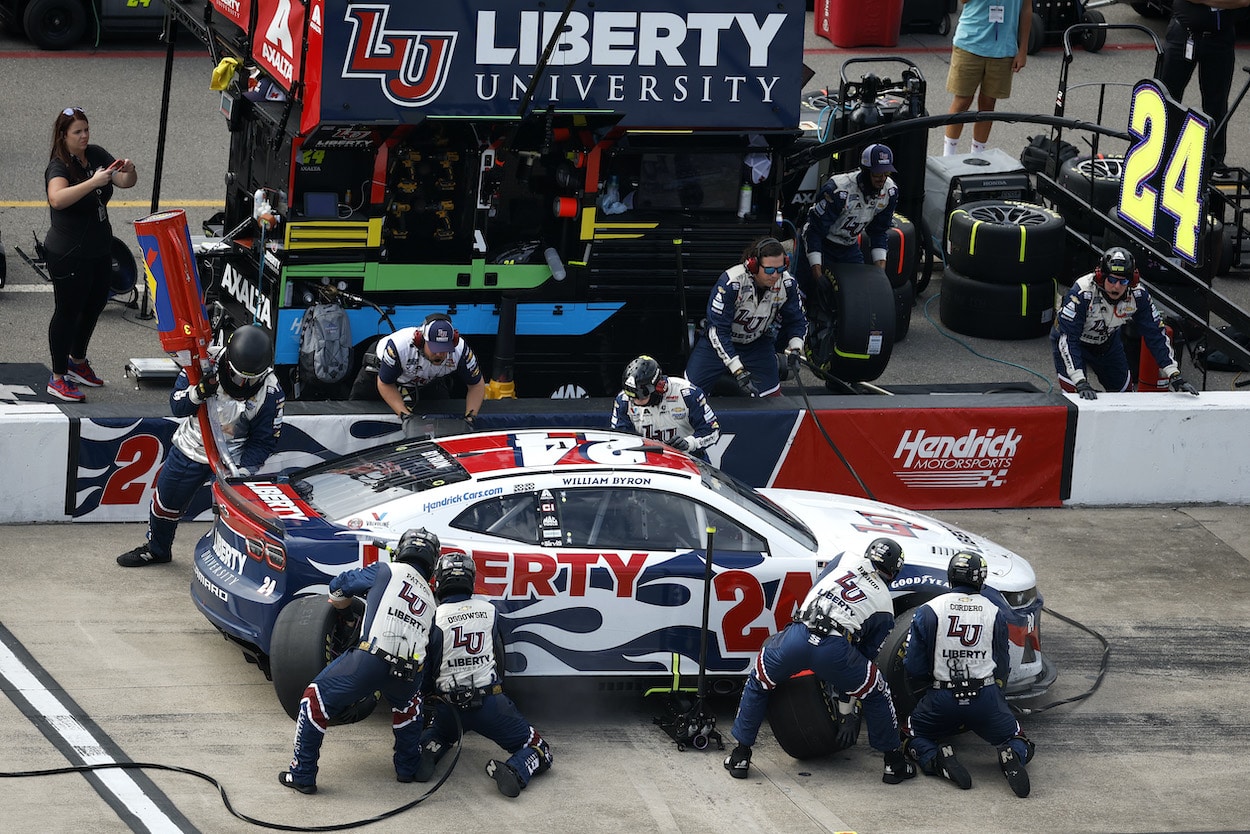 While Kyle Busch yelling at the team on occasion wouldn't be fun, it's nothing compared to the challenges pit crew members like Cordero encounter on a weekly basis, including trying to avoid getting hit or clipped by cars traveling more than 30 mph. The 35-year-old acknowledged that danger is a big part of the job and the members understand that every time their car makes its way down pit road toward the box. 
"Most of the time the driver that you want to hit you is the one that's driving the car that you're pitting because that's the one that's actually slowing down," Cordero said. "The ones that are pitted like two or three boxes in front of you, when those guys clip you they're still going 35, 30 mph. So definitely you pay attention. 
"There's a lot of things NASCAR does for safety. And there's a lot of things that they have implemented since I've been in the sport that has made my position on pit road a safer place to be. But there's still a lot of danger. I mean, at the end of the day, we're out there in knee pads, a bike helmet, and a fire suit with a bunch of sponsor logos on it. The drivers in a 3500-pound race car with the helmet so they are the most protected and we're out here trying to play Frogger. 
"They're trying to get all they can to get into the pit box and you're trying to do your job and sometimes there are certain drivers that will not cut you any slack. They will put it right on your heels. They will downshift right next to you to kind of like scare you a little bit for the next one. Or they flat out just will not give you room in your own pit box. 
"NASCAR actually this year they implemented a bunch of rules to kind of keep us a little safer. And you haven't seen a lot of the issues that you normally would see on pit road with guys getting hit or drivers coming too close because now there's actually a penalty for the drivers if they hit us. But with the lug nuts and all that kind of stuff, they're just flying projectiles, you know? You wear safety glasses. You wear mouthpieces, especially with the five lug nut days. But when a car leaves and they burn out over them there's not much you can do except just kind of wince and just hope it doesn't hit you in a hard spot."
Trash talking during the Pit Crew Challenge
Through the years, Cordero has participated in various pit crew competitions. He described the Pit Crew Challenge at North Wilkesboro as "the most representative of what actually happens on pit road" compared to the ones in the past. He said it was an overall cool atmosphere that combined the pressure of your peers watching your every move while talking trash at the same time.  
"There's way more pressure in that," Cordero said of the competition. "Like on pit road, you're coming down to the last stop at Homestead or Phoenix and you're running for a championship, there's people in the grandstands, there's people on TV, your crew chief. No one cares, because everyone's watching everything. 
"And the people that you want the most respect from are the people that do what you do. And they're all busy. There might be a few pit boxes that are paying attention but it's not like it is at the pit crew thing. The behind-the-wall banter at that pit crew competition was we're all chirping each other up. We're all standing there. We're all watching each other. You come over the wall instead of seeing your road crew, you're seeing us chirp at you, you know, so it's like, it was a fun deal.
"There's definitely people that you will chirp with like your buddies. You'll make fun of them. You'll poke fun at them. You'll put a little, 'Hey, I wouldn't do that if I were you.' You'll have some fun. But at the end of the day, we all want to see each other do well. Like no one wants to see anyone do bad or suck on pit road because it's not good for any of us. So you're happy and it's good to see other guys do good, plus, it's good competition.
"But I want to see everybody good because if everyone's doing good and you can beat everybody while they're doing good, then you know you are a top dog in the sport. And that's how I like to compete. I want everyone to be at their best so that way when they do get beat, I know I did it and everyone was on an even playing field."
That mindset is why Jeff Cordero has been one of the best tire changers on pit road for years and it doesn't look like it will be changing anytime soon. 
Check out the full interview.
To stay up to date on the latest happenings in NASCAR, including breaking stories you can't find anywhere else, follow Kyle on YouTube and Twitter.