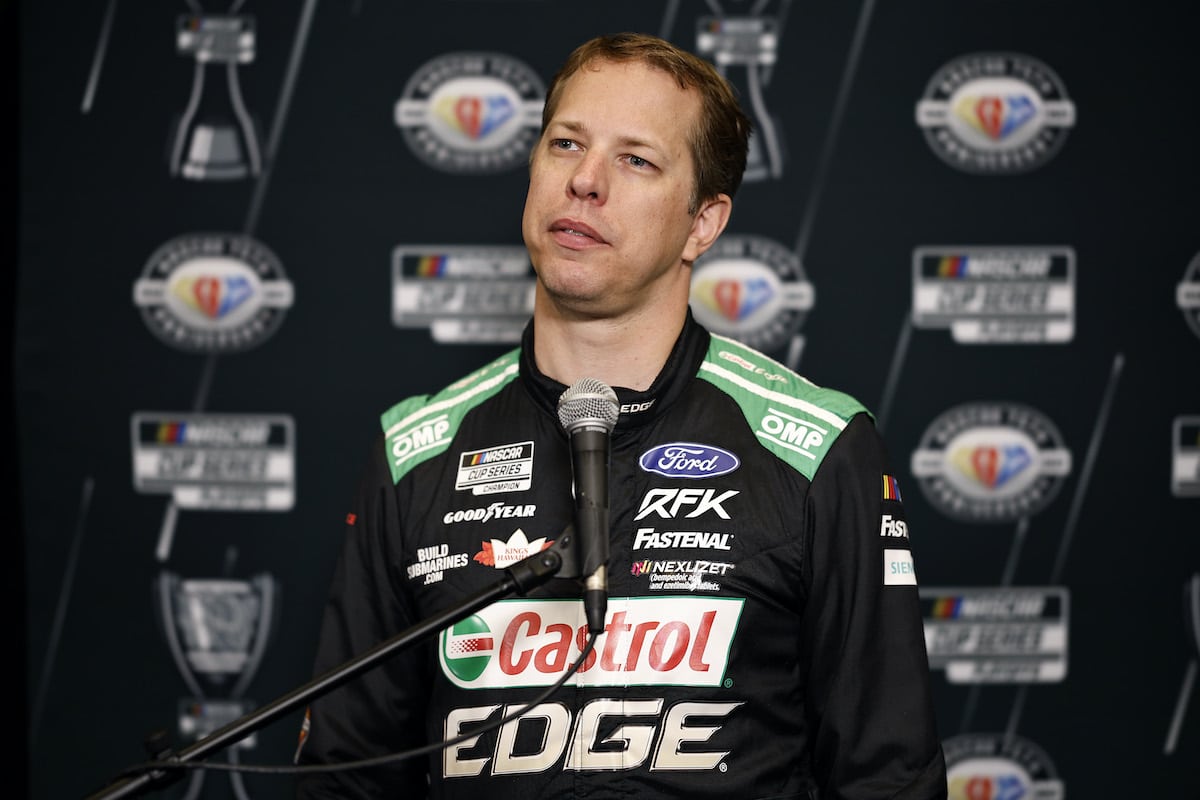 Brad Keselowski Mocks Chad Knaus for His Role as HMS 'Babysitter' Just Days After Questioning Kyle Larson at Darlington  
Brad Keselowski didn't hesitate in calling Chad Knaus the HMS babysitter just days after questioning Kyle Larson during the Darlington race.
Brad Keselowski is having a solid second season at RFK Racing. He and teammate Chris Buescher are in the playoffs and vying for a championship. The pair had great runs in the first race of the postseason at Darlington, with the team co-owner finishing sixth, three spots behind the Texan. 
During the race, the 2012 Cup Series champion openly questioned Kyle Larson over the team radio for his thoughts on a light outage that led to a delay. Just a couple of days later, Keselowski took aim at another member of the Hendrick Motorsports team, vice president of competition Chad Knaus, mocking his role with the organization and suggesting he serves as a "babysitter." 
Brad Keselowski questions Kyle Larson during race at Darlington
Brad Keselowski finished sixth in Stage 1 at The Lady in Black and was inside the top 10 around the midway point of the second stage when NASCAR threw out the yellow due to a power issue, which caused the lights to go out in Turns 3 and 4. 
As cars slowly made their way around the track, NASCAR sought driver feedback on the problematic area. Some said they were fine continuing, while others wanted the lights restored before returning to action. Kyle Larson fell in the latter category. 
The No. 6 team discussed the situation over the team radio and informed their driver of the HMS pilot's position on the outage.
"The 5?" Keselowski questioned. "Damn, like 90 percent of the tracks he runs at have less lights than that." 
NASCAR sided with the 2021 champion, ultimately putting out a red flag that lasted almost seven minutes before resuming. 
Alex Bowman and Daniel Suarez crash and call out each other for 'dumb' moves
With 50 laps to go on the track Too Tough to Tame, Keselowski was running fourth, one spot behind his teammate. Four positions behind, Alex Bowman was attempting to hold off Daniel Suarez, first blocking the Trackhouse Racing driver's move to the inside before mirror-driving and quickly moving up toward the wall to prevent the No. 99 car from making the pass on the outside. 
That second block proved costly as Suarez got into the right rear of the No. 48, sending him into the wall. The Trackhouse car then got sideways, slid down the track, and took a big hit from the No. 21 in the left front. The damage was too severe to repair and ended the night early for all three cars.
Several minutes later, NBC caught up with the Trackhouse driver.
"He has to use his brain a little bit more," Suarez suggested. "We've been racing here for three hours and a half and to wreck with 40 laps to go is a little bit dumb."
A short time later during his interview, Bowman was informed of his competitor's comments and responded.
"He chose not to lift and to crash us," the HMS driver said. "Every time I race against the 99, he does something dumb. Whether it's his crew chief flipping me off on the way to the airport. Anytime I'm around him, he blocks me really aggressively. So, yeah, if he wants to call me dumb, every time I'm around him there's a big block so that's just part of racing sometimes." 
Keselowski calls Chad Knaus the 'HMS babysitter'
Keselowski made one of his regular guest appearances this week on NASCAR Race Hub, joining fellow guests Chad Knaus and Austin Dillon. The Bowman-Suarez incident was unsurprisingly a hot topic of conversation. Knaus, who joked at the introduction of the topic that he thought they would only talk about the good stuff, i.e., Kyle Larson winning, didn't hide his feelings on the situation.
"That's unfortunate. I think on both cases right there," Knaus said. "I don't like the fact that we're (Chevrolet) teammates and that we're out there and we're running into each other at any stage of the race. That's really disappointing. We just got to keep working on it. 
"And I think that that's a lot of relationship-based. There's some damage there that needs to get fixed and then you won't be in that situation, right? I think there's a little bit right there that we need some curing. And we'll get to the root of that.
"I'm really sad for the 48. Those guys went a lap down early. They fought back. They got themselves in a position to run in the top 10. It's unfortunate that we got into the 99 and ruined their night as well. It was just tough."
Show host Shannon Spake then shifted to Keselowski and asked him if what happened was just a "racing deal." 
"I see job security for Chad," the 2012 Cup Series champion said, smiling. "Whenever there's a lot of problems, you need people like Chad to come in and solve them. When people ask Chad, 'What do you do?' You're like, 'Well, I'm kind of a babysitter. Example 1.'" 
What HMS employee will Keselowski target next?
To stay up to date on the latest happenings in NASCAR, including breaking stories you can't find anywhere else, follow Kyle on YouTube and Twitter.