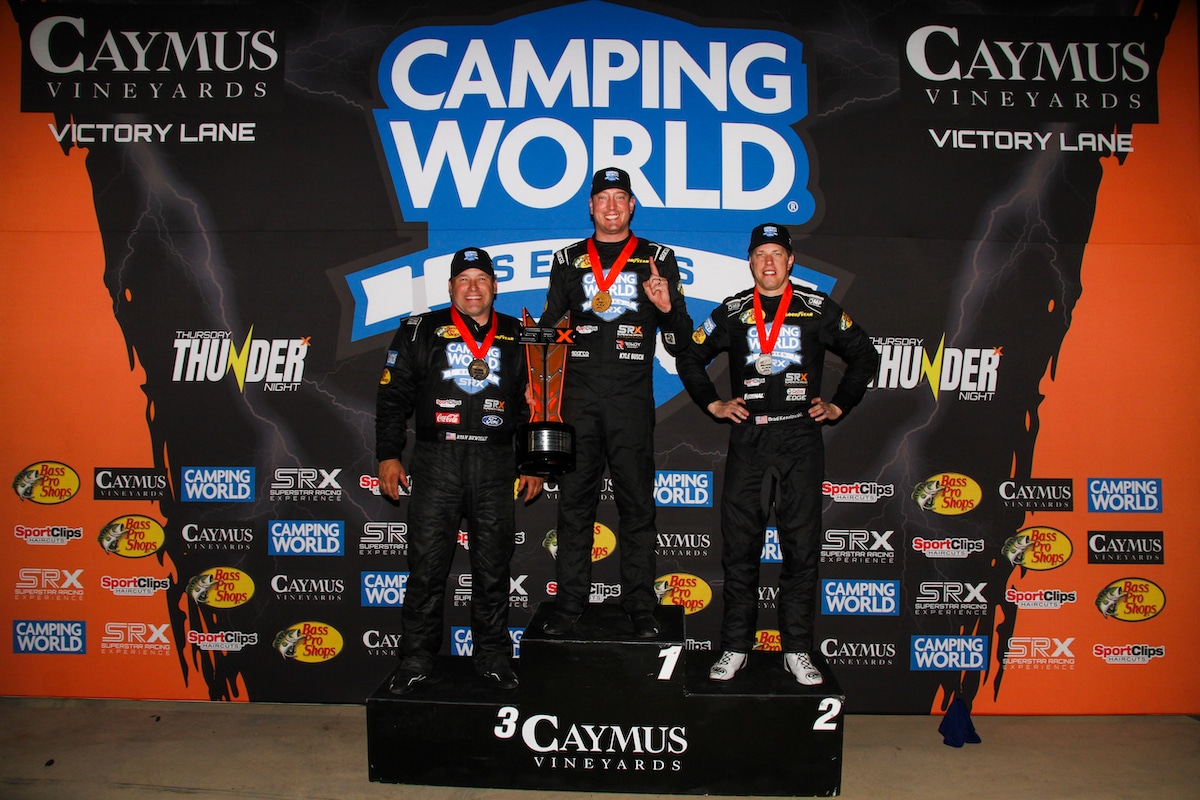 Brad Keselowski Offers Brutally Honest Answer When Asked About His Strained Relationship With Kyle Busch
Brad Keselowski didn't hesitate in offering a brutally honest response when asked about his strained relationship with Kyle Busch.
Brad Keselowski and Kyle Busch have a history dating back to 2010. The pair added a chapter in 2021 at Martinsville. The two drivers had a couple of incidents in the last two weeks of the SRX Series, with the 2012 Cup Series champion on the receiving end both times. 
Reporters questioned the RFK Racing co-owner this week about the incidents and how they made him feel about the two-time Cup champ. His honest answer confirmed that his relationship with Busch is just as strained as it's always been.
Brad Keselowski on receiving end of contact with Kyle Busch in back-to-back SRX races
Two weeks ago, Keselowski was running up front in the SRX Series Main Event at Motor Mile Speedway with Busch on his rear bumper. With 43 laps remaining, the No. 51 car dove down underneath the No. 6, getting into the left-rear and sending it for a spin up the track. 
Busch won the race. Keselowski finished fourth.
Fast forward a week later to Berlin Raceway. On Lap 2 of the Main Event, the same thing happened, except this time, Keselowski held on to it and maintained the top position. The pair battled it out the rest of the feature, including multiple restarts. In the end, the RCR driver held on for the win, with Keselowski finishing second.  
Keselowski confirms relationship is still strained
Keselowski met with reporters this week ahead of the fifth SRX race of the season at Eldora Speedway and was asked if the contact with Busch in the previous two races had strained the pair's relationship. 
"Well, I don't know if my relationship with Kyle could be any more strained. So I don't think that's uh," Keselowski paused and started chuckling. "I don't think there's any room for growth there." 
A few minutes later, Fox's Bob Pockrass followed up and asked if those incidents in SRX made him just as mad as it would in a Cup Series race on Sunday. 
"Yeah, you still want to win, right?" the 39-year-old driver said. "You don't want to be pushed around by anybody. I guess, the short answer is, I don't think of it any differently. I want the trophies." 
Strained relationship since 2010
Keselowski and Busch have had a strained relationship dating back to 2010, when during driver introductions at Bristol the then-Penske driver didn't hesitate in sharing what he thought about the then-Joe Gibbs Racing driver.
"Kyle Busch is an ass," he said over the public address system. The more than 150,000 in attendance cheered loudly. 
There have been other incidents, including in 2021 at Martinsville when Busch expressed his displeasure with how Keselowski had driven against him on the final lap. 
"Well he drills my ass coming out of 4 for no reason. I mean, where was he going? What was he going to do? Spin me out? He was trying to do a Harvick is what he was trying to do," Busch suggested, referencing Harvick's move in the 2020 Martinsville race. "For what? For second place? To do what? He wasn't going to transfer through with that. It's freaking retarded man. So stupid. I don't understand these guys. I should beat the s*** out of him right now is what I should do. But that doesn't do many any good either. I've already had to pay enough fines in my lifetime. I'm sure I'll get another one." 
Busch later apologized for the offensive nature of remark. He wasn't apologizing to Keselowski. And you can be sure there won't be any apologizing after his latest moves in SRX. It's just another chapter added to their long contentious history with more of them likely to be written in the future.
To stay up to date on the latest happenings in NASCAR, including breaking stories you can't find anywhere else, follow Kyle on YouTube and Twitter.