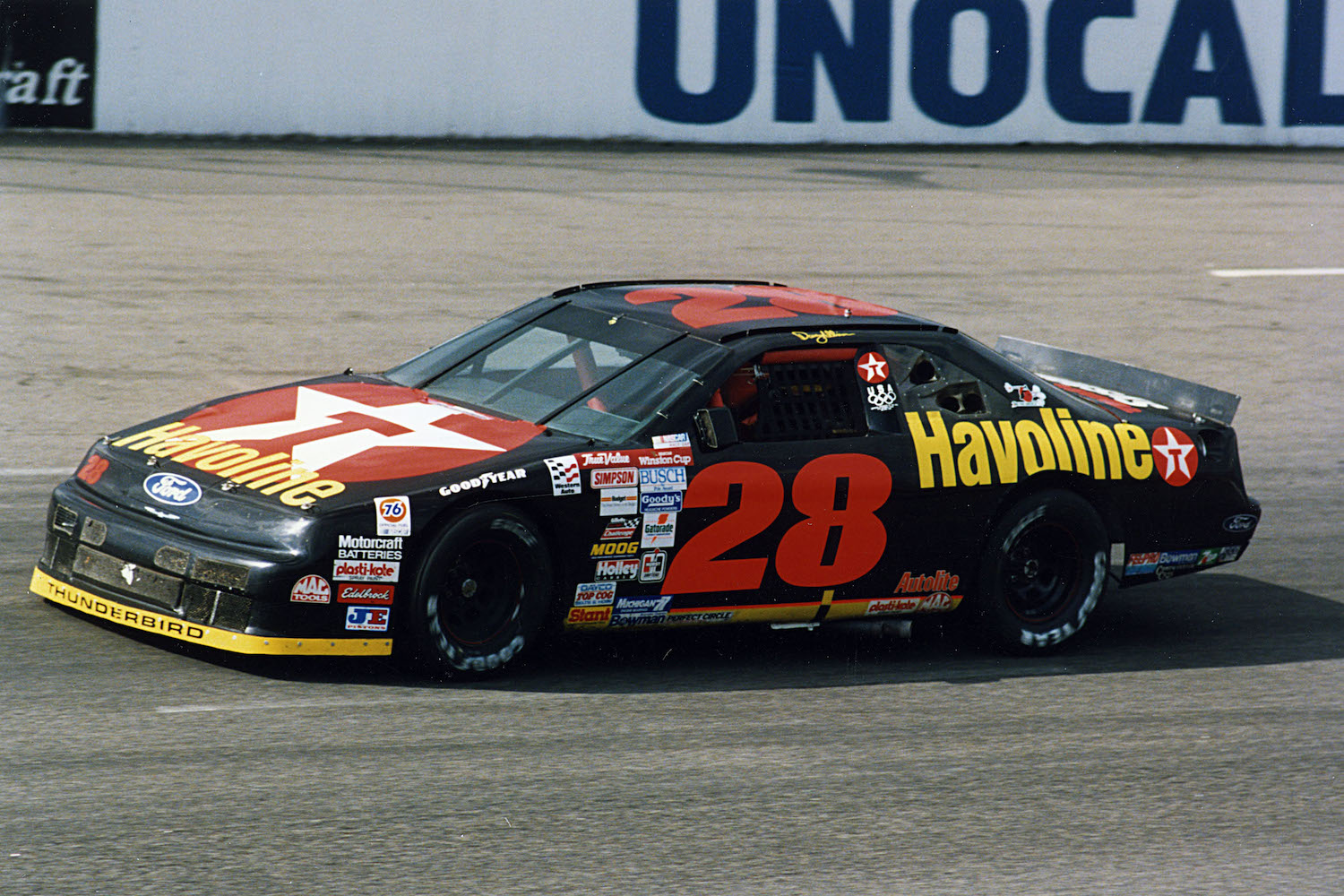 How a Violent Helicopter Crash Killed NASCAR Star and Daytona 500 Winner Davey Allison and Shocked the Sports World
Davey Allison was a NASCAR star in the prime of his career in 1993. His life tragically ended that summer in a violent helicopter crash at Talladega Superspeedway.
In 1993, Davey Allison was in the prime of his NASCAR career at age 32. In nine seasons, he produced 92 top-10 finishes and 19 trips to victory lane, including the year before at the biggest one of them all, the Daytona 500. He had finished third in the Cup Series standings the previous two years.
That summer, Allison was in the middle of another solid season with eight top-10s and a victory at Richmond when the unthinkable happened. Allison tragically died when a helicopter he was piloting violently crashed at Talladega Superspeedway. His death stunned the sports world. Here's a look back at the impressive NASCAR career and untimely death of Davey Allison. 
Davey Allison's rise to NASCAR
Davey Allison was born to race. His father, Bobby, is racing royalty. Not surprisingly, when Davey finished high school, he started working with his father's Cup Series racing team. After building a car of his own, he started racing at Birmingham International Raceway in 1979. 
In 1983, Allison began racing with the ARCA Series. He earned Rookie of the Year honors after winning a pair of races at Talladega Superspeedway, his home track. 
For the next several years Davey Allison continued racing with ARCA, winning eight times. During the 1985 season, he got an opportunity to race in the Talladega 500. He qualified 22nd and finished 10th in his first-ever Cup Series race. 
Davey Allison becomes a star on NASCAR Cup Series
After making a few spot starts for multiple teams in 1986, Davey Allison got an almost full-time ride in 1987 running in 22 of the year's 29 races. He made an impressive debut his rookie season when he qualified second at the Daytona 500, becoming the first rookie to start on the front row. He finished 27th.
Several months later, Allison won his first Cup Series race outlasting Dale Earnhardt in a thriller at Talladega, becoming the first rookie since Ron Bouchard in 1981 to win a Cup event. He won a second time at Dover a couple of weeks later. He finished the season with nine top-5 finishes and won Rookie of the Year.
During the 1988 season, Allison raced a full schedule, won twice, and finished 8th in the Cup Series standings. He had one of his best seasons in 1991 with Robert Yates Racing when he won five times and finished third in the Cup Series standings behind Dale Earnhardt and Ricky Rudd. 
Davey Allison started the 1992 season off with a bang winning the Daytona 500. It was a precursor of things to come that season as he would go on to win four more times and, once again, finish third in the Cup Series season-ending standings.   
Tragically dies in violent crash
In the summer of 1993, Davey Allison had six top-5 finishes, including a victory at Richmond. On July 12, Allison climbed aboard his recently purchased helicopter with the plans of flying it to Talladega and watching fellow competitor and friend Neil Bonnett's son, David, practice before his Busch Series debut. 
Allison successfully flew the helicopter to the Talladega Superspeedway and was just inches from landing the chopper when something went horribly wrong. According to the National Transportation Safety Board report, Allison's inexperience as a pilot with that particular style of helicopter cost him his life. 
The report said that the helicopter hovered a foot above the ground when Allison attempted to turn it to the right. Instead, the aircraft abruptly began to climb to approximately 25 feet before making a hard left turn. The aircraft slammed violently into the ground on the pilot's side.
The other passenger, veteran race car driver Red Farmer, managed to escape the wreckage. Davey Allison did not. He was strapped upside down unconscious. Despite surgery to relieve brain pressure, he never regained consciousness. He died the next day. The 32-year-old Allison was survived by a wife and two children.