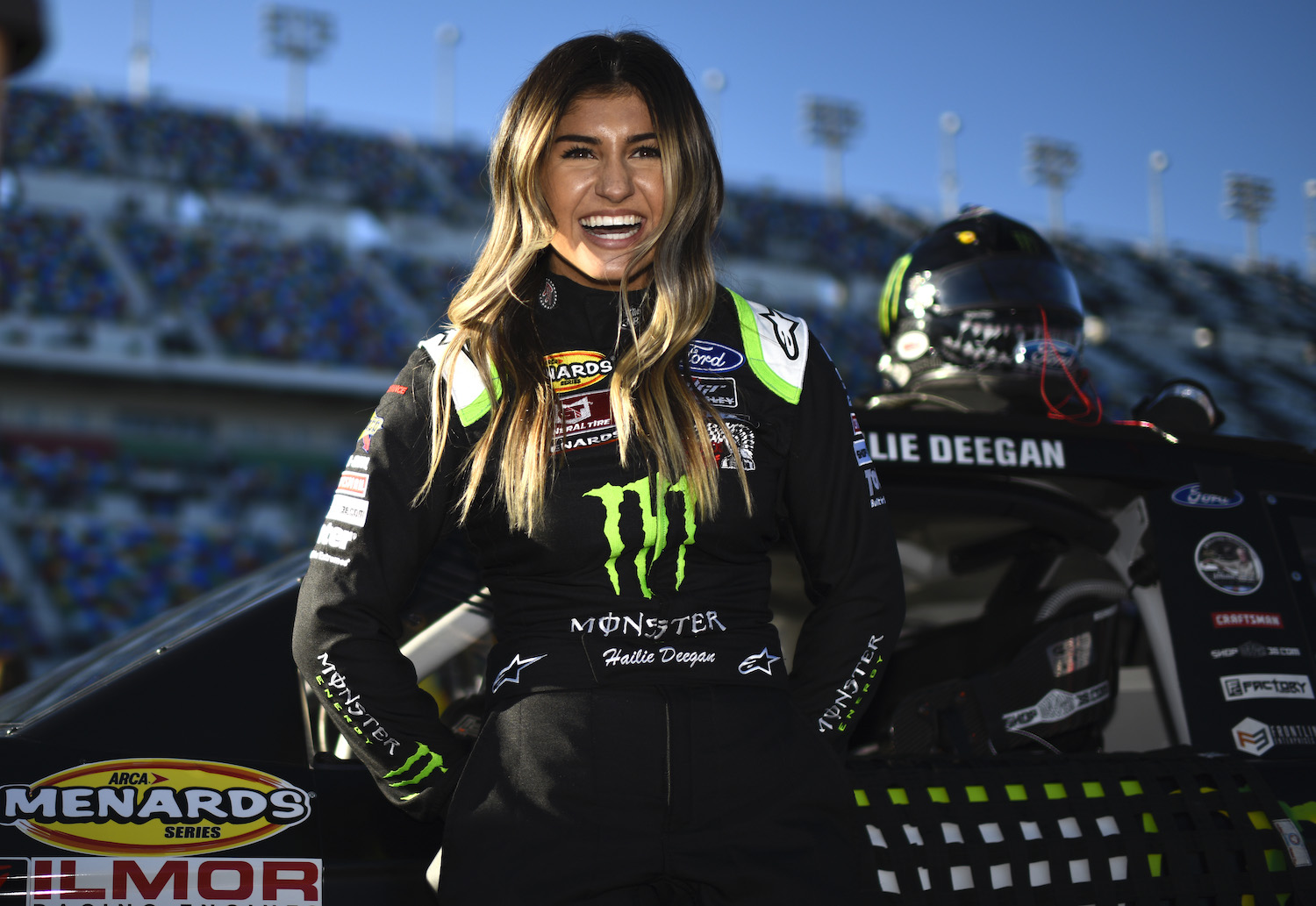 NASCAR Driver Hailie Deegan Proving She's as Good as Male Competition 1 Race at a Time
Hailie Deegan has already made history as a female driver winning multiple races with various series. The 19-year-old plans on adding to her win totals in 2021 with the NASCAR Truck Series.
Danica Patrick was a trailblazer for women in the world of motorsports. She won a race with the IndyCar Series back in 2008. After she transitioned to NASCAR in 2010, Patrick had her ups and downs and a trip to victory lane eluded her.
Enter Hailie Deegan. The 19-year-old is now carrying the torch for women in auto racing and will start competing with the NASCAR Truck Series full-time in 2021. And based on her brief history thus far, many expect the Californian to lap Patrick's career and make her name in racing in a way no other woman ever has before. 
Hailie Deegan wins early in career
Hailie Deegan was destined to be involved in motorsports. Her father Brian is a legend in the world of freestyle motocross. After beginning her career racing dirt bikes, she transitioned to four wheels and off-road racing. She began competing in the Lucas Oil Off Road Racing Series. In 2013, Deegan proved she belonged when she became the first female to win a championship with the Junior 2 Karts.
Two years later, Deegan won the Modified Kart Regional Championship and, in 2016, she captured the crown as the Modified Kart National Champion. That same year she was named the Lucas Oil Off Road Driver of the Year.
Hailie Deegan raced full-time in the Pro Lite division of the Lucas Oil Off Road Racing Series through 2017 before making the jump to asphalt and her first NASCAR series.
Hailie Deegan makes history with NASCAR K&N Pro Series 
In January 2018, Hailie Deegan earned a full-time ride with Bill McAnally Racing in the NASCAR K&N Pro Series West. She made her debut in February and earned the praise of Kevin Harvick a month later in a race at Kern Country Raceway Park. 
In that race, Deegan battled with Harvick for position late in the race. She finished seventh. Harvick finished fourth. After the race, the 2014 NASCAR Cup Series champion spoke highly of her skills.
"If I had to pick one person to say, 'Alright, that's the person [Kevin Harvick Incorporated] would want to represent and has the most potential,' it would probably be Hailie Deegan. She did really, really well."
In September 2018, Deegan made history when she became the first woman to win at the K&N Pro Series level, earning a win at the NAPA Auto Parts Idaho 208. She posted 12 top-10 finishes that season and earned Rookie of the Year Honors. 
Future is bright for young driver
In 2019, Hailie Deegan split time between the K&N Pro Series and ARCA Menard's Series. She added two more victories that season with K&N and finished third in the point standings. Last year, Deegan raced predominantly with ARCA and was impressive. 
In her 22 races, Deegan earned 19 top-10 finishes, including a pair of top-5s. Late in 2020, she made her debut with the NASCAR Gander RV & Outdoors Truck Series in Kansas. She finished in 16th place, which was the best result in Truck Series history for a female driver in a series debut.
This coming season, Hailie Deegan will be a full-time driver with the NASCAR Truck Series. While her aggressive racing style has resulted in a few controversies, don't expect Deegan to change. It's earned her multiple victories so far in her young career and it will likely earn her more in the future. That's something Danica Patrick was never able to do. 
Like Sportscasting on Facebook. Follow us on Twitter @sportscasting19.