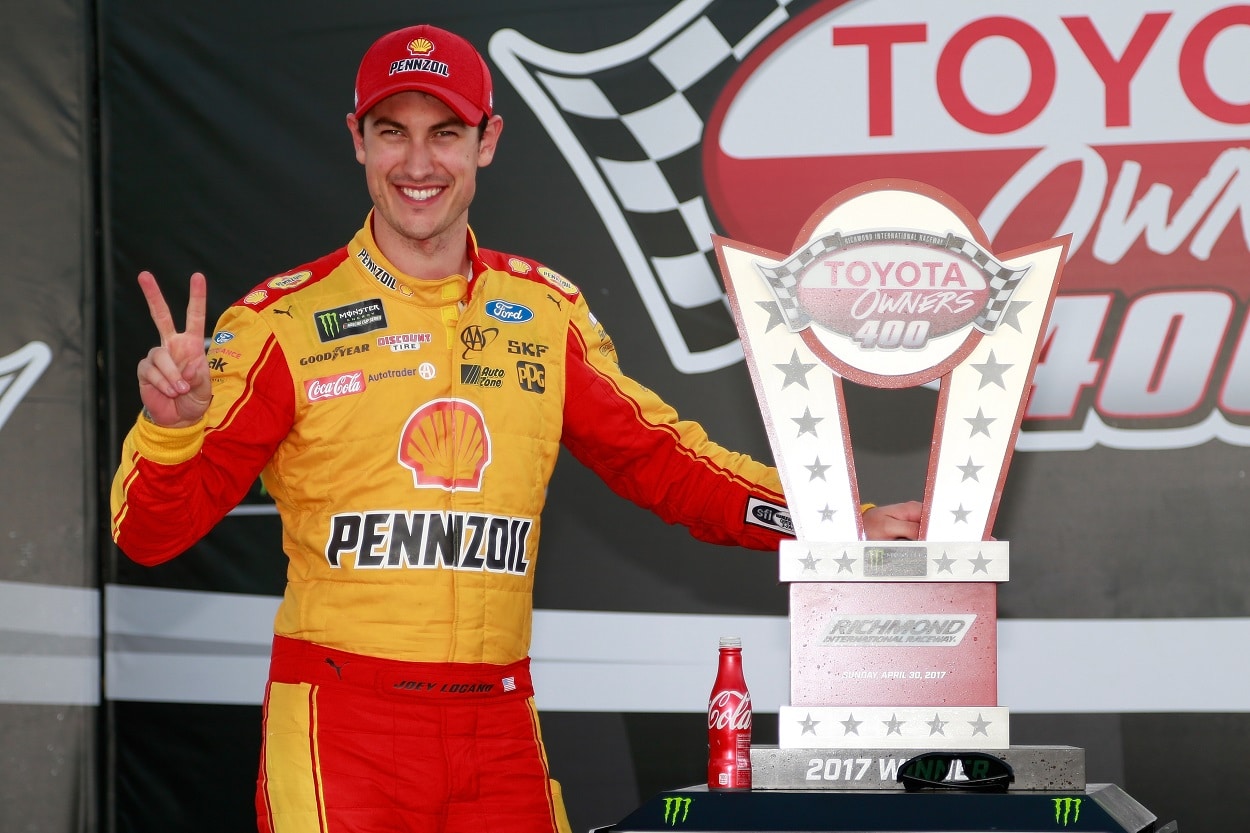 How Joey Logano Missed the 2017 NASCAR Cup Series Playoffs Despite Winning a Regular-Season Race
Joey Logano missed the 2017 NASCAR Cup Series Playoffs despite winning a race at Richmond.
The 2017 NASCAR Cup Series season was seemingly all set up to be the best of Joey Logano's career. He'd been in the Championship 4 twice in the previous three seasons, hadn't finished lower than eighth in the points standings in the previous four, and was the runner-up to the points title in 2016. Logano finished just three points behind Jimmie Johnson, who won his record-tying seventh (and final) Cup Series title.
While not a points race, Logano kicked off his 2017 campaign the right way with a sneaky victory at what was then known as the Advance Auto Parts Clash after a last-lap wreck involving Denny Hamlin and Brad Keselowski.
And following a sixth-place finish at the Daytona 500, he finished sixth or better in six of the next seven races. Already in good position in the points standings given his hot start, Logano then guaranteed himself a spot in the NASCAR Playoffs by taking the checkered flag at the Toyota Owners 400 at Richmond Raceway, besting Keselowski, then his Penske teammate, by .775 seconds.
Or so he thought.
Joey Logano missed the 2017 NASCAR Cup Series Playoffs despite winning a race at Richmond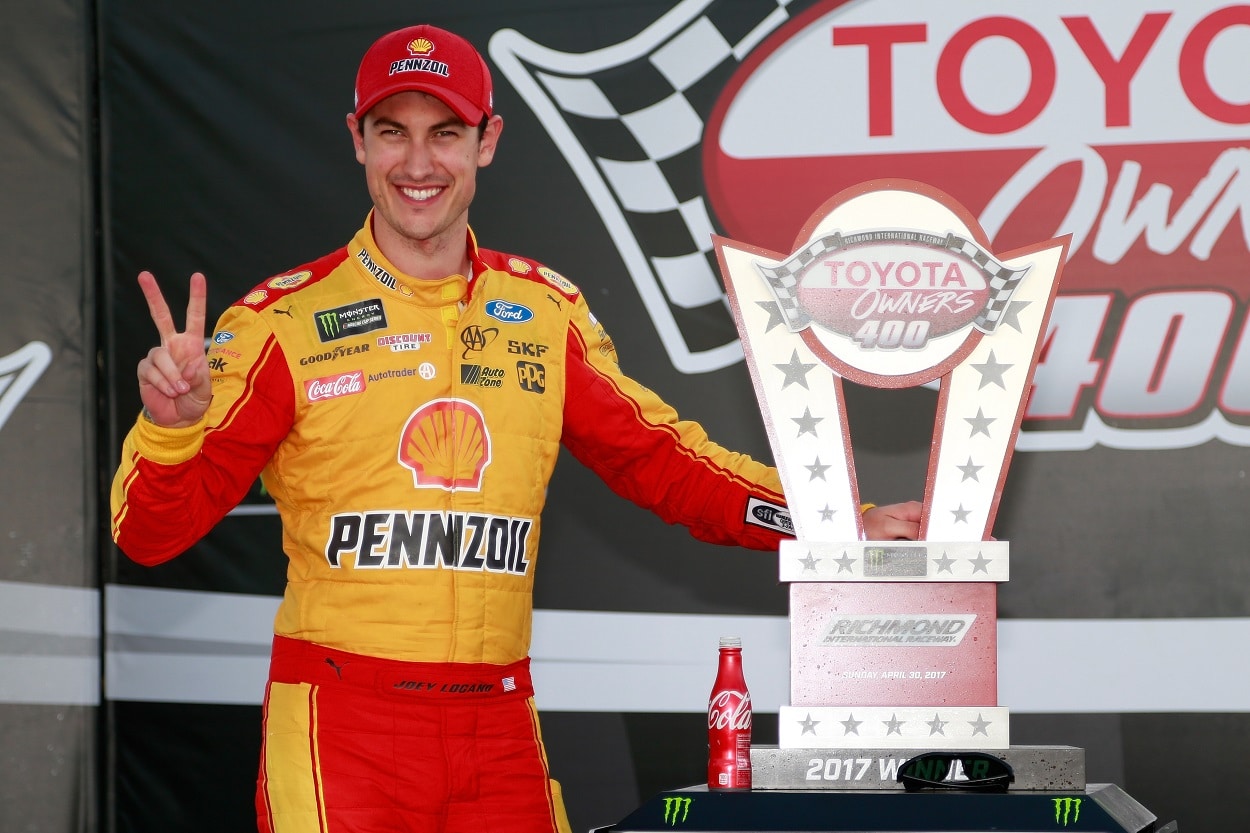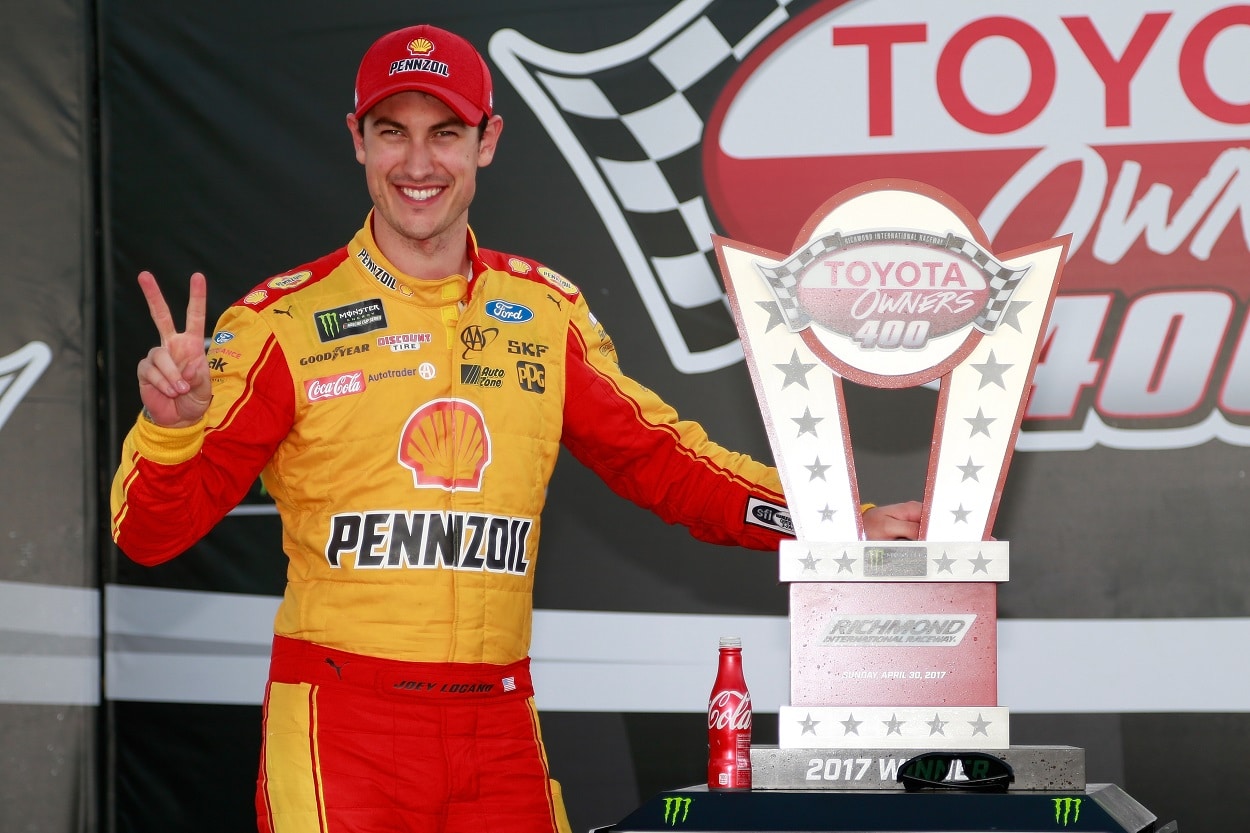 As it goes after every NASCAR event, the winning car is subject to a post-race inspection. And while most cars easily pass, there are those rare instances in which they don't. And Logano's No. 22 Ford fell into the latter category that day in Richmond as officials determined the Team Penske vehicle was equipped with nonconforming rear suspension parts.
So when a car fails a post-race inspection, NASCAR still credits the driver with a victory. But it becomes what's called an encumbered victory, which means that driver will still get credit for the win, but not the additional benefits that come with that win, such as using it to qualify for the postseason.
So while Logano still got credit for his win at Richmond, he obviously couldn't use it to qualify for the 2017 NASCAR Cup Series Playoffs. But no matter, right? All he had to do was win another race. And that seemed easily possible as he'd won 14 over the previous three seasons combined.
But even if he couldn't find his way to Victory Lane, Logano could have simply qualified for one of the wild-card spots. Again, easy enough given his status, right?
But it wasn't to be. Logano didn't win another race and slid down the points standings something fierce. In the five races after Richmond, he finished 32nd, 37th, 21st, 25th, and 23rd. Logano nearly got himself into the postseason field in the regular-season finale, also at Richmond, but was held off by Kyle Larson as the race finished under caution.
But even that runner-up finish wasn't enough as he missed the postseason for the first time since 2012, his last year with Joe Gibbs Racing. Logano ultimately finished the year in 17th in the points standings. Clearly with a chip on his shoulder, he came back the following year with three wins (all official), 13 top-fives, and 26 top -10s on the way to winning the 2018 NASCAR Cup Series title.
Stats courtesy of Racing Reference
Like Sportscasting on Facebook. Follow us on Twitter @sportscasting19 and subscribe to our YouTube channel.