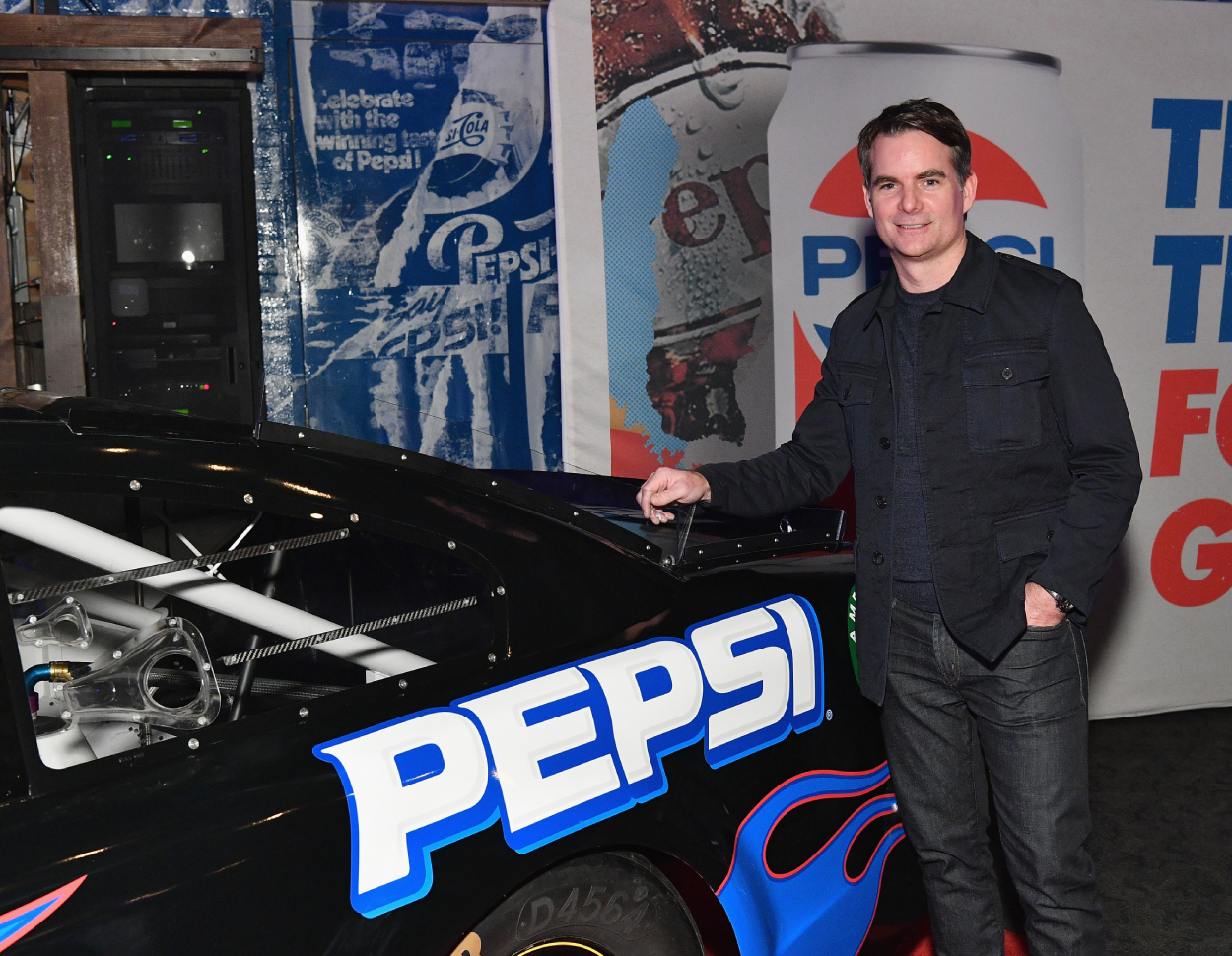 Jeff Gordon's NASCAR Marriage to Pepsi Began Over Cookout Talk
Jeff Gordon started out with Coca-Cola as a sponsor but then moved to Pepsi after speaking with a friend of his then-wife 1996.
Jeff Gordon began as a Coca-Cola guy, but he was never really a Coca-Cola guy. The NASCAR Hall of Famer switched teams, striking up a sponsorship with Coke's rival Pepsi in 1996. The big move all began innocently enough at a cookout.
Jeff Gordon quickly became the face of NASCAR
Jeff Gordon can be considered a NASCAR pioneer. He has been labeled as the guy who got the younger generation into the sport. Gordon was a young driver who had immediate success and was given high praise by NASCAR legend Richard Petty. Petty is the most accomplished racer in history with 200 victories.
"Most of the guys went through the process of doing the NASCAR Sportsman and they were always 25, 26 years old before they got a first-class ride," Petty said in an interview with Graham Bensinger. "(Gordon) came in and got a first-class ride at 20 years old, 21 years old. So he starts a new trend of younger people coming into the sport. In doing that, the face of NASCAR, he changed it from one face to another. He's been a really big asset to be able to be as personable, to be on late-night TV or early-morning TV, and still be a heck of a racecar driver."
From his rookie year in 1993 until his retirement in 2015, Gordon was the face of NASCAR. Jimmie Johnson, a seven-time Cup Series champ, said Gordon opened the doors to many successful drivers. "IndyCar was always on my radar growing up on the West Coast but then here's this guy with a really bad mustache making his way in stock car racing," Johnson said, according to USA Today. The doors that he opened for drivers that did not grow up in the South, that grew up racing in the dirt, he really changed that whole outlook for owners. A lot of opportunities came through those doors that he opened."
Gordon is one of NASCAR's all-time greats
Not only was Jeff Gordon a pioneer, but he was also one heck of a driver. Gordon is a four-time Cup Series champion, winning in 1995, 1997, 1998, and 2001. When he won his first championship in 1995, Gordon became the youngest ever to do so. He was 24.
Gordon is also a three-time winner of the Daytona 500. He accomplished the feat in 1997, 1999, and 2005. He also won three career Grand Slams and is third on the all-time list of Cup Series wins with 93. Gordon set a record for winning at least one pole in 23 straight years. Gordon was also a very durable – and lucky – driver, running 797 consecutive races.
In 1998, Gordon was named one of NASCAR's 50 Greatest Drivers. Gordon was inducted into the Motorsports Hall of Fame in 2018. The following year, Gordon earned his place in the NASCAR Hall of Fame.
Pepsi sponsorship started over cookout talk
When Jeff Gordon began his NASCAR career, Hendrick Motorsports had a sponsorship deal with Coca-Cola. According to USA Today, Jeff Faust, a Pepsi employee and friend of Gordon's first wife Brooke, always joked about getting Gordon to switch teams and head to Pepsi. "We'd just be hanging out at a cookout and I'd say, 'C'mon man, you've got to come to the A Team,'" Faust said. "He would always say to me, 'You'll be the first person I call if I ever make that decision.'"
In October of 1996, Gordon was prepping for a race and gave Faust a call. "I said, 'Hey, if you want to connect me with Pepsi, let's pursue it,'" Gordon told USA Today back in 2015. Faust called a Pepsi brand manager. "I don't know if you're going to know this guy, but I've got a friend who is a NASCAR driver and he really wants to talk to Pepsi," Faust said. "His name is Jeff Gordon."
Although NASCAR wasn't nearly as popular then as it is now, Pepsi heard of Gordon and took action. "They believed in NASCAR and its fan base, and they were excited about it," Gordon said. "And they really wanted to really get behind it and support it from a marketing standpoint, and that was something we were lacking. They said, 'Hey, let's do some big things here.'"